Join us at our Full-scale review of the evolved and improved Nissan GT-R NISMO 2020 Philippines: Nissan's efforts in tapping more into the model potential might have paid off.
In this review...
Introduction

Exterior

Interior

Engine and Performance

Ride and handling

Safety

Price

Conclusion
1. Nissan GT-R 2020 Philippines Review: Introduction
Since its release 12 years ago, the Nissan GT-R has undergone a continuous process of improvement, becoming better with each iteration. While some might say that the venerable Godzilla is already ancient by current standards, this machine is still considered one of the best in the industry. And while they certainly have the know-how and wherewithal to build a better next-generation model, why has Nissan decided to retain this aging platform?
Hiroshi Tamura, Chief Product Specialist for the Nissan GT-R, has worked on the Godzilla for 20 years of his life, and he says that it will never reach its full potential. If the answer sounds baffling to you, search for "1100 hp GT-R" or "hill climb GT-R" on YouTube.
Best Of Hillclimb Monsters - Nissan GT-R Ultimate Compilation
What Tamura-san means is that the GT-R in its current form is a gift that keeps on giving, and Nissan has managed to squeeze out more and more horsepower while still using much of the base engine; even a good ECU tune can yield a 20 to 31 hp boost on an otherwise stock GT-R.
In other words, as long as Nissan keeps finding ways to push the GT-R further and further, they will not consider themselves done with the current platform. Even now, they're still hard at work in developing and refining the GT-R, a sort of single-minded madness that they are sharing once again with NISMO, Nissan's in-house tuning, performance and motorsports division.
Without further ado, here's our Nissan 2020 GT-R Nismo Philippines Review, brought by Philkotse.com.
2. Nissan GT-R Nismo 2020 Exterior
If there's one thing anyone will notice on the 2020 Nissan GT-R Nismo exterior, it's chock-full of carbon fiber, from the front and rear bumpers, hood and fenders, right up to the vents just above the wheel arches. All those bits manage to make the NISMO lighter by 23 lbs over the standard GT-R.
A slew of other lightweight components, including the handcrafted carbon-fiber roof panel, manage to shed an additional 44 lbs. from the car. In addition, the new fenders contribute a ton of downforce. Or course, it doesn't hurt that all of these pieces make the GT-R NISMO a real head-turner.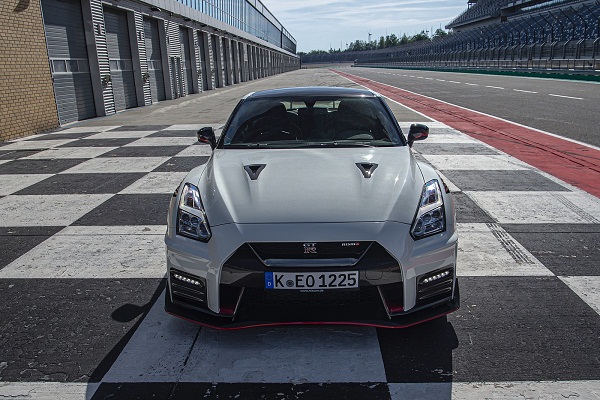 The 2020 Nissan GT-R NISMO basking under the sun in its natural habitat
The 2020 GT-R Nismo's 66-pound weight reduction, benefits the enormous yet extremely light set of carbon-ceramic brake rotors. Measuring 16.1 inches in front and 15 inches at the rear, the rotors are complemented by Brembo calipers that are painted in a special heat-resistant yellow paint.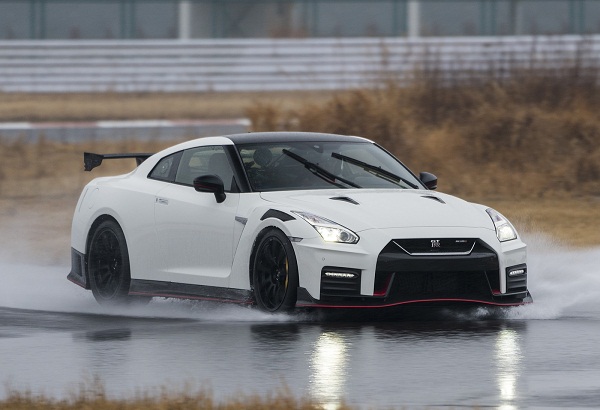 The 2020 GT-R NISMO is absolutely swimming in carbon fiber.
Towards the sides, you'll also notice that the Nissan GT-R comes with a new set of 20-inch RAYS forged alloy wheels.mounted on Dunlop SP Sport Maxx GT600 tires which are specially made for more grip and stability. Overall surface contact has also been increased by 11 percent due to the GT600's new tread.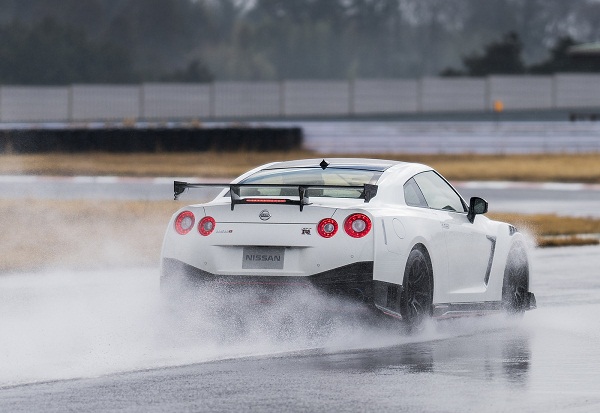 Note the huge wing. It is large enough to use as a table (but please don't do that).
So the 2020 Nissan GT-R Nismo looks more aggressive, is significantly lighter, more aerodynamic, and has more grip. But how do all of these work together to help the 2020 GT-R NISMO achieve maximum performance?
October hottest deals
₱104,000
Cash Discount
Nissan NV350 Urvan Premium 2.5 15-seater AT
ML Quezon Avenue, Maguikay in Mandaue City, Cebu.
Get Promo
View Detail
₱100,000
Cash Discount
Nissan Urvan Standard 2.5 15-seater MT
ML Quezon Avenue, Maguikay in Mandaue City, Cebu.
Get Promo
View Detail
₱75,000
Cash Discount
Nissan Navara EL 2.5 4x2 MT
ML Quezon Avenue, Maguikay in Mandaue City, Cebu.
Get Promo
View Detail
₱25,000
Cash Discount
Nissan Terra VE 2.5 4x2 AT
41 Commonwealth Ave, Diliman, Quezon City, 1127 Metro Manila, Philippines
Get Promo
View Detail
YOU MAY WANT TO READ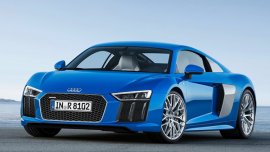 Price available upon request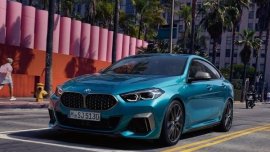 3. Nissan GT-R Nismo 2020 Interior
Unlike the US- and Canada-spec units, the Asian-market 2020 Nissan GT-R Nismo sports a pair of Recaro seats. Meanwhile, several of the features on the NISMO variant are still similar to the standard GT-R; the touchscreen for instance still displays oil temperature, boost pressure, G-force and other performance-related parameters. The analog gauge cluster is still there, large and easy-to-read. Even the onboard climate control still uses physical dials.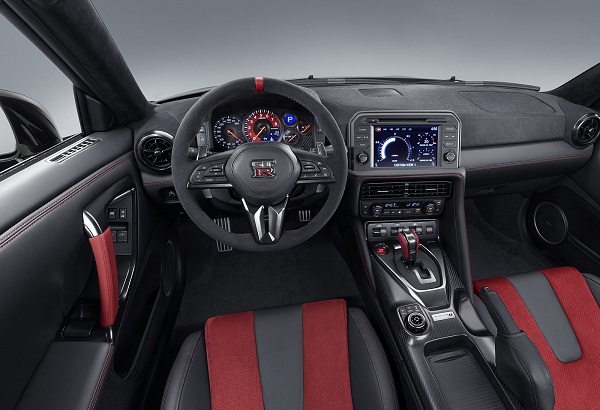 Yes, that fuzzy stuff is suede material, so be careful not to spill your drink!
The NISMO GT-R is largely about function over form, save for minor details such as suede accents found on the dashboad, as well as the red-colored trim on the seatsn and the shift lever. And since this is a NISMO variant after all, the appropriate badging would be present to remind you that this is not your garden-variety GT-R.
Much like the Toyota 86, the GT-R NISMO is a 2+2 sports coupe, and we highly doubt that adults would find the rear seats comfortable, except for masochists perhaps. As it happens, the carbon-fiber roof also has quite an aggressive slope leading down to the large rear wing, further aggravating the cramped quarters.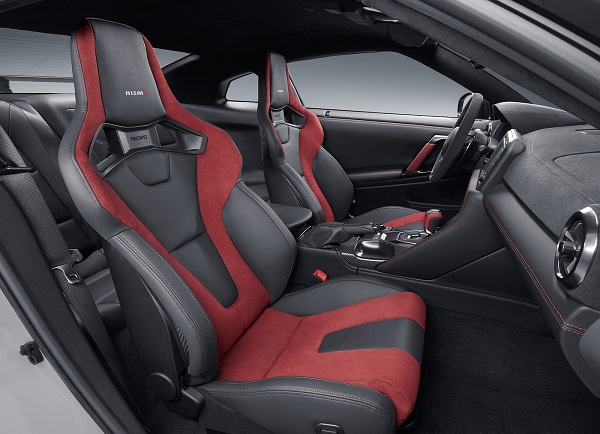 The Asian market will now be treated to Recaro seats on the GT-R NISMO.
>>> Extend your options to more affordable deals in our Cars for sale section
4. Nissan GT-R 2020 Review: Engine and Performance
Under the hood, the 3.8L VR38DETT V6 now has a pair of new turbochargers lifted from the Nissan GT3 race car. The turbines sport thinner vanes, significantly reducing their weight. According to Tamura-san, this equates to 20-percent faster response times.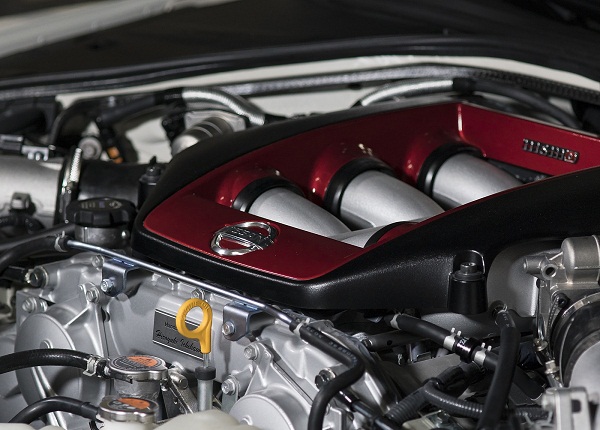 The heart of the GT-R NISMO's performance: the VR38DETT V6, now with dual turbochargers.
The engine itself still makes 600 hp and 658 Nm of torque, albeit with a better tune from NISMO. Power is sent to all four wheels through a six-speed dual-clutch automatic with manual mode.
>>> Related post: Nissan GT-R NISMO 2020: An ultimate tuner
5. Nissan GT-R Nismo 2020 Philippines: Ride and handling
The new 2020 Nissan GT-R NISMO is every bit as good as the plain old GT-R, and more. With blazingly fast power delivery, turbo lag is impreceptible, especially in Sport mode. The added downforce courtesy of the aero bits and the increased grip of the new tires let the GT-R NISMO tackle the bends with ridiculous ease.
Traction control engages at once suring cornering, constantly regulating power to make sure that the car has enough to stay the course at speed without spinning off. If you want to amplify the fun, simply turn T/C off and feel the rear kick out when you floor the accelerator.
The 2020 Nissan GT-R NISMO boasts race car-inspired upgrades
The six-speed transmission has beenn recalibrated as well, returning fast and smooth shifts. As it has a tendency to occasionally upshift as you ease on the throttle, we highly suggest making full use of the paddle shifters, especially if you're looking to improve your track times.
This new GT-R NISMO also features a Comfort Mode, which is probably the closest thing it gets to being a tame daily driver. As kids will likely find the cramped rear quartes comfortable, you can probably use the Nissan GT-R 2020 for school school runs.
Despite its size and engine output, the 2020 GT-R NISMO can stop on a dime, with its gargantuan brakes.
6. Nissan GT-R 2020 Review Philippines: Safety
Being a performance-oriented beast, it's only apropos that the 2020 Nissan GT-R NISMO offers an equally competent array of safety features.
Its all-wheel-drive is complemented by a fast-acting traction control system. There's ABS with EBD too, along with a full complement of front, side, and overhead airbags. A tire pressure monitoring system alerts you when the air pressure in the radials is insufficient as to potentially affect the car's handling.
For security, the 2020 GT-R gets an engine immobilizer with alarm and an optional first aid kit. Available NissanConnect Services Premium can connect you to emergency services in the event of a crash, or if the car is stolen.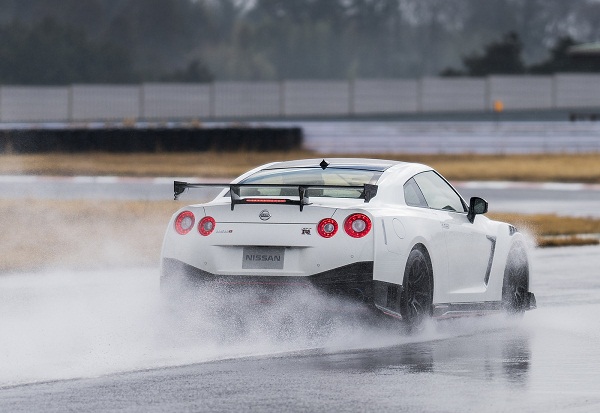 The Nissan GT-R NISMO offers a range of safety features.
>> Contact details of the nearest Nissan dealerships to check out the latest promos and financing options.
7. Nissan GT-R 2020 Price Philippines
As of this writing, Nissan Philippines has yet to release specific details regarding the 2020 Nissan GT-R NISMO's pricing. One industry source claims a PhP16 million asking price, but this has been disputed by other media outlets.
For our part, we estimate that the 2020 GT-R NISMO will come in at PhP14 million, putting it on par with the Porsche 911 Turbo. The reason for our optimism is the Japan Philippine Economic Partnership Agreement, which will likely peg the 2020 GT-R NISMO's pricing in our favor.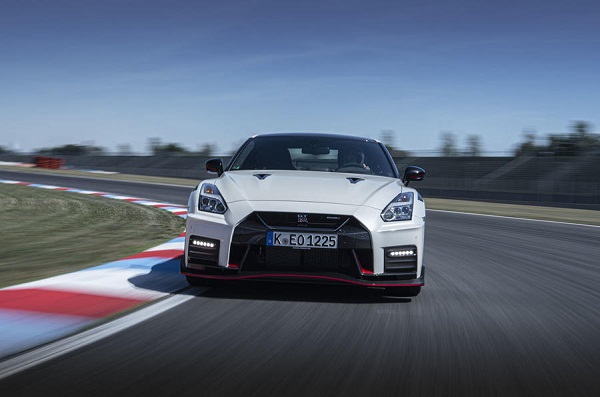 We predict that the GT-R Nismo 2020 will come at the PhP14 million.
Don't miss out on further information regarding the 2020 GT-R NISMO's pricing when it comes out. Keep yourself updated with our Nissan GT-R Philippine price list.
8. Nissan GT-R 2020 Philippines Review: Conclusion
The Nissan GT-R is admittedly getting a bit long in the tooth. But to paraphrase Tamura-san, Nissan has yet to achieve the full potential of the veritable Godzilla. So if you're leaning toward Japanese cars with the potential to be a supercar killer, the Nissan GT-R NISMO 2020 Philippines might be right up your alley; just don't let your adult friends sit at the back.
Pre-orders for the 2020 GT-R NISMO are already being accepted through the Nissan High Performance Center, with offices at 138 Quezon Ave, Quezon City.
Do you fancy driving off into the sunset in the new 2020 Nissan GT-R NISMO?
>>> Keep posted on Philkotse.com for the latest automotive news worldwide.

Cesar G.B. Miguel
Author