Mitsubishi Philippines: Overview & Price list in March 2021
The most in-demand models of Mitsubishi in the Philippines are the Mitsubishi Xpander, Mitsubishi Mirage, Mitsubishi Mirage G4, Mitsubishi Pajero, Mitsubishi Montero Sport, Mitsubishi Strada, and Mitsubishi L300. You can browse Philkotse.com to learn more about Mitsubishi models, the latest prices, and available promos, as well as the latest news, reviews, updated specs, and other information.
Upcoming Mitsubishi cars
Mitsubishi Philippines price list 2021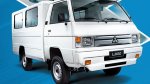 The Mitsubishi L300 can be used for either family trips or business needs. The utility vehicle has evolved from its famous predecessor – the Mitsubishi L300 Versa Van, that comes with the same purpose-driven cab styling and offers, depending on its purpose, an incredible number of configurations in its body. An air-conditioned, 17-seater van that also provides enough space for luggage is being offered by the FB type Mitsubishi L300. It can also transform into a delivery van that is equipped with a cab with a freezer for frozen and perishable goods delivery. The Mitsubishi Motors Philippines Corporation introduces its L300 Cab to offer excellent services in the country. Mitsubishi's commercial vehicle is a reliable and versatile utility vehicle that transports people and delivers goods with less hassle. There are two available variants for Mitsubishi L300, both come with a 2.2-liter 4N14 diesel power plant that is Euro-4 compliant. The engine generates a maximum output of 98 horsepower and torque of 200 Nm. Moreover, it is mated with a five-speed manual tranny. The Mitsubishi L300 is ideal for personal use and businesses because of its affordability and practicality.
Variants and price list
| | | |
| --- | --- | --- |
| Manual | Diesel | 14 seats | ₱804,000 | Get Quote |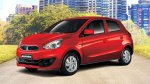 Mitsubishi introduced the Mirage as part of the subcompact hatchback segment. It uses the same platform as that of Mitsubishi Mirage G4. The car's body configuration keeps the characteristics distinct to the original Mirage – value for money and fuel efficiency. That is what Filipinos usually look for in a family car. The Mitsubishi Mirage had its first production in 1978 and still produces until the present day. As a sixth-generation model, it acquires practical upgrades and greater efficiency. Mitsubishi Mirage hatchback is known for its compact car's concept of practicality, value for money, and efficiency. Currently, the Mitsubishi company also started producing for internal demands and export for Mitsubishi Mirage hatchback. Black interior and fabric seats complete the Mitsubishi Mirage's cabin. As a standard, the model's infotainment system is equipped with a 2-DIN head unit; however, it takes into consideration the car's variant if a touchscreen is included. For the GLX MT variant, sounds are transmitted through two speakers, and for the GLX CVT variant, it sends sounds through its four speakers. The head unit has an auxiliary input and Bluetooth-capable. The Mitsubishi Mirage is available in eight various colors - Cool Silver Metallic, Sunrise Orange, Medium Blue Mica, Majestic Red, Virgil Gray, Savanna White, Pyranese Black, and Wine Red. It is employed by a three-cylinder 1.2-liter engine and produces 100 Nm of torque and 77 horsepower. The front wheels get their power from either a CVT or a 5-speed manual.
Variants and price list
| | | |
| --- | --- | --- |
| Manual | Gasoline | 5 seats | ₱704,000 | Get Quote |
| Manual | Gasoline | 5 seats | ₱765,000 | Get Quote |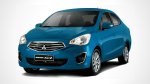 The new Mitsubishi Mirage G4 is the sedan sibling of the Mirage hatchback. It is Mitsubishi's entry in the subcompact sedan segment. The cabin space of this sedan is the same with its hatchback version, but with more spacious trunk space. The body configuration of the Mitsubishi Mirage G4 is perfect for most Filipino car buyers who are looking for a sedan but has the distinctive characteristics of the Mirage hatchback – value for money and fuel efficiency. Although the Mirage G4 is not as trendy looking as its five-door counterpart, the mature sedan has an advantage in terms of practicality, thanks to its big trunk and longer wheelbase. For 2018, the Mitsubishi Mirage G4 got a restyled extended rear bumper and new taillight. In terms of safety, this sedan features an anti-lock braking system and dual airbags present on all variants. Stepping inside the Mirage G4, occupants will be welcomed by a black interior accompanied by black fabric seats. A standard 2-DIN form factor infotainment system is also featured in the sedan's cabin. A touch screen is available depending on the trim-level. Sound is transmitted through two speakers for GLX variant and four speakers for GLS. All head units have auxiliary input and Bluetooth capability. Under the hood, a 1.2L gasoline engine, in-line 3-cylinder 12-valve DOHC, powers the Mitsubishi Mirage G4. This engine pumps out 77 horsepower and 100 Newton-meter of torque. The power is delivered to the front wheels either by a CVT or five-speed manual transmission.
Variants and price list
| | | |
| --- | --- | --- |
| Manual | Gasoline | 5 seats | ₱735,000 | Get Quote |
| Automatic | Gasoline | 5 seats | ₱785,000 | Get Quote |
| Automatic | Gasoline | 5 seats | ₱869,000 | Get Quote |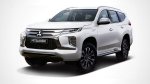 One of the most known SUVs in the Philippines is the Mitsubishi Montero Sport. It continually hits the list of best-selling cars in the country every year. Its popularity continues to grow because it is a reliable, tough, midsize body-on-frame SUV on and off-road, and a family car. It is not just a symbol of social status. The Mitsubishi Montero Sport, as a third-generation model, displays its benchmark for the brand's contemporary lineup, which is the 'Dynamic Shield' grille that shows a completely redesigned front. The new Mitsubishi Montero Sport features chrome linings that cover the large air intakes and stretch forth to the fog lamps, complemented by a sleek tail and headlights. Inside the cabin, top-notch variants and additional sportier trims for GT variants get to have leather-wrapped seats. For entertainment and central control, it is equipped with an 8-inch touchscreen infotainment system. Powering the Mitsubishi Montero Sport is the all-new 2.4L Diesel Engine, 4 Cylinder 16 Valve DOHC. The task of the Mitsubishi Innovative Valve-timing Electronic Control system (MIVEC) is to achieve low fuel consumption and exhaust emissions but a high-power output. Similar to the model it replaced, the Mitsubishi Montero Sport is L200 or Strada pickup based. The chassis and half of its front body structure are the same as its pickup sibling. It still uses the three-link live axle coil spring for the rear suspension and the independent double-wishbone front suspension from the model it supersedes. It comes with drum-in-disc rear brakes and ventilated front disc brakes. It is a standard for all variants to have 18-inch alloy wheels. The Mitsubishi Montero Sport features standard airbags for both driver and passenger, three-point seat belts for all the seven occupants, ABS with EBD, and an ISOFIX child seat anchors on the second row. Additional features for the GT variant consist of Trailer Stability Assist, knee airbag for drivers, and curtain airbags.
Variants and price list
| | | |
| --- | --- | --- |
| Manual | Diesel | 7 seats | ₱1,568,000 | Get Quote |
| Automatic | Diesel | 7 seats | ₱1,728,000 | Get Quote |
| Automatic | Diesel | 7 seats | ₱1,928,000 | Get Quote |
| Automatic | Diesel | 7 seats | ₱2,450,000 | Get Quote |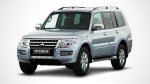 The Mitsubishi Pajero is at the top of the Mitsubishi Philippines' SUV range. It is a true off-roader that has a strong cult of following both locally and globally. The Mitsubishi Pajero is a favorite among car buyers and car enthusiasts who want style, adventure, and power in one package. The new Pajero comes in a bolder and more premium look. The front end of the vehicle features a new bumper integrated chrome grille as well as a more aggressive front bumper with LED daytime running lamps. The SUV's muscular styling is complemented by the new twin-6-spoke 18-inch alloy wheels with 265/60 R18 tires. The rear part of the SUV gets a redesigned 5th door. The spare tire carrier also receives a more integrated redesign. It now features a new power sunroof, which comes as a standard. The interior also received several styling updates, including piano-black accents and new silver and carbon fiber trim that gives off an elegant feel. The steering wheel of the Mitsubishi Pajero also comes with audio controls the DVD/MP3 player that transmits sounds via six speakers. Mitsubishi Philippines offers the Mitsubishi Pajero in 3.2L diesel engine, in-line 4-cylinder 16-valve DOHC. Some of the standard features available in this SUV are airbags, ABS with EBD, alarm, rear parking sensors, and immobilizers.
Variants and price list
| | | |
| --- | --- | --- |
| Automatic | Diesel | 7 seats | ₱3,000,000 | Get Quote |
The Mitsubishi Strada is one of the most successful and oldest pickup trucks in the Philippines. It was in 2015 when the Mitsubishi Strada's current iteration was launched. In 2016, the following year, it underwent a lot of updates that include few changes in the mechanism. The Mitsubishi Strada's latest generation is a stylish, comfortable, and easy-to-drive model. It is the Japanese brand's entry to the midsize pickup truck segment. It is a well-recognized and adorned pickup truck in the Philippines. In January 2019, the third-generation model of Mitsubishi Strada acquired its rightful renovation. Other updates include a more muscular body sculpture and the Dynamic Shield exterior styling. Like the current models of the tri-diamond brand – the ASX, Xpander, Montero Sport, and the like – the Strada features the "X" fascia. It also comes with the C-shaped chrome accents that trace the fog lamps and slim headlights. The Mitsubishi Strada is sporty, athletic, agile, and still likely to overcome any roads in the country. The model's interior accentuates quality and soft-pad materials. The 2019 Mitsubishi Strada is offered in 4x4 or 4x2 variants. Disregarding its facelift, from its former 2.5-litre Common Rail Direct Injection 4D56 diesel engine, it is now powered by a 2.4-liter in-line four diesel with Variable Geometry Turbo and MIVEC 4N15 engine only. Thus, leaving the midsize pickup truck a single powerplant option. It can generate torque power of 430 Nm, and 181 horsepower and power gear can be either from a 6-speed automatic or 6-speed manual transmission.
Variants and price list
| | | |
| --- | --- | --- |
| Manual | Diesel | 5 seats | ₱1,185,000 | Get Quote |
| Manual | Diesel | 5 seats | ₱1,250,000 | Get Quote |
| Automatic | Diesel | 5 seats | ₱1,325,000 | Get Quote |
| Automatic | Diesel | 5 seats | ₱1,443,000 | Get Quote |
| Manual | Diesel | 5 seats | ₱1,465,000 | Get Quote |
| Automatic | Diesel | 5 seats | ₱1,760,000 | Get Quote |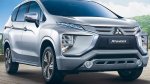 The new Mitsubishi Xpander entered the growing segment of small MPVs. It looked sharp due to the influence of the Montero Sport styling. It features a seven-seater cabin, a modern but simple dashboard, and an infotainment system located high right at the center. For safety, all its variants come with a standard ABS with EBD and dual airbags. The range-topper variant is equipped with additional safety kits such as hill start assist, traction control, and electronic stability control. Under the hood of the Mitsubishi Xpander, a 1.5-liter 4A91 MIVEC naturally-aspirated four-cylinder gasoline engine produces 141 Nm of torque and 103 HP. It is mated to either a 4-speed automatic transmission or a 5-speed manual transmission that can be found under its hood. Mitsubishi Motor Philippines Corporation offers the Mitsubishi Xpander in three variants: Mitsubishi Xpander GLX MT, Mitsubishi Xpander GLX Plus AT, and Mitsubishi Xpander GLS AT. The model is also available in five different color options namely Titanium Gray, Jet Black Mica, Red Metallic, Quartz White Pearl, and Sterling Silver Metallic.
Variants and price list
| | | |
| --- | --- | --- |
| Manual | Gasoline | 7 seats | ₱1,008,000 | Get Quote |
| Automatic | Gasoline | 7 seats | ₱1,088,000 | Get Quote |
| Automatic | Gasoline | 7 seats | ₱1,128,000 | Get Quote |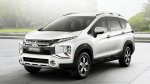 Mitsubishi Motor Philippines Corporation (MMPC) introduced another variant of its Xpander lineup, the new Mitsubishi Xpander Cross. It is a small MPV with extra crossover flare that can accommodate seven occupants. The new variant is the indirect successor to Mitsubishi's popular AUV – the Adventure. It carries the Dynamic Shield design language of the brand partnered with a car-like chassis. This new platform is expected to provide better ride comfort with the help of coil springs on all its wheels. The additional utility is provided by the increased height of the Mitsubishi Xpander Cross as it bumps up the model's ground clearance to 225mm. Since then, this vehicle from Mitsubishi has become locally popular in its lower MPV version. Under the hood of the Mitsubishi Xpander Cross lies a 1.5L gasoline engine, in-line 4-cylinder 16-valve DOHC with MIVEC technology. Having a frugal engine, this model can provide a return fuel economy with matching performance. The engine of the Mitsubishi Xpander Cross can be paired with either a four-speed automatic or five-speed manual transmission. Power is delivered to the front wheels exclusively. Mitsubishi Xpander Cross is available in four different color options, namely Quartz White, Sterling Silver Metallic, Sunrise Orange, and Graphite Grey.
Variants and price list
| | | |
| --- | --- | --- |
| Automatic | Gasoline | 7 seats | ₱1,255,000 | Get Quote |
Discontinued Mitsubishi cars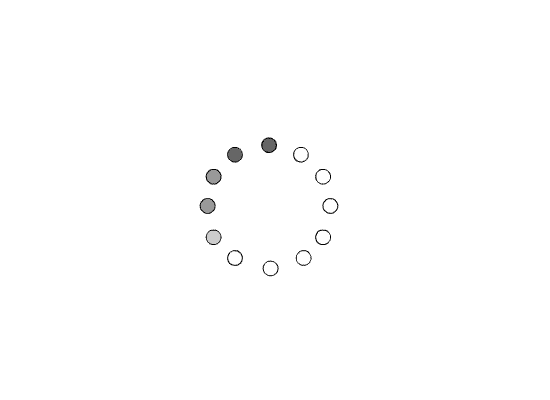 Mitsubishi
FAQS
How much does a Mitsubishi cost in the Philippines?
Mitsubishi car prices in the Philippines begin at ₱699,000 for the most affordable model Mirage and go up to ₱3 Million for the most expensive model Mitsubishi Pajero.
What is the best-selling Mitsubishi car in the local market?
According to 2019's data, Xpander was the best-selling vehicle of Mitsubishi with a total of 19,089 units sold nationwide.
Is Mitsubishi the best car brand in the Philippines?
Based on the 2019 sales performance, Mitsubishi came second with 64,065 units sold while the top spot belonged to Toyota with 161,385 units.
Do Mitsubishi cars have a high resale value?
Yes. According to a study by automotive research firm iSeeCars.com in 2019, Mitsubishi is ranked among the top 10 car brands with the best resale value.
Does Mitsubishi produce electric cars?
Yes. The Outlander PHEV is also the latest addition to Mitsubishi Philippines' local lineup. This plug-in crossover SUV has a price tag of Php 2,998,000.
Car Guide Search
New Mitsubishi cars for sale
Mitsubishi

reviews
Car price: ₱2,450,000

Car price: ₱1,255,000

Car price: ₱3,000,000
Mitsubishi Philippines dealerships