Mitsubishi L300 2020 - 2021
Overview
The Mitsubishi L300 can be used for either family trips or business needs. The utility vehicle has evolved from its famous predecessor – the Mitsubishi L300 Versa Van, that comes with the same purpose-driven cab styling and offers, depending on its purpose, an incredible number of configurations in its body.

An air-conditioned, 17-seater van that also provides enough space for luggage is being offered by the FB type Mitsubishi L300. It can also transform into a delivery van that is equipped with a cab with a freezer for frozen and perishable goods delivery. The Mitsubishi Motors Philippines Corporation introduces its L300 Cab to offer excellent services in the country.

Mitsubishi's commercial vehicle is a reliable and versatile utility vehicle that transports people and delivers goods with less hassle. There are two available variants for Mitsubishi L300, both come with a 2.2-liter 4N14 diesel power plant that is Euro-4 compliant. The engine generates a maximum output of 98 horsepower and torque of 200 Nm. Moreover, it is mated with a five-speed manual tranny. The Mitsubishi L300 is ideal for personal use and businesses because of its affordability and practicality.
Launch
In September 2019, the Mitsubishi Motors Philippines Corporation (MMPC) had formally launched its refreshed model in the local market. The MMPC reintroduced the FB type and cab & chassis van version of the Mitsubishi L300 featuring a new grille and front bumper. Furthermore, for improved visibility, a raise of 100 mm is updated for the cab.
The utility van is primarily and popularly used by small and big businesses for utility services, people's modes of transportation, and deliveries. According to the Japanese brand, it became a significant vehicle for those purposes mentioned above. White is the only color option for this van as of today.
Exterior
The Mitsubishi L300 looks precisely the same as its previous version aside from the updates on its horizontal chrome grille and front bumper. The utility vehicle still features a robotic-looking front fascia and a boxy body type that comes with box-shaped multi-reflector halogen headlights, fog lamps, and a trapezoidal dashboard.
The Mitsubishi L300 measures a length of 4260 mm, a width of 1695 mm, and a height of 1895 mm. In the meantime, the 3-seater utility van is equipped with a ground clearance that measures 195 mm, a wheelbase of 2350 mm, and a 55 -liter fuel tank capacity.
Interior
The Mitsubishi L300 does not have a lot of new features to offer, but it takes into account its reliability and practicality. The cabin of the utility vehicle exudes the old school vibes and provides a lot of legroom. It also comes with plain fabric upholstery seats and several tacky plastics.
The van also features a glove box that can contain phones, documents, and even a water bottle. It still got its typical analog for its instrumental console. On the other hand, the 17-seater rear van is equipped with a dual A/C system and fabric upholstery inside the cabin.
Technology & Safety Features
Some of the features excluded in the Mitsubishi L300 are the automatic climate control and electrically adjustable seats, for it is not intended as a car for convenience. The A/C vents are located at the central console with the conventional radio connected to two speakers. The radio comes with Tuner, MP3, USB port, Aux-in, and a memory card reader.
 
The safety features of the Mitsubishi L300 are front impact beams, seat belt warning, engine check warning, and side-impact beams. Sadly, it does not feature the Anti-Lock Braking System that comes with EBD on the wheels due to its lower price.
Platform & Chassis
The Mitsubishi L300 is a commercial vehicle with a body style of either a 4-door van or 2-door cab and chassis, depending on the variant. This 3-seater commercial vehicle has a length of 4260 mm, a width of 1695 mm, and a wheelbase of 2350 mm, along with a ground clearance of 195 mm.
The front suspension is handled by independent wishbone and coil spring with stabilizers, and the rear setup is Semi-Elliptic leaf spring.
In terms of braking power, the front brakes are equipped with 10-inch ventilated discs in the front, while the rear is a 10-inch leading and trailing drums, including 9-inch Master Vac brake boosters.
Engine & Drivetrain
The new engine of the Mitsubishi L300 commits to more fuel mileage and power. The Euro 4 Compliant 2200cc 2.2-liter 4 In-line 16V DOHC (4N14) together with a Turbocharged - Intercooler System is used to power the Mitsubishi L300 Exceed. Its mill is paired with a five-speed manual tranny and can more or less produce 40% greater in terms of torque and power compared to the older versions to have finer pulling and payload capacity.  
 
It is commercialized as a utility van that is intended to carry loads of cargo while running through unmanned roads and puddles.
The price of the Mitsubishi L300 in the Philippines is ₱804000 with 2.2 Cab & Chassis MT as the only available variant. Latest prices of the 2021 Mitsubishi L300 will be updated in the table below:
| | | |
| --- | --- | --- |
| Manual | Diesel | 14 seats | ₱804,000 | Get Quote |
***Please note that the Mitsubishi L300's price might differ in some showrooms and should serve as reference only.
Mitsubishi L300 2021
Colors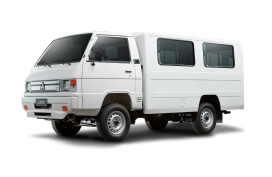 White
Mitsubishi L300 2021
Specifications
Powertrain
2.2 L

No

98 hp

200 Nm

MT

RWD
Suspension & Brakes
Independent Wishbone

Disc

Drum

Manual (Hand)
Dimensions
4,260

1,695 mm

1,895 mm

195 mm
Technology
Turnkey

None

None

None

None

None

None

None

None

None

None

None
Note: Some of the specs you see here vary per variant. Check out each variant to see the full specifications.
Mitsubishi L300
FAQS
What type of vehicle is the Mitsubishi L300?
The Mitsubishi L300 is a commercial vehicle which can be classified as a 17-seater van.
How many seater is the L300?
There are two available variants for Mitsubishi L300, both come with 17 seat configuration.
Is the Mitsubishi L300 a van?
Yes, the L300 is a 17-seater van.
Mitsubishi L300 2021
News and Videos
Mitsubishi L300 2021
Loan Calculator
According to the Philkotse auto loan calculator, the
Mitsubishi L300
installment price for a
₱

0.00
deposit, which is
20%
of the SRP, will have an estimated monthly payment of
₱

0.00
for
12 months
.
How to use Loan Calculator?
1. Enter the total price of the car you like.
2. Choose your preferred down payment percentage.
3. Choose your preferred financing term (12 to 60 months).
4. You can use the default interest rate or choose to adjust as needed.
5. View results and choose a monthly payment term that is convenient for you.
Disclaimer:
The computation here is based on
0

%
interest rate. Interest rates may differ depending on the loan provider (bank or in-house). The amounts listed don't represent any offer from Philkotse or any of its financing partners.
Mitsubishi L300 2021
segment rivals
Car Guide Search
Share this Mitsubishi L300 2020 - 2021 guide
Mitsubishi

reviews
Car price: ₱620,000
Mitsubishi Philippines dealerships