READY TO BOOST YOUR SALES WITH OUR LISTINGS?
Here are Philkotse's top-picked tips to make your listing stand out with potential car buyers
Photo
General Information, Safety Features & Specifications
Price
Listing title
Listing content
Listing package & Contact information
01
Photo
Click button '+' to upload your photos. Post photos according to the instructions below
Tips: Make sure to take a variety of photos at different angles
Front: Full front and quarter-front view
Interior: Front interior (driver's seat, steering wheel, dashboard, odometer reading, etc.) and rear interior (rear seats, trunk, rear doors, etc.)
Rear: Full rear and quarter-rear view
Include photos of any special features that can improve the value of your car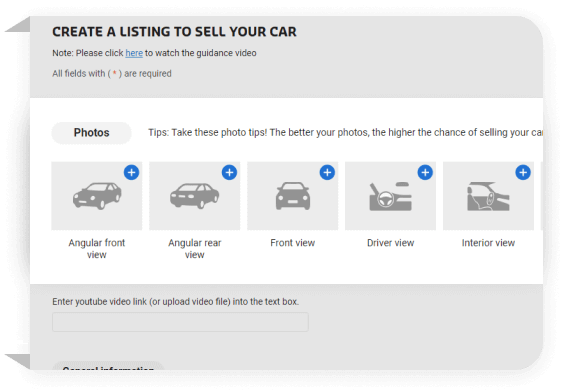 02
General Information,
Safety Features & Specifications
You may fill out all the information requested here or just the required (*) ones. Same with Safety Features & Specifications.
Tips: Complete details are the better.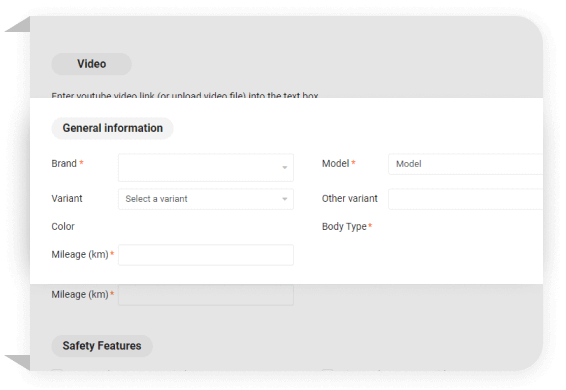 03
Price value
Tips: Don't overprice your car. Check out some tips to calculate your car's resale value on Philkotse
Full price tab - Please indicate the full price of the listing. As you can see on the lower part, you can allow buyers to send price offers and request for a test drive if you have a full price listed
You can also tick on the checkbox labeled "Monthly/Downpayment" and fill out all the required fields to attract more buyers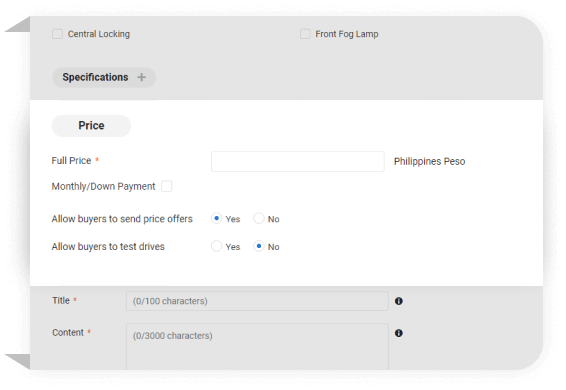 04
Listing Title
Tips: This makes your ad easier to be generated by the website when searched. Brand, Model, Year of Manufacture, and Color are the most basic technical details to include
Add your car's unique selling points such as low down payment and well-maintained condition.

- Example: Black Toyota Fortuner 2017 in good condition for sale - Zero down payment

Add a call-to-action phrase to catch buyers' attention

- Call today! White Toyota Vios 2018 Automatic for sale in Taguig

- Selling Red 2015 Honda Civic 1.8 in Makati - Get your last chance!
05
Listing Content
Tips: List your asking price & explain your reason for selling
Let buyers know how fixed you are on the price listed by using words such as "firm", "non-negotiable", or "best offer" and "price negotiable"
Mention your reason for selling and payment method
Second-hand cars: Provide a specific mileage, mention maintenance and service records, show off vehicle upgrades or modifications if any
Brand-new cars: Highlight new features and available discounts/promos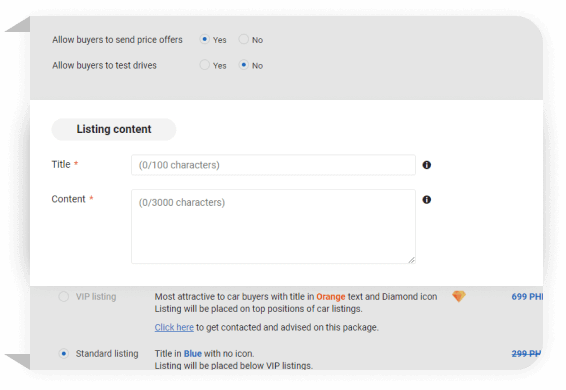 06
Listing package &
Contact information
There are 2 options: VIP Listing & Standard Listing. For Standard Listing, just tick the option next to it
For VIP Listing, choose the option and top-up your account. After that, return to this page to move on to the next part
Contact information will be filled out automatically if you signed up for an account. We recommend that you sign up so you can make changes to your listing