The ever-popular Mitsubishi L300 makes its return and it now has a Euro 4 compliant engine.
1. Mitsubishi L300 2019: It's coming back with a new engine!
The L300 is one of Mitsubishi's oldest models and one of their bestselling utility vehicles. It is known to be very reliable, very economical to acquire and maintain, and most importantly it is very versatile.
While most use it for commercial purposes as a cargo vehicle mostly with the FB Exceed variants, many also utilize the Mitsubishi L300 as rugged a transport vehicle for those rough provincial roads or even as family transportation.
It can, after all, fit a whopping 12 people with its side by side "jeepney" style seating making it a good choice for transporting your large extended family.
Now we've covered the announcement of the new Mitsubishi L300 wherein it was indeed confirmed by the company that it was coming back with a lot of improvements to its exterior, the cabin, the cab, and the engine.
For those who kinda forgot, Mitsubishi actually had to stop making the L300 back in 2018 mainly due to its aging engine that couldn't meet Euro-4 emissions standards although they said they would update Euro 4 compliant engine for L300. The new one though now has a new engine and MMPC has now released more details.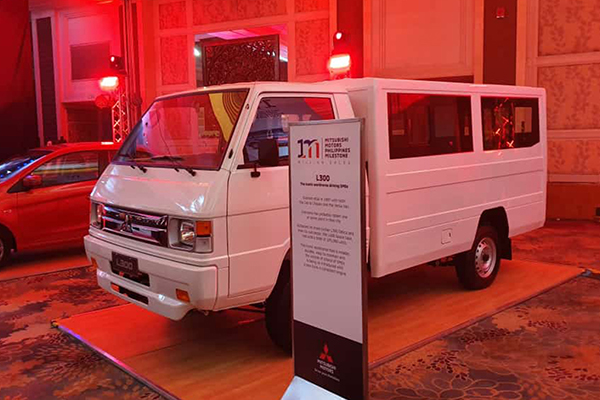 The 2019 Mitsubishi L300 Exceed is still boxy and yet there's this utilitarian appeal to its design. [Pic source: Topgear PH]
In order to meet Euro-4 standards, Mitsubishi gave the new L300 a new engine; the 2.2 4N14 which runs on diesel and is still in inline-4 but now has more in terms of horsepower and torque. The 4N14 also comes with Mitsubishi's very own variable timing technology called MIVEC, has a common rail fuel system, and has dual overhead cams.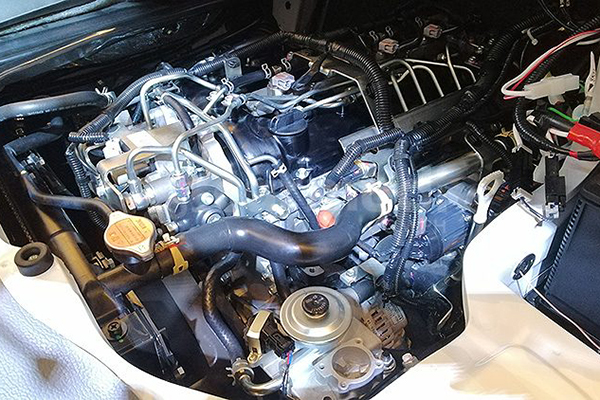 Here's the new L300's Euro-4 compliant engine which is still nestled below the front seats
Whether or not Mitsubishi will detune the 4N14 when on the new L300 we still do not know as of yet but what we know though is that the aforementioned engine can make up to 170 horsepower and 380 Nm of torque.
The company has also used the 4N14 on previous vehicles mostly SUVs and vans namely the Mitsubishi Outlander 2010, the Mitsubishi Delica 2012, the Mitsubishi ASX 2013 AT variants, and the Mitsubishi Eclipse Cross 2017.
>>> Check out a list of Mitsubishi cars for sale with the best price. 
While Mitsubishi is yet to give exact details on the power and torque figures, they did say that the new L300 is 10% more fuel-efficient and can make around 40% more torque.
 Another aspect of the all-new L300 that Mitsubishi confirmed is that it will receive a 5-speed manual transmission which will come in the form of a column shifter. Also improved are the L300 Exceed's cab height, a set of larger taillights, a bedliner protected by a spray-on material, and dual air-conditioning.
2. Mitsubishi L300 2019: Now available for reservation
So, how much will the all-new Mitsubishi L300 cost? Well initially, the Exceed variant of the Mitsubishi L300 was intended to come with a retail price of Php 998,000 and the cab and chassis model at Php 822,000.
Mitsubishi however has decided to give a Php 52,000 discount which will mean that the Exceed variant will come at around Php 946,000 while the cab and chassis will cost Php 770,000. These prices place the new L300 within competing for a range of the Hyundai H-100 and the Kia K2500.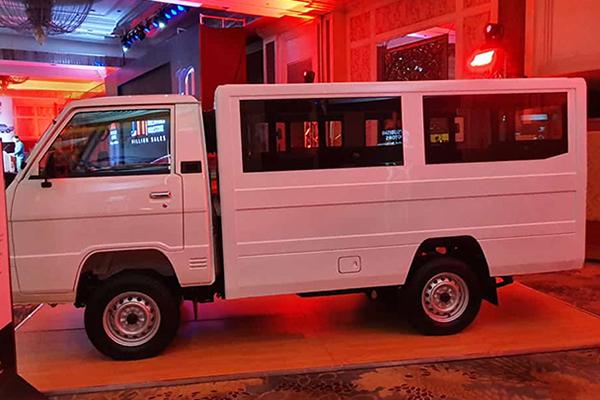 As of now, you can already reserve for one at your nearest Mitsubishi dealership! [Source: Topgear PH]
>>> Find your nearest Mitsubishi dealerships in the Philippines right here!
Mitsubishi has also confirmed that its dealerships around the country can do reserve their very own 2019 L300. As for the actual release date, that's set sometime within September of this year.

Know more about Mitsubishi L300 2023

The current Mitsubishi L300 2023 by Japanese automaker Mitsubishi is based on the L300 Versa Van. While the latter was more of a family carrier, Mitsubishi has since marketed the L300 FB mainly as a commercial vehicle (CV). It is sold under one variant only which is the Cab & Chassis priced at Php 804,000. In the Philippines market, the L300 FB uses a Euro 4 compliant 2.2-liter 4N14 diesel power plant. At most, this mill can make up to 98 horsepower and 200 Nm of torque. Power is sent to the rear via a five-speed manual transmission.
When it comes to dimensions, the L300 spans 4,440 mm in length, 1,695 mm in width, and 1,915 mm. Also, it gets a wheelbase and ground clearance rated at 2,350 mm and 195 mm, respectively. This Mitsubishi CV is competing in the local market against the likes of Kia K2500, Isuzu Traviz, and Hyundai H-100.

Cesar G.B. Miguel
Author