It looks like we'll have to wait for the facelifted Camry.
2021 Toyota Camry: What we know so far 
Several years ago, Toyota Motor Philippines (TMP) launched the 8th-generation Camry, which still slots in as the brand's midsize sedan offering. It is now 2021, and many carmakers are working on updating their models. So, is Toyota going to introduce a refreshed Camry? 
2021 Camry Overview | Toyota USA
Well, to answer that, the facelifted Camry for the model 2021 is already out and about in Europe. Furthermore, many car journos have pointed out that it's really similar to the PH-spec version that we have right now. So yes, there might just be a chance that we'll be getting a new Camry sometime this year.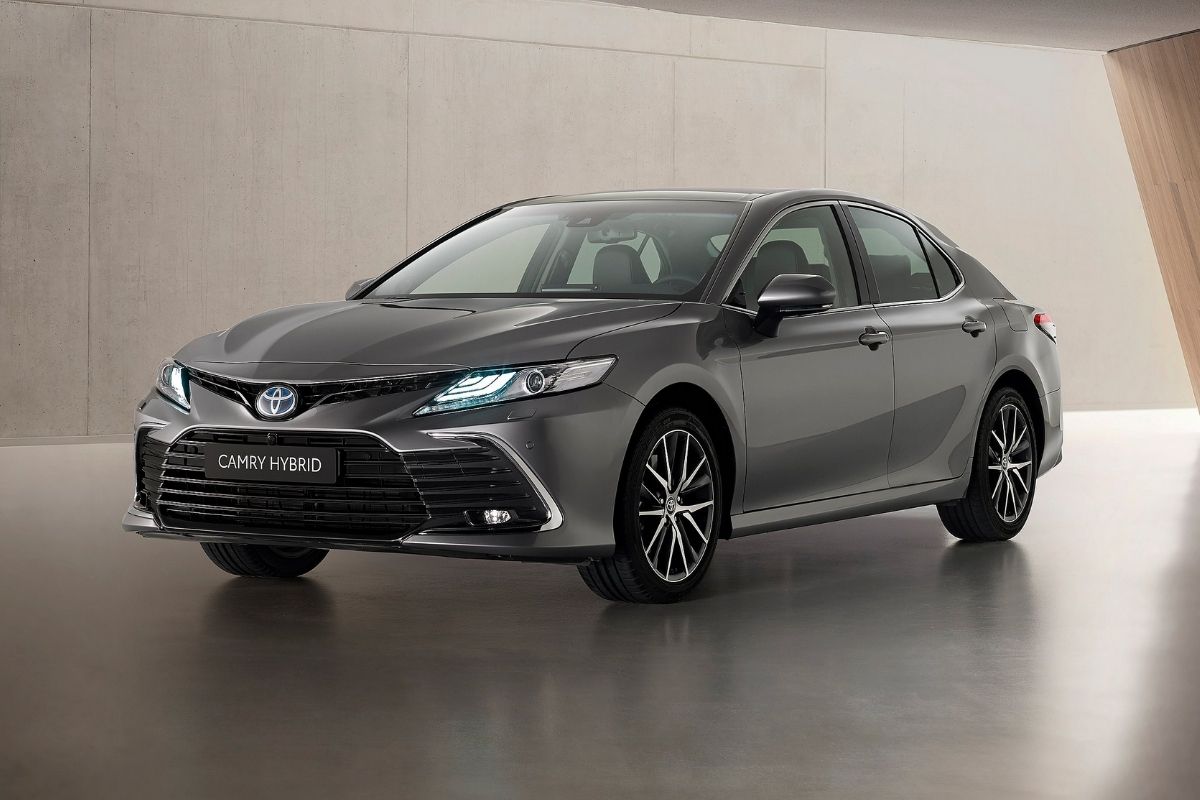 The facelifted Euro-spec 2021 Toyota Camry Hybrid
Do note though that it is more likely that the current model will be carried over for 2021, at least here in the Philippines. Even Thailand, which usually gets newer Toyota versions first, is yet to receive this new facelifted Camry.  
So, what can we expect from a 2021 Toyota Camry?
2021 Toyota Camry: Exterior 
When the Camry was updated in 2018, many appreciated its sharp new looks. It no longer bears the simple and rather standard-looking silhouette of the old version. Instead, it now has a good dose of sharp lines towards the sides, as well as the gaping, multi-slatted front grille that has become the norm on Toyota's global sedan models. Overall, it is classy, but it has this edginess to it that will turn heads.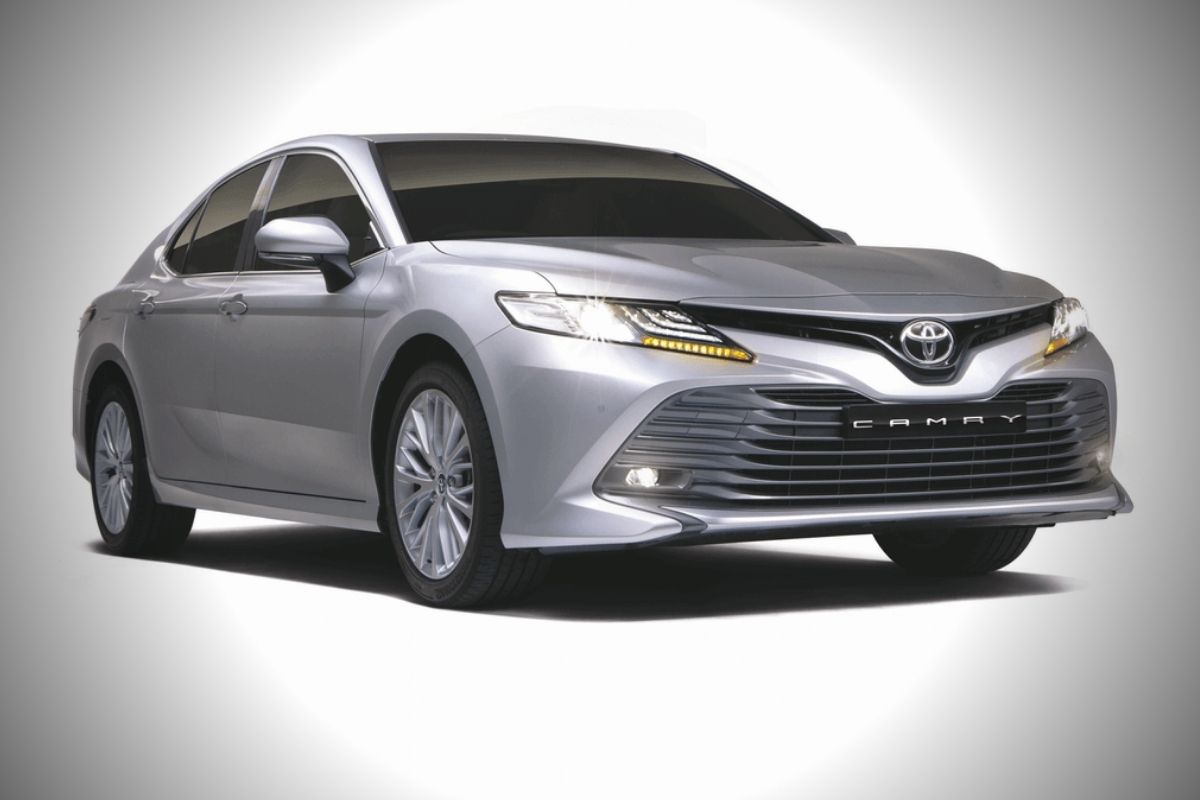 The current PH-spec Camry
Suffice to say, the looks of the Toyota Camry will remain to be competitive for years to come. Plus, its automatic LED headlamps and daytime running lamps, rain-sensing wipers, and LED front fog lamps, and LED taillights are already some of the prettiest and brightest that Toyota has to offer.
As for the facelifted Camry from Europe, we can expect the same level of illumination. Otherwise, it looks a bit different thanks to its chrome trim pieces and its slimmer-looking grille. Other than that, though, not much else has changed.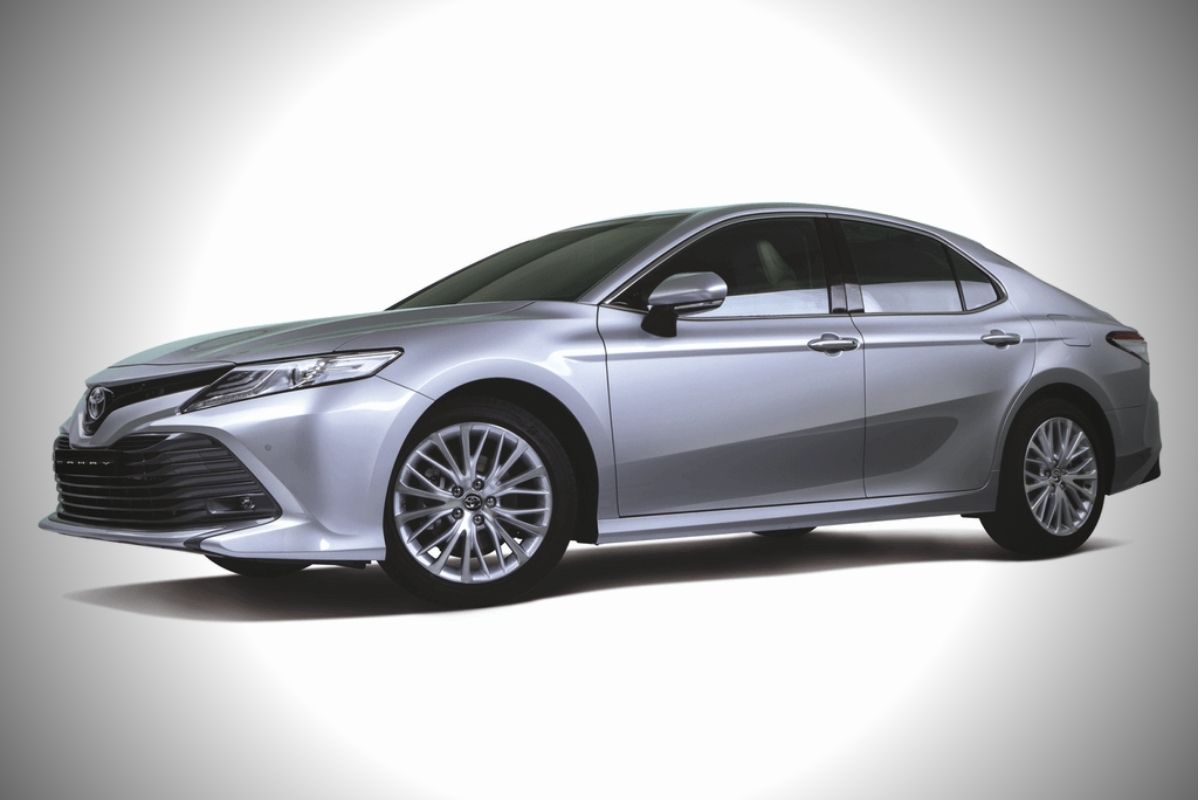 The PH-spec Camry from the side
>>> Related: Toyota Camry vs Subaru Legacy: Which rules the premium mid-sized sedans segment?
2021 Toyota Camry: Interior 
Inside, the current PH-spec Camry is already a very cushy sedan. The top-spec variant comes with a pair of eight-way power-adjustable front seats, a three-zone automatic air-conditioning system, a power trunk, ambient lighting, a 7-inch touchscreen display audio system with six speakers, offline navigation, cruise control, among others.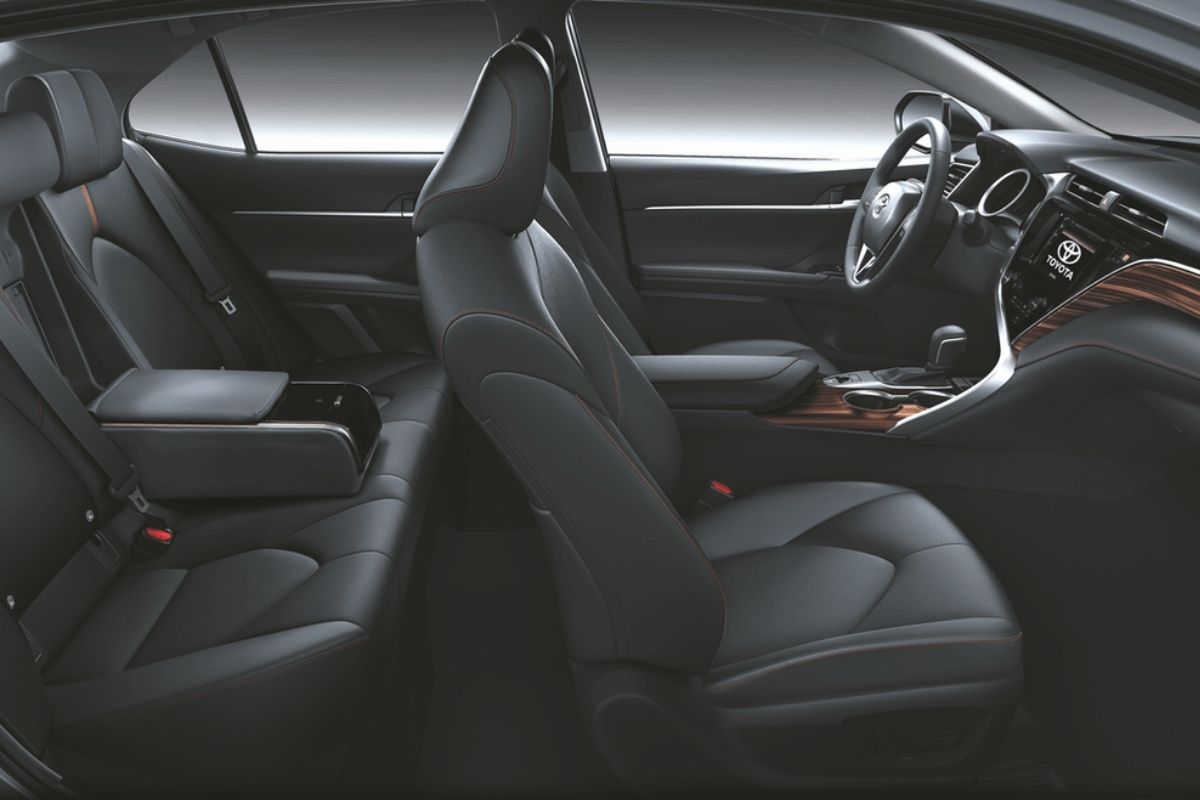 The top-of-the-line PH-spec Toyota Camry's interior
One thing that we would want on the 2021 Camry however, is the presence of Android Auto and Apple CarPlay. The existing T-Link smart-phone linking software, however, can do the job sufficiently. Also, Toyota would do well to update the interface of the touchscreen so it matches the elegant style of the Camry's interior.
>>> Related: Newest version of Toyota Safety Sense 2.5 debuts in facelifted Camry
2021 Toyota Camry: Engine and performance 
While many Camry-heads were disappointed with the disappearance of the V6, the inline-4 that the current Camry uses has proven to be more than enough for daily driving. It makes 181 horsepower and 231 Nm of torque, paired with a six-speed automatic transmission with power sent to the front.  
The current Camry doesn't have paddle shifters but the tranny can be manually shifted using the gear lever
In other parts of the world, however, the Camry can already come with a hybrid powerplant. After all, Toyota has been working on electrifying its local lineup in recent years. TMP even introduced the Corolla Altis Hybrid locally, so why not the Camry Hybrid? 
2021 Toyota Camry: Safety 
For safety, the current PH-spec Camry comes standard with a very comprehensive kit. Both of its variants are equipped with seven airbags, hill-start assist, stability control, anti-lock braking with electronic brake-force distribution, and many others.  
The facelifted Euro-spec Camry however, takes it up a notch with the addition of a pre-collision system, emergency steering assist, daytime oncoming vehicle detection, etc.
>>> Related: All sedan cars of Toyota Philippines with price list & brief review
2021 Toyota Camry: Final Thoughts 
For TMP to introduce the facelifted Camry locally, then the Thai market would need to get it first. This is because most of the Toyota models sold here are assembled in Thailand and are sold in Thailand.
That said, it would take a while for the said plants to retool and accommodate the changes found on the facelifted Camry. As for a hybrid version, well, it's already available in Thailand – make of that what you will.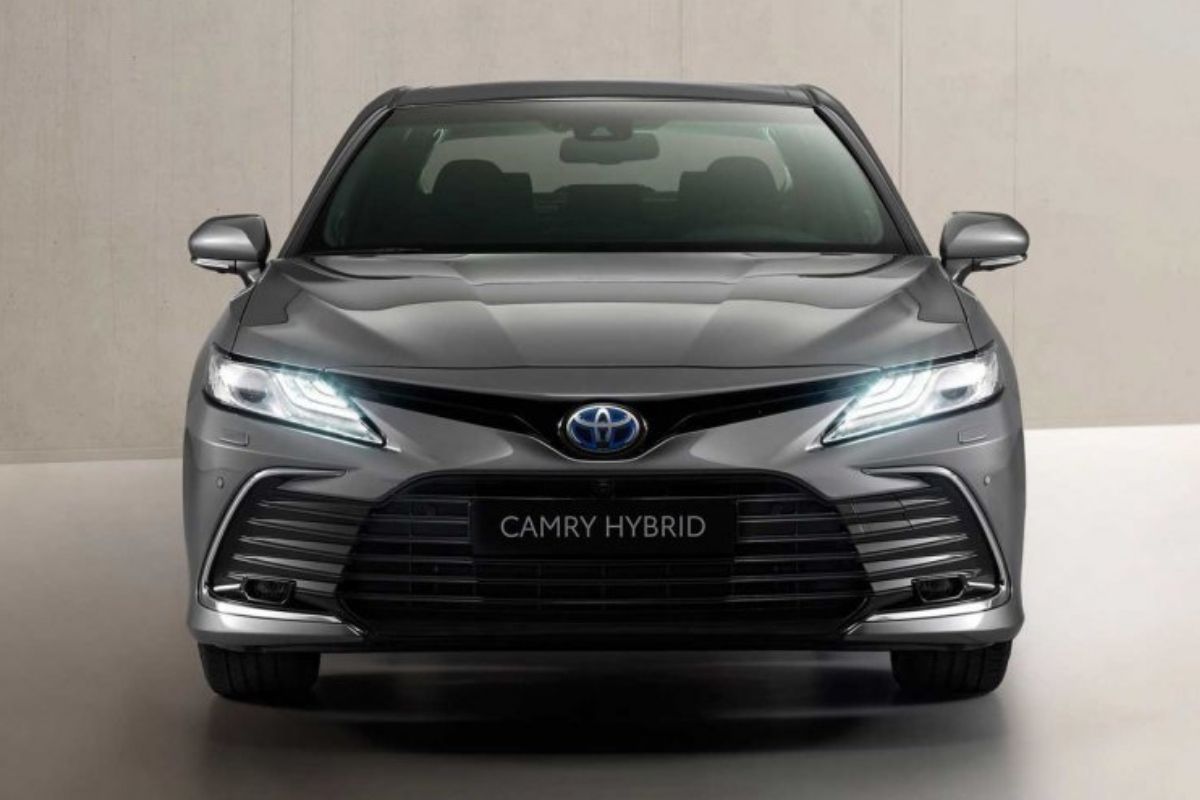 The facelifted Euro-spec Camry looks really close to the current PH-spec version
>>> Related: Check out for Toyota Camry promos
2021 Toyota Camry: Expected price 
Currently, the Camry's price here in the Philippines ranges from Php 1,856,000 to Php 2,042,000 for its two variants. Regardless of a new facelift or not, Toyota will eventually increase the said price tag due to many reasons like inflation, taxes, etc. 
For more automotive news, stay posted here on Philkotse.com. 
Know more about Toyota Camry 2021

The Camry is one of the longest-running nameplates in Japanese carmaker Toyota's lineup. It was introduced in 1982 and is currently continues to be a top-seller for the brand. When the model was first introduced, it was designed to compete in compact sedan markets. But in the early 90s, Toyota decided to increase the configuration size, making it a midsize sedan. Toyota Motor Philippines (TMP) launched the 8th-gen Camry in the local market in late 2018, arriving with a sleeker and sportier exterior appeal as compared to the outgoing generation. Inside, the 5-seater midsize sedan provides an executive and modern feel thanks to the wood trims, spacious cabin, an ergonomic leather interior, and adjustable seats for both the driver and passengers. In consideration of the size and features, the PH-spec Toyota Camry is offered with a price that plays around the P2-million mark, making it one of the most expensive in Toyota's Philippine lineup. This midsize sedan is marketed for those Filipino car consumers who are in the market for a premium, quality, and upscaled vehicle.

Cesar G.B. Miguel
Author
Recent posts