We might get the facelifted Honda Civic Type R.
2021 Honda Civic Type R: What we know so far
When the current FK8 Honda Civic Type R was released back in 2017, many car enthusiasts and Honda fans were hyped up. Ecstatic even. Why? Well, the release of the Civic Type R signified that Honda is not done with performance cars, which provides what enthusiasts want.
2020 Honda Civic Type R Introduction Video
But while the model in question is indeed a mechanical marvel, its exterior design was divisive especially with regards to the large wing. There were also reports that the outgoing model suffered overheating during race track runs. And moreover, many of its users said that "it was too quiet."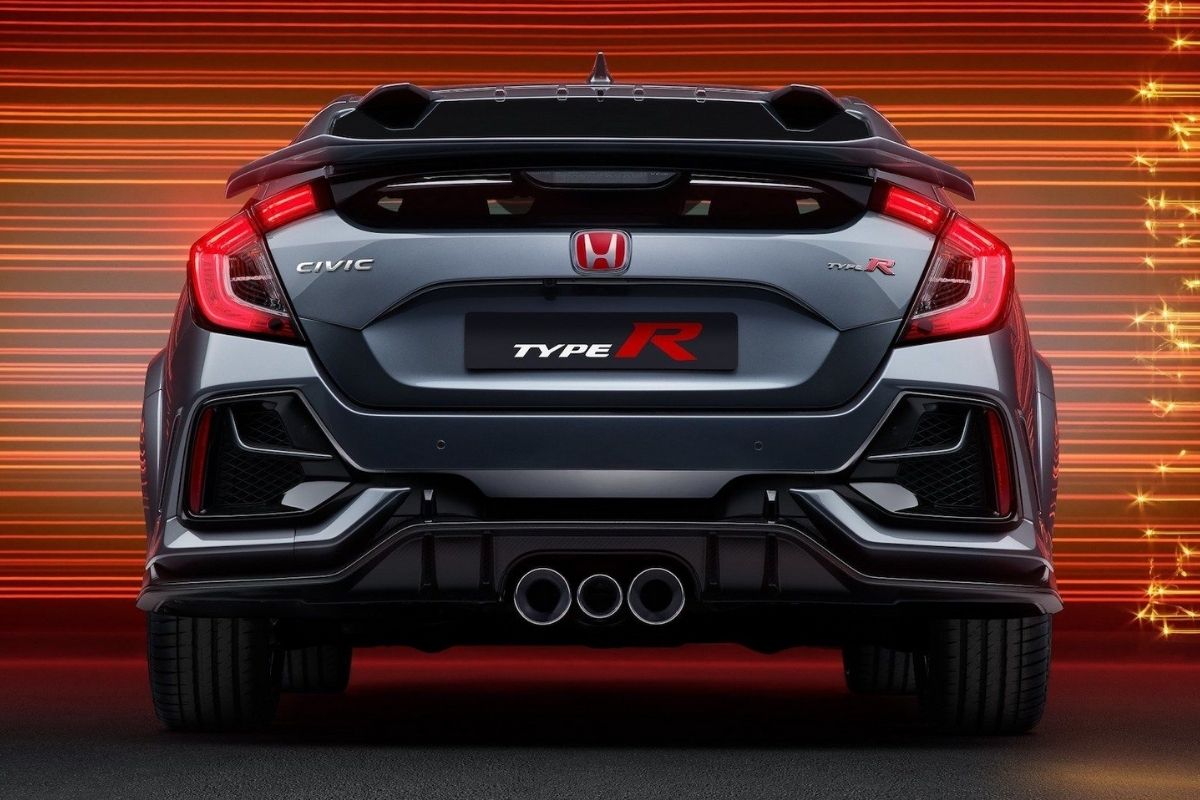 The Civic Type R Sport Line's rear end. Note the smaller wing
Honda listened to this a bit and thus gave the Civic Type R a facelift last year. Apart from having better airflow for the engine, it comes with a new look, and there's even a version with a smaller wing called the Type R Sport Line.
The Philippines however, is yet to receive the facelifted Civic Type R. If we went with our gut feeling, however, there might be a chance for the local market to get it. Before that though, the current PH-spec Civic Type R will be carried over for the model year 2021. So, what can we expect from it this year?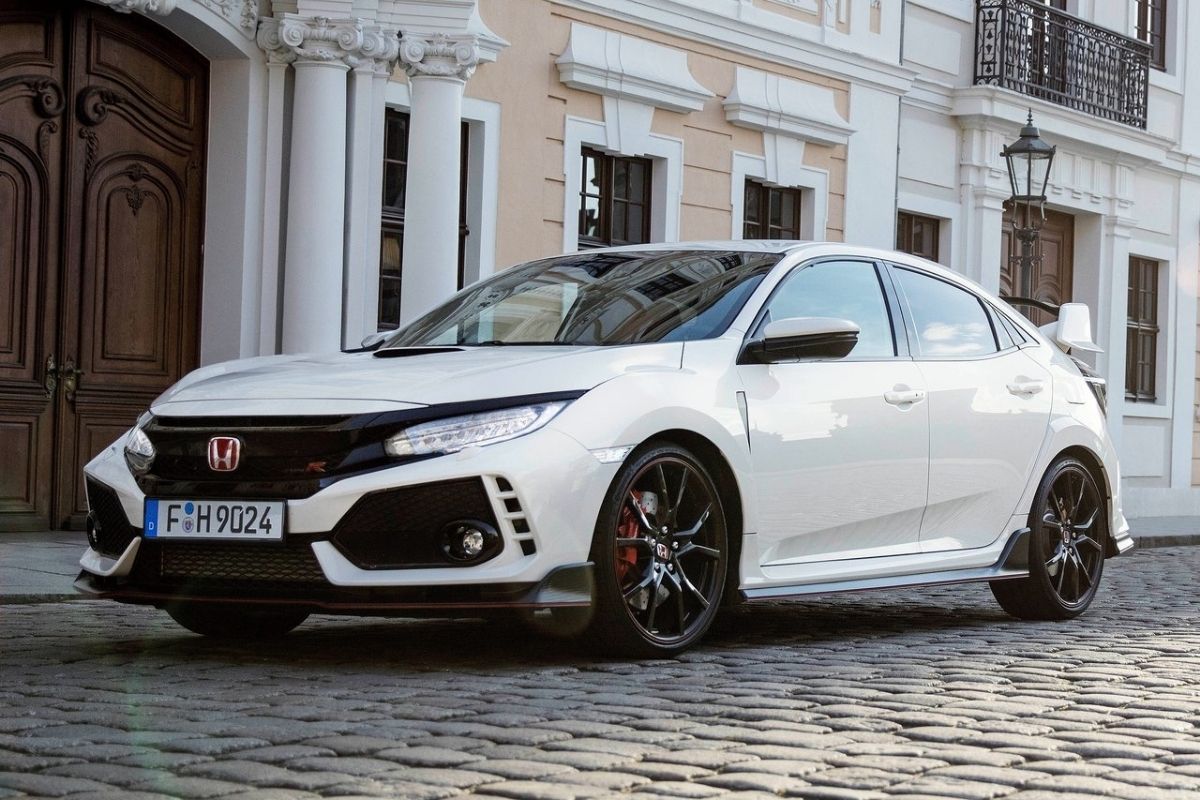 The pre-facelift Honda Civic Type R FK8
2021 Honda Civic Type R: Exterior
When it comes to the facelifted Civic Type R, the changes are a bit subtle. The front and rear end now come with a revised mesh design, and the body-colored blades upfront look slightly different. Then there's the Civic Type R Sport Line, which ditched the huge wing, in favor of a smaller one.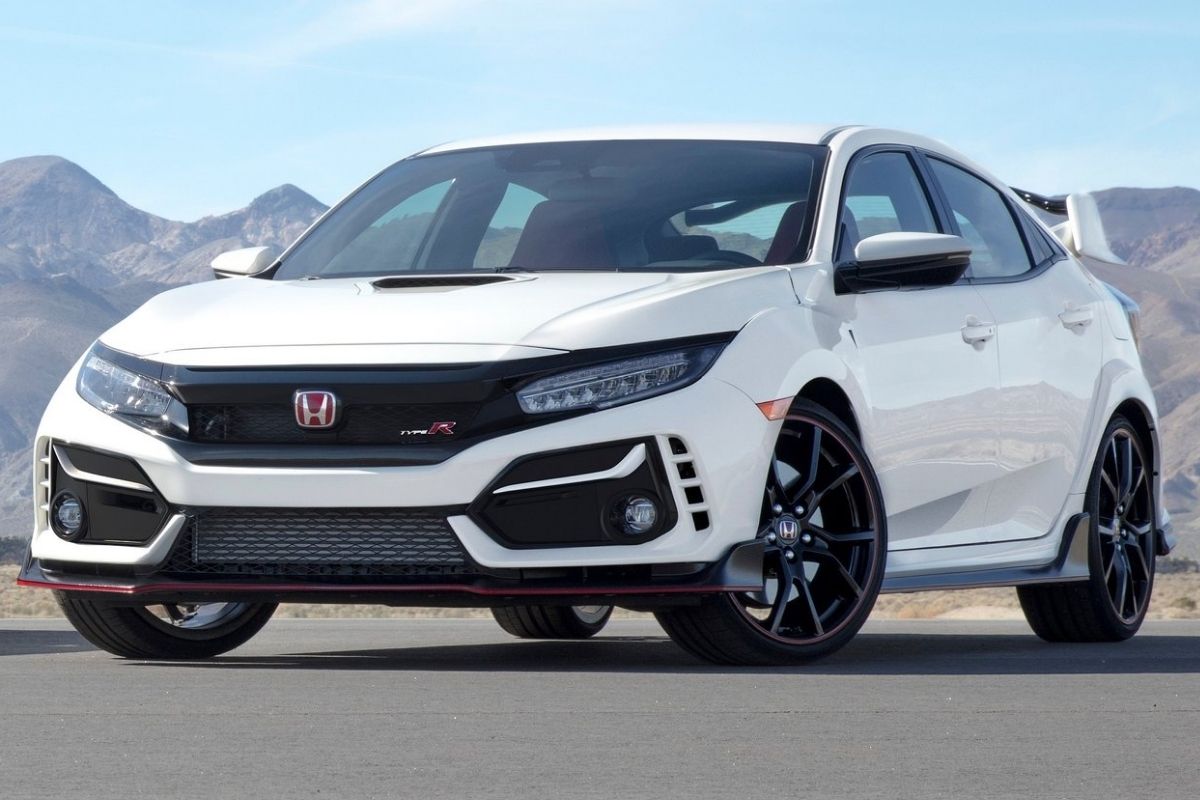 The facelifted Honda Civic Type R
As for the current PH-spec model, all of its exterior elements will be carried over for 2021. In other words, we cannot expect any changes until the facelifted FK8 gets here.
>>> Related: Rumor: Next Honda Civic Type R to get 400 hp via hybrid powertrain?
2021 Honda Civic Type R: Interior
Inside, the new FK8 Civic Type R now sports a shifter boot made out of suede. The knob was also replaced with a polished cap, which is reminiscent of the shifter found on the Integra Type R, and the Honda S2000.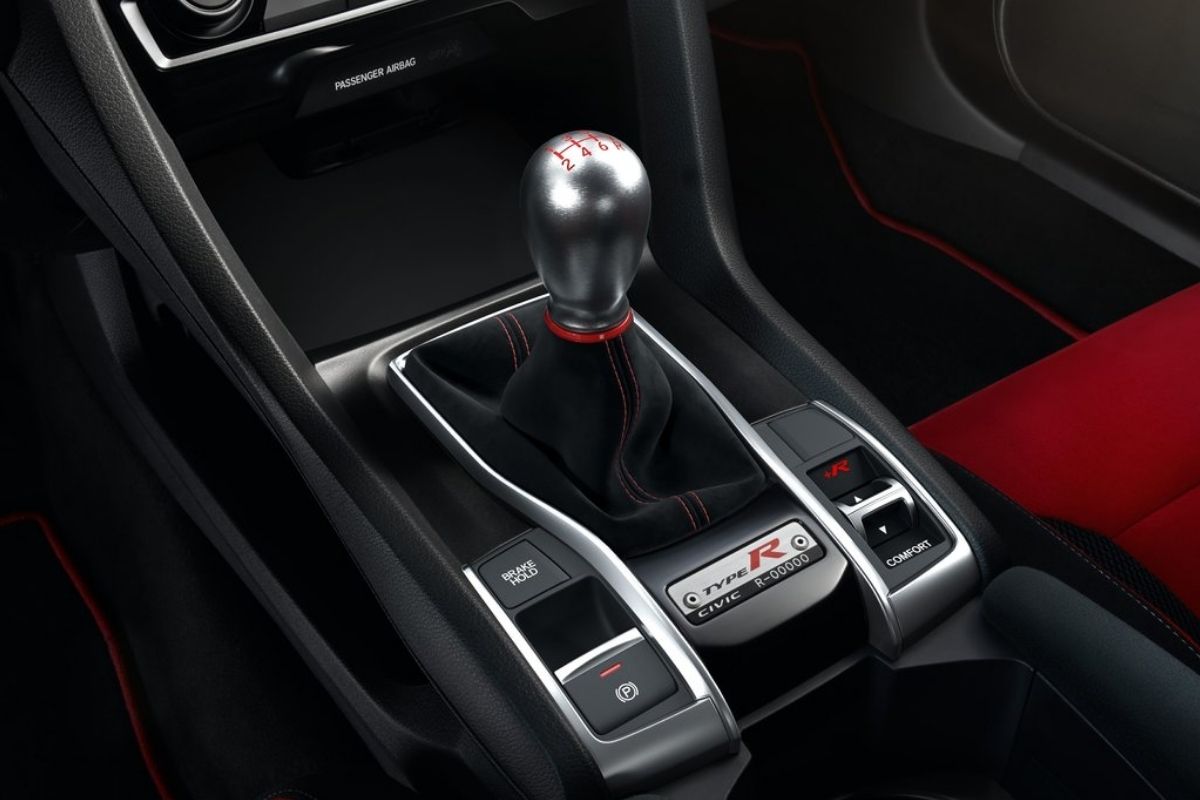 The facelifted Civic Type R's shifter
As for the rest of the interior, not much has changed in terms of design. Do note however that Honda has tweaked the model's Active Sound Control to provide more sound. They did this by allowing the system to remain active on all three drive modes, with the +R mode being the loudest.
But yes, this system is still an "engine sound enhancer," which still uses speakers to appease enthusiasts. Many of us, especially the purists, sort of dislike it. But then again, it's what we have when it comes to the facelifted Civic Type R's engine sound, well, apart from attempting to give the car a straight pipe exhaust.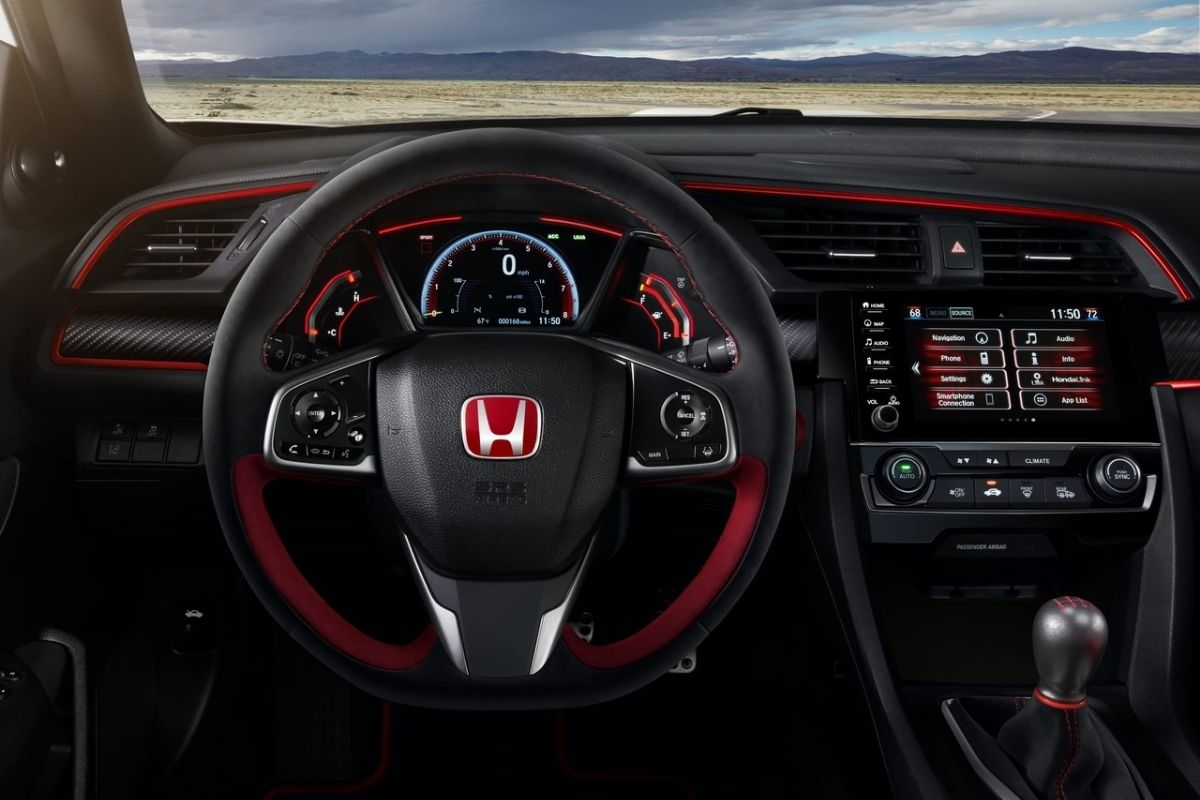 The facelift's interior still features a black and red color scheme
Apart from those improvements, Honda also gave the facelifted model the LogR. It is a data-logging application, which displays important car info like water and oil temperature, lap timer, among others. This is transferable to your smartphone via the Civic Type R's Apple CarPlay and Android Auto features, and it can be referred to anytime you want.
>>> Related: Next-gen Honda Civic coming in 2021
2021 Honda Civic Type R: Engine and Performance
To address the present, but arguably isolated cases of overheating, Honda made the facelifted Civic Type R's grille opening a bit larger. Downforce was also improved by the new grille, and the active suspension software is now more attentive to provide dampening. The rear portions of the suspension system were also improved with better ball joints, and better bushings. According to Honda, these improvements resulted in better cornering, as well as a better ride overall.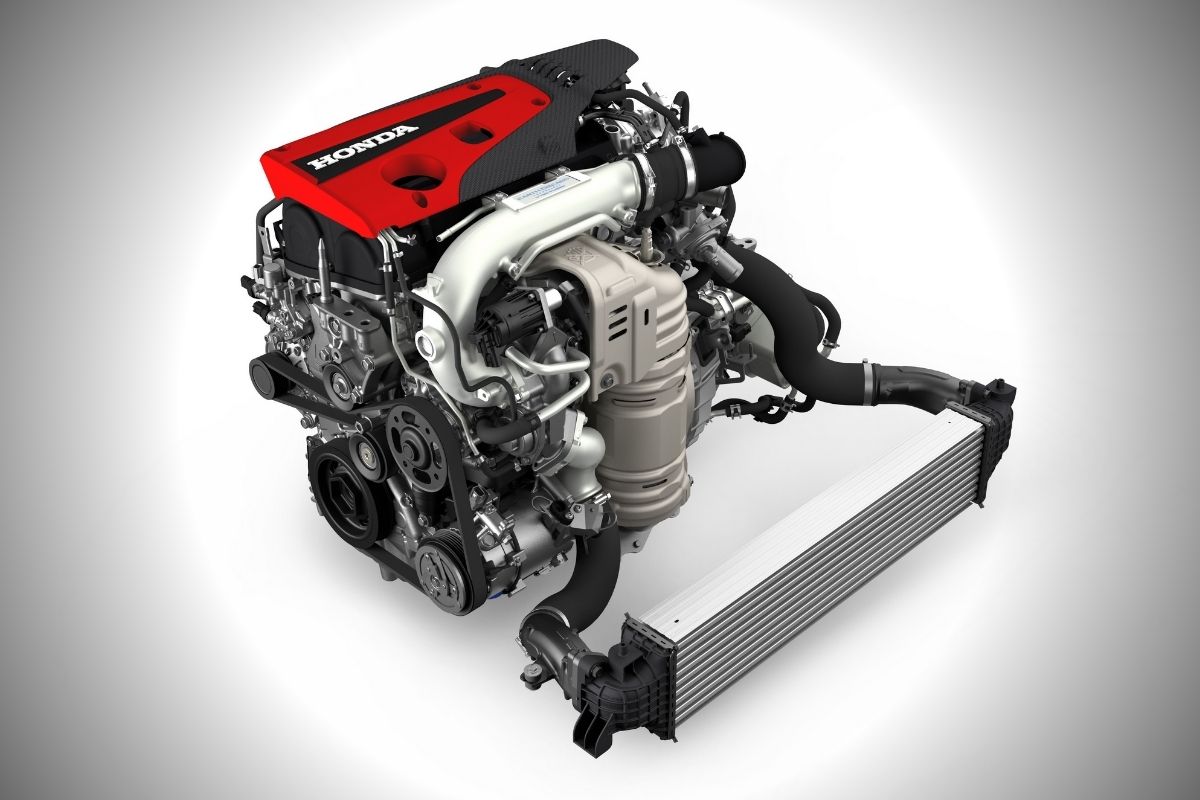 The facelifted Honda Civic Type R uses the same K20C1 inline-4 turbo engine
Regarding the Civic Type R's powerplant, no improvements were made, and the said turbocharged inline-4 gasoline mill can still make up to 306 horsepower and 400 Nm of torque. Of course, the Civic Type R gets a five-speed manual.
2021 Honda Civic Type R: Safety
With the facelift, the Japanese automaker also packed in the latest Honda Sensing as a standard kit. This of course includes potentially useful features like a collision mitigation braking system, collision warning systems, road departure mitigation, among others.
Currently, the PH-spec Civic Type R already comes with three airbags, speed-sensing door locks, stability control, anti-lock brakes with electronic brake-force distribution, rain-sensing wipers, automatic headlamps, hill-start assist, auto-dimming rearview mirror, etc.
>>> Related: Honda Sedan models available in the Philippines: Specs, price and brief review
2021 Honda Civic Type R: Final Thoughts
For most current Honda Civic Type R owners, you've probably never heard of that overheating issue at all. Not all have the time to go to the race track especially in this day and age, and most will have used their beloved Type Rs as a weekend cruiser and/or a daily instead.
Well, maybe save for those driving their Civic Type Rs on public roads as if they're on the race track. In which case, that's on you. Our point is, many are already content with the Civic Type R's pre-facelift version and will instead prefer to mod their cars instead.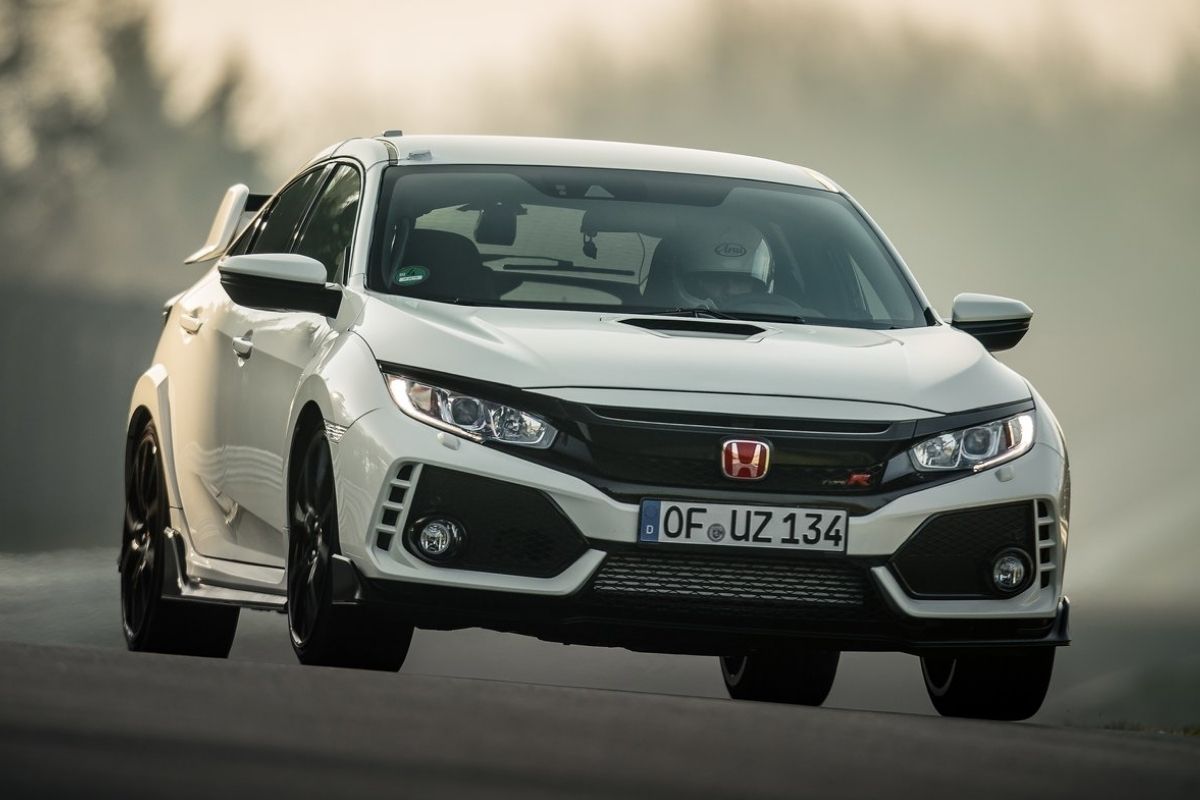 The Civic Type R FK8, regardless of version, can be fun to drive and be a comfortable daily driver
If you're the type who's very serious about performance, however, you might be drooling over the facelifted version right now. It handles better, and will definitely outpace the pre-facelift Type R on a track. Then of course there's the new Honda Sensing suite, which will provide more peace of mind for you and your family.
What about the Civic Type R Sport Line? Well, it isn't that different from the standard facelifted Civic Type R. As such, we can hope right now that Honda PH introduces the smaller wing as an optional package instead of a whole new variant. Do note that as with any speculative article, take what we've said so far with a grain of salt.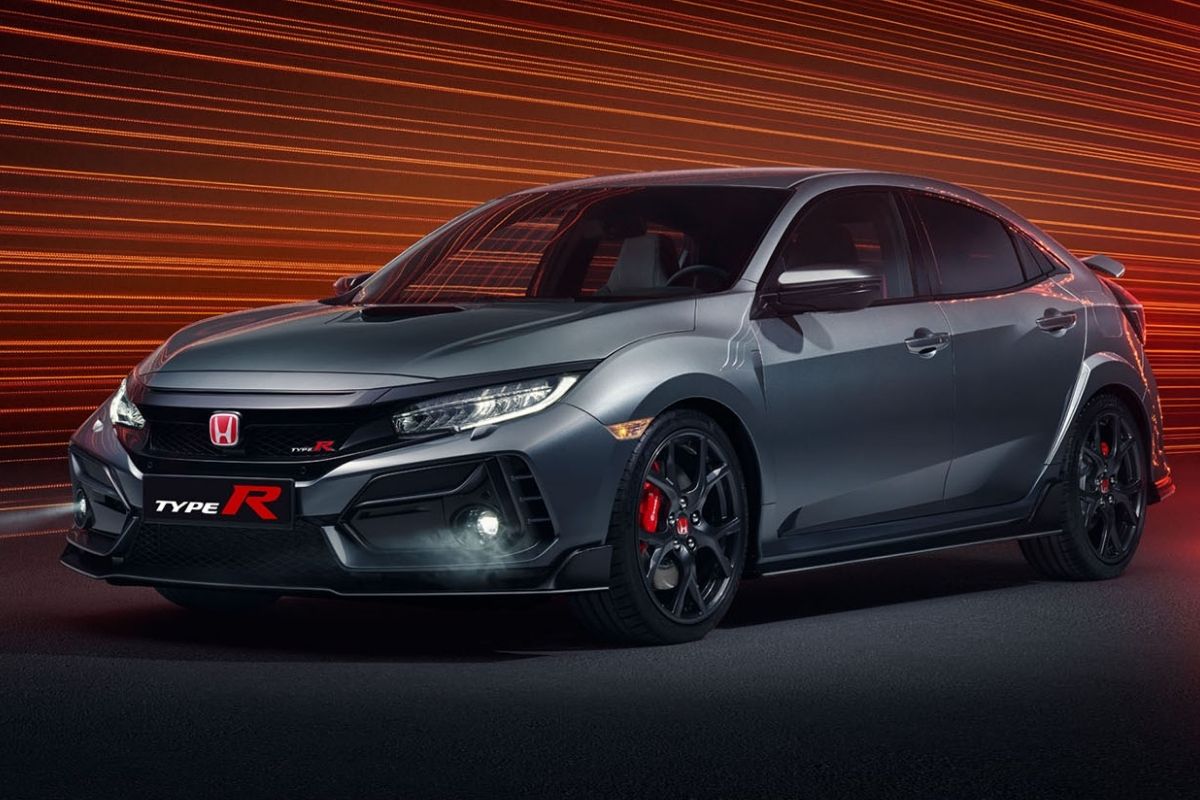 The front end of the Honda Civic Type R Sport Line
2021 Honda Civic Type R: Expected Price
The current PH-spec Honda Civic Type R is currently priced at Php 3,180,000. If Honda PH decided to introduce the facelifted Civic Type R, expect that price to go up. Also, there's the new DTI safeguard tax to consider when it comes to local car prices.
For more articles like this, keep reading here on Philkotse.com.
Know more about Honda Civic Type R

Honda Cars Philippines, Inc. is selling the Honda Civic Type R for the first time. The vehicle is currently in the 5th generation of the Civic's high-performance version, which is now in its 10th generation. The front fascia of the Honda Civic Type R features a hood scoop and mesh grille in the center. The carbon-fiber splitter is accentuated by a red horizontal line. The iconic red "H" badge is crowning the wing grille. The vehicle's side profile features 20-inch aluminum wheels and skirts that are also accentuated with a red line. To add more character to the model's aggressive styling, Honda includes a new spoiler to the Honda Civic Type R. The vehicle's rear end is pretty much the same as its front fascia adorned with red "H" badge, carbon fiber, and mesh. The Japanese carmaker also decided to add three exhaust pipes that are centrally-positioned to further enhance its appeal. Powering the Honda Civic Type R is the 2.0L DOHC turbocharged and direct-injected i-VTEC in-line 4-cylinder engine. This power source is capable of making 306 horsepower and 400 Newton-meter of torque, which makes the model the most powerful and the fastest Civic Type R. The engine is paired to a six-speed manual.

Cesar G.B. Miguel
Author