Exterior
Known as a high-performance car, Honda Civic Type R Philippines makes a strong impression with an aggressive and angular look. Specifically, the brand also equipped the Type R with some additional features for aiding its performance. These functions include the vent on the top of the badge, a rear wing, and a diffuser.
Type R also has a prominent look with skirts on the side and 20-inch wheels. Besides the front's fog lamps, the model also comes with LED tail lights and LED headlamps. Different from the regular sedan style, the Type R features the rear end in fastback style. And the rest of the rear also comes with many pieces in black.
To meet the soaring demand of the customers, the manufacturer has come out with six different Honda Civic Type R colors, including black, white, red, grey, silver, and blue.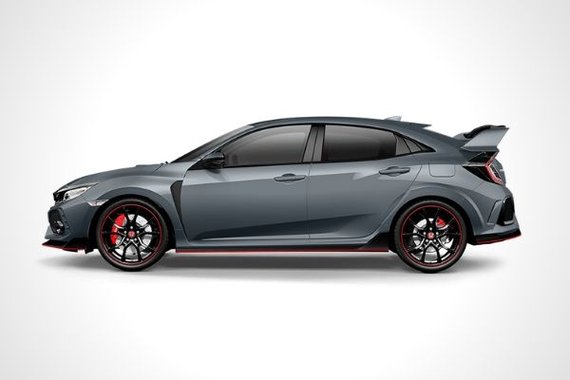 Interior
Regarding the interior, the Type R stands out with its trim and red-colored pieces. Specifically, the front of suede bucket seats are mostly in red and bear the badging. The same design goes for the steering wheel with a leather cover and the dashboard. Under the shifter, there is a metal plate showing the production number.
In addition, Honda Civic Type R offers drivers a gauge cluster, adjustable seat manually, a tilt & telescopic steering wheel, and a rear-view mirror with the auto-dimming feature. In order to bring more sense of comfort to passengers, this Honda model has ambient lighting and air-conditioning automatically functioning.
Safety
On the safety features, this sports car from Honda built a standard assistant for hill-start, door locks, speed sensing, three airbags, ISOFIX tethers for a child seat, and stability control.
Technology Features
Type R has a dashboard system of 7-inch infotainment that is compatible with Apple CarPlay and Android Auto capabilities. This model offers extra connectivity for the perfect entertainment function, including Bluetooth, USB, and HDMI with the eight speakers.
This car also owns the cruise management function, start button, various drive modes, backup camera, and rear parking sensors.