Like any car purchase, repossessed cars are a mixed bag.
Buying a used car can be a hassle sometimes and this is especially true when you know nothing about cars. Sure, there are used car buying checklists that you can use, but in the end, buying a used car will still have a lot of variables that you should be aware of.
Take for example buying a used car that was involved in a crime by mistake. That's a scary and very stressful proposition for any car buyer, right?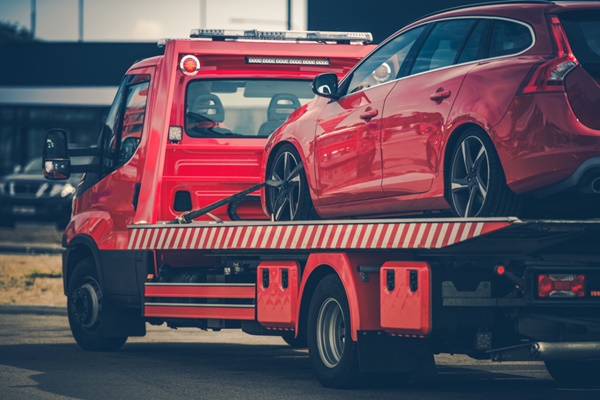 But what are repossessed cars exactly?
So how does one eliminate the many uncertainties of buying a second-hand car without turning to pricier brand new ones? There are many ways and one of the easiest ones is turning to repossessed cars. But what are repossessed cars exactly?
What are repossessed cars?
Repossessed cars or simply "repo cars" are cars where a lender, like a bank, takes back possession of a vehicle. This occurs when a person falls behind his/her auto loan payments.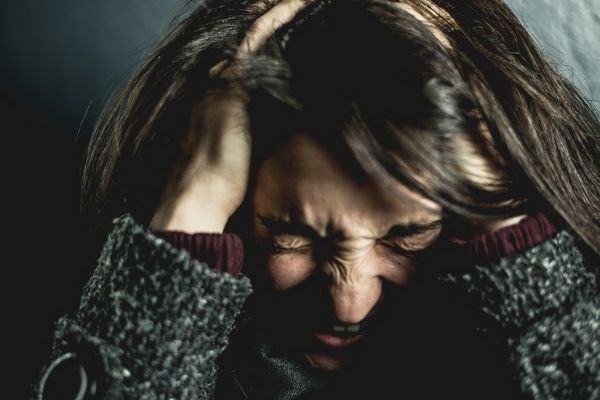 Losing something is painful but sometimes you just have to let go.
As you might have figured by now, banks all over the Philippines will have a whole stable of repossessed cars and properties. These are things that they're itching to sell to recoup their losses.
As such, banks will often allow a bank member to view what's called a "repo file," which is simply a list of repossessed objects like cars.
>>> Related: Encumbered Car: Tips, risks, and everything you need to know
What do I do when I want to buy a repossessed car?
First, we advise you to do your research first. Pick a car you want and crawl over the internet for information about the said car model's market value.
To make it easier for you, you can also check out our car for sale section for an overview of used car prices here in the Philippines. Next, consider participating in auctions.
This is because repossessed cars owned by banks are auctioned off from time to time. Before doing so, however, be sure that you'll have the finances to be able to be ready to bid.
Auctions, after all, are competitive and you'll be going against several other people. The highest bidder in an auction will "win" the car so you really need to prepare. Traditional auctions are done on-site and do offer some thrills of going head-to-head with others for a unit. On the other hand, online auctions offer the convenience of bidding from anywhere and at any time.
If you're sure that you want to buy the unit, you can even choose the "Buy Now" option, so that you'll win the auction immediately. Of course, this will be at a slight price premium. If you're ready to start bidding from the comfort of home, Automart.ph is the leading online auction platform for used and repossessed cars.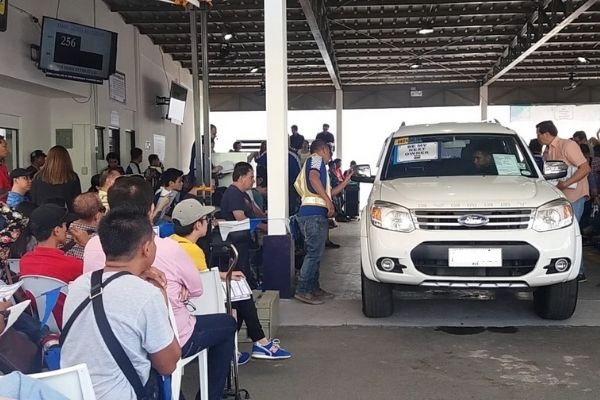 An auction looks like this. And yes, it's confusing for a first-timer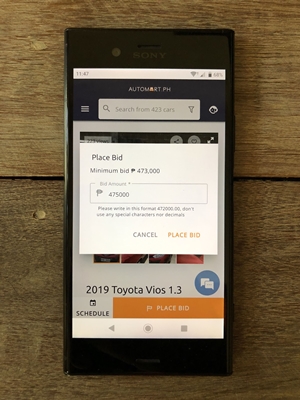 Bidding on your phone is much simpler (and less sweaty)
Pros of repossessed cars
First, a repossessed car, like any used car, has already depreciated in value. As a result, if you want to go through a financing route, the downpayment and monthly amortization for a repoed car are significantly cheaper than a brand new car.
On top of this, repossessed cars might even be lower than the usual used market value for a particular car model. This is because banks often want to recoup the money they lost as fast as possible, so they'll keep prices down to attract buyers.
Second, most repossessed cars will only have a few kilometers on their odometers. Some will even have current year models for sale and thus will even come with its manufacturer's warranty.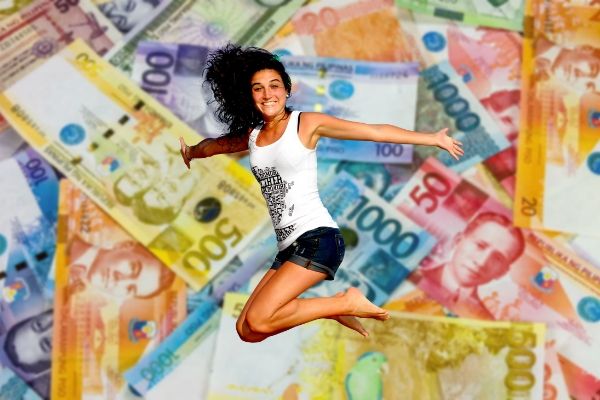 This potentially means more savings for you
Third, getting a financing deal from the bank selling the said repossessed car will be much easier for the same reason that they want to sell these cars at the soonest possible time.
>>> Related: How to retrieve bank repossessed cars in the Philippines
Cons of repossessed cars
While enticing, repossessed cars will have their own set of disadvantages that a buyer must consider.
First is that there's a chance that the previous owner of the repoed car couldn't afford its regular maintenance. That being said, the car might be in dire need of repairs and might be in need of new tires, etc.
Second, most banks will store their repossessed car units in a warehouse. As such, most of these cars will be covered in thick layers of dust and gunk.
In other particularly bad warehouses, these cars might be caked in mud or will have shrubbery climbing onto parts below the car. These will result in paint scratches and other unsightly car exterior problems – things you need to watch out for in non-repossessed cars anyway.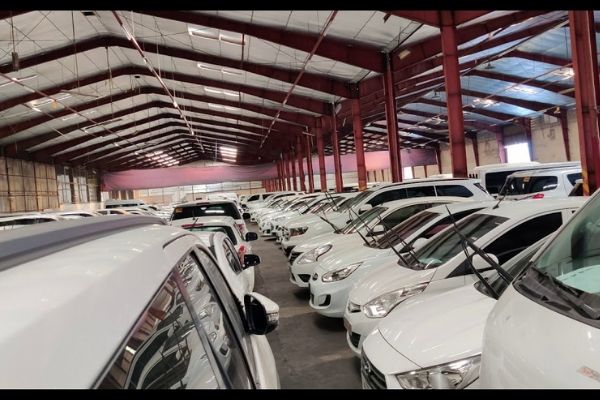 Cars repoed by the bank are stored in warehouses like this.
Third, the bank will not allow a person to test drive a repossessed vehicle; some banks, however, allow you to start the unit. This will hamper one's ability to thoroughly check its condition. Do note, though, that we still recommend bringing your trusted mechanic because you can still check for leaks, the condition of the under chassis, etc. Some companies advertise mechanic inspections for a small fee.
>>> Related: Your car is getting repossessed – What do you do?
Where to buy repossessed cars?
Before heading off to get your dream repossessed car, a caveat is that most bank lists are often basic spreadsheets with rudimentary details on each unit. If going through a list like that sounds like boring work rather than shopping for cars, you may be better off with a dedicated selling platform like Automart.ph instead. They not only consolidate listings from many of the banks below but also take actual photos of the cars and have trained, professional car advisers to tell you more about them.
Because, honestly, who would buy a car without pictures?
Here are some banks and their repossessed car inventories:
EastWest Bank Repossessed cars
Although not one of the largest banks in the Philippines, EastWest Bank has a large car loan portfolio, and therefore a large repossessed car inventory. The good news is that they normally have the cheapest and best selection of bank repo cars.
BPI Repossessed cars
As one of the largest banks here in the Philippines, BPI has a large stable of repossessed cars for sale.
Security Bank Repossessed cars
Security Bank also has an extensive list of bank-repossessed cars in their inventory. Unlike BPI, they even have their own used cars for sale section which you can view on their official website. They also have information on where their warehouses are.
Unionbank Repossessed Cars
While smaller than the other banks on this list, Unionbank also has a list of repossessed cars up for grabs currently listed.
BDO Repossessed cars
As one of the largest banks in the country, Banco de Oro or BDO also has a significant list of repossessed cars and motorcycles currently in their inventory. You can view this list of repossessed cars from their own car selling page on the BDO official website.
Final takeaway
Whenever car buying and selling comes to mind, the most convenient place to start nowadays is on the internet. These, of course, include repossessed cars that are most likely listed on a bank's official website.
Do note that you should always be careful especially when bidding for a repossessed car in the Philippines because it's very difficult to back out of an auction that you've already won. As such, we encourage you to take your time and do your research.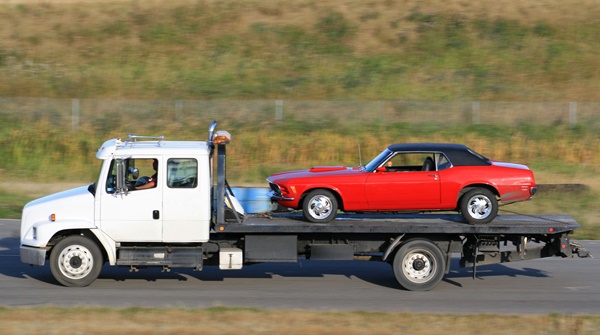 Repossessed cars are most likely listed on a bank's official website
You can talk to your bank and ask them questions about buying repossessed cars. They'll gladly answer all your questions and so will point you in the right direction.
For us, the best solution would be a trusted site like Automart.ph. Because nothing beats the convenience of buying a car online, at your own pace. If you're worried about them inflating prices, Automart.ph is unlike other third-parties or private sellers as they have partnered directly with the largest banks to sell their repossessed cars.
That means every unit on their website is 100% legitimate and has no markup – walang patong. This makes Automart.ph's cars some of the cheapest deals on the market–whether used or repossessed.
For more helpful articles like this, keep reading here on Philkotse.com.
---------
This article was produced in partnership with Automart.ph.


Cesar G.B. Miguel
Author