The Honda Civic Type R 2020 is fast but its looks have been polarizing. So Honda might be working on a new less overt looking version.
1. Honda Civic Type R 2020: It's fast but...
Back in 2017, car enthusiasts around the world celebrated when it has been announced that the legendary Honda Civic Type R was indeed making a comeback. Since then, the outlandish looking high-performance Honda model has become a highly coveted vehicle much like the ones that came before it.
While many indeed praised the Honda Civic Type R 2020 for its performance, a few others were divided on how it looked. Some said it looked downright juvenile while in some motoring internet forums, they even called it "Riced" from the factory.
As of recently, there's an example of the Civic Type R that was spotted on a Dutch dealer's truck that was slightly different than the current 2020 Version.
>>> Related: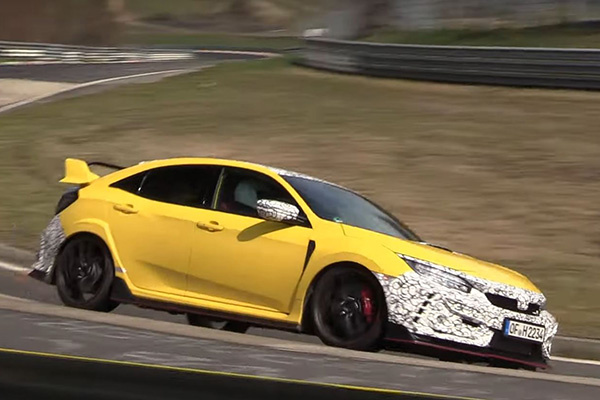 Here's that facelift prototype last year that's now available for purchase
2. Honda Civic Type R 2020: Spotted with some changes
Back in May of this year, a semi-camouflaged test prototype was spotted running laps around the world-famous Nurburgring race track located in Nurburg, Germany.
We say semi-camouflaged because it appears that only some parts of the front fascia, the hood intake, the side-mirrors, the roof, and the rear lower bumper are covered by that usual camo to hide new details on a prototype vehicle.
The rest of the new Honda Civic 2020 won't change that much as evident from the several unchanged parts on the prototype clad in yellow paint.
As for the one spotted from Denmark, this Civic Type R not only exhibits the new panels on the 2020 Honda Civic Type R but also some few key things that are vastly different. For one thing, the huge rear wing is gone and that is has a set of smaller wheels.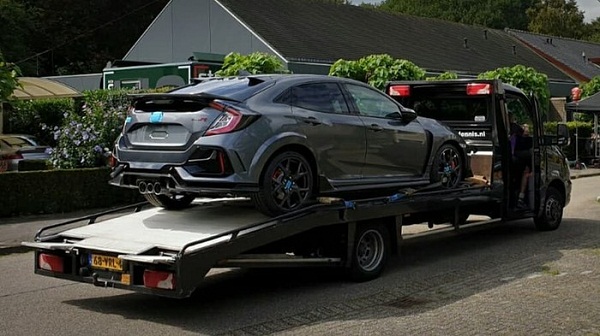 Note the absence of that huge rear wing on this Civic Type R being transported
Now Honda has indeed heard the criticisms on the internet with regards to the Civic Type R's design. Now for us, it looks just alright but a great many other folks have expressed that it was too in-your-face and it was something that was too overt.
So yeah, this new subtler version of the Type R might just be a modded version but seeing that it is riding on top of a Honda dealer's truck in the midst of being delivered, it might be an actual new version of the hot hatch.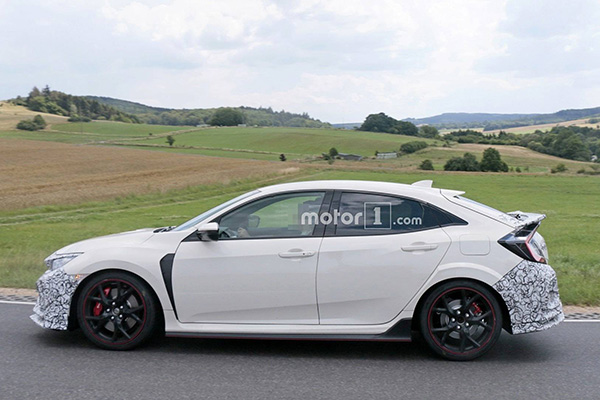 And yeah, the prototype version of this has actually been spotted before. [Source: Motor1]
3. 2020 Honda Civic Type R: More variants hinted before
Do you guys remember the Civics' chief engineer? Hideki Matsumoto? Well, he said, just after Honda launched the Civic Type R, that the company was looking into providing customers with more variants.
Why? Because this helps with increasing and maintaining sales volume just like what Ford Philippines are doing for their pick-up truck.
Now back then, Mr.Matsumoto was reportedly thinking to add both a much more powerful version of the Civic as well as a much more sedate variant that's designed for grand touring.
There was also talk of something that could compete against the Subaru WRX STI and the VW Golf R. Imagine...a Honda Civic with all-wheel-drive.
Honda Civic Type R: What will you get for P3-million?
4. Honda Civic Type R 2020: Popularity in the Philippines
Currently, the 2019Honda Civic Type R, as we've said earlier is already being enjoyed by a select few of enthusiasts here in the country. Unlike in the U.S and the U.K. where the Type R is considered a very affordable performance option, the aforementioned Honda Civic Type R model here costs around Php 3,180,000. With that price range, you can also afford the Audi A1, the Lexus IS, or even a full-size SUV.
As such, we are convinced that more Honda Civic variants would be a boon for the numerous and enthusiastic Filipino Honda fanboys.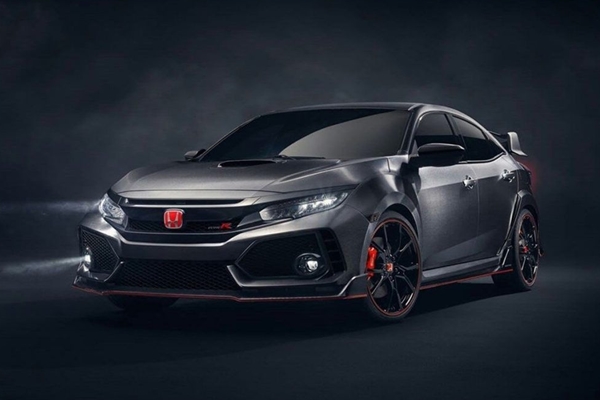 Filipino car lovers are thirsting to welcome the facelifted 2020 Civic Type R
And yes, we know there are a lot of us here who are thirsting something much more powerful than the 2019 Hondo Civic RS Turbo, but less expensive than the 2020 Honda Civic Type R. On that note, let's just hope that upcoming variants will be something akin to the return of the ever famous and coveted Honda Civic SiR.
Latest updates on upcoming Honda cars can be found in our Complete guide to the Honda Philippines' local lineup. Keep posted here on Philkotse.com for the latest automotive news. 

Know more about Honda Civic 2023

The 2023 Honda Civic is a compact, five-door sedan. It is now in its eleventh-generation. For the Philippine market, the Civic has a price range of Php 1,583,000 to Php 1,775,000. It has three variants consisting of the V Turbo, and the RS Turbo as the top-spec trim. All of them are equipped with the Honda Sensing driver assist safety suite, and all use a 1.5-liter turbocharged VTEC inline-4 gasoline engine capable of making up to 175 horsepower and 240 Nm of torque. All trims use a continuously variable transmission (CVT).
Size-wise, the 2023 Civic is 4,678mm long, 1,802mm wide, and 1,415mm in height. It wheelbase length measures 2,735mm long, and it has a ground clearance of 134mm. Competitors of the Honda Civic for the Philippine market includes the likes of the Toyota Corolla Altis, Mazda3, Kia Forte, Nissan Sylphy, among others.