The Yaris will be carried over, but we do wish it'll get some updates.
2021 Toyota Yaris: What we know so far
Since 2013, the Yaris that we know is based on the XP150 series Vios. Yep, it's practically the same Vios that we currently see on our streets today, except a hatchback. Sure, the Yaris has undergone the same changes that the Vios went through, but it's still based on the third-generation XP150 Vios.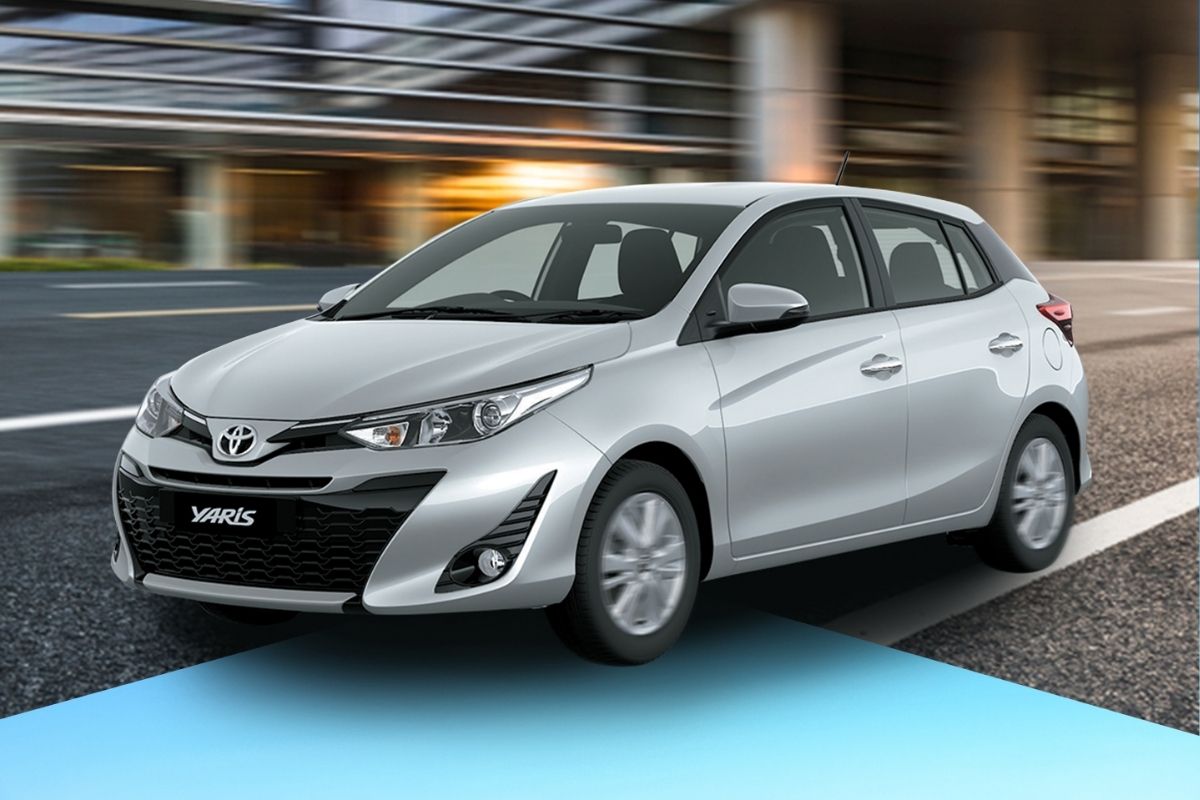 The current PH-spec Toyota Yaris
That said, there's another version of the Toyota Yaris currently sold in other markets right now. The most well-known version is of course the 3-door GR Yaris, which is a very hot Toyota New Global Architecture-based hatchback.
For our market, however, we're convinced that the current Philippine-spec Yaris will be carried over for the model year 2021. But what can we expect from it when 2021 comes around?
2021 Toyota Yaris: Exterior
Earlier this year, the Vios was given a facelift. It now comes with LED headlamps, and it lost that grille that looks like it was "grinning." The current Yaris however, still retains a similar front end found on the pre-facelift Vios.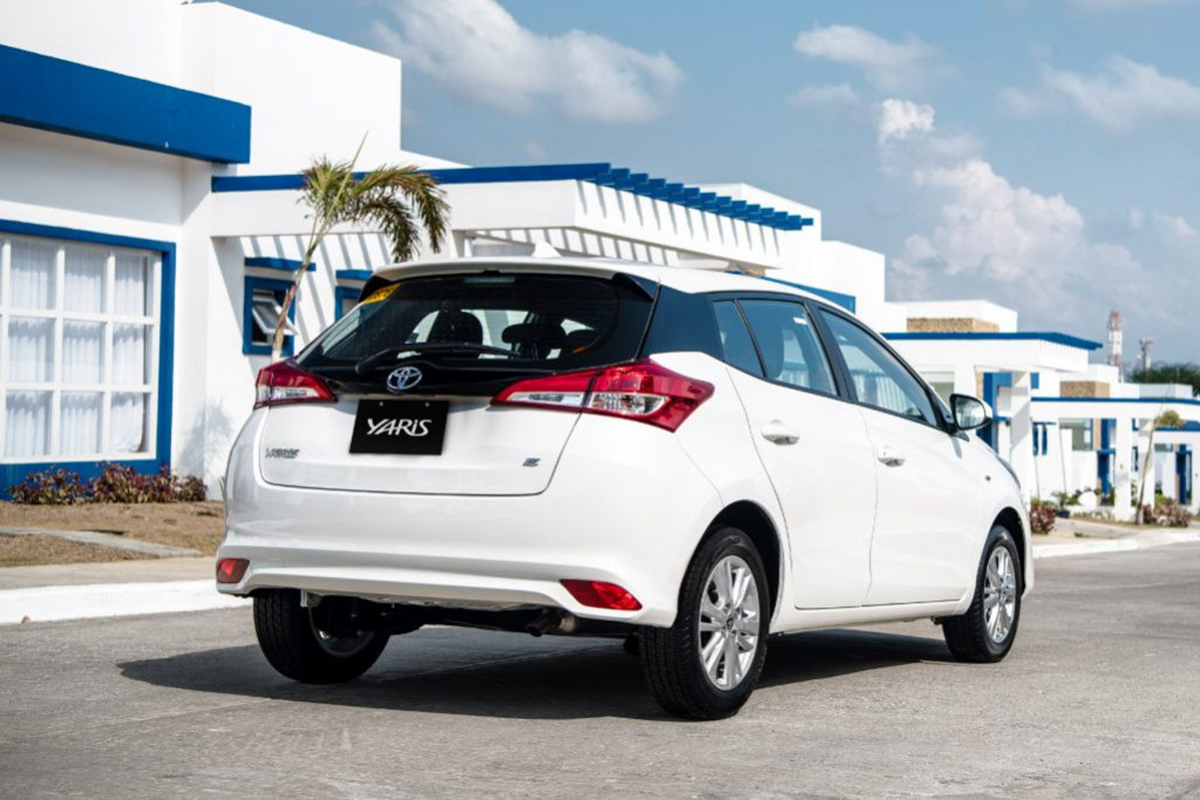 The current PH-spec Yaris from the rear
That said, we would want to see the same changes applied on the 2021 Toyota Yaris. It is after all, structurally identical to the current Vios, so giving it a similar cosmetic update might not be such a tall order at all.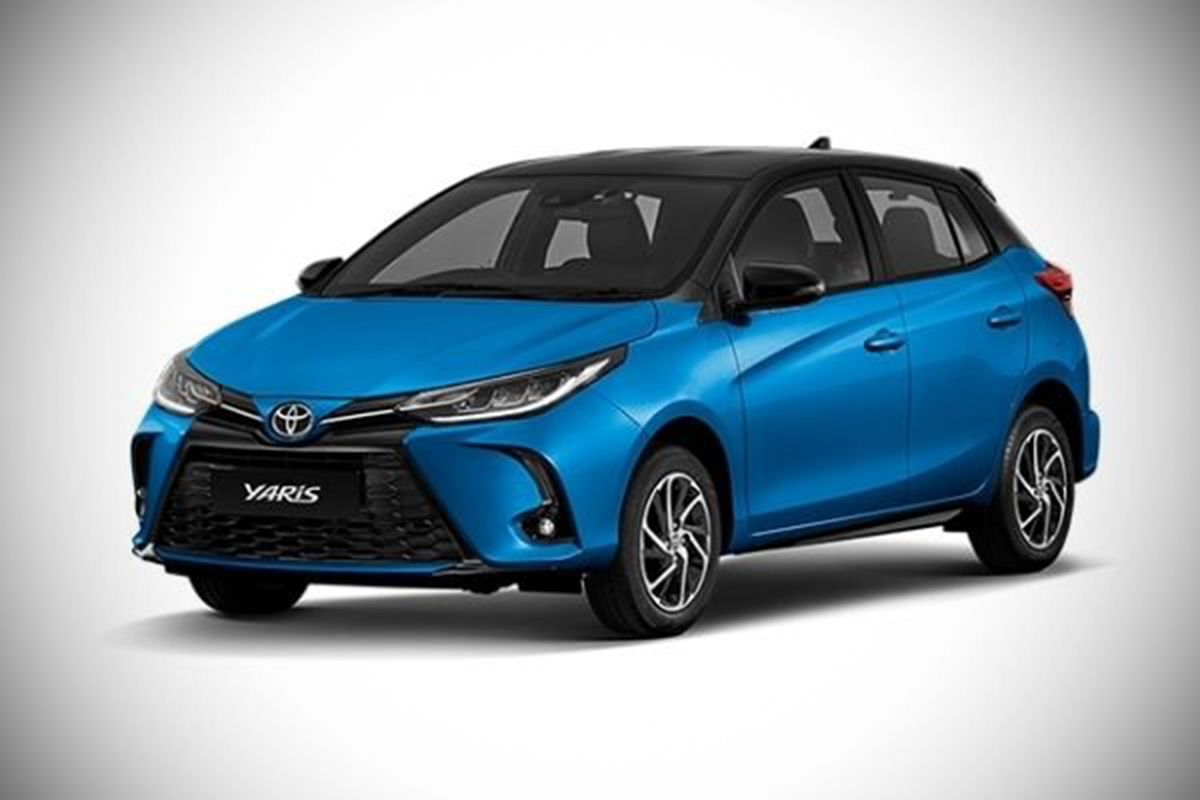 The new Yaris with the new Vios' face is already being sold in Thailand
2021 Toyota Yaris: Interior
For a modern hatchback, the Yaris is already very spacious. The top-spec variant also features a lot of useful amenities including a push-to-start button, an automatic air-conditioner, and a power-adjustable rearview mirror, among others.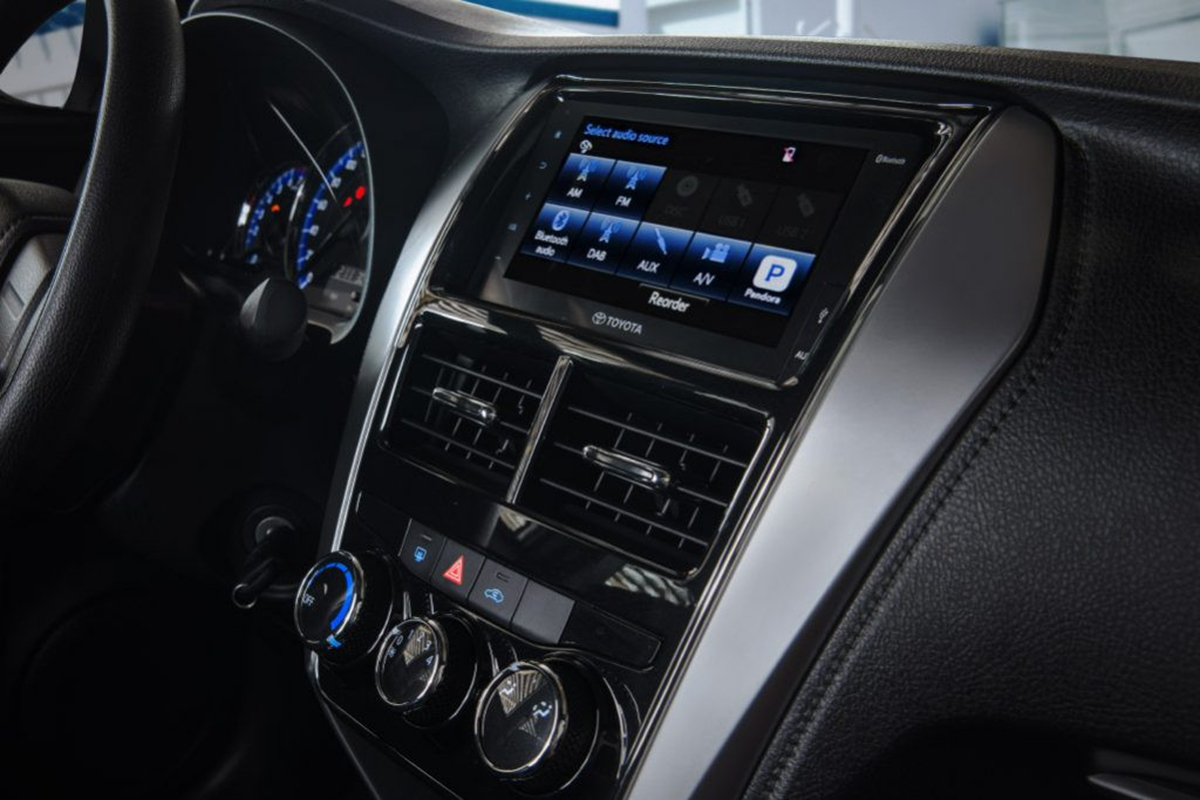 The PH-spec Yaris' dashboard
What Toyota could improve upon is the seven-inch touchscreen that's available on both the Yaris E and Yaris S. It could be given Apple CarPlay and Android Auto and it would greatly increase the said head unit's capabilities. Other than that, it already comes with Bluetooth connectivity, USB, and Aux. Currently, it comes with the Weblink smartphone mirroring app.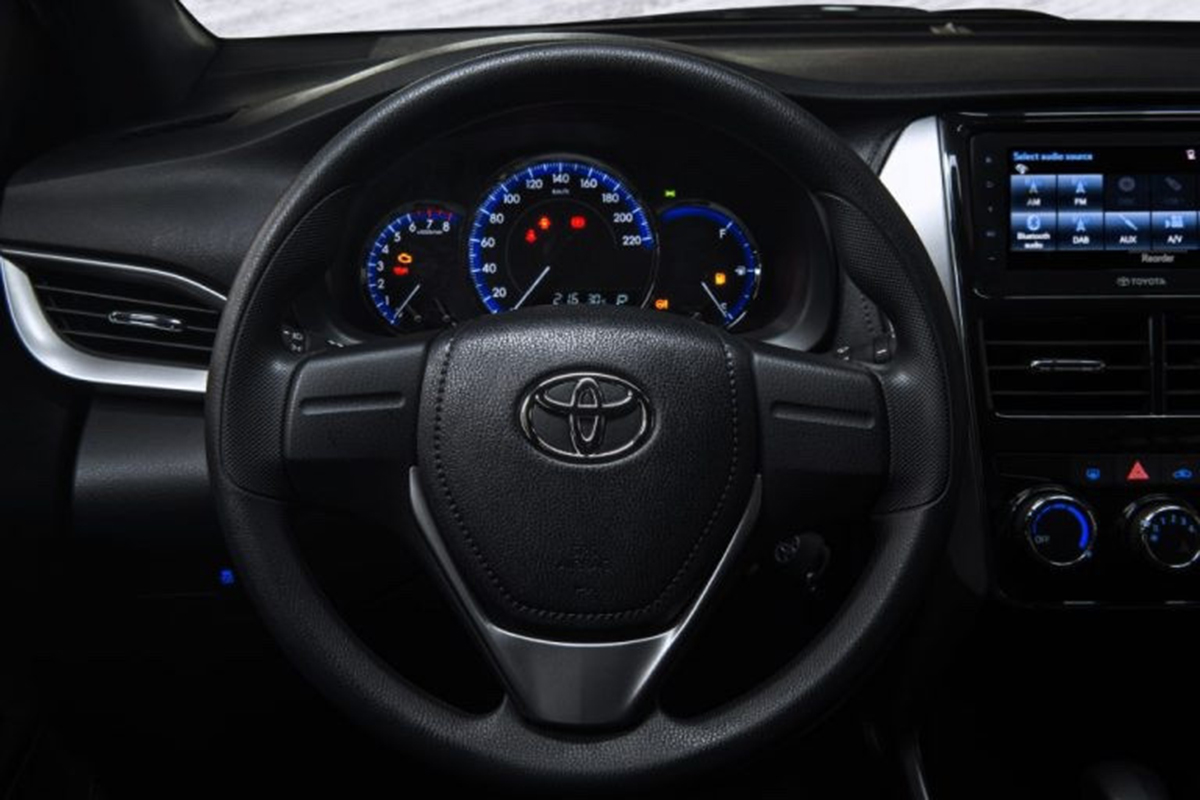 The steering wheel is simple looking but it does the job well
2021 Toyota Yaris: Engine and Performance
For the 2021 Philippine-spec Yaris will still use the same 1.5-liter and 1.3-liter inline-4 gasoline engines. The latter is paired solely to a continuously variable transmission, and it can make up to 106 horsepower and 140 Nm of torque. The smaller 1.3-liter powerplant can either have a CVT or a five-speed manual gearbox or a CVT. Being smaller, it makes less at 98 horsepower and 123 Nm of torque.
It's literally the same engine that the Vios uses
Like the current PH-spec Vios, the PH-spec Yaris uses a front-wheel-drive drivetrain, disc front brakes and drum rear brakes and the same MacPherson strut suspension for the front and torsion beam for the rear.
Our point is, if the Vios won't get a next-generation update, then the XP150 Yaris won't get new mechanical updates either.
>>> Related: This is the 2021 Toyota Yaris with the new Vios face
2021 Toyota Yaris: Safety
Currently, the Yaris comes standard with seven airbags, anti-lock braking with electronic brake-force distribution, brake assist, ISOFIX, and child-proof locks. Both variants also have a car alarm, but only the top-spec Yaris S comes with smart entry, speed-sensing door locks, and an engine immobilizer.
One of our wishes for the Yaris however, is for Toyota to give it some version of the Toyota Safety Sense. For those who aren't aware, this suite is a collection of driver-assist features which includes lane keep assist, rear-cross traffic detection, etc. Do note however that giving this model this upgrade might drive its prices up drastically.
2021 Toyota Yaris: Final Thoughts
Since its introduction, the Yaris is known to be a reliable and practical hatchback that's great for daily driving in the city. As such, it will certainly remain the same. However, the possibility that the Yaris will get the same cosmetic updates as the Vios is still there. So that's one thing to hope for.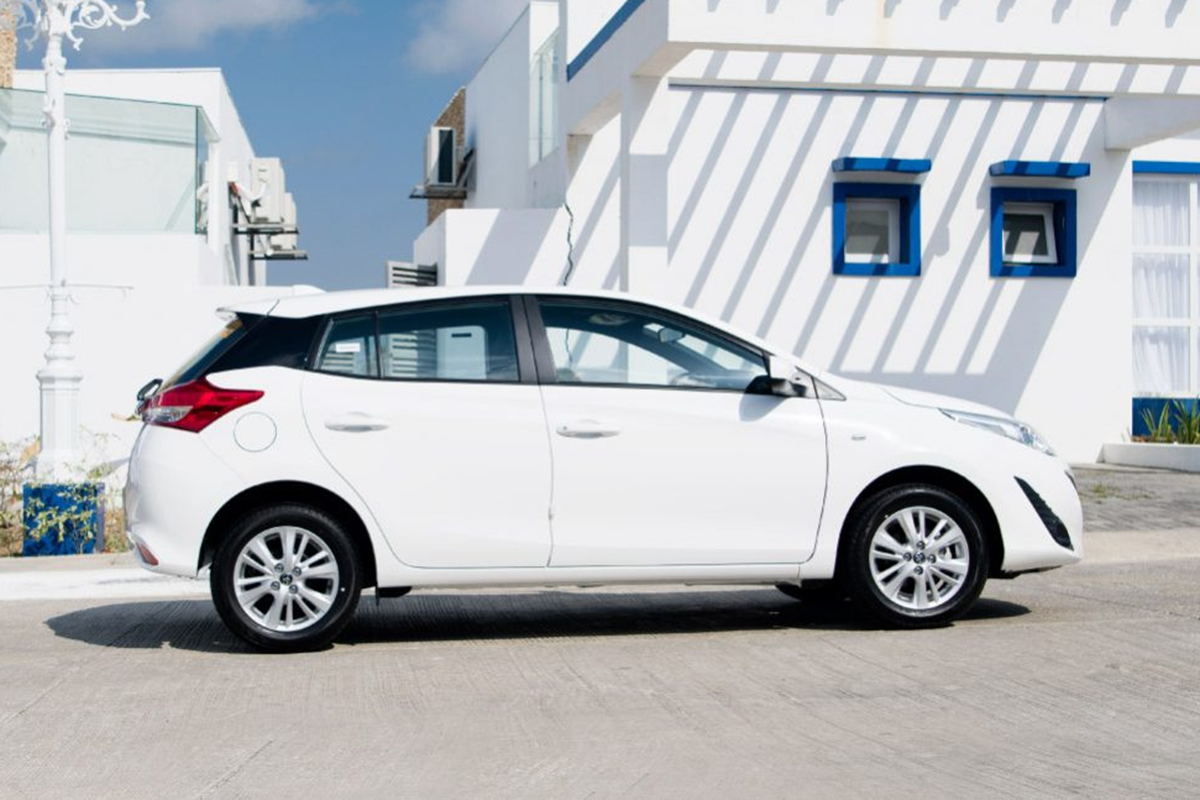 The side of the PH-spec Toyota Yaris
What about introducing the Yaris XP 210 locally? Well, that's a very attractive notion since it now uses the TNGA GA-B platform, which was reported to be stiffer and sportier than the Toyota B platform the current XP150 Vios uses.
And lastly, we cannot help but mention the XP210-based Yaris Cross. It was unveiled earlier this year and is already being sold in Japan. Later on, Europe will also get this new model. How about the Philippines? Well, seeing this cute little crossover is a bit too optimistic. Do note also that it's more possible that the equally compact Toyota Raize will be introduced here instead.
>>> Related: Toyota Vios vs Toyota Yaris: Practically the same car, different target market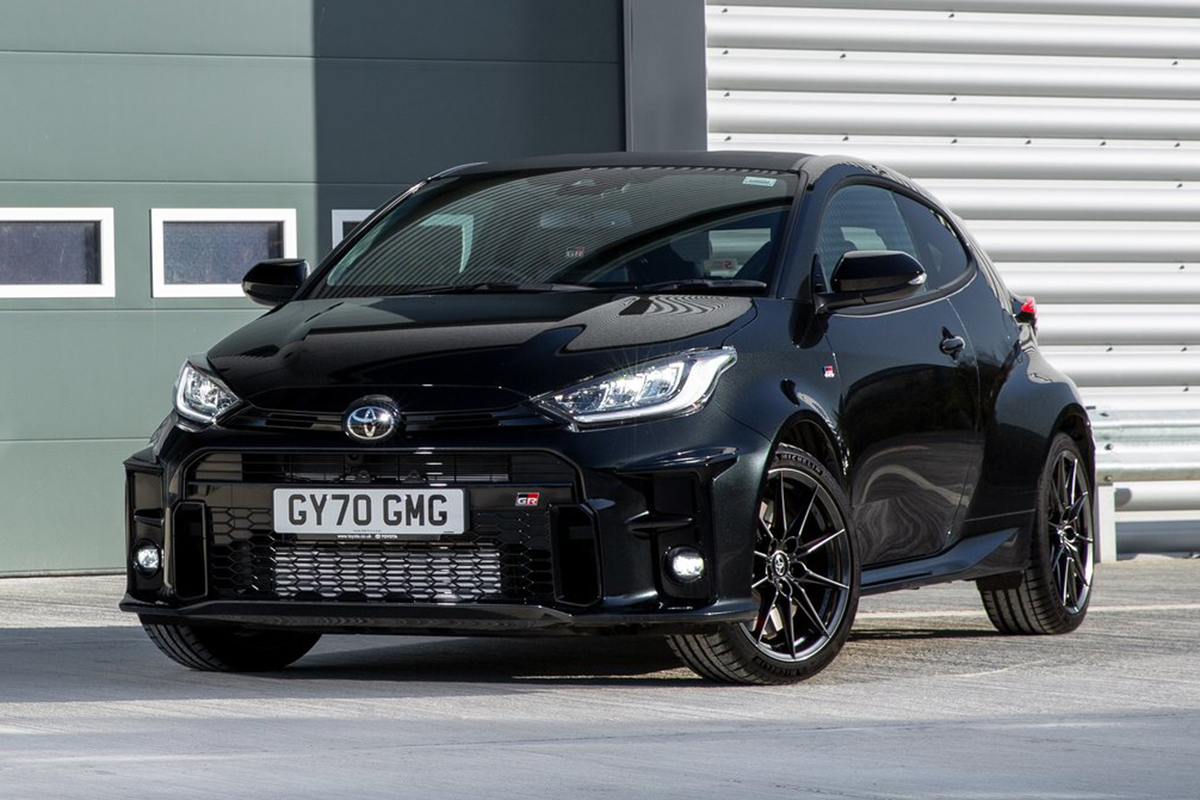 We can't deny that the Toyota GR Yaris looks really cool
2021 Toyota Yaris: Expected Price
Being a carryover, we can expect the 2021 Toyota Yaris to have just about the same Php 900,000 to Php 1,060,005 price range. If cosmetic and new features were introduced though, we can expect a slight price bump.
For the latest automotive news, car reviews, and helpful car maintenance tips, keep reading here on Philkotse.com.
Know more about Toyota Yaris 2021

Toyota Yaris is another subcompact hatchback offering from Toyota. It is a perfect vehicle for individuals with an active lifestyle because of its youthful vibe. The current version of this subcompact hatchback looks stylish and modern compared to its predecessor. The redesigned front exudes a premium and very trendy look. Inside, the five-seater Yaris features a 6.75-inch touchscreen entertainment display, and a 60:40 foldable rear seat to make additional room for the already spacious 326-liter cargo space. This subcompact hatchback is known for providing exceptional in-cabin comfort levels. The spacious cabin, particularly at the rear part, is massively impressive, considering the car size. The seats also offer under-thigh support and great cushioning. ABS with brake assist and brake distribution, complete set of airbags, and immobilizer with alarm are a standard feature in the Toyota Yaris. Toyota Yaris provides two engine options. The first option is the smaller 1.3-liter with an output of 98 hp and 124 Nm of torque. The second one is a bigger 1.5-liter unit that produces 106 hp of power and torque of 140 Nm. It comes in a total of two variants with base variant price at Php 973,000.

Cesar G.B. Miguel
Author
Recent posts