In order to carry out corporate social responsibility, Mitsubishi has teamed up with Centro to donate its L300 to Go Negosyo.
It has often been said that we are given blessings so that we can share these with others and help make their lives a lot better. This seemed to be the example set by two popular companies recently when they set out to help their customers by donating a Mitsubishi L300 XV microbus to the Philippine Center for Entrepreneurship (PCE) Go Negosyo. Said companies are Mitsubishi Motors Philippines Corporation (MMPC) and leading truck body builder Centro Manufacturing Corporation.
 
The event was graced by Presidential Adviser for Entrepreneurship Mr. Joey A. Concepcion, Philippine Center for Entrepreneurship Adviser for Entrepreneurship Development Ms. Merly M. Cruz, MMPC President and CEO Mr. Yoshiaki Kato and Centro President Mr. Raphael T. Juan.
>>> View more: Mitsubishi Mirage G4: the first car made by Filipino hands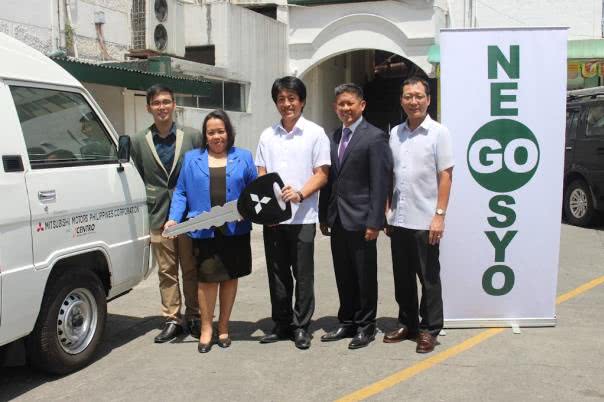 Mitsubishi Motors Philippines Corporation (MMPC) and leading truck body builder Centro Manufacturing Corporation donate a Mitsubishi L300 XV microbus
 
Impressed by PCE Go Negosyo's commitment in providing programs for aspiring entrepreneurs, Kato expressed the gesture is part of "Kapatid Project", which encourages larger companies to help out their smaller and medium-sized brethren in the industry.
 
In line with this, MMPC also showed the company's support for the project by donating its L300 model which is considered a true workhorse, being used as the base vehicle for school bused, ambulances, delivery vans, and the like. The L300 model boasts its proven reliability, affordability and low maintenance cost. "The local production of the L300 utility vehicle has created jobs not only in MMPC but also to local parts suppliers and truck body builders such as Centro Manufacturing Corporation, contributing to the growth of the Philippine automotive industry".
 
Centro itself started out as an SME in a small rented warehouse 20 years ago. "We at Centro are therefore just too glad to be able to pay back to the SME industry that brought us to where we are right now, the leading truck body builder in the Philippines. We hope that with our humble donation, we can contribute in helping Go Negosyo monitor its various MSME projects, sustain the spirit of entrepreneurship and grow our MSME industry nationwide", Juan added.   
 
With this kind of support, MMPC and Centro would like to see SMEs grow into larger, more successful companies in the years to come in the Philippines. 

>>> View more:
Know more about Mitsubishi L300 2023

The current Mitsubishi L300 2023 by Japanese automaker Mitsubishi is based on the L300 Versa Van. While the latter was more of a family carrier, Mitsubishi has since marketed the L300 FB mainly as a commercial vehicle (CV). It is sold under one variant only which is the Cab & Chassis priced at Php 804,000. In the Philippines market, the L300 FB uses a Euro 4 compliant 2.2-liter 4N14 diesel power plant. At most, this mill can make up to 98 horsepower and 200 Nm of torque. Power is sent to the rear via a five-speed manual transmission.
When it comes to dimensions, the L300 spans 4,440 mm in length, 1,695 mm in width, and 1,915 mm. Also, it gets a wheelbase and ground clearance rated at 2,350 mm and 195 mm, respectively. This Mitsubishi CV is competing in the local market against the likes of Kia K2500, Isuzu Traviz, and Hyundai H-100.