Mitsubishi's iconic utility van lives on.
Mitsubishi Motors Philippines Corporation (MMPC) achieved a milestone as it managed to roll out 200,000 locally produced L300.
The Mitsubishi L300 is a utility van that is known for its reliability, durability, and affordable price. The utility van has been a dependable vehicle for many local businesses, as well as for many Filipino families over the years.
>>> Related: Mitsubishi SUV plant in Japan to shutter by 2023: Report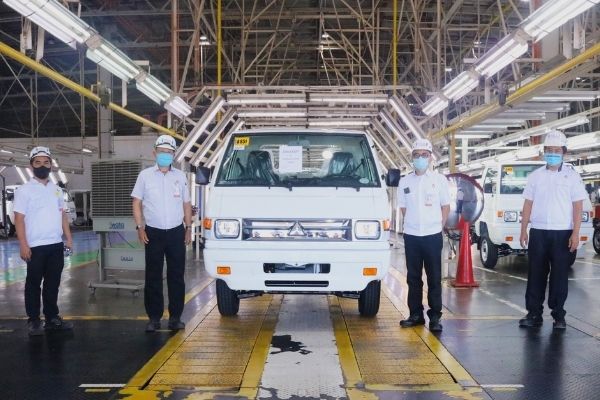 Mitsubishi executives alongside the 200,000th L300
"This achievement is a reflection of the resiliency of MMPC. Despite the current challenges that we are facing due to the COVID-19 pandemic, we are still geared to provide the market with quality vehicles and support Filipino livelihood through serving transportation and business needs.
Also, aligned with the Philippine government's effort to battle the spreading virus, MMPC has lent out several Mitsubishi L300 units to both local and national government for various outreach activities," said Mutsuhiro Oshikiri, president and CEO of MMPC.
Besides the good qualities the Mitsubishi L300 model has shown throughout the years, the Comprehensive Automotive Resurgence Strategy (CARS) program has also played a role in MMPC's milestone.
Mitsubishi Motors Corporation (MMC) first joined the government's CARS program in February 2016 in an effort to attract new investments, stimulate demands, and further enhance MMPC's capabilities for exports.
With that in mind, MMPC is set to export the locally produced L300 in some of the ASEAN countries. Of note, the L300 is one of the well-known vehicles in the Philippines. MMPC said that its iconic utility van has sold more than 190,000 units and is perceived to be the most trusted model in the country.
>>> Related: Latest Mitsubishi cars in the Philippines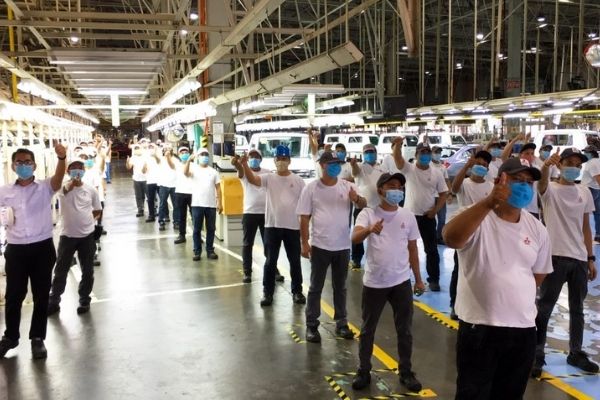 MMPC will soon be the first local auto manufacturer to export vehicles
>>> Related: Mitsubishi PH promos let you drive home a Mirage for as low as P18K
"We are committed to further grow and expand the business of Mitsubishi Motors in the Philippines in the process of finalizing our plans to export L300 to other ASEAN countries, which makes us the only automotive [manufacturer] in the Philippine to export vehicles.
We will work harder to enhance MMPC plant's competitiveness and quality so that we can make L300 a trusted model in ASEAN," said Takao Kato, Mitsubishi Motors Corporation's Chief Executive Officer.
Toyota Motor Philippines (TMP) is also under the CARS program. As of this writing, TMP has already made over 297,000 Vios units locally despite having to deal with the slow automotive sales brought by the global health crisis.
Here at Philkotse.com, we value your interest in the automotive industry. Visit our website to find out more.
Know more about Mitsubishi L300

The Mitsubishi L300 can be used for either family trips or business needs. The utility vehicle has evolved from its famous predecessor – the Mitsubishi L300 Versa Van, that comes with the same purpose-driven cab styling and offers, depending on its purpose, an incredible number of configurations in its body. An air-conditioned, 17-seater van that also provides enough space for luggage is being offered by the FB type Mitsubishi L300. It can also transform into a delivery van that is equipped with a cab with a freezer for frozen and perishable goods delivery. The Mitsubishi Motors Philippines Corporation introduces its L300 Cab to offer excellent services in the country. Mitsubishi's commercial vehicle is a reliable and versatile utility vehicle that transports people and delivers goods with less hassle. There are two available variants for Mitsubishi L300, both come with a 2.2-liter 4N14 diesel power plant that is Euro-4 compliant. The engine generates a maximum output of 98 horsepower and torque of 200 Nm. Moreover, it is mated with a five-speed manual tranny. The Mitsubishi L300 is ideal for personal use and businesses because of its affordability and practicality.

Rex Sanchez
Author