The Strada Athlete is literally Brandon Vera in car form.
Mitsubishi Motors Philippines Corporation (MMPC) posted a video of the Mitsubishi Strada Athlete, together with mixed-martial arts phenom Brandon Vera. If you saw the video, then you'll have finally understood what MMPC was going for when they introduced the Strada Athlete to the Philippine market.
The New Mitsubishi Strada Athlete: Unleash the Athlete in you
>>> Related: Mitsubishi Strada Athlete 2020 is now available in the Philippines
If you don't know who Brandon Vera is, he's an American-born MMA athlete currently signed with One Championship, and previously with the Ultimate Fighting Championship from 2005 to 2014. He's half Filipino, born to a Pinoy father, and an Italian mother.
He's a dominating looking man, standing at six feet three inches, and when we consider his fight records, he's indeed a dominant bruiser. He was the World Kickboxing Association Heavyweight Champion, the eight-time Grappler's Quest Champion, the 2005 World Extreme Cagefighting Heavyweight Grand Prix Champion, and more recently, the One Heavyweight Championship.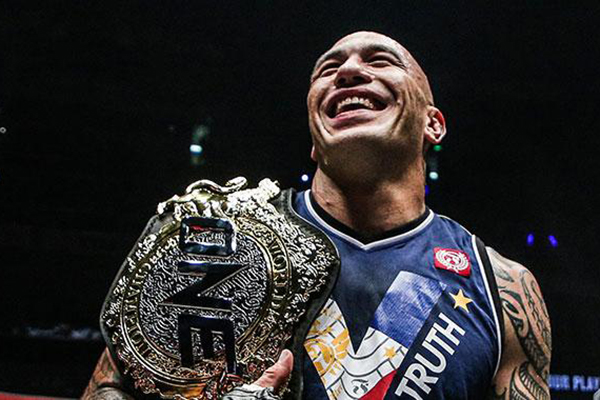 He's deadly when fighting in the ring, but is actually a friendly dude 
Why are we talking about this athlete? Well, we just answered our own question there because the Mitsubishi Strada Athlete is just the type of vehicle that represents who Mr. Vera is. The Strada Athlete's 2.4-liter turbo diesel engine and seven-speed AT combo are robust and powerful, and it's Super Select 4WD-II is a proven system, exactly like an athlete that was honed to perfection by hours of training.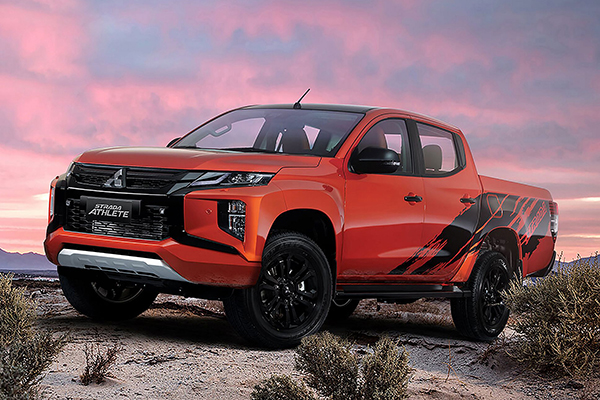 The Athlete looks very different from the standard Strada
>>> Related: A complete guide to Philippine-spec Mitsubishi Strada
Moreover, the Strada Athlete has got the stance and looks of a warrior with its blacked-out radiator grille, bi-LED projector headlamps with daytime running lamps, and black 18-inch wheels. It also comes with a blacked-out bumper with tailgate grip, and even the Strada Athlete's body graphics are reminiscent of Mr. Vera's intricate tattoos.
Now, going back to the engine, the 2.4-liter turbo diesel can make 178 horsepower and 430 Nm of torque. Sure, there's the Strada GT, but that variant looks more elegant and sedate when compared to the brusque awesomeness of the Mitsubishi Strada Athlete.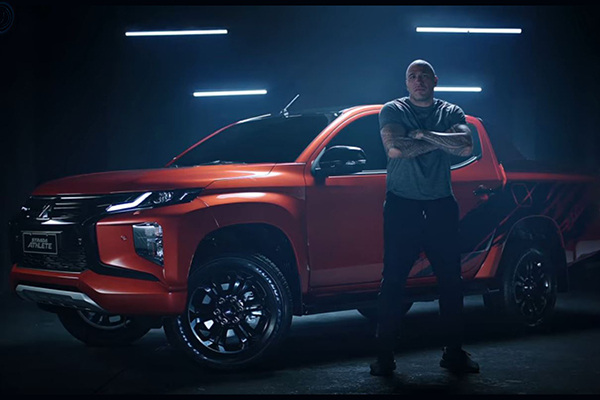 Brandon Vera together with the Strada Athlete
Currently, the Strada Athlete sits on top of the Strada variant lineup. It's the most expensive at Php 1,760,000 for the 4x4 version, but its 4x2 version is more affordable at Php 1,443,000. But hey, that's just the price you have to pay to represent that atmosphere of rugged determination whenever we see people like Brandon Vera.
For more automotive news, keep reading here on Philkotse.com. 
Know more about Mitsubishi Strada 2021
<p>The Mitsubishi Strada is one of the most successful and oldest pickup trucks in the Philippines, currently competing in the local midsize pickup truck category. In January 2019, the third-generation model of the truck acquired its rightful renovation. Some of the updates include a more muscular body sculpture and the Dynamic Shield exterior styling. Like the current models of the tri-diamond brand &ndash; the ASX, <a href="https://philkotse.com/mitsubishi-xpander-price-philippines" title="Mitsubishi Xpander Philkotse Car Guide">Xpander</a>, <a href="https://philkotse.com/mitsubishi-montero-sport-price-philippines" title="Mitsubishi Montero Sport Philkotse Car Guide">Montero Sport</a>, and the like &ndash; the Strada features the &quot;X&quot; fascia. It also comes with C-shaped chrome accents that trace the fog lamps and slim headlights.</p> <p>Its exterior showcases a sporty, athletic, and agile look giving an impression that it is ready&nbsp;to overcome any roads in the country, while the interior accentuates quality and soft-pad materials. The midsize pickup truck is offered in 4x4 or 4x2 variants. Disregarding its facelift, from its former 2.5-litre Common Rail Direct Injection 4D56 diesel engine, it is now powered by a 2.4-liter in-line four diesel with Variable Geometry Turbo and MIVEC 4N15 engine only. Thus, leaving the&nbsp;truck with a single powerplant option. It can generate torque power of 430 Nm, and 181 horsepower to the wheel through&nbsp;either&nbsp;a 6-speed automatic or 6-speed manual transmission.</p>

Cesar G.B. Miguel
Author