The designated family or barkada vehicle.
Before the Toyota Hiace, the Nissan Urvan, midsize SUVs, seven-seater crossovers, and many other large-capacity vehicles plying the Philippines roads, the go-to vehicle for large families, and barkadas was the veritable L300. No not the utility van as we know it today, but as the 2nd-gen L300 Versa Van.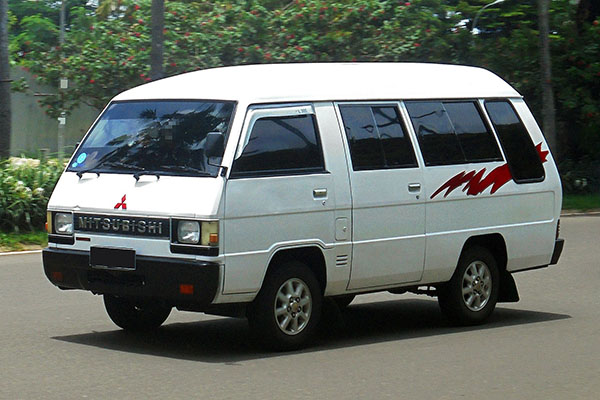 The L300 Versa Van in all it's boxy greatness.
So how did the L300 rise to become one of the most sought after passenger vehicles of its time? Why was it discontinued? To answer these, sit back, relax, and let us take a look back at the L300 Versa Van as we knew it, and how it became one of the most popular people haulers in the late 1980s to the early 2000s.
>>> Related: List of all Mitsubishi SUVs in the Philippines: With price list & brief review
Mitsubishi L300: Dead and back again
For 25 years, the L300 was a mainstay in several Southeast Asian countries like the Philippines and Indonesia. In the Philippines alone, Mitsubishi had two plants assembling the said model, one in Cainta, Rizal, and another Santa Rosa, Laguna. The only other country to have two plants for the L300 was in Indonesia, with China, South Korea, and even Mitsubishi's home turf of Japan only having one.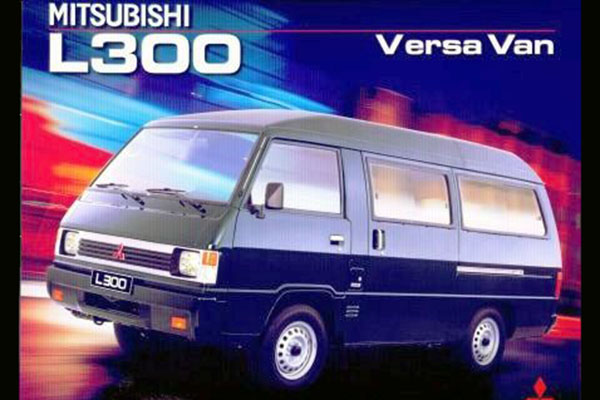 The L300 is also known as the Delica in Japan, and as the L300 Star Wagon in Indonesia
Why did we like it so much? Well, it was cheap and durable. How durable? Well, like other utilitarian vehicles, the L300 actually used beefy leaf springs for its rear suspension. It also had very robust fabric seats, it's interior was almost entirely made out of hard plastics, and it used the ultrasimple 4G-series Mitsubishi inline-4 diesel engine, and the 4D-series gasoline engines.
Now, these engines were tough but simple machines. Both only had a single-overhead-cam, and they made less than 100 horsepower. Sure, it meant that the Mitsubishi L300 currently available for sale was slow, but both engines made the van relatively economical and very easy to fix. 
Even its exterior design was as simple as it gets. It primarily used metal for its body panels so it had no crumple zones, and it came in a boxy configuration which was the norm for car models in the 1990s. Did it look bad? Not really, as it had this charm to it that could be likened to how the old Tomb Raider games' conical chested Lara Croft was considered "hot" back in the 1990s.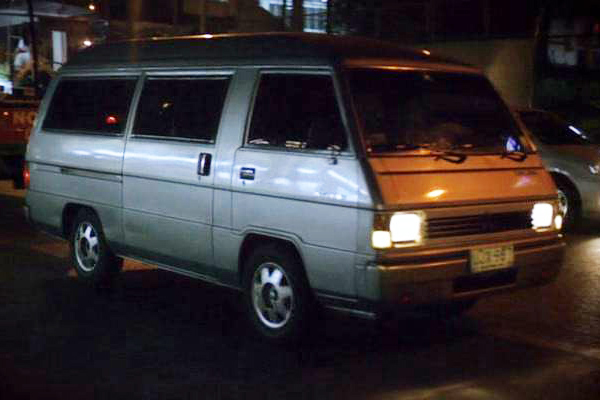 The L300 Versa Van has also appeared it numerous Pinoy movies like in Kinatay (2009)
As such, the Mitsubishi L300 Van wasn't only popular among families and small businesses, but it also became a staple vehicle of local government units as an ambulance, and as company vehicles back in the 1990s. It was also common to see the PET (personal and equipment transport) version to be favored by utility companies.
And yes, even the FB (family and small business) version were commonly seen being able to take the many rough, uncemented roads in the provinces, all the while carrying eight people, or two people plus a hundred kilograms of goods. Sure it was bouncy as heck, and you probably needed to "catch a breath" after several hours on a rough road, but yeah, the L300 could take it.
Despite being one of the best selling vehicles Mitsubishi's ever made, the L300 van was discontinued back in 2012 due to its engine not meeting the Euro 4 standards the government was implementing at that time.
Unlike most vehicles that met its end due to emissions standards however, the L300 made it's return in 2017, and it also got a new version in 2019. It had a new, cleaner more powerful diesel engine, and to this day, the L300 in utility van FB form is commonly seen in the hands of small to medium businesses as a logistics solution, or as a utility vehicle in many other industries.
The Versa Van…in van form, however, was discontinued and Mitsubishi Philippines moved on to producing cushier (and safer) family passenger vehicles like the Montero Sport and the Xpander.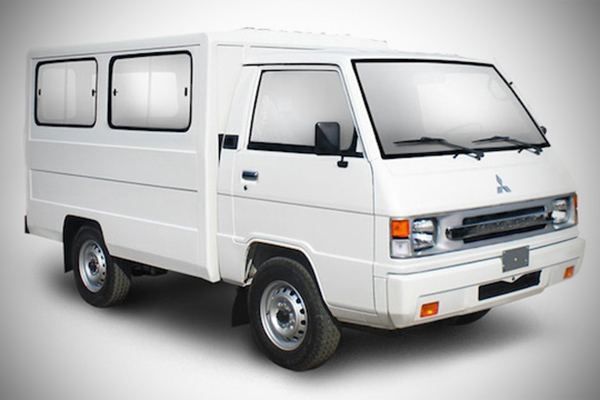 A decade later and it's still here. Talk about longevity!
Do you miss the L300? Well, there's the L300 FB but that's just a far cry from the glorious boxy look of the old Versa Van right?
For more nostalgic car features, keep it here on Philkotse.com. 
Know more about Mitsubishi L300

The Mitsubishi L300 can be used for either family trips or business needs. The utility vehicle has evolved from its famous predecessor – the Mitsubishi L300 Versa Van, that comes with the same purpose-driven cab styling and offers, depending on its purpose, an incredible number of configurations in its body. An air-conditioned, 17-seater van that also provides enough space for luggage is being offered by the FB type Mitsubishi L300. It can also transform into a delivery van that is equipped with a cab with a freezer for frozen and perishable goods delivery. The Mitsubishi Motors Philippines Corporation introduces its L300 Cab to offer excellent services in the country. Mitsubishi's commercial vehicle is a reliable and versatile utility vehicle that transports people and delivers goods with less hassle. There are two available variants for Mitsubishi L300, both come with a 2.2-liter 4N14 diesel power plant that is Euro-4 compliant. The engine generates a maximum output of 98 horsepower and torque of 200 Nm. Moreover, it is mated with a five-speed manual tranny. The Mitsubishi L300 is ideal for personal use and businesses because of its affordability and practicality.

Cesar G.B. Miguel
Author