How will the Raptor do performance-wise?
You probably have heard by now that Ford pulled out its sedan production and shifted its focus primarily on manufacturing crossovers, pickup trucks, and SUVs.
With that being said, we can expect the American car brand to greatly enhance its big vehicles to fill in the massive hole from its ambitious decision.
The Raptor featuring its Signature Ford Grille 
Just take a look at the Ford Ranger Raptor. It is the dream car for many Filipinos due to its sporty design and undeniable presence on the road. Plus, it offers outstanding off-road capabilities that have to be its strongest selling point.
But do these exquisite vehicular elements live up with its engine and performance features? Let's find out as we take a look at the factors in the Ford Ranger Raptor that affect its performance features so we can learn how fast can this Raptor run.
>>> Related:
Ford Ranger Raptor Top Speed: Engine & Performance
Let's start off with the engine. The Ford Ranger Raptor is powered by a 2.0-liter bi-turbo diesel engine. Yes, a diesel engine – which means that the Raptor would have a slightly hard time pulling itself up to high speeds.
But at least the off-road capabilities are on point. It can produce 210 hp at 3,750 rpm and 500 Nm of torque at 1,750 to 2,000.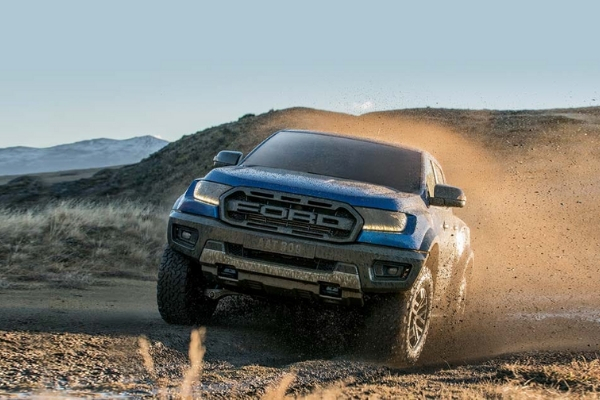 The Raptor has a 283 mm ground clearance which can help it withstand most off-road conditions
In comparison to its pickup rivals, the Toyota Hilux's 2.8-liter diesel engine can produce 174 hp and 450 Nm of torque while the Nissan Navara's 2.5-liter diesel engine produces 187 hp and 450 Nm of torque.
This makes the Ford Ranger Raptor the most powerful pickup truck available in the Philippines. The closest to its power output is the Chevrolet Colorado with almost similar figures.
The Ranger Raptor's engine is mated to a 10-speed automatic transmission. There are also large paddle shifters if you are planning to do shifting by yourself.
And since it has longer legs with 10 gears at disposal, the Ranger Raptor is relatively thrifty, clocking in 7.4 km/L in the city and 14.6 km/L on highways. Good numbers for a vehicle of this size.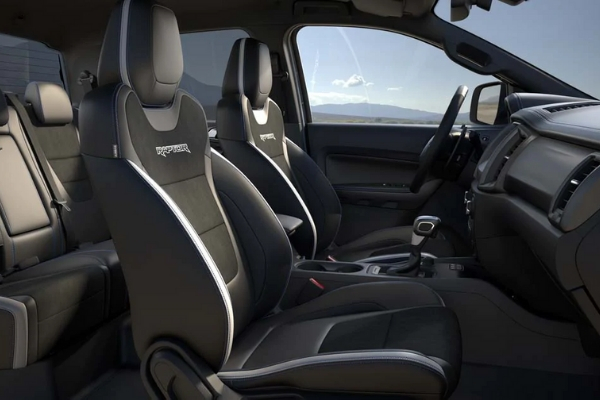 It comes with bucket seats for a sporty feel
Ford Ranger Raptor: Driving Modes
To complement those performance numbers, the Ford Ranger Raptor comes with six driving modes that were made to optimize your drive on a specific road condition.
Normal Mode – this shifts the Raptor to rear-wheel drive for a more fuel-efficient daily drive. It is the best mode for normal and dry road conditions.
Sport Mode – as the name suggests, it is best used for high-speed runs. It basically holds the gear longer which results in higher RPMs and increases throttle response. Plus, this mode makes the steering wheel tighter so stability will improve.
Rock Mode – best used on rocky surfaces, this engages the Raptor's e-Locking Rear Differential and shifting it in 4 low.
Mud/Sand Mode – engages 4 high, e-Locking Rear Differential and power steering so the pickup truck will stay planted on the ground.
Grass/Gravel/Snow Mode – with the given road conditions, they are all slippery. So this mode lowers the throttle response of the Raptor and engages 4 high and e-Locking Rear Differential.
Baja Mode – last but definitely not least, the Baja Mode. This mode dials down traction. It also improves responsiveness and shifting speed – best used for fun high-speed off-roading adventures. It is named after the Baja 1000 Desert Race.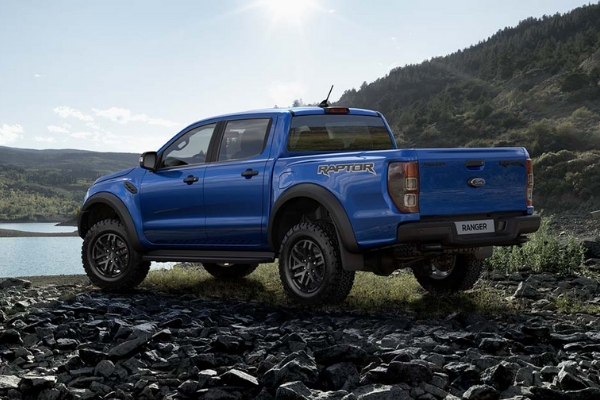 It is currently priced at Php 1,998,000
>>> Related: Latest Ford Ranger Raptor price list and installment
Ford Ranger Raptor: Top Speed
Considering all the features mentioned above, we can conclude that the power-to-weight ratio is not as good as it seems. A lot of the features were more suitable off-roads than it is on highways. Either way, it is still a superior pickup truck that is dominating its segment in the Philippines.
The Ford Ranger Raptor can run from 0 to 100 in 10.5 seconds – which is sort of expected with its diesel engine. 0 to 160 in 32.3 seconds. After the 130 km/h mark, the Ranger Raptor will have a hard time pulling its speed up especially with the weight and drag it is carrying.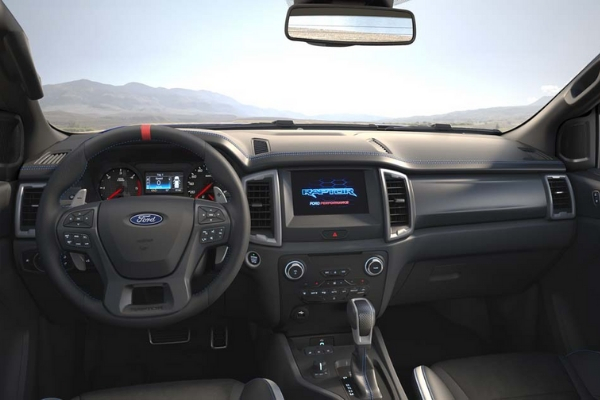 The Raptor is equipped with dual color 4.2-inch cluster screens and an 8-inch color touch screen
Sport mode and a four-wheel drive are advised if you are planning to do high-speed runs. The Ford Ranger Raptor's top speed is at a factory limited 175 km/h.
Some reports claim that speeds higher than 180 km/h can cause severe damage to its large all-terrain tires so you might want to take your foot off the pedal a little bit. If you are driving a pickup truck, top speeds don't really matter.
At least, the Ranger Raptor is considered one of the best off-roader choices in the country so that is still a win.
Here at Philkotse.com, we value your interest in the automotive industry. You can visit our website to find out more.  

Know more about Ford Ranger Raptor 2022

The Ranger Raptor 2022 by American truck maker Ford is the brand's entry to the midsize pickup truck segment in the Philippines. It is priced in the local market at Php 2,048,000 for the sole Raptor Ranger 2.0 Biturbo 4x4 AT variant. Powering this truck is a 2.0-liter Bi-Turbo diesel engine that is capable of generating 210 hp and 500 Nm of torque. This is connected to a 10-speed automatic transmission with paddle shifters.
In terms of dimensions, the Ranger Raptor is 5,398 mm long, 2,028 mm wide, and 1,873 mm high. Other key numbers include the wheelbase at 3,220 mm and ground clearance at 283 mm. The closest competitors of this American truck in the Philippines are the Nissan Navara PRO-4X and Toyota Hilux GR Sport.

Rex Sanchez
Author