It's becoming more apparent that electric cars are the future of mobility. Brands are on the heat and have you heard of electric cars from Toyota?
As the world progresses, more people are becoming environmentally aware. In turn, car companies are racing to develop and produce fully electric-powered cars. Here in the Philippines we already have access to several electric vehicle (EV) models.
The most powerful and most luxurious is the Porsche Taycan. There's also Hyundai's Ioniq EV and Kona EV. BYD has several EV buses and the E5 EV. And lastly, Jaguar also has the I-Pace.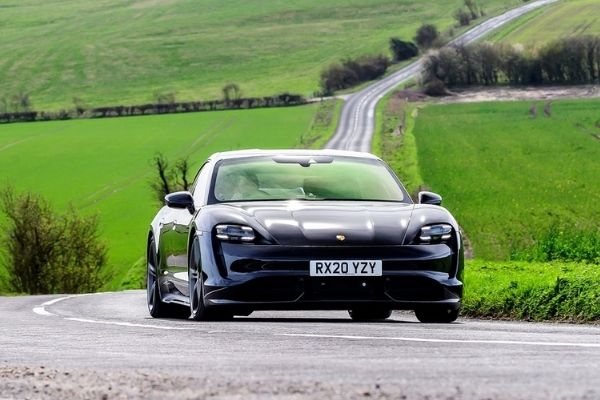 The Porsche Taycan isn't really a mainstream car, but be glad that it's here as an ambassador for EVs
In other parts of the world, Honda is currently selling the Honda e. Nissan in turn has the LEAF, which we know is eventually going to be launched locally. Mitsubishi also had the i-MiEV, which was discontinued and a replacement is currently in development. So, what are electric cars from Toyota? Will we ever see one in the Philippines?
>>> Related: Can you buy an electric car in the Philippines?
Toyota's first mass-produced battery electric car
Initially, Toyota focused on hybridization. In fact, the Japanese carmaker was the first to launch a mass-produced hybrid model in 1997, the Toyota Prius.
That said, Toyota wanted to focus first on hybrid powertrains by "electrifying" existing internal combustion models. That's why we're currently seeing more hybridized Toyota vehicles like the Corolla Altis Hybrid and the Toyota Corolla Cross Hybrid.
And while the company made the hydrogen-fuel cell-powered Toyota Mirai, a Toyota executive in 2019 said that the company was still "gauging the market's reaction to electric vehicles." And depending on market conditions, Toyota will eventually electrify more of its models in the future.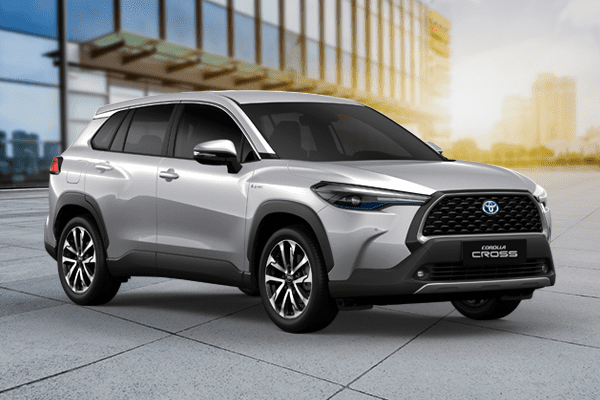 Initially, Toyota wanted to focus more on hybridization. That initiative brought us the Corolla Cross Hybrid
That stance however suddenly changed when Toyota introduced its first mass-produced battery fully electric model in April 2020 at the Shanghai Motor Show. Suffice to say, it really surprised a lot of people.
Back to the EV model in question, it's a crossover for the Chinese market, and it's an electric variant of the existing Toyota C-HR called the C-HR EV. There's also a rebadged version sold by FAW Toyota called the IZOA.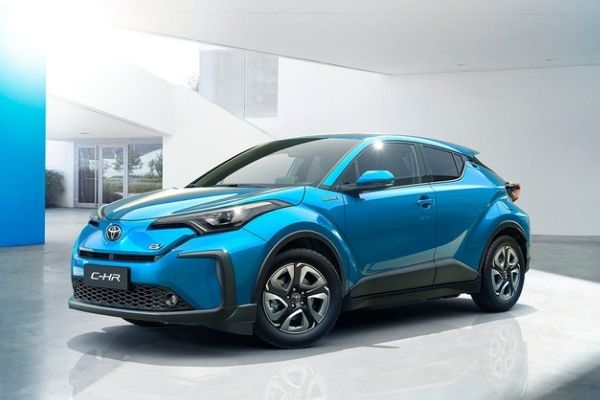 The futuristic-looking Toyota C-HR EV
The C-HR EV and the IZOA are Toyota's electric car entries to the highly competitive Chinese market. Both models draw power from a 54 kW lithium-ion battery, and their motor is a 150 kW (or 201 horsepower) synchronous electric motor. With that setup, Toyota claims that the C-HR and IZOA has an effective range of 400 km.
Note that other non-EV versions of the C-HR are currently being sold in North America, Japan, Indonesia, Malaysia, Europe, etc. The EV version, however, as for now, is only available in China.
>>> Related: List of hybrid and electric cars available in the Philippines
Electric car from Toyota: The Toyota Mirai
The Toyota Mirai is not a battery-electric car. Instead, it uses hydrogen fuel cells for power. So yes, one still needs to "fill it up." That said, this model is also the first-ever mass-produced fuel cell vehicle (FCV). If you want to get more technical, the Mirai uses a hydrogen fuel cell stack to power an electric motor.
The said motor can generate up to 114 kW or 153 horsepower of maximum output. The hydrogen that the Mirai uses is stored within two special tanks, which can each hold up to five kg at a pressure of 10,000 psi. With a "full-tank," the current 2020 Toyota Mirai has an effective range of 312 miles or 502 kilometers.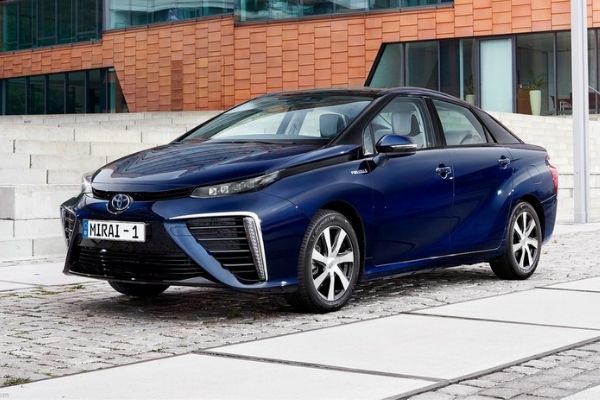 The first-gen Mirai is currently sold in North America, some Asian countries, and Europe
While the C-HR and IZOA are Toyota's first fully electric models drawing on a lithium-ion battery, the Mirai was introduced even earlier in 2014.
Electric car from Toyota: Toyota RAV4 EV
Another Toyota-made battery-electric model predating the C-HR/IZOA is the Toyota RAV4 EV. There were two generations of this EV, the first was released in 2002, and the second in 2012. The RAV4 EV however wasn't totally made by Toyota. In fact, all of its batteries and its electric motor were developed by Tesla. It was also sold in very limited numbers. Only 328 units of the first version were sold, and only 2,489 units of the second version were sold in the US market.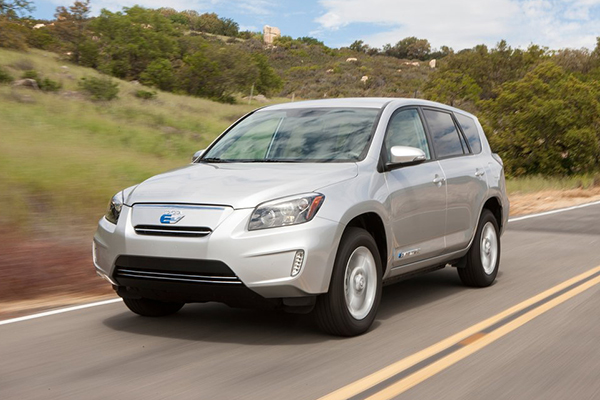 The Rav4 EV was large, heavy, and not that efficient
>>> Related: Check out Toyota RAV4 car guide
As early battery-electric models, both versions of the RAV4 had a rather dismal range of only 166 km. It did produce a decent output of 154 horsepower and 296 Nm of torque, but it wasn't good for anything other than short stints. The 2nd RAV4 EV also weighed in at a whopping 1,830 kg so its handling wasn't exactly the best.
Electric Cars from Toyota: Will we ever see one in the Philippines?
As we've observed over the years, Toyota is a bit conservative with regards to releasing and developing electronic vehicles. It's either that or the company is just really secretive. Regardless, it has been mentioned by several Toyota executives that the Japanese marque will be introducing more "electrified" models in the future. The company didn't mention where, but if its competitors did launch EVs here, then that might be Toyota's cue to step in.
This would echo what we think prompted Toyota to launch the C-HR EV in China. For those who don't know, EVs in general are fast becoming a hot item for the Chinese market. Tesla is already there and is selling its models like hotcakes. On top of that, a rising number of Chinese car companies are in the midst of developing their own models. With that being the case, the introduction of Toyota's first mass-produced battery electric vehicle in China was a strategic move.
With regards to what Electric car from Toyota we're getting in the Philippines, we aren't sure for now. If we had to guess, the closest in terms of possibility would be the C-HR EV. That's because many of our neighboring countries already have internal combustion versions of the said model.
This includes Thailand, which is one of the Philippine market's sources of Toyota vehicles. As with the regular C-HR though, we're guessing that our neighbors might be getting their hands first on the C-HR EV way before the Philippines.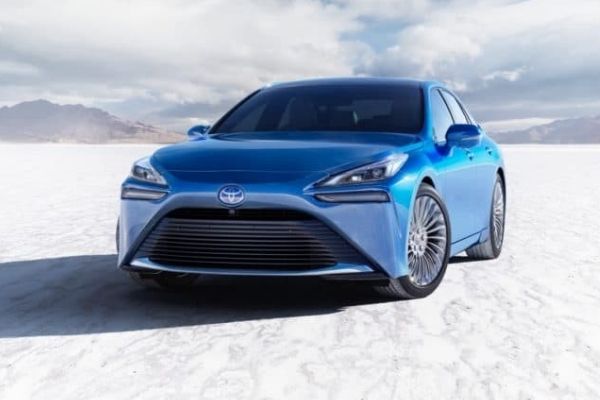 The next-gen Toyota Mirai's production version is set to come out this year
As for the Mirai, we wouldn't count on it. The Mirai's hydrogen fuel cell system requires a much-less conventional power source, which in turn requires a vastly different set of infrastructure as far as alternatively powered vehicles are concerned. Note though that Air Liquide Philippines is planning on building the country's first hydrogen plant so that might encourage Toyota to bring in the model in question.
Moreover, Toyota currently has a stable of electric vehicle concepts. While most of these are very unconventional, we're sure that the Japanese carmaker will come up with more electric car concepts in the future. Hopefully, one that's leaning towards a global market, including the Philippines.
Note however those electric vehicles are different from regular cars. They'll need new infrastructure when it comes to recharging. That's one of the many hindrances for EVs to become viable as a mass-produced model in the Philippines.
Toyota will have to provide charging stations located in strategic locations in the country and that will require cooperation and coordination with the government. And we all know how that usually works out.
Sure, most manufacturers will provide you a way to "trickle charge" your EV. But who would want to charge their car for six hours whilst stuck in the middle of nowhere? As such, we're certain that introducing EV models in the local mainstream car market won't be a reality in the near future.
This is regardless of whether it's an  electric car from Toyota, Mitsubishi, Nissan, or whatever. For EVs to become viable in the Philippines, we'll have to wait a few more years until the concerned parties shape up to allow these new alternative means of transport to become more practical.
For more informative articles like this, keep reading here on Philkotse.com.
Know more about Toyota

<p>Toyota leads the local automobile industry, distributed by Toyota Motor Philippines. It has a staggering total of 73 dealerships all over the country. It has 27 dealerships in Luzon, 15 in the Visayas, 11 in Mindanao, and 20 in Metro Manila, including Lexus Manila, Inc. for its service centers and sales distribution. TMP has the most extensive car lineup in the country, with its current range consisting of 20 vehicles in total. See the latest price list of Toyota vehicles in the Philippines here.</p>