It's been quite a journey since the first iteration.
The current Ford Ranger marks a decade of existence this year, having been introduced in October of 2010. Although the name was originally used on three separate Ford model lines, the Ranger as we know it in our market started out as a Japanese make in 1998.   
The New Ford Ranger | Ford Philippines
If you think it's a bit confusing, we'll lay down a timeline to track how much the Ranger has changed.   
First Generation Ranger
In 1972, Ford sold its Courier line of compact pickups as a rebadged Mazda B-Series, wanting to cash in on the popularity of similar offerings from Toyota and Nissan/Datsun.
This continued until the second generation in 1983 when the Courier was replaced by the Ford Ranger in North America yet would live on in international markets for another 15 years.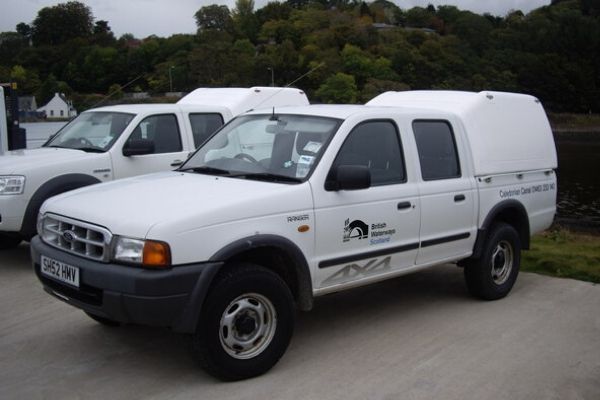 First-generation Rangers were built on the Mazda B-Series platform
In 1998, the fifth-generation Mazda B-Series began to be sold as the first-generation Ford Ranger for customers in Europe and Asia, with the Philippines even commencing local production.
As a rebadged model, it shared the rounded edges of its B2500 donor, as well as a 2.5L inline-four diesel engine or its turbocharged equivalent, with a 4x2 or 4x4 drivetrain.
Sporting a four-door double cab body, the B-Series-based Ranger found favor with customers looking for Japanese reliability with the prestige of an American nameplate, and was sold for eight years. A mid-cycle refresh in 2004 gave the Ranger a revised grille and larger headlamps
>>> Related: Which 2020 Ford Ranger should you buy? [Philkotse Guide]
Second Generation Ranger
In 2006, Mazda retired the B-Series in favor of the BT-50, which served as the platform for the second-generation Ranger. Again, both the Ranger and BT-50 shared the same body and 2.5L Duratorq/3.0L diesel inline-4 engines, with common rail direct injection technology. The grille was replaced with bigger slats bookended by larger headlamps.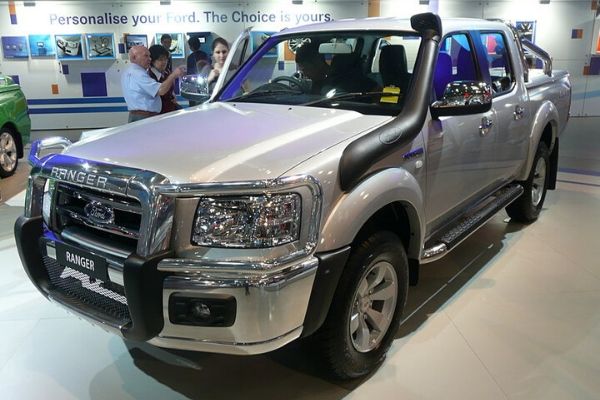 The Mazda BT-50 platform gave the second-generation Ranger more muscle
The new platform also raised the Ranger's ride height, apart from giving it a more muscular stance with wider fenders. Cargo bed capacity was also increased, improving the Ranger's cargo capability. A 2009 facelift gave the Ranger an even wider grille with swept-back headlamps.
Third Generation Ranger
The third-generation Ranger was unveiled in 2011, now designed and engineered by Ford in Australia, sporting its own T6 platform for the first time.
The dimensions were increased even further, placing the Ranger into the midsize pickup category. A slimmer three-bar grille sits on the fascia, placed between wraparound headlamps.
>>> Related: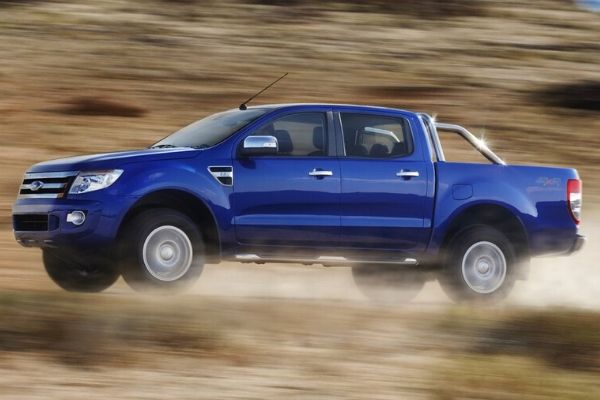 Improved aerodynamics and increased wading capability marked the third generation
The new Ranger's sleeker and more dynamic look, punctuated by large yet subtle fenders, was an engineering feat that improved aerodynamics, with a drag coefficient of .399 Cd, impressive for its class.
A double-cab body was still the default, coming in a choice of three variants (XL, XLT, Wildtrak) and two engines (2.2L and 3.2L Duratorq turbodiesels), mated to either a six-speed manual or six-speed automatic, with 4x2 and 4x4 drivetrains.
Bigger measurements meant best-in-class interiors for this generation, while a higher ground clearance and raised air intake contributed to the class-leading wading depth of 800mm.
Current Generation Ranger
The present Ranger is a 2015 refresh still riding on the T6 platform which, in an interesting twist, is now adopted by the current Mazda BT-50. Elements of Ford's Kinetic Design language can be seen on the fascia, which features a revised trapezoidal grille, redesigned hood, and slimmer headlamps.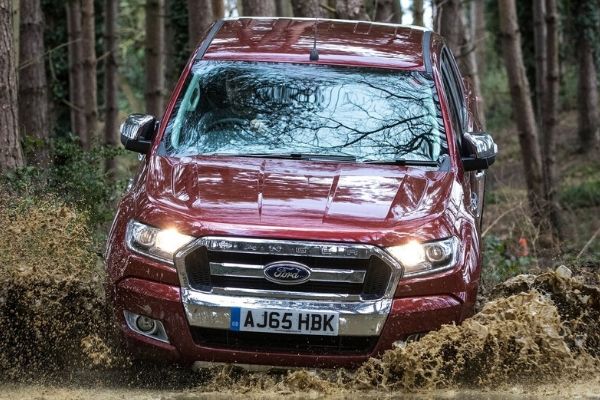 The current Ranger boasts more power than before
>>> Related: Ford Ranger car price in the Philippines
Retuned springs and dampers improve handling and cargo payload, while the hydraulic steering has been upgraded to a new electric power assist (EPAS) system for agility and fuel economy.
Transmission choices and drivetrain options remain the same, with engine output receiving a power boost for the 2.2L engine (158 hp and 385 Nm of torque). Meanwhile, the 3.2L power plant still makes 197 hp and 470 Nm, but with peak torque coming later in the powerband (2,000 rpm from 1,750).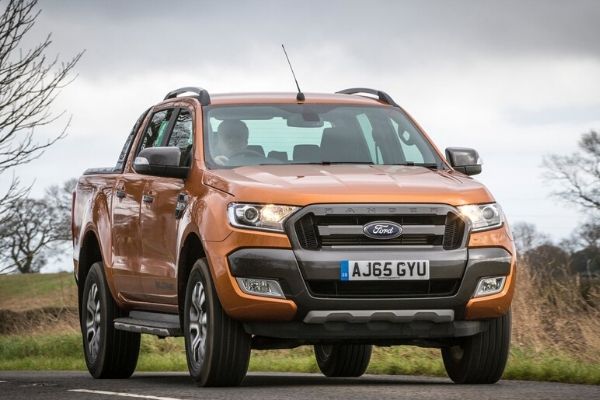 The Ranger started out on a Japanese chassis
It even serves as the platform for the more lifestyle-oriented Ranger Raptor, which somewhat compromises on payload capacity in exchange for a FOX sport suspension setup, underbody bash plates, and a more powerful 2.0L bi-turbo diesel generating 210 hp and 500 Nm of twist.  
The Ranger has indeed come quite a long way from its Japanese roots. Judging by the public's continued patronage of the nameplate, we can expect further iterations of the Ranger to take our breath away.
Relive the history of your favorite rides with Philkotse.com.
Know more about Ford Ranger 2021

<p>The Ford Ranger received numerous facets and practicality and is one of the long-running in the segment of pickup trucks. Still, it has changed a lot in recent years, and today, it is equipped with proper SUV features, truck muscularity, spacious cabin, car drivability, and the like.</p> <p>The sport-themed oriented urban truck was intended for the buyer&#39;s active lifestyle. Hence, the Blue Oval Company&#39;s midsize pickup truck is also utilized as a lifestyle &#39;weekend&#39; SUV aside from being just a pickup car. Its robust and multi-talented platform is common for both Ford Ranger and <a href="https://philkotse.com/ford-everest-price-philippines" title="Ford Everest Philkotse Car Guide">Everest</a>, the latter is considered one of the leading SUVs in its respective segment.</p> <p>Powering the Ford Ranger is either a 2.5-litre or&nbsp;3.0-litre Dura TORQ TCDi diesel engines that supply high values of power and torque as well as better mileage. It also features enough room and additional space at the back for either business or personal purposes.</p> <p>The double cabin pickup truck comes with on-road agility, together with its competent handling and reasonable off-roading capability with a 4x4 mechanism. Moreover, the midsize pickup truck&nbsp;features top-class safety features and competes with the types of <a href="https://philkotse.com/isuzu-d-max-price-philippines" title="Isuzu D-Max Philkotse Car Guide">Isuzu D-Max</a>, <a href="https://philkotse.com/toyota-hilux-price-philippines" title="Toyota Hilux Philkotse Car Guide">Toyota Hilux</a>, <a href="https://philkotse.com/chevrolet-colorado-price-philippines" title="Chevrolet Colorado Philkotse Car Guide">Chevrolet Colorado</a> and, <a href="https://philkotse.com/mitsubishi-strada-price-philippines" title="Mitsubishi Strada Philkotse Car Guide">Mitsubishi Strada</a>.</p>

Joseph Paolo Estabillo
Author