What is your take on this heavily-upgraded Ford Ranger?
In 1983, Ford introduced the Ranger and has grown steadily in the pickup automotive scene. But it wasn't until 2010 when Ford decided to introduce the Raptor.
The Raptor is a nameplate used by Ford on its high-performance pickup trucks that include the Ford F-150 and more recently, the Ford Ranger.
2019 Hennessey VelociRaptor Ranger vs 2019 Ford Raptor Drag Race
With the help of the Raptor upgrades in 2010, the Ford Ranger Raptor emerged as one crazy off-roader right off the showroom.
Ready with off-road capabilities with its chassis and powertrain upgrades at a small footprint, it is safe to say that the Ford Ranger Raptor is an exceptional machine.
However, the Ford Ranger Raptor might be lacking when you consider its size, weight, and reputation that precedes its name.
The 2020 Ford Ranger Raptor is carrying a 2.0L Biturbo EcoBlue diesel engine capable of generating 213 hp at 3,750 rpm and 500 Nm of torque at 1,750-2,000 rpm, mated to a 10-speed automatic. 
For this reason, Hennessey decided to make a more potent Ranger that can put the Ranger Raptor to shame.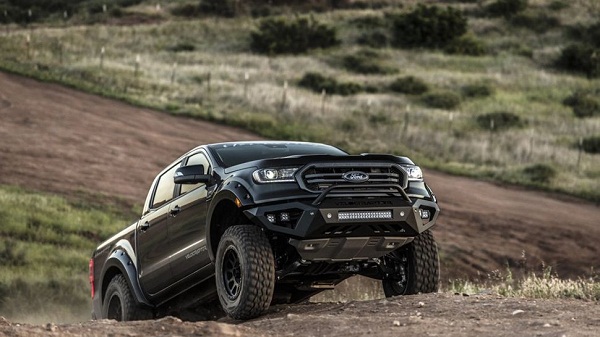 The 360-hp Ranger VelociRaptor
>>> Related: Ford Australia might give the Ranger Raptor a V8
Hennessey Ranger VelociRaptor Upgrades
The upgraded Hennessey Ranger VelociRaptor can generate 360 hp at 5,600 rpm and 597 Nm of torque at 3,800 rpm with the help of its Engine Management Software Upgrade.
Other upgrades include its Performance Exhaust System, Stage 1 ICON Coilover Suspension Upgrade, custom-made 18-inch alloy wheels, and many more.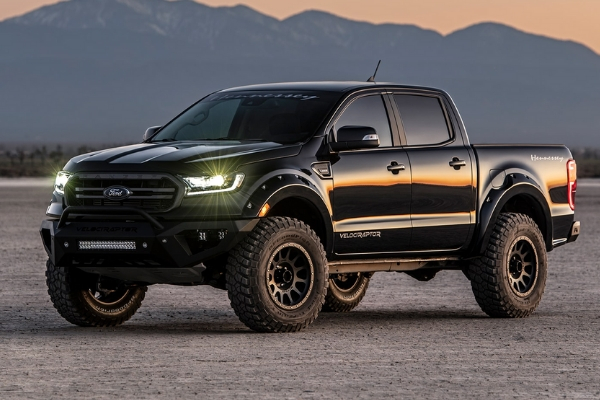 Brilliantly constructed for any given road condition
>>> Related: Ford Ranger Raptor 2020 Philippines Review: Trigger Warning
Hennessey's Stage 1 off-road suspension upgrade combined with its 18-inch alloy and upgraded BFG Mud Terrain TA KM2 tires made the VelociRaptor taller than the Ford Raptor Ranger by approximately 152mm – giving the VelociRaptor better off-roading capabilities.
"The VelociRaptor Ranger is so much fun to drive!" said the company founder & CEO, John Hennessey. "With over 400 lb-ft of torque and 0-60 mph performance in under 5 seconds, our VelociRaptor Ranger delivers an impressive amount of smiles per gallon."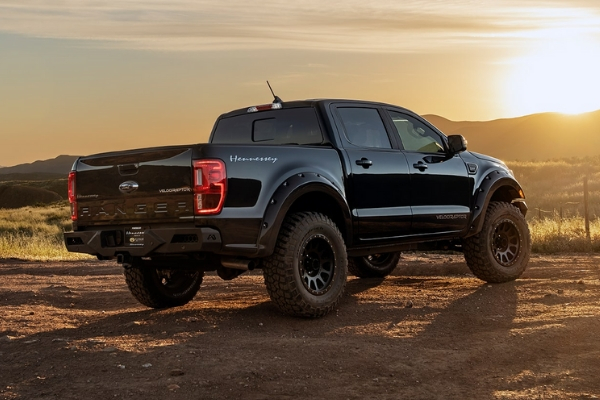 The Hennessey VelociRaptor gave everyone something to think about
If you prefer the Hennessey Ranger VelociRaptor over the Ford Ranger Raptor, then it would have to cost you more to import this upgraded version.
The Hennessey Ranger VelociRaptor is only based in the U.S. as of this writing. But if you have the means to import one, then by all means.
Here at Philkotse.com, we value your interest in the automotive industry. You can visit our website to find out more.

Know more about Ford Ranger Raptor 2022

The Ranger Raptor 2022 by American truck maker Ford is the brand's entry to the midsize pickup truck segment in the Philippines. It is priced in the local market at Php 2,048,000 for the sole Raptor Ranger 2.0 Biturbo 4x4 AT variant. Powering this truck is a 2.0-liter Bi-Turbo diesel engine that is capable of generating 210 hp and 500 Nm of torque. This is connected to a 10-speed automatic transmission with paddle shifters.
In terms of dimensions, the Ranger Raptor is 5,398 mm long, 2,028 mm wide, and 1,873 mm high. Other key numbers include the wheelbase at 3,220 mm and ground clearance at 283 mm. The closest competitors of this American truck in the Philippines are the Nissan Navara PRO-4X and Toyota Hilux GR Sport.

Rex Sanchez
Author