With so many variants of the Ford Ranger in the Philippines, you would think we're getting Ranger-fatigue. Ford doesn't think so and we wholeheartedly agree!
The Ford Ranger in the Philippines has one of the most diverse variants and extensive model lineups. From the base XLS model with the tried and tested 2.2 liters Duratorq diesel all the way to the top of the line Ranger Raptor that has the advanced 2-liter bi-turbo with a 10-speed automatic.
It has a Ford Ranger for every budget and this has proven to be an effective marketing strategy as the truck is the brand's best selling models.
The past few months we've been hearing a lot of noise and rumblings about an upcoming release from the Blue Oval brand and invitations for a January 23 event just added more fuel to that flame.
I was actually thinking it could be for a release of the all-new Ford Escape or another SUV, but pictures have come up that may have just spoiled some information for everyone. Ford will reportedly be releasing another variant of the Ford Ranger, and all needles point to an updated Ford Ranger FX4.
>>> Read more about all Ford Ranger reviews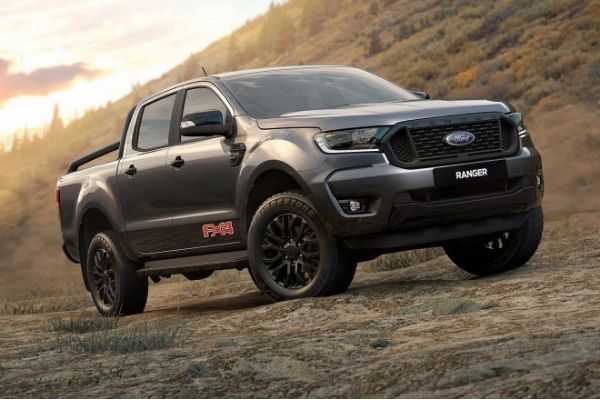 With Blacked out wheels, grill, step bar, and sports bar, the FX4 look macho
Featuring blacked-out trims and sporty red stickers and badges, as well as updated alloy wheels the 2020 Ford Ranger FX4 also gives us black, matte bed rails and more interestingly and updated grill.
The grill features a mesh design reminiscent of USDM variants of the Ford Ranger as well as the all-new Ford Explorer. It is also murdered-out in black omitting chrome bits to make it look more aggressive and sporty.
Traditionally the FX4 variant comes with 2 wheel drive and automatic transmission which begs me to think what the "4" in FX4 stands for. If history would repeat itself it should also come in the older yet known to be bulletproof 2.2 liter Duratorq engine. That engine makes 160 hp @ 3,200 RPM and 385 Nm of torque between 1600-2500 RPM.
>>> Check out for the latest changes in Ford Ranger price.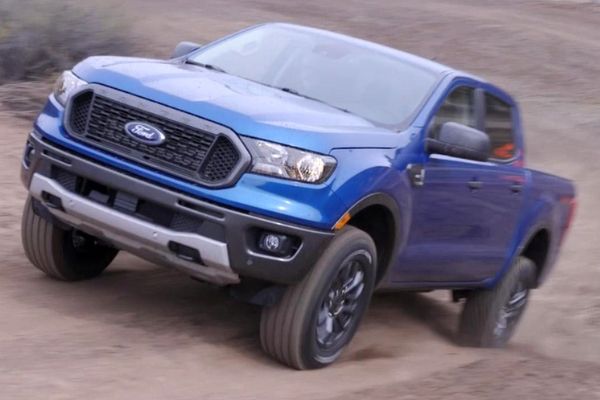 For reference, the USDM Ford Ranger has the same Grill
With trucks enjoying a renaissance the past couple of years, thanks to tax breaks by the TRAIN law and the rising demand for rugged and high riding vehicles the 2020 Ford FX4 should be a welcome addition to the extensive lineup of the best selling pick-up from Ford.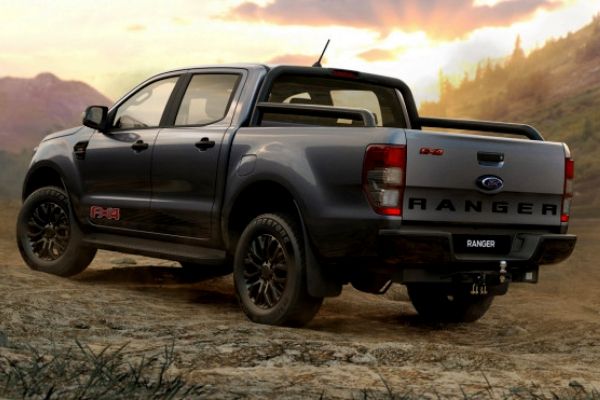 Red Badges and stickers add to the Racer look and aim itself at the Toyota Hilux Conquest
Make sure you to keep your eyes glued to Philkotse.com for more news, reviews, and insights on the Philippine car market as well as updates on local car culture in general.
Know more about Ford Ranger 2021

<p>The Ford Ranger received numerous facets and practicality and is one of the long-running in the segment of pickup trucks. Still, it has changed a lot in recent years, and today, it is equipped with proper SUV features, truck muscularity, spacious cabin, car drivability, and the like.</p> <p>The sport-themed oriented urban truck was intended for the buyer&#39;s active lifestyle. Hence, the Blue Oval Company&#39;s midsize pickup truck is also utilized as a lifestyle &#39;weekend&#39; SUV aside from being just a pickup car. Its robust and multi-talented platform is common for both Ford Ranger and <a href="https://philkotse.com/ford-everest-price-philippines" title="Ford Everest Philkotse Car Guide">Everest</a>, the latter is considered one of the leading SUVs in its respective segment.</p> <p>Powering the Ford Ranger is either a 2.5-litre or&nbsp;3.0-litre Dura TORQ TCDi diesel engines that supply high values of power and torque as well as better mileage. It also features enough room and additional space at the back for either business or personal purposes.</p> <p>The double cabin pickup truck comes with on-road agility, together with its competent handling and reasonable off-roading capability with a 4x4 mechanism. Moreover, the midsize pickup truck&nbsp;features top-class safety features and competes with the types of <a href="https://philkotse.com/isuzu-d-max-price-philippines" title="Isuzu D-Max Philkotse Car Guide">Isuzu D-Max</a>, <a href="https://philkotse.com/toyota-hilux-price-philippines" title="Toyota Hilux Philkotse Car Guide">Toyota Hilux</a>, <a href="https://philkotse.com/chevrolet-colorado-price-philippines" title="Chevrolet Colorado Philkotse Car Guide">Chevrolet Colorado</a> and, <a href="https://philkotse.com/mitsubishi-strada-price-philippines" title="Mitsubishi Strada Philkotse Car Guide">Mitsubishi Strada</a>.</p>

Roy Robles
Author