The Sportage is due for an update. But when?
2021 Kia Sportage: What we know so far
The current Kia Sportage that we have in the Philippines is the fourth-generation version. It's been around in the market since 2015. Suffice to say, it's due for an update. It seems though that Kia thinks so too since it's already developing a replacement. In fact, it's already in its testing phases.
Kia Sportage | Lowering The Divorce Rate
*Disclaimer: This is the video from Kia Australia, we will update when there's a video here
Regarding this new Sportage, what we've seen so far are spy shots on the internet, mostly from thekoreancarblog.com. It looks totally different from the current Sportage, and it might be a hint that Kia is introducing an all-new design language. Other than that, reports are saying that the new Sportage won't be making its global debut until 2021.
We're still getting the same Sportage for 2021
As for the Philippines, we're fairly certain that the current Kia Sportage available to us will continue to be sold locally for 2021. However, other versions of the third-gen Sportage did have some minor exterior improvements that we'd also like to see on the local version as well.
2021 Kia Sportage: Exterior
As for the exterior, the 2021 Philippine-spec Sportage will keep the same look. Kia PH might introduce new color choices too.
Apart from that, Kia also released the new "Gravity Trim" for the third-generation Sportage. It features a blacked-out front and rear bumper, black colored side skirts, a set of black 19-inch wheels, and many other black colored pieces.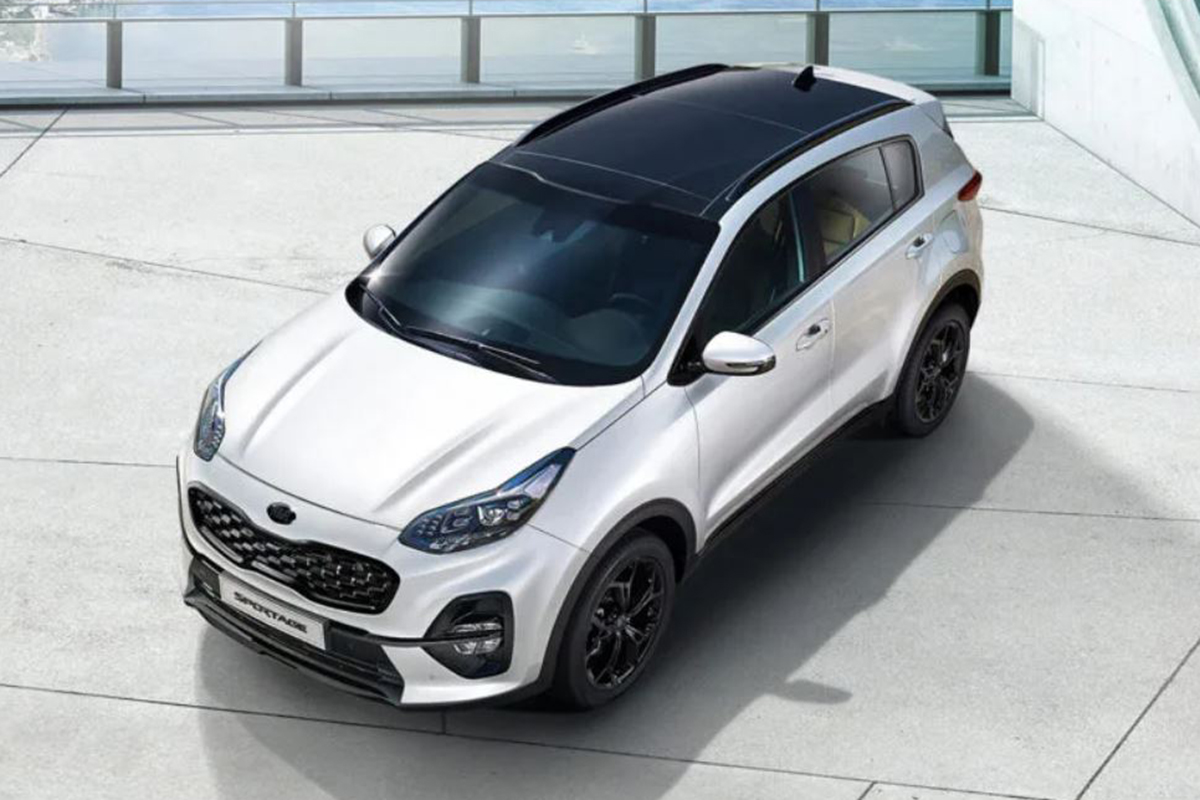 The 2021 Kia Sportage Gravity Trim
The Gravity Trim, however, is nothing more than an appearance package. Regardless, we'd like to see this sold in the Philippines as it can definitely spice up the Kia-made crossover by a fair bit.
2021 Kia Sportage: Interior
Being a carry-over, the PH-spec Sportage for 2021 will retain the same interior features. It will still come with the 8-inch touchscreen with Apple CarPlay and Android Auto, the rear seats that can fold totally flat, as well as the tilt and telescopic steering wheel.
The no-nonsense interior of the Kia Sportage
The top-spec Sportage GT-Line variant will also keep its leather upholstery, electronically adjustable front seats, automatic headlamps, automatic climate controls, cruise control, and push to start button.
>>> Related: Get the Kia Sportage with a P300,000 cash discount
2021 Kia Sportage: Engine and Performance
Currently, the Sportage for the Philippine market has two engine options. These of course will be retained for the 2021 model year.
The smaller engine of the two is a 2.0-liter dual-CVVT gasoline engine capable of making up to 153 horsepower and 192 Nm of torque. The mid-variant on the other hand uses a 2.0-liter CRD-I diesel mill that can churn out up to 182 horsepower and 400 Nm of torque.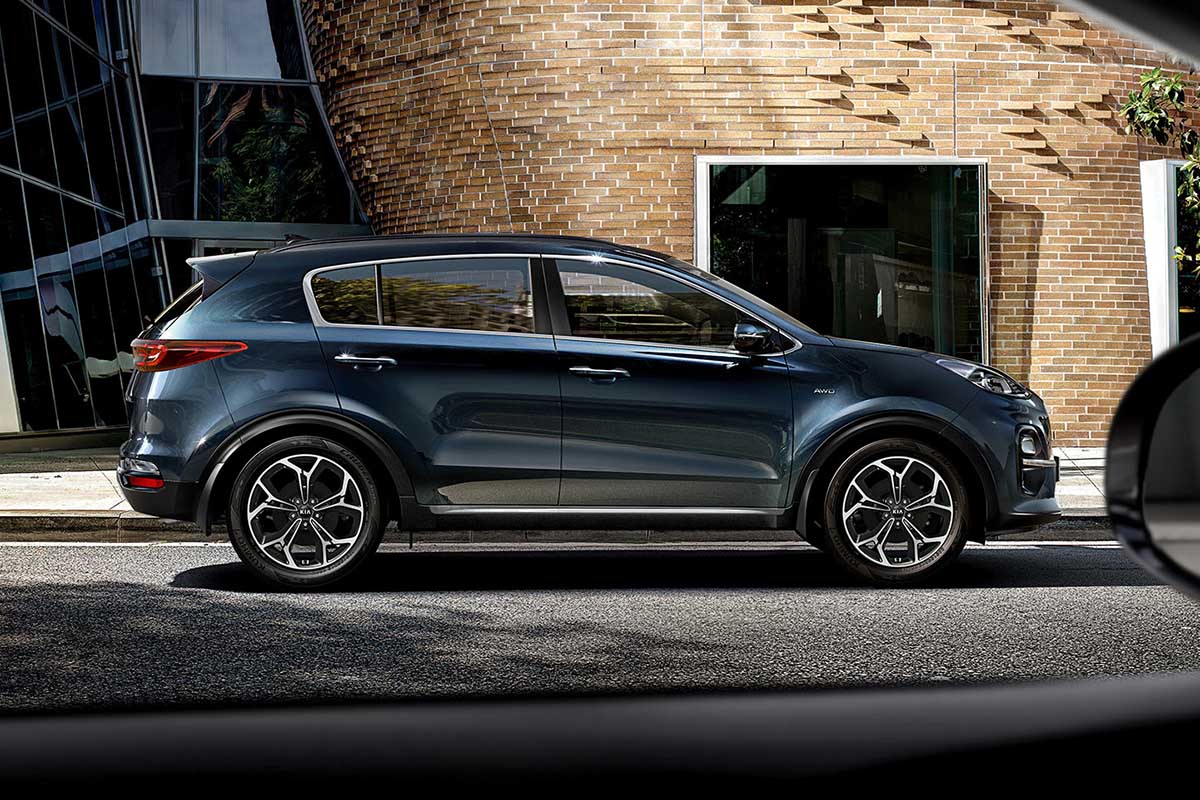 Even after all these years, the Sportage is still one elegant-looking crossover
For both engines, power is sent to the front wheels. The larger, more powerful diesel variant however uses an eight-speed automatic gearbox whereas the 2.0-liter gasoline version uses a six-speed automatic gearbox.
>>> Related: Kia SUVs Philippines lineup: All models with specs, price & review
2021 Kia Sportage: Safety
The set of safety equipment for the PH-spec Sportage will also remain unchanged. The top-spec GT-line will still have six airbags, stability control, hill-start assist, rain-sensing wipers, and an auto-dimming rearview mirror, among others.
However, do note that the LX trims only come with two air-bags, a car alarm, and an engine immobilizer. It, however, lacks the aforementioned driver-assist features found on the top variant.
2021 Kia Sportage: Final Thoughts
The current Sportage as it is right now is a powerful crossover. Powerful with respects to its engine output, and to its on-board features. This is especially true with the top-spec GT-Line variant. As we've said before however, the Sportage is aging. If we compared it to newer compact crossovers especially in terms of interior design, it might have some catching up to do.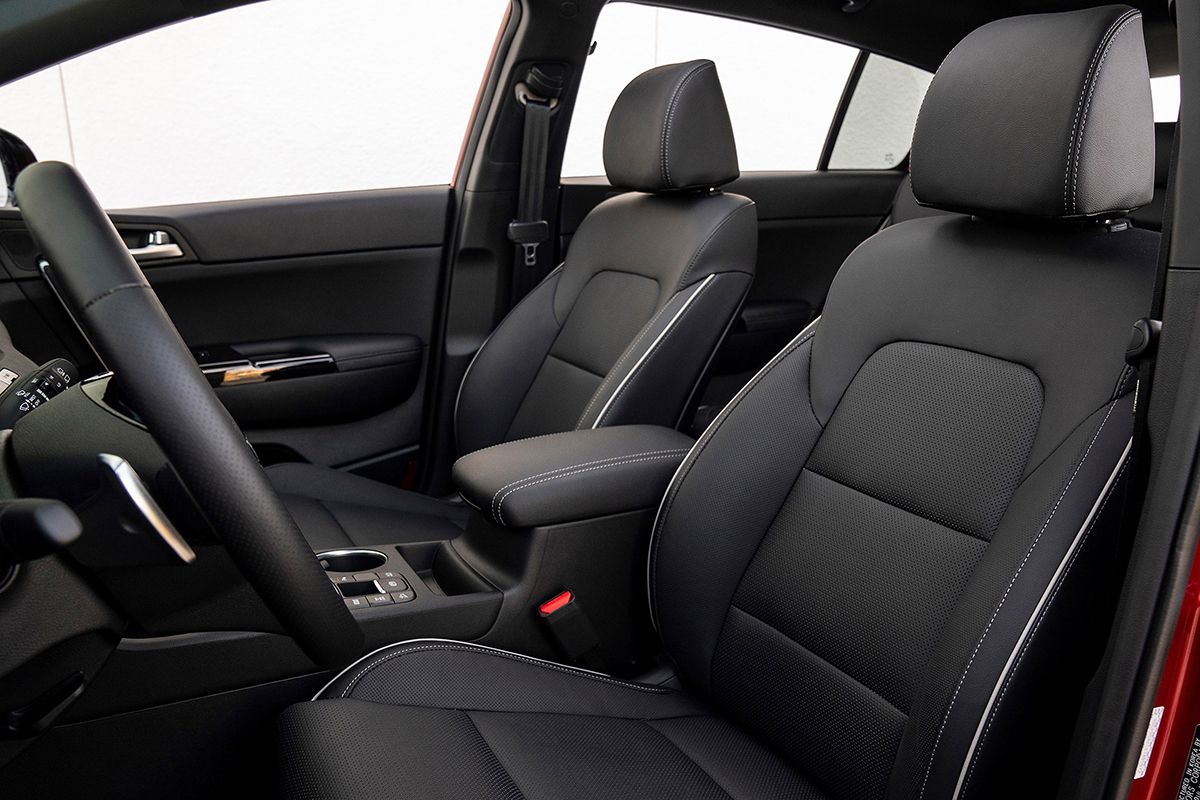 The Sportage's interior is still quite spacious though
Sure, it's well-built, and the controls are logically arranged, but it doesn't have the flair that's found on its fresher-faced competitors.
That said, we can't wait to get more information about the new, upcoming next-generation Sportage and what it has to offer when it comes to style. As we've said, internet rumors are saying that the way its prototype looks might be hinting at a new Kia design language. Moreover, the interior will surely get a redesign as well.
2021 Kia Sportage: Expected Price
Currently, the PH-spec Sportage's price ranges from Php 1,290,000 to Php 1,820,000. If Kia PH introduced the Gravity Trim here, it would necessitate a slight price increase. Although, if the company decided on selling it as separate accessory pieces, then that might help make it cheaper.
For the latest car news, car reviews, car sneak-peeks, and car maintenance tips keep reading here on Philkotse.com.

Know more about Kia Sportage 2022

The Kia Sportage 2022 Philippines is a 5-seater compact crossover that is competing in the local market in its fourth-generation version. It is still unclear as to when will the fifth-gen arrive on our shores. In the local market, it is available in three variants with a price that ranges from Php 1,290,000 to Php 1,820,000. Under the hood, there are two engine options. First is the 2.0-liter gasoline engine that makes 153 horsepower and 192 Nm of torque, while the second option is a 2.0-liter turbodiesel engine good for 182 horsepower and 400 Nm of torque. Diesel variants use an 8-speed automatic with Shiftronic, while the sole gas variant gets a 6-speed automatic transmission.
In terms of dimensions, the Sportage is 4,480 mm long, 1,855 mm wide, and 1,645 mm high (1,655 mm for top-spec GT-Line). It also comes with a wheelbase and ground clearance rated at 2,670 mm and 172 mm, respectively. In the local market, the Korean compact crossover goes up against the likes of the Toyota RAV4, Honda CR-V, and Subaru Forester.

Cesar G.B. Miguel
Author