The Kia Sportage has gone a long way since its initial release 26 years ago. How does the latest-generation Sportage fare? Let's find out through this in-depth Kia Sportage 2019 Philippines review.
In this review...
Introduction

Exterior

Interior

Engine & Performance

Ride Quality

Safety

Specsheet

Price

Conclusion
1. Kia Sportage 2019 Philippines Review: Introduction
For Kia, it didn't exactly start out swimmingly - most especially with its compact SUVs like the Kia Sportage.
Its first-generation model was weird-looking - a soft-edged, egg-shaped crossover which was developed from the Mazda Bongo. Thankfully these vehicles didn't enter the Philippine market officially, though some Kia Sportage's first-generation NB-7 models actually made it here through the surplus vehicle trade or through the gray market.
This made the said model cheap and could be seen pretty often, especially around the provinces where it could actually take on the rough Philippines terrain. This also had the added benefit of popularizing the brand and model in the country.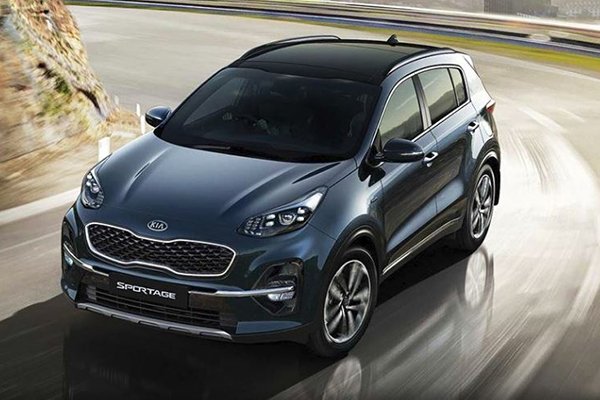 The fourth-generation Sportage is designated as the QL, and it's vastly different from the previous models
The fourth-generation version was unveiled at the 2015 Frankfurt Auto Show, and it has certainly evolved into a better-looking vehicle with a lot of modern conveniences typical of a current-model SUV.
And while there are lots of engine options for the model line in general, some exclusive to China, the Philippine-spec Sportage only gets two. A 4x4- or AWD-version is yet not available. Regardless, the current 2019 Kia Sportage we have has become quite popular in the country and thus warrants a closer look. Let's find out via this 2019 Kia Sportage Philippines Review with Philkotse.com!
2. Kia Sportage 2019 Exterior
At first glance, you might mistake the 2019 Kia Sportage exterior for something that Land Rover built. But the front fascia is born signature Kia features like the stretched H-shaped, "tiger" grille and, of course, the unmistakable badging. What's noticeably different from the third generation however is the smaller and more compact shape of the fog lamps which are now also LEDs.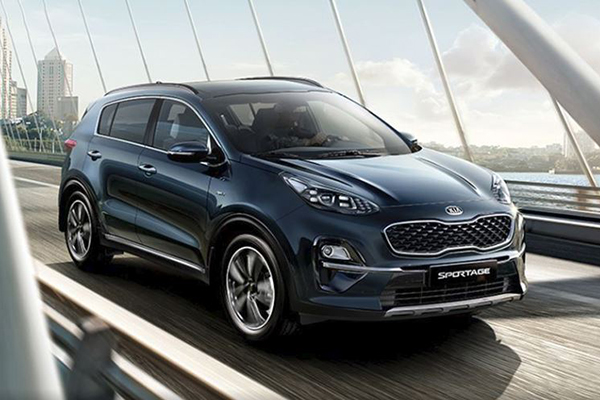 From the front, the Sportage has the signature Kia features like the "tiger" grille
One thing distinct from other Kia models that the manufacturer could have added to the already unique and attractive looking front end of the Kia Sportage is daytime running LEDs which are really useful and are common in premium- and even average-priced vehicle models today.
On the sides of the vehicle, one will most certainly appreciate the SUV profile of the vehicle. The high ground clearance and the large wheels of the 2019 Sportage also adds a lot to its perfectly rugged yet stylish profile.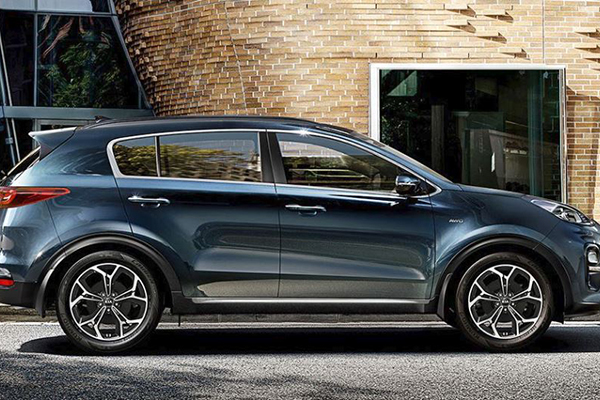 The side profile of the Sportage highlights the vehicle's large wheels and its handsome SUV proportions
The rear then wraps it up with well-spaced and well-proportioned parts like the large LED tail lamps fused with bits of chrome. Also of note are the silver-colored skid plates found around the vehicle mostly found on the front and rear. So apart from looking handsome, the Kia Sportage is actually tough as well.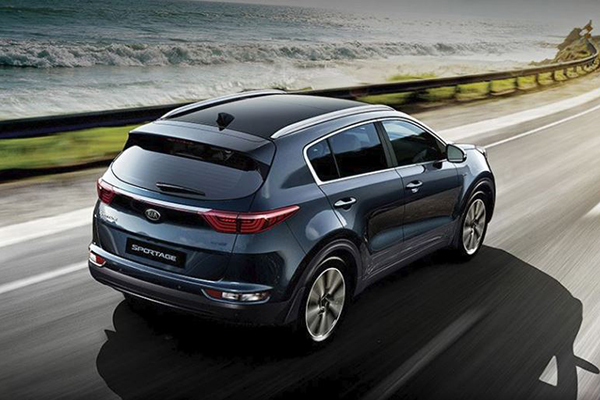 From this angle, the rear end of the 2019 Kia Sportage somehow looks like the Range Rover Evoque
Noticeably, there are not many character lines on the vehicle, save for two on the hood and on the lower part of each side. Regardless, the overall Kia Sportage exterior makes for a very modern, sporty, and handsome-looking vehicle.
YOU MAY WANT TO READ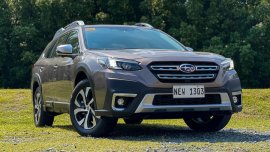 Model Price Philippines
₱ 2,480,000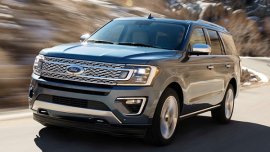 Model Price Philippines
₱ 4,479,000 - ₱ 4,612,000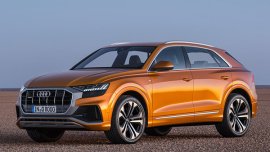 Model Price Philippines
Price available upon request
3. Kia Sportage 2019 Interior
One special thing about 2019 Kia Sportage interior is that it has a lot of cabin room. It can fit five people comfortably with decent space for extremities and your head. Trunk space is a significant 491 liters. Fold those passenger seats down and you get a whopping 1,480 liters.
The bulging rear wheel wells might affect your ability to arrange wide stuff horizontally but, otherwise, loading stuff on it is easy due to the low trunk lip, and that lip itself is clad with protection so don't worry about scratching up your trunk.
As for the front cabin, the well-designed dash is noticeably driver-oriented with a lot of the controls and the center console slightly faces towards the driver. As such, everything can be easily reached by the person on the wheel and, yes, that includes the window adjuster buttons which is said to be an annoyance before.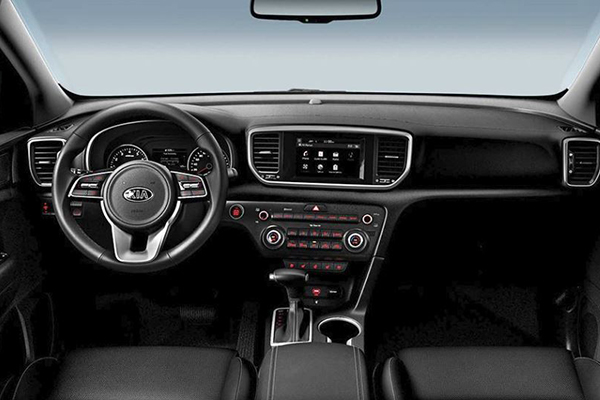 Note how the center console is facing towards the driver
For the rear, passengers can rest their arms on a foldable armrest that can also double as a drink holder. And in addition, there are a lot of storage spaces for your stuff like the net bags mounted on the rear of the front seats and cubbyholes on the interior door panels. And lastly and thankfully, there's a rear AC vent.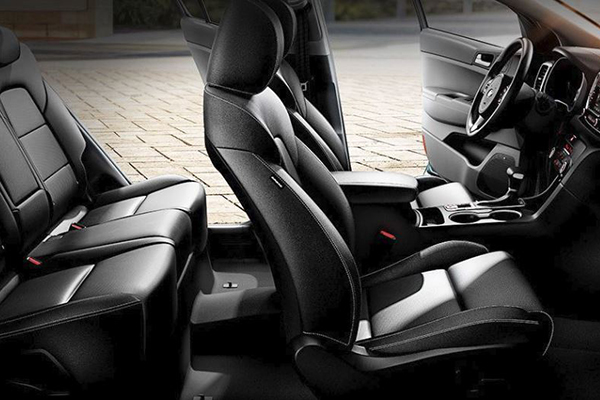 The dark-colored seats are much appreciated because they're easier to clean and somewhat stain-resistant
Overall, the dark-themed seats and interior paneling are gorgeous and well-built save perhaps for the wonky switches for the door and the climate controls made out of plastic of dubious quality.
The Kia Sportage 2019 now comes equipped with a touch screen infotainment as standard. Also present are the usual stuff like FM and AM radio, USB and AUX ports, a CD player, and a decent set of speakers.
4. Kia Sportage 2019 Philippines Review: Engine and Performance
The Philippine-spec Kia Sportage gets two engine options to spread out into three variants. Two variants are equipped with the 2.0-liter diesel inline-four turbodiesel which the previous generation had; the third variant gets 2.0-liter gasoline.
The diesel engine makes an impressive 183hp and 402Nm of torque while the gasoline variant outputs smaller but still decent 153hp and192 Nm of torque. Seeing that the gasoline one has obviously less torque and that the Sportage actually weighs quite a bit (it is an SUV after all), people would tend to gravitate towards the diesel variant.
These engines are mated to a new eight-speed automatic transmission with the power sent to the car's front wheels. And yes, the AWD is gone -- but more on that later.
The turbodiesel has been around since 2015, but don't let that fool you as it's as sprightly and as capable as ever. Kia also has fairly decent after-sales service and parts are quickly delivered should you need them.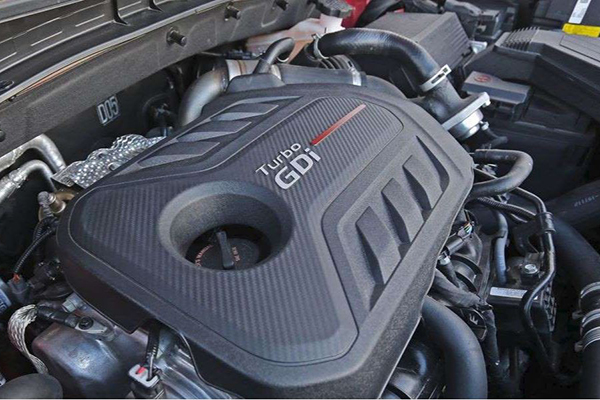 Here's the good old 2.0-liter turbocharged diesel engine
If you are looking for cars that have a similar engine and performance to this Kia Sportage 2019 Specs, you can find the best deals in our cars for sale.
5. Kia Sportage 2019 Review Philippines: Ride Quality
If there's one thing to complain about the 2019 Kia Sportage it's that Kia decided not to give the Philippine-spec models all-wheel-drive. An AWD, however, is still available for the North American market which arguably needs it a lot for snow and whatnot.
While some of you might say that you don't need an AWD for daily driving around the city, it can be argued that it can be useful especially for those who rely on their vehicles to tackle slippery terrain as we do have muddy roads during the rainy season and unpaved gravel roads here in the Philippines.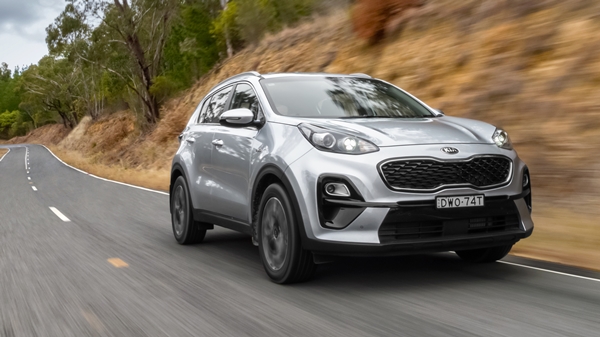 As for its suspension, the ride can be a bit too firm at times
Also, it helps a lot in potentially dangerous driving situations like a blind corner catching you off-guard. Regardless, the front-wheel-drive does get you from A to B.
As for its suspension, the ride can be a bit too firm at times. Other than that, the Kia Sportage has minimal body roll and can actually take on corners like a champ. And with that eight-speed automatic, shifting is also smoother than previous models.
Likewise, the fuel mileage of the current Sportage is actually decent for its size and power output; it gets an average of 12 to 13 kilometers per liter for the diesel variants -- pretty good for a vehicle with forced induction.
6. Kia Sportage 2019 Safety
The Kia Sportage not only rides good, looks good, and feels comfortable, but it's also a very safe vehicle. In fact, the National Highway Traffic Safety and the Insurance Institute for Highway Safety both gave the Kia made SUV high marks for all its rating categories.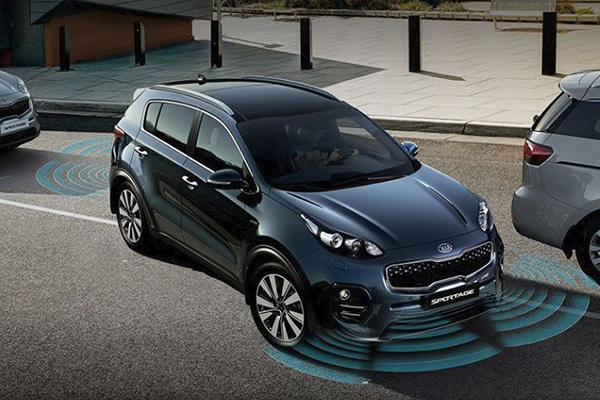 Here are the parking sensors of the 2019 Kia Sportage in action
In regard to the safety equipment inside the 2019 Sportage itself, the GT variant gets a whopping six airbags spread around while the other two variants do get dual front airbags. What comes standard across all variants are ABS, brake assist, parking sensors, crash sensors, and even traction control.
7. Kia Sportage 2019 Specs
Overall

Name

Kia Sportage LX AT 4X2 Diesel

Kia Sportage GT AT 4x2 Diesel

Kia Sportage LX AT 4x2 Gasoline

Body Type

5-door SUV

Dimensions

Length

4480mm

Width

1855mm

Height

1645mm

Wheelbase

2670mm

Ground Clearance

172mm

Number of Seats

5

Engine & Performance

Machine Type

2.0-liter diesel inline-four turbodiesel

2.0-liter inline 4 Gasoline

Engine Size

2.0 liters

Number of Cylinders

4

Number of Valves

16

Fuel Capacity

62 liters

Transmission Category

8-speed Automatic

Max Output

181hp

153hp

Max Torque

403Nm

192Nm

Safety Features

Driver and front passenger airbags

Child safety locks

Anti-lock braking system

Crash sensors

EBD

Child safety locks

Keyless entry

Traction Control

Sidebags (GT Line)

Cruise Control (GT Line)

Other features

Front Suspension

MacPherson Strut

Rear Suspension

Multi-Link with coil spring

Front Brake

Disc

Rear Brakes

Drum (Disc for GT Line

Tire Size

17 inches or 19 inches (GT)
8. Kia Sportage 2019 Philippines Price
| Models | Price |
| --- | --- |
| Kia Sportage 2.0L 4x2 EX AT Dsl | ₱1,820,000 |
| Kia Sportage 2.0L 4x2 LX AT Dsl | ₱1,545,000 |
| Kia Sportage 2.0L 4x2 LX AT Gas | ₱ 1,290,000 |
9. Kia Sportage 2019 Philippines Review: Conclusion
While not as massive as its larger brother; the Kia Sorento, the Kia Sportage 2019 is still a good-looking and very comfortable SUV. With that power output that it makes coupled with the decent fuel mileage, the Sportage can indeed function well as a long-distance runner. It's the size and very high safety ratings also make it a good contender as a family day to day vehicle.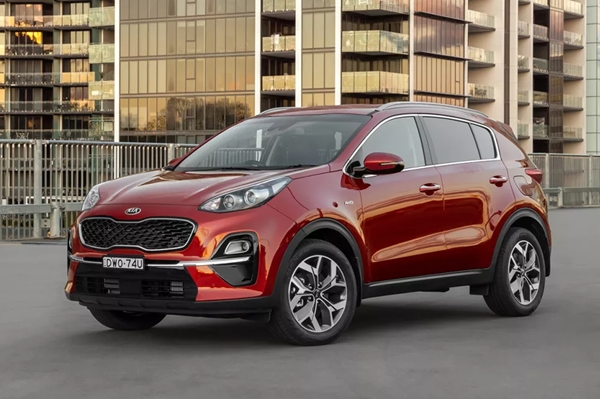 It's the size and very high safety ratings also make it a good contender as a family day to day vehicle
In the Philippine SUV scene, the Sportage competes against the likes of the Subaru Forester, the Ford Escape, the Honda CR-V and the Toyota RAV4.
So, it's time to find your nearest Kia dealerships in the Philippines to have the most reasonable Kia Sportage deals right now!