Punching upwards against the competition.
In this review...
Introduction

Exterior

Interior

Tech & Safety

Driving

Initial Verdict
2023 Foton Thunder First Impressions Review: Introduction
Foton Philippines has achieved a significant milestone for 2023. Specifically, it has now brought in the next-generation Foton Thunder. Sure, the model has had previous generation models, but it has been a while since it saw a full powertrain update. 
It is also on this new-generation model that the Thunder has once again received a full variant lineup complete with an entry-level variant, a mid-spec variant, and a top-spec variant to be launched at the upcoming 2023 Foton Big Show event in February. The last time this happened was way back in 2012 with the Thunder model which in turn replaced the older 2007 Foton Blizzard. 
But the question now is: how does the all-new Foton Thunder 2.0 drive? What is it offering as a pickup truck? We found the answers to those when Foton Philippines gave us the opportunity to drive and ride the mid-spec Thunder 2.0 4x2 AT from Metro Manila to its factory in Clark. Here's Philkotse's 2023 Foton Thunder first impressions review.  
2023 Foton Thunder 2.0 First Impressions Review: Exterior
We can say without a doubt that what a pickup truck should look like is already ingrained in the minds of most people. That said, the new Thunder checks the right boxes of what a pickup truck looks like.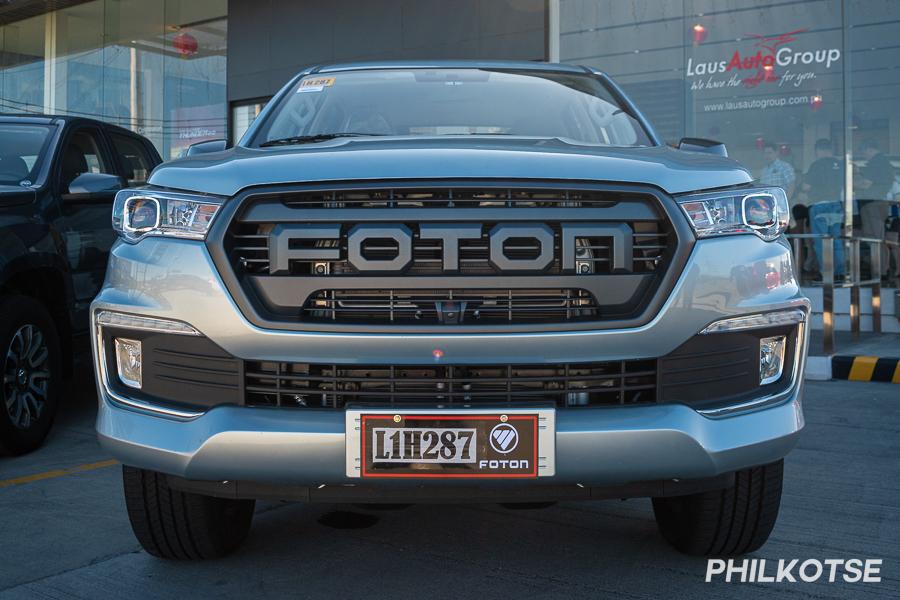 The Thunder 2.0 from the front
It does this so well that I think some of its individual bits resemble some other models present in the market. That might sound like a bad thing, but betting on familiarity, in my opinion, has actually worked fine for this particular model in terms of aesthetics. 
I find the Foton Thunder's front end attractively macho-looking. Contributing to its hefty look is a beefy grille flanked by sharp-looking halogen projector headlamps. Further enhancing its appearance is a functional lower vent, which in turn houses halogen front fog lamps. The hood that tops the front end is also shapely thanks to its curves and bulges.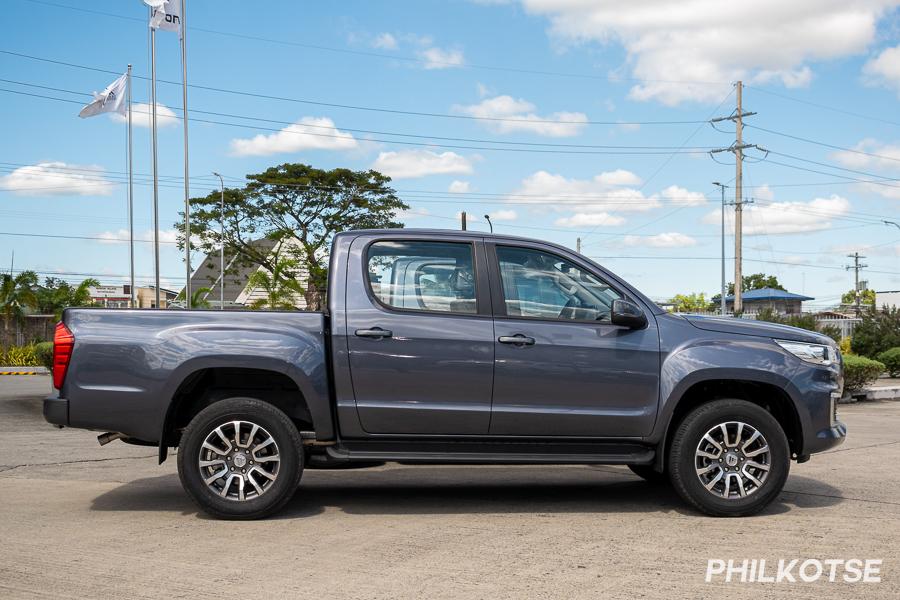 Its side profile
The typical pickup truck design is seen when you view the Thunder from the side. It has prominent wheel arches, a sturdy sidestep, power-folding side mirrors, and a high-riding roof. It then rides on a set of 18-inch aluminum alloy wheels. These look simple, but they provide the vehicle with a utilitarian charm that some other pickup trucks in the market have lost.  
Curiously enough, a roof rack was absent on this trim of the Thunder, but I think Foton will be adding the said feature on the upcoming Thunder 2.0 4x4 AT. The same goes for a sports bar.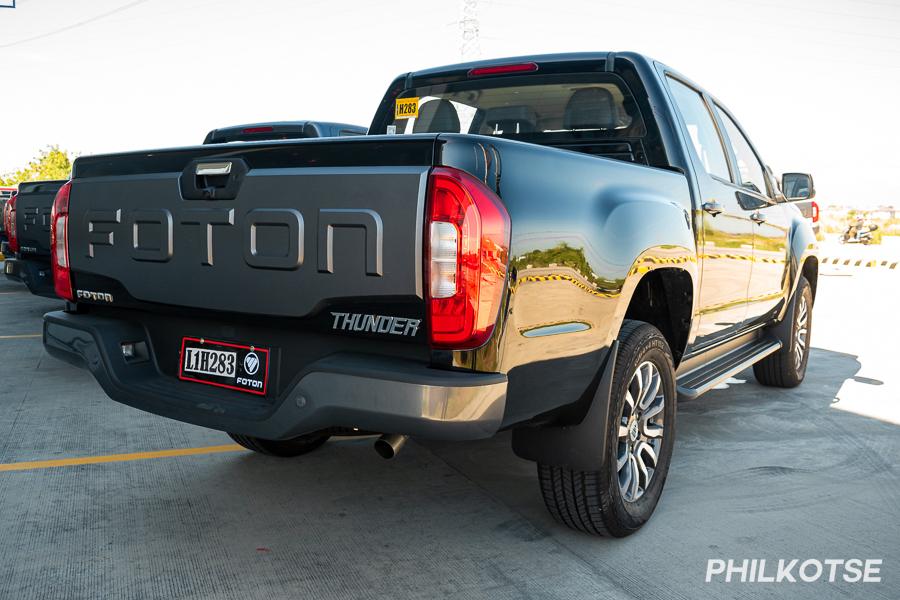 Foton Thunder 2.0 from the rear
The bed itself is quite functional as it comes from the dealership clad in a protective coating. The tailgate then gets a busier design relative to the rest of the truck thanks to its two-tone paint scheme. It then gets a simple but functional pair of D-shaped LED taillights, which helps the rear get a pleasingly wide but squared-off look. 
YOU MAY WANT TO READ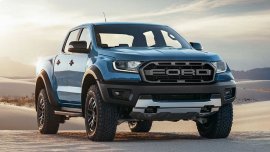 Model Price Philippines
₱ 2,048,000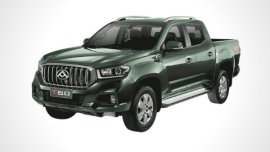 Model Price Philippines
₱ 998,000 - ₱ 1,328,000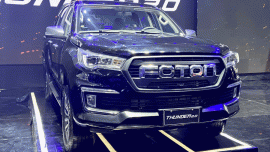 Model Price Philippines
₱ 1,180,000 - ₱ 1,350,000
2023 Foton Thunder 2.0 First Impressions Review: Interior
The Thunder's cockpit features a comfortable space with just enough amenities to keep you comfortable.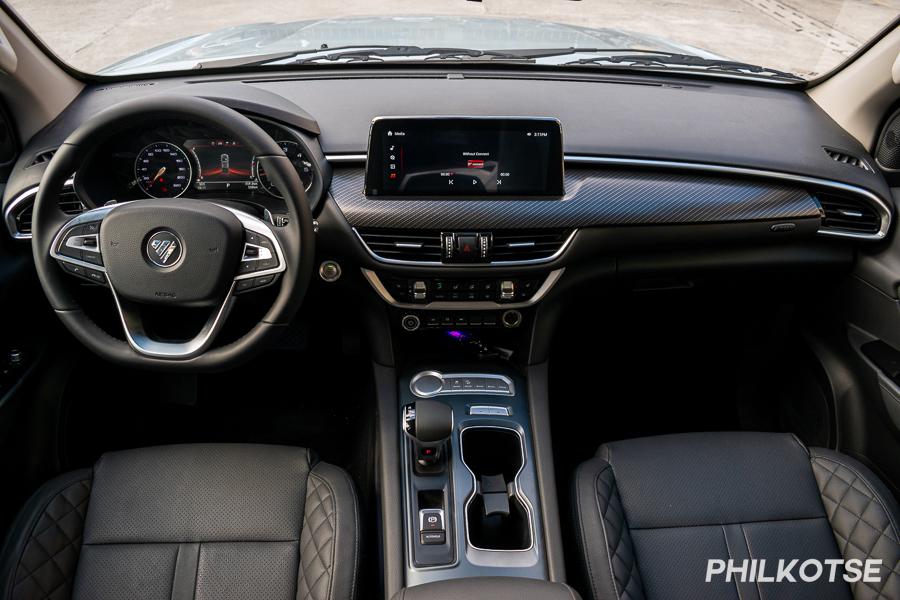 The Foton Thunder's cockpit
The front seats are electronically adjustable, and a center-padded armrest is present. Likewise, the three-spoke multi-function steering wheel is tilt and telescopically adjustable. These features made it easy for me to look for my ideal driving position. Then again, I also found no issues with my big 5'11" frame for the truck's front cabin as it provided ample leg room and headroom. 
Concerning the appearance of the cabin, one thing that stood out to me is the diamond pattern on the soft and comfortable leather seats and on the interior door cards. I felt that these added a lot of pizzazz to the otherwise straightforward and simple interior.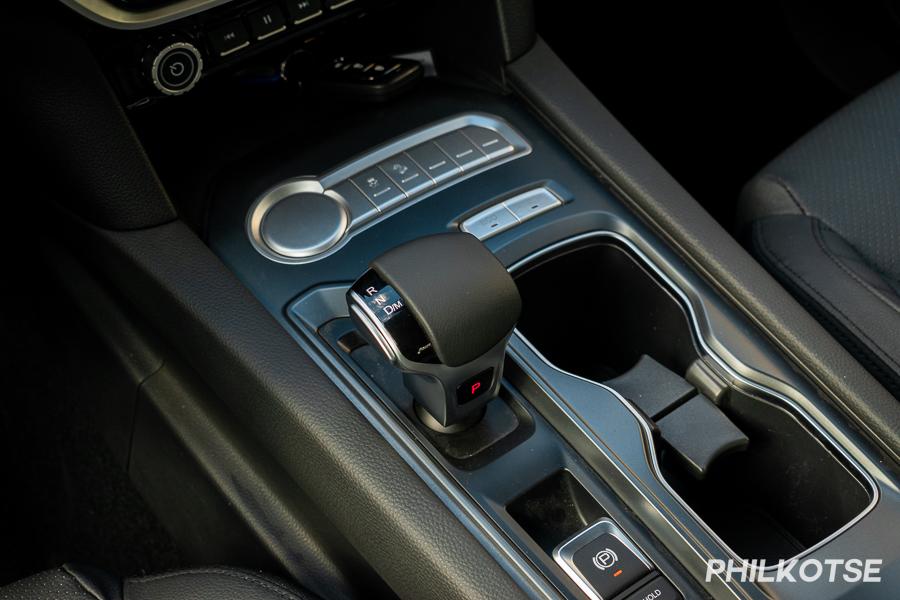 A closer look at its gear shift lever and center stack
Most of the controls, including the door buttons, the automatic air-conditioning buttons, the driving control buttons, and the push-to-start button are logically arranged and easy to find.   
The rear cabin in turn exhibits the same level of comfort and space that the front cabin provides. To be more exact, I didn't find any issues when it came to legroom and headroom. It however, does lack some bits like rear charging ports and a rear AC vent, but it does come with a foldable armrest that can be deployed if a third second-row passenger isn't present.  
2023 Foton Thunder 2.0 First Impressions Review: Tech & Safety
Handling the entertainment needs of the Thunder 2.0's occupants is a 10.25-inch floating touchscreen. This feature works well enough as it offers a sharp image without any hints of lagging and hangups, but what it lacks is the usual connectivity options that we're used to.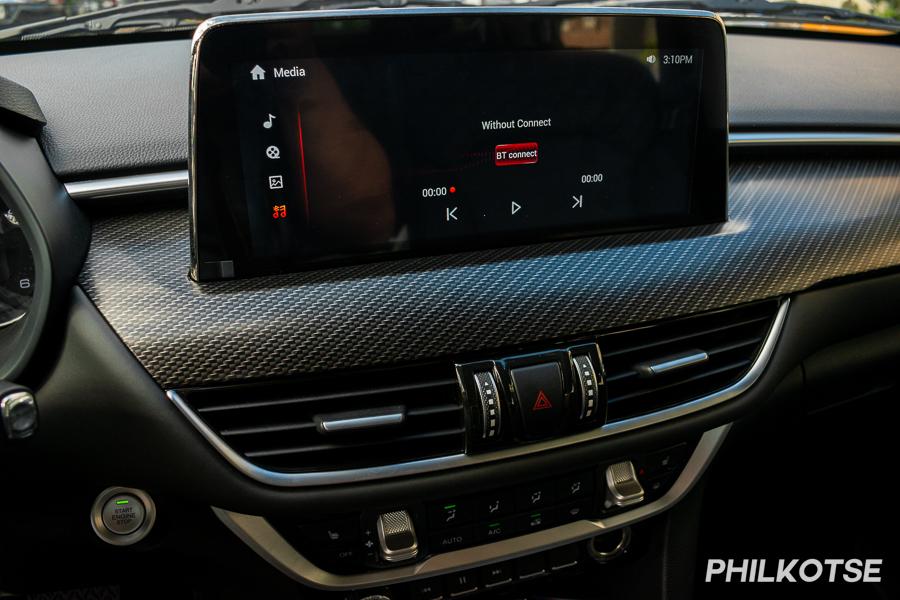 The Thunder's 10.25-inch touchscreen headunit
Specifically, it uses a totally different smartphone mirroring system, and it lacks Android Auto and Apple CarPlay. I wouldn't presume as to how other folks might see this, but I still prefer those two over other applications as I find them to be the easiest to use. 
Other connectivity options available for this headunit include Bluetooth and USB connectivity. It is then linked to a four-piece speaker system which sounded decent.  
Also provided for the driver is an analog gauge cluster that's paired with a digital display. As for the gauge clusters, they worked well and were responsive. The digital display in turn is easy to understand thanks to its simple layout. It also gives the interior a splash of color since most of the parts inside the Thunder are mostly black.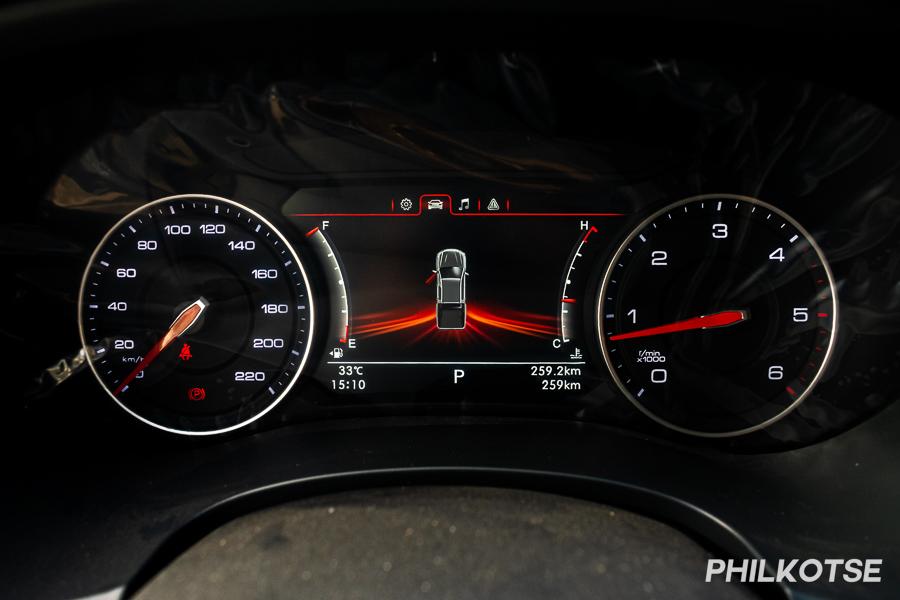 Its digital screen in-between the analog gauges comes with nice graphics
Just like many modern-day vehicles available in the market right now, the Foton 2.0 gets anti-lock braking, stability control, hill-hold control, rear parking sensors, and a rear-view camera. 
I got to use the rear-view camera on several occasions, and it helped tremendously in tight parking spots. Although, the image or the live feed was not as sharp as I wanted it to be. 
2023 Foton Thunder 2.0 First Impressions Review: Driving
The biggest change with the all-new Thunder 2.0, as we've mentioned, is its engine. That's because it ditched the old Cummins mill in favor of the Foton-developed 2.0-liter inline-4 AUCAN diesel engine. 
At the most, this new engine can make up to 160 horsepower and 380 Nm of torque. It is then paired with an eight-speed automatic gearbox with a paddle shifter manual mode.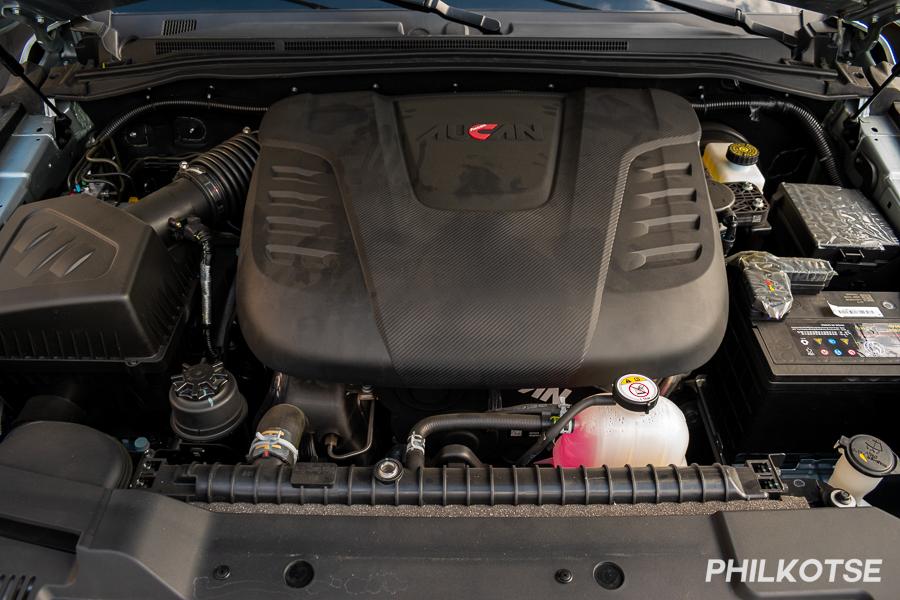 The Thunder's new 2.0-liter 4F20 AUCAN engine
On both city and highway driving, I found the engine to be lively. In both instances, I found the accelerator pedal was too soft. It was fairly responsive, and I got used to its softness fairly quickly.  
Sudden jabs on the accelerator pedal do cause some delay when shifting from the first to the second gear. This though is expected on torque converters and getting up to speed when overtaking on the highway is done relatively quickly by the Thunder. The aforementioned delay won't be felt when using the sport mode combined with the paddle shifters.  
Another thing I noticed especially when reaching highway speeds is that wind noise can tend to penetrate the cabin. This is fairly tolerable, but some people might find it annoying on long trips. The engine in turn, will hum when pushed hard, but otherwise, its healthy rumble sounds good to my ears.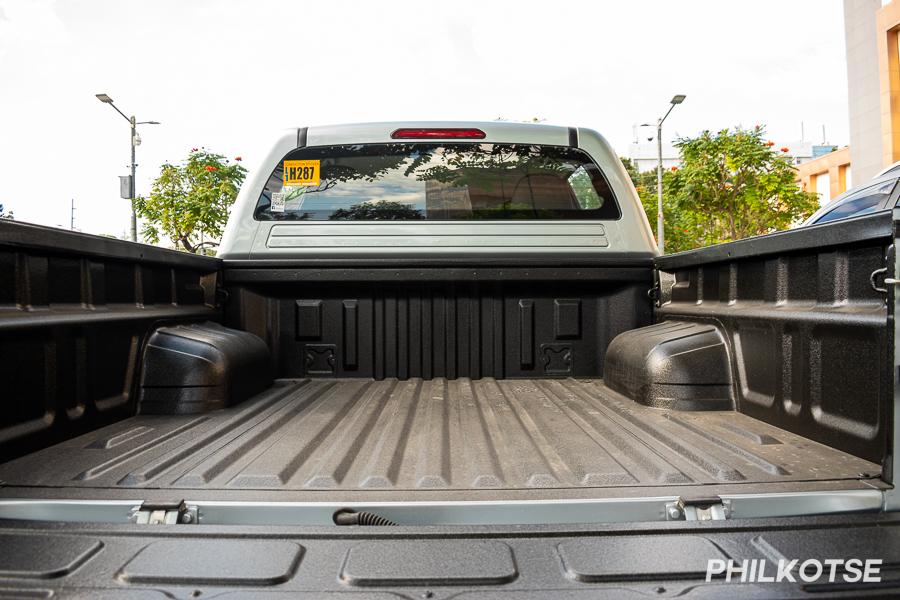 A view of the Thunder's bed
Like most trucks that use a leaf-spring rear end, the ride comfort especially for the rear passengers does have some compromises. Some shaking will be experienced when going over bumps at speed, and it is generally on the firm side.  
Then again, the said suspension allows the Thunder to carry up to a ton of cargo. The suspension combined with its healthy engine output also allows it to tow up to three tons. We didn't get to test its loading capabilities during the media drive, but it does categorize the Thunder 2.0 as a true-blue work truck. 
2023 Foton Thunder 2.0 First Impressions Review: Initial Verdict
If you're looking for a no-nonsense truck that's capable of carrying plenty of cargo, is comfortable, and is priced lower than most Japanese-branded trucks, then I can say that this is the exact niche that the Thunder 2.0 is fitting into. The Thunder 2.0 4x2 AT that we got to drive is priced at Php 1,350,000. 
Sure, there are similarly priced alternatives like the Toyota Hilux G and the Nissan Navara VE. These are priced at Php 1,379,000 and Php 1,381,000 respectively and so, are in range of the Thunder's own price tag. Then again, the two examples don't have leather seats and electronic seat adjustment which are available on the Foton truck.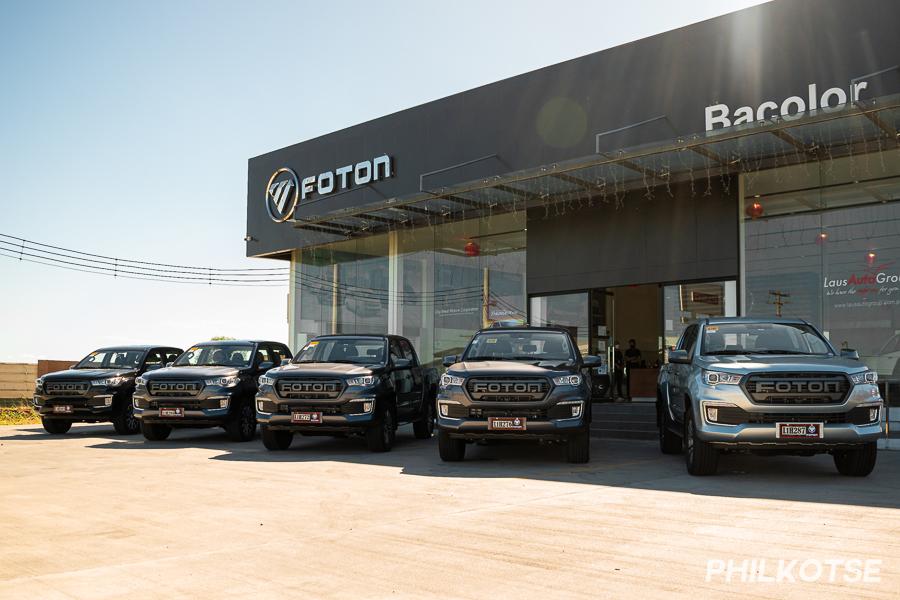 Its comfortable, reasonable peppy, and it won't break the bank
The Thunder also has a beefier engine compared to the 148-horsepower Hilux G, so that's one thing to keep in mind as well.  
With all that said, the Foton Thunder 2.0 is a pickup truck that can be described as punching upwards. Because let's face it, Foton isn't exactly a household name when it comes to pickup trucks. Instead, it is more known for its vans, and larger commercial vehicles, right? 
But with how the Thunder 2.0 is to drive and ride, this might well be the right ticket for the brand to penetrate the mainstream midsize pickup truck market. It offers plenty for its price, and we can definitely see it fight its way upward to compete with the big boys. 
For more car news, car reviews, and automotive industry updates, keep it here on Philkotse.  


Cesar G.B. Miguel
Author