Discusses 5 best compact SUVs and their specs that are sure to roam around the Philippine roads this 2020.
Crossover Utility Vehicles (CUVs) or better know as compact SUVs have been roaming the Philippines roads for decades since the mid-90s. Its fame has been genuinely accepted by car enthusiasts even though in its truest sense, it is not constructed on a body-on-frame chassis like what a real SUV is.
Backed by the fame of the latter and a more affordable approach in its production, Crossovers gained a huge attraction that made a lot of Pinoys overlook its unibody construction and being satisfied with the manufacturers' marketing strategy.
In this article, Philkotse.com will identify 5 best compact SUVs that are expected to be visible on the Philippine roads this 2020.
1. The Redesigned Toyota RAV4 2020
The first entry on our list is Japan's multinational automaker, Toyota, with its Toyota RAV4 2020. A robust new design and enhanced features to improve its driving experience are the major improvements in RAV4 2020. The RAV4 showcased its new design at the New York International Auto Show, which proved its place as the manufacturer of the compact crossover segment in the mid-90s.
With "Adventure and Refined" theme, the compact SUV highlights its presence and without jeopardizing its intricate delicacy. A more dynamic profile becomes apparent with its chiseled looks and bolder face.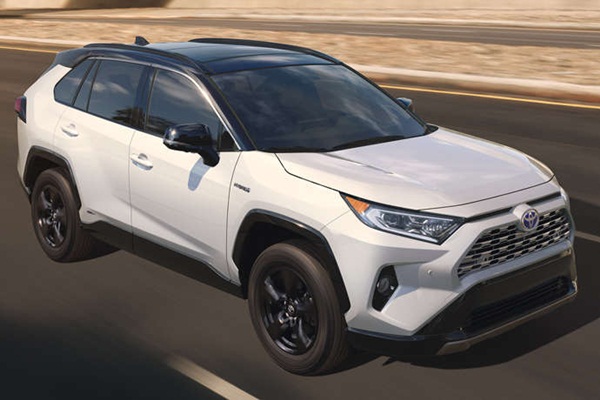 Toyota highlights its presence without jeopardizing its intricate delicacy on its RAV4 2020
Lies under its hood is the all-new 2.5-liter Dynamic Force 4-cylinder engine that has a thermal efficiency of 40 percent and a new 8-speed Direct Shift automatic that equates to a responsive and fuel-efficient driving experience. A hybrid version is made available to Pinoys that is powered by the same engine and paired with the Toyota Hybrid System II.
Look through our Toyota Rav4 price list for further pricing information.
2. The Spacious Hyundai Santa Fe 2020
Landing the second spot is South Korea's Hyundai Santa Fe 2020. The most noticeable change in its look is the front fascia with a cascading grille at the center that resembles its entry in the subcompact category—Kona 2020.
Santa Fe 2020 also took its previous model's Daytime Running Lights' narrow strips on the upper bonnet, the huge LED projector lights, and signal lights. The chiseled tailgate is also retained in this model but with reshaped LED taillights. The compact SUV also has extra room compared to its predecessor with its 605-mm longer and 10-mm wider body.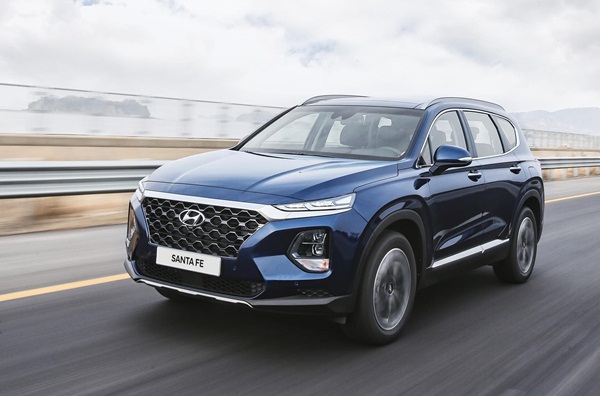 More room in Hyundai Santa Fe 2020 with its 605-mm longer and 10-mm wider body
The Hyundai Santa Fe 2020 is powered by a 2.2L CRDi diesel engine with e-VGT that produces 200 hp and 441 Nm of torque like its previous model. What's fresh here is the 8-speed automatic transmission A/T that sends power to the back wheels.
3. The Upgraded Mazda CX-5 2020
Mazda CX-5 2020 occupies the third seat on our list of best compact SUVs to buy in the Philippines in 2020. This upgraded crossover hasn't changed much in its exteriors aside from its fresh paint finish; and 17" and 19" alloy wheels. They didn't seem to find any reason to change much on its shell but they surely spent their time upgrading its cabin.
Switches and dials have been redesigned together with the new climate control panel. Technology boost is also tough to miss with its infotainment system that now has Android Auto and Apple CarPlay.
Mazda CX-5 2020 Introducing - 2020 Mazda CX-5 - Detailed Look
This Japanese CUV is powered by either a 2.2L SkyActiv-D with 175 PS or 2.0L SkyActiv-G with 155 PS. For diesel-engined models, a 6-speed manual transmission M/T is made available but is limited only to the Japanese market.
But don't fret because a 2.5L SkyActiv-G 4-cylinder turbo gas engine will be made available for everyone that generates 230 PS and 420 Nm of torque. This new engine has a 6-speed automatic gearbox that is paired with either FWD or AWD system.
>>> Read more: 
4. The Facelifted Kia Sorento 2020
Before its official launch in Malaysia, Kia Sorento 2020 facelift has teased some aesthetic improvements with loads of modifications at its front fascia with its new headlights for its higher-trim models.
Alteration with Daytime Running Lights are repositioned to join its headlights that are designed to be near the bottom with its grille that is now more prominent than its predecessor. Ice cube LED lights are also smaller than previously, and twin-barrel projector beams and fog lights are present in lower-end variants.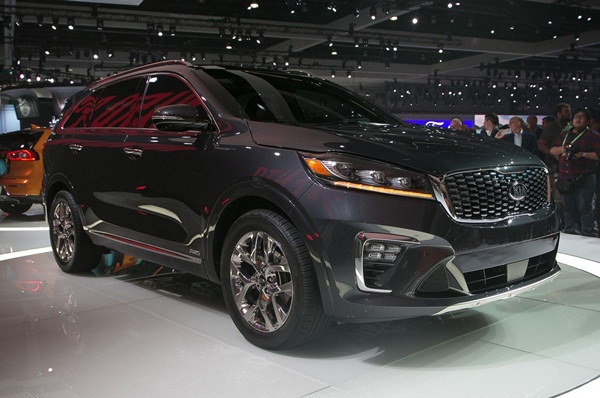 Kia gives us a good twist with its facelifted Sorento 2020
Under its hood is a 2.0L diesel engine that produces 186 PS and 402 Nm of torque, a 2.2L diesel engine that produces 202 PS and 441 Nm of torque, and a 2.0l T-GDI gas engine that produces 240 PS and 353 Nm of torque. These variant are only available in its motherland. A variant of 2.4L diesel powertrain that produces 171 PS and 225 Nm of torque is made available in Malaysia.
5. The All-New Hyundai Tucson 2020
Receiving fresh style, new tech & updated engine, Hyundai Tucson 2020 receives the final place on the top 5 best compact SUVs Philippines in 2020.
Similar to its brother, Santa Fe 2020, its front fascia has sharper edges with its redesigned grille compared to its predecessor. Now embellished with 1 slat more than its previous (3 slats), the center is adorned by headlights on its side with L-shaped running lights, and slightly tweaked taillights can be observed as well.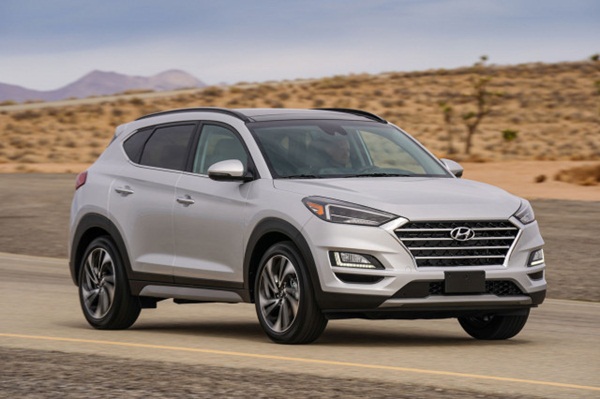 Hyundai Tucson 2020 features an upgraded fascia with sharper edges and redesigned grille
Speaking of the powertrain, 2020 all-new Tucson is armed with a 2.0L 4 -cylinder engine, producing 164 hp and 204 Nm of torque, as well as a 2.4L 4-cylinder powertrain that produces 181 hp and 237 Nm of torque. Both models are paired with a 6-speed automatic transmission A/T.
>>> Also check out: