Chevrolet SUV Philippines offers two mid-priced vehicles loaded with great features. We talked about them in detail for your convenience.
Chevrolet Philippines: About SUVs cars
Chevrolet has been manufacturing and distributing vehicles for over a century. Their products have been introduced in the Philippines in 2009 under The Covenant Car Company Inc. (TCCCI). With 27 dealerships, as of writing, distributed around Luzon, Visayas, and Mindanao, different models of Chevrolet cars for sale are available.
When it comes to Chevrolet SUV Philippines, you can choose from four different models, depending on your needs and wants. Among the choices, based on affordability, you can have the Trailblazer or Trax. For you to have a well-informed buying decision, let's look at what each of these units offers, as well as how much each cost.
>>> Related: 2021 Chevrolet Tahoe: Expectations and what we know so far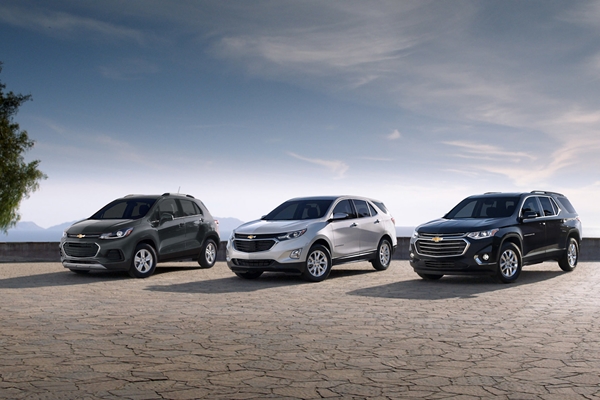 Among these Chevy SUVs, which one is your choice?
#1. Chevrolet Trailblazer: An athletic-style SUV
Available in four versions, LT, LTX, Phoenix, and Z71, the Chevrolet Trailblazer is a midsize SUV that boasts sophistication and athletic-style without compromising safety, reliability, and comfort. Based on Chevrolet Trailblazer reviews by Philkotse car experts, the Trailblazer models can be used both for your everyday needs and outdoor adventures.
Chevrolet Trailblazer Features
The Trailblazer's exterior has been enhanced with angulated lines that give it stronger proportions and more refined toughness. This feature is further enhanced with daytime running lights and a front grille with a dual port.
Additionally, the gunmetal wheels of 18-inch size as they give the Trailblazer 253 millimeters of ground clearance, giving it an athletic and tall stance.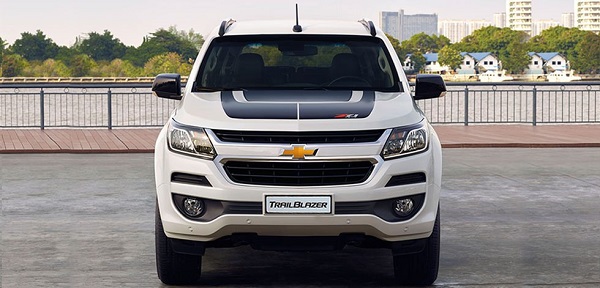 The Chevrolet Trailblazer sporting its front exterior
As you enter the Chevrolet Trailblazer, you will be welcomed by a well-designed dashboard that exudes simple but well thought-off style, owing to the soft-touch materials used in its construction and stitches that provide contrast.
There are also seven, premium leather-made seats in the theater-like seating style. The driver's seat can be adjusted electronically, while the second and third back rows can be folded flat and quickly for additional space.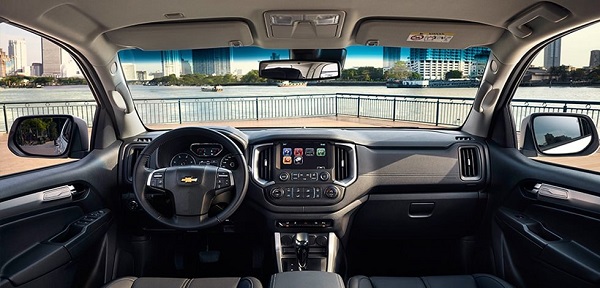 A view of the Trailblazer's front interior
Under the hood, the Trailblazer has a diesel-type Euro4 Duramax four-cylinder engine, which is known for its low emission and fuel efficiency benefits. Depending on the model, you'll get 200HP, 500Nm power from the 2.8L units, while you'll have 164HP, 380Nm power from the 2.5L types. Both are supported by a six-speed transmission.
Safety-wise, the Trailblazer several alerts and warnings, hill assist and descent support systems. You'll also enjoy hands-free calling, which is perfect since you need to follow the Anti Distracted Driving Act.
2019 Chevrolet Trailblazer 2.8 4x2 LTX - Exterior & Interior Review
>>> Read more: SUV prices in the Philippines from 14 most popular brands
Chevrolet Trailblazer SUV price list
In cash, the price of the Trailblazer will not cost you two million pesos, unlike other SUVs of the same type. Here is a table for your guide:
Chevrolet Trailblazer price in the Philippines

| | |
| --- | --- |
| Variant | Price |
| Chevrolet Trailblazer 2.8 AT 4x4 Z71 | ₱1,998,888 |
| Chevrolet Trailblazer 2.8 AT 4x2 LTX | ₱1,805,888 |
| Chevrolet Trailblazer 2.8 4x2 LT AT Phoenix | ₱1,780,888 |
| Chevrolet Trailblazer 2.8 AT 4x2 LT | ₱1,708,888 |
| Chevrolet Trailblazer 2.5 MT 4x2 LT | ₱1,618,888 |
>>> Check out full Chevrolet Trailblazer Philippines price list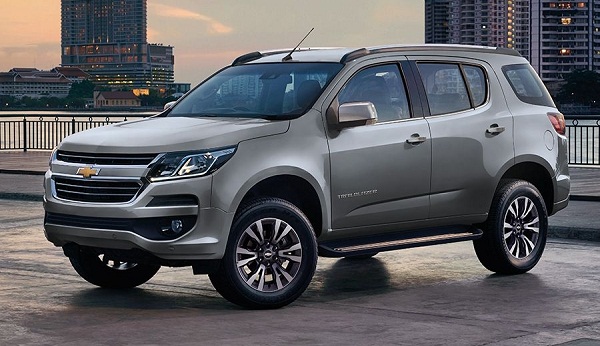 Chevy Trailblazer is sold from ₱1,998,888
#2. Chevrolet Trax: A subcompact SUV
Another Chevrolet SUV that will surely catch your eyes is the Chevrolet Trax. Unlike the Trailblazer, though, this subcompact SUV is available in two versions only; the LS and LT. Also, it is designed for city driving but does not fall short on safety and reliability.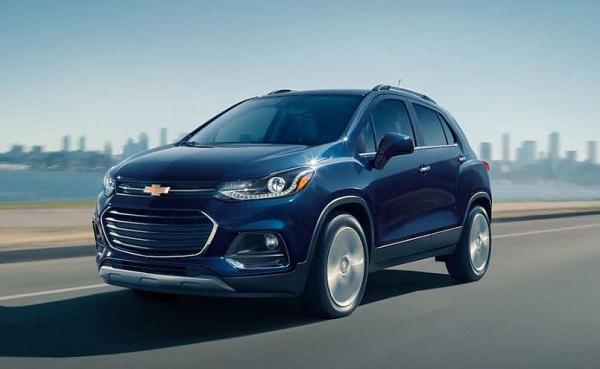 The Chevrolet Trax in Boracay blue
Chevrolet Trax Features
The Chevrolet Trax also exudes a sporty look accentuated by the new design of its front fascia, bowtie-like grille, headlights, body lines, and 18-inch alloy rims.
Color-wise, you can choose from several shades, including Abalone White, Black Meet Kettle, Boracay Blue,  Burning Hot Metallic, Pull Me Over Red,  Summit White, Son of a Gun Gray, Switchblade Silver, and Velvet Red.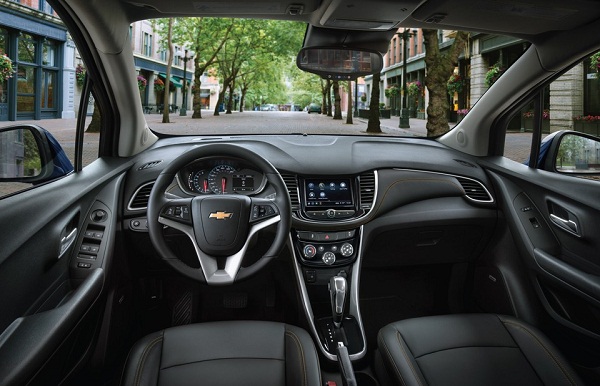 Leatherette cabin with technical dashboard
Inside this five-seater vehicle are leatherette seats with accentuated stitching, which are matched with the interiors siding and dashboard made of refined fabric materials and again, stitches that accentuate its classy looks.
If you have checked out our Chevrolet Trax reviews for all Trax models, it will tell you that this particular model supports a seamless smartphone connection, allowing you to read messages, receive calls, get directions, and listen to music easily and quickly.
Performance-wise, the car provides 140HP and 200Nm power with the help of its 1.4L turbo-charged or turbo-inter-cooled DOHC MFI four-cylinder gasoline engine. This is supported by an automatic transmission gearbox with six levels of speed.
For your safety and convenience, the unit is loaded with airbags, ABS, EBD, SLS, hill and rollover motion assistance systems, and many more.
Chevrolet Trax SUV price list
With a lot of promising features, the price of the Chevrolet Trax does not exceed two million pesos. If you plan on buying this vehicle, tabulated below is the cost of the two variants.
Chevrolet Trax Philippines price list - 2019

| | |
| --- | --- |
| Variant | Price |
| Chevrolet Trax 1.4 LT AT | ₱1,535,888 |
| Chevrolet Trax 1.4 LS AT | ₱1,185,888 |
>>> Check out full Chevrolet Trax Philippines price list
2020 Chevy Trax LT | Full Tour + Changes for 2020!
Chevrolet SUV in the Philippines: Conclusion
The Chevrolet Trailblazer and Trax definitely are two of the most promising SUVs for sale in the country today. They are not too expensive but they provide sufficient features that will ensure you have a safe, comfortable, and entertaining travel experience.
When making a choice, based on this Philkotse.com overview, if you have a large family or someone who loves outdoor adventures, then you can never go wrong with the Trailblazer. On the other hand, if you have a small family or someone who just needs a car for your daily and vacation travels, the Trax will be a more practical choice.

Know more about Chevrolet

Chevrolet Philippines has a total of six models in the local market after discontinuing a handful of models. The list of Chevrolet car price ranges from Php 694,888 to Php 8,546,888 for the cheapest Chevrolet Spark and most expensive Chevrolet Corvette. In the Philippine market, Chevrolet offers two performance models, namely the Chevrolet Camaro and Chevrolet Corvette. It has three crossovers/SUVs including the Chevrolet Tracker, Chevrolet Suburban, and Chevrolet Trailblazer. Also, the American car brand brought one hatchback entry with the Chevrolet Spark.
Stay up to date on your favorite Chevrolet models through Philkotse.com. Everything you need to know about your vehicle of choice is now all in one place – from reviews and latest prices to special promotions. Browse through countless automotive options to find the most ideal car for you.

Charisse Kim
Author