Here are some possibilities as to how Chevrolet will update the Trailblazer for the 2020 model year. Let's read this Chevrolet Trailblazer 2020 Review!
In this review...
A little bit of history

Exterior

Interior and Engine

Safety

Camouflaged prototype spotted

Another Variant perhaps?

The Perfect Edition II

Conclusion
1. Chevrolet Trailblazer 2020 Review: A little bit of history
Ladies and gents, 2020 is right around the corner. And as many of you keen-eyed readers might have noticed, many car models from a lot of brands are getting updated to a next-generation model or getting a facelift. But like many car models, Chevrolet is yet to announce whether the currently available Chevrolet Trailblazer 2019.
Trailblazer is getting those aforementioned. There are some speculations and rumors regarding that but before we even talk about them, there are some new developments to the GM owned company that we have to talk about first.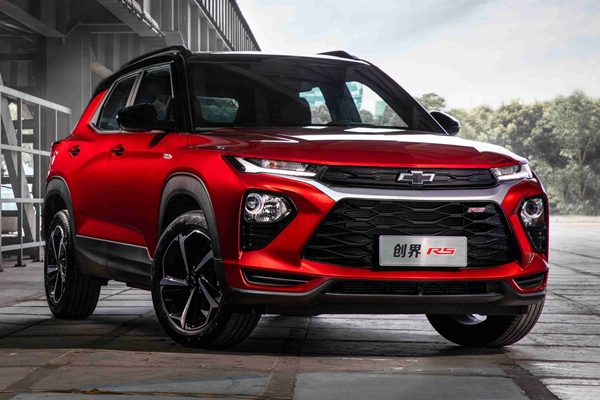 Let's take a glance at Chevrolet Trailblazer 2020 in our predictions based on the first look in China
Since 2014, Chevrolet has been working with Isuzu Motors to co-develop midsize trucks and in turn, several SUVs. One of those is the Trailblazer that's based on the Chevrolet Colorado which turns a result of Isuzu and Chevy's cooperative efforts.
Note also that the 2nd generation Chevrolet Trailblazer, the one that we have right now, is vastly different from the first generation Trailblazer which was based instead on a General Motors truck platform called the GMT360.
All New 2020 Chevrolet TrailBlazer & Tracker
Now, why are those relevant? Well, as per the news regarding the impending release of new third-gen 2020 D-Max, Isuzu and GM will no longer be working together. Isuzu will instead be sharing the new D-Max with Mazda to make the new 2020 BT-50 whereas, GM specifically Chevrolet, is seeming to be left to its own devices to develop their own SUVs and trucks.
According to the current buzz on a lot of internet forums and automotive news outlets, there are a number of theories as to how Chevrolet will update the Trailblazer for the 2020 model year. Let's start with the one in China in this Chevrolet Trailblazer 2020 Philippines Review: Our prediction! with Philkotse.com.
2. Chevrolet Trailblazer 2020 Exterior: It's a crossover?!
Shown off for the first time at the 2019 Auto Shanghai, the 2020 Trailblazer made by Chevrolet, isn't a pick-up based 7-seater SUV at all. Instead, it's a compact crossover SUV which is smaller than the Chevy Blazer SUV. Note also that this new Chevrolet Trailblazer 2020 is more of a successor to the 1st generation and is in-between the Chevrolet Trax and the Equinox in size.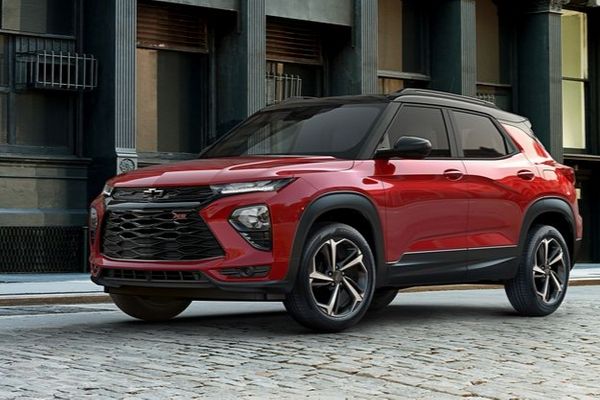 Here's the 2020 Trailblazer that will be released in China soon. It's definitely edgier and more modern looking
In terms of exterior design, the Chinese made trailblazer looks like it was meant for a younger audience; the front-end looks like the one on the new Camaro and one of its variants called the RS trim shown here is also a delight to the eyes as it provides the vehicle a sporty, floating roof look.
From the sides, it also has a set of black colored 17-inch wheels. Almost all sides of the vehicle are also clad by this matte colored material which provides the vehicle a more rugged appearance. According to Chevrolet themselves, this more youthful-looking Trailblazer took a lot of hints from the FNR-Carry All Concept SUV.
YOU MAY WANT TO READ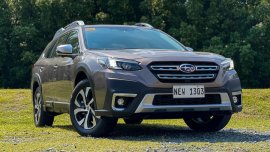 Model Price Philippines
₱ 2,380,000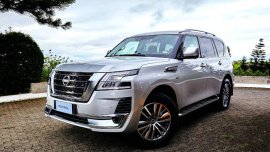 Model Price Philippines
₱ 4,698,000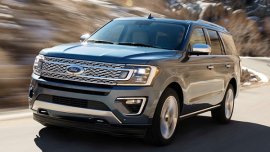 Model Price Philippines
₱ 4,479,000 - ₱ 4,612,000
3. Chevrolet Trailblazer 2020 Preview: Interior and Engine
Under the hood, let's consider that Chevrolet will no longer be working with Isuzu. So if ChevyTrailblazer 2020 interior is indeed being replaced the current body-on-frame, pick-up based seven-seater, then it will no longer be using the same, reliable old diesel engine.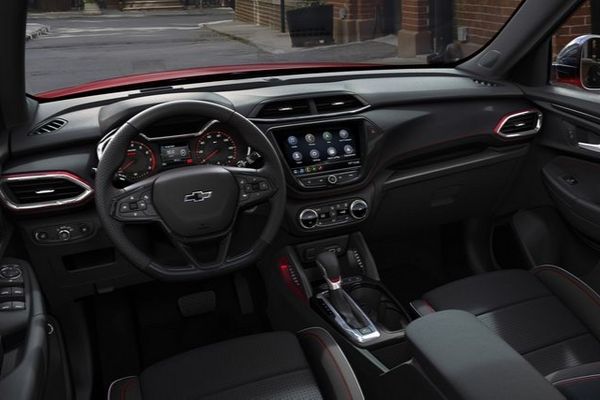 Here's a look into the "Trailblazers" interior. There's not much info about it yet but it sure looks well put together
Instead, what it might be found under the hood is the current Chevy Equinox's turbocharged 1.5 liter inline-4 and a turbocharged 2.0 liter with power being sent to all four wheels or towards the front. There's also the 1.4-liter turbo powering the Trax but that might be too small for this up-coming Trailblazer.
For transmissions, this new compact crossover SUV it will either come with Chevrolet's 9-speed automatic or the 10-speed that's on the current Chevy Blazer for sale.
4. Chevrolet Trailblazer 2020 Preview: Safety
While not much information is available on this new "Trailblazer," Chevrolet did give out details about its slew of safety features. Those include auto emergency braking, lane-departure warning, and lane-keep assist.
5. Chevrolet Trailblazer 2020: A camouflaged prototype spotted
Apart from the compact crossover SUV, Chevrolet Trailblazer 2020 to be released for the Chinese market, another juicy tidbit with regards to an upcoming Trailblazer model has surfaced a few months ago in May in the U.S.
This vehicle that they're testing though is still that rugged body-on-frame construction that the Chevrolet Colorado also uses though it appears larger than the currently available model, the prototype still displays a lot of familiar design characteristics.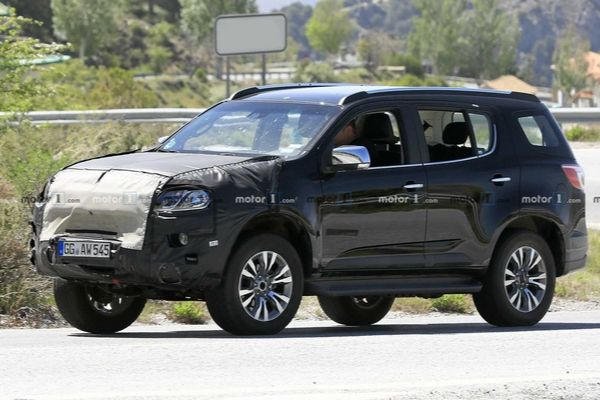 Looks virtually the same as the current Philippine-spec Chevrolet Trailblazer  [Source: Motor1]
From the rear and the sides, the covered-up prototype essentially looks like a stretched out Philippine-spec Trailblazer. It appears to have a slightly longer wheelbase but everything else is virtually the same. Unline the exposed sides and rear, the front is very different. But for now, we don't have details yet as to how the final design would look.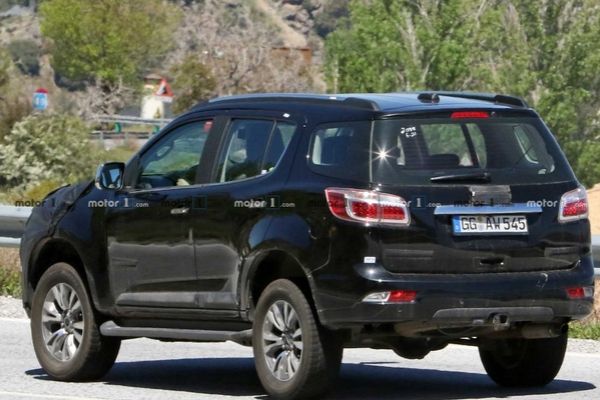 This might be another special edition trim if not for the slightly larger size [Source: Motor1]
6. Chevrolet Trailblazer 2020: Another Variant perhaps?
While the Trailblazer compact crossover SUV isn't really confirmed to replace the one we have right now, another possibility is that Chevrolet Philippines will release another variant of the Trailblazer for the 2020 model year just like the recently released 2020 Chevrolet Colorado Trail Boss.
There is the Chevrolet Trailblazer Pheonix that was released way back in April at the 2019 Manila International Auto show and several others for the Colorado truck which the Trailblazer is based on.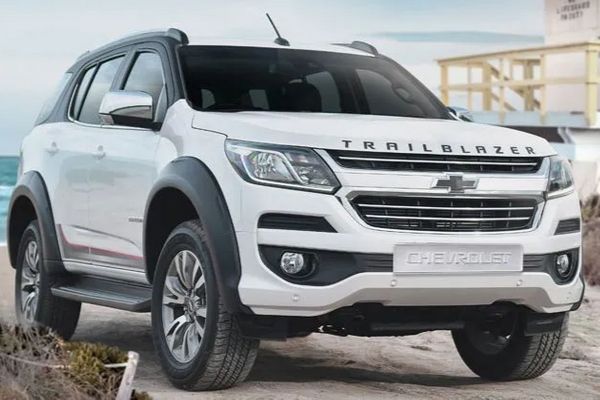 For us, it looks like that the Chevrolet Trailblazer Phoenix somewhat influenced the look of the Colorado Trail Boss
If Chevrolet Philippines wants to keep the variant line-up fresh, they'd do well to release a new Edition for the upcoming 2020 model year. That is if Chevrolet isn't planning to replace the truck based seven-seater SUV at all.
7. Chevrolet Trailblazer 2020: The Perfect Edition II
Back in July, General Motors and Chevrolet released an expansion of the Chevrolet Trailblazer LTZ called the Perfect Edition II. This new package that was announced along with the recently released Colorado Trail Boss, comes with a lot of aesthetic improvements like a new spoiler, several new pieces for the rear and front bumpers, a new set of mudguards, as well as a larger set of fender flares all around.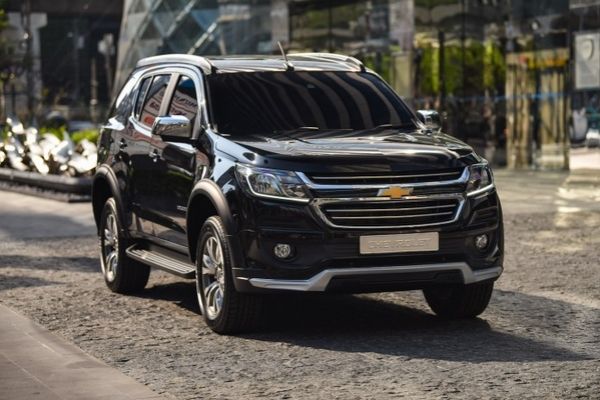 The Perfect Edition II is still aggressive but its definitely a more elegant looking Trailblazer
Released in Thailand, this 23,855 Baht or Php 40,692 might also be touted as a 2020 version just like what the Mustang 2.3 liter high-performance package is for both the American and the Philippine 2020 model year.
8. Chevrolet Trailblazer 2020 Philippines: Whatever it is, we're excited
Filipinos love SUVs and in some cases, we actually need them. We use these class of vehicles as a convenience family carrier, as a way to access less than stellar back roads in the provinces, and even some minor off-roading in some areas.
As such, there's no doubt that Chevrolet Philippines will be introducing an updated Chevrolet Trailblazer 2020 one way or another sometime in the near future.
Stay tuned for a better look at this car in our review. Besides, you can widen your car search by visiting our cars for sale section. 


Cesar G.B. Miguel
Author