To guide prospective SUV buyers, here's a list of all MG SUVs Philippines, including a short review and a price list of their model's variants.
MG SUV Philippines
MG cars are once a fully British marque that's now owned by SAIC Motor Corporation Limited, a Chinese company.
While MG in its illustrious past was known for making small and sporty coupes like the MG Midget, the company has since then acclimated and is thriving in many markets especially in the Philippines due to the fact that they're now building excellent SUV models, like the RX5 and the MG ZG.
Let's check 'em out.
1. MG ZS: A surprising MG SUV Philippines
Specifications

Name

MG ZS 1.5 Style MT

Engine

1.5 liter inline-4

Power

112Hp

Torque

150Nm

Transmission

5-Speed Manual

Price

₱ 818,888

Review
As one of MG's best sellers here in the country right now, the MG ZS is a surprising little crossover SUV that's oozing with style and presence despite its affordable price. It's looking like it poised to compete against the Ford Ecosport and due to the MG model's accessibility and affordability, they might very well be a hit.
As we've said, the MG ZS has a lot of styles. It has a sizable grille up-front which reminds us of other models from popular SUVs brands in the Philippines. In contrast to other vehicles that were a mish-mash of a lot of designs that we've seen before, the ZS is quite a good-looking car.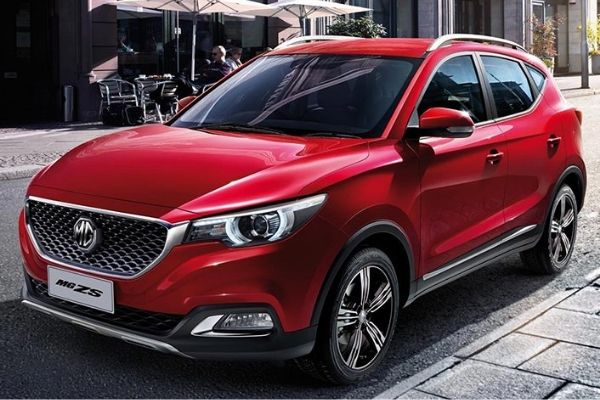 The MG ZS is a stylish and compact looking SUV that has a lot of potential for Philippine users
The affordable MG ZS measures around 4,13 mm in length, 1809 mm in width, and is 1,648 in height.
When it comes to exterior amenities, the MG ZS is as well-equipped as other crossover SUVs available in the market today. It has a power-adjustable rear window, a stylish set of 17-inch alloy wheels, and also notable is the roof rails that can accommodate a number of readily available aftermarket roof-racks. The top of the line MG ZS Alpha also has a sunroof.
2019 MG ZS Review: Budget Crossover SUV
Inside, the MG ZS is well arranged and while it doesn't have much in the way of soft-touch surfaces, you do get a dark-colored interior that can fend off stains. What plastic they're using with the ZS's interior is sturdy and will not break easily.
With a stain resistant dark interior and the robust plastic interior parts, the MG ZS is ideal for those with small hyperactive children who like to break everything that they touch.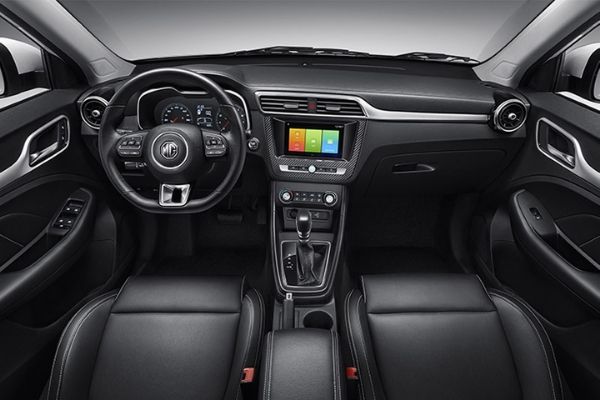 The MG ZS' infotainment system provides a lot of color in the otherwise dark interior
Another great quality of the MG ZS is that the rear and the front seats have noticeably more room than many of its competitors although, it doesn't have a center-rear armrest.
A five-person group including the driver can fit the ZS and aboard the top of the line MG ZS Alpha, all will be kept entertained by the easy to use and very reactive 8-inch touchscreen multimedia display.
As for the touchscreen unit itself, it comes with Apple CarPlay, Bluetooth, and is linked to a great sounding six-speaker system.
Under the hood, the MG ZS has a 1.5 liter inline-4 that can make up to 112 horsepower and 150 Nm of torque. Power is sent to the front wheels with either a 4-speed automatic with manual Tiptronic or a good old 5-speed manual.
Standard safety features include an antilock braking system with electronic brake distribution, dual front airbags, ISOFIX, an alarm system, cornering brake control and an engine immobilizer. The higher-end variants have traction control, hill hold control, stability control, and brake disc wiping.
>>> You might like to read: Diesel Power! Top 10 most fuel-efficient Diesel SUVs in the Philippines
2. MG RX5: A good-looking MG SUV Philippines
Specifications

Name

MG RX5 2020

Engine

1.5 L 15E4E Inline-4 Turbo Gasoline

Power

166 Hp

Torque

250 Nm

Transmission

7-Speed Dual-Clutch Automatic

Price

From 1,058,888

Review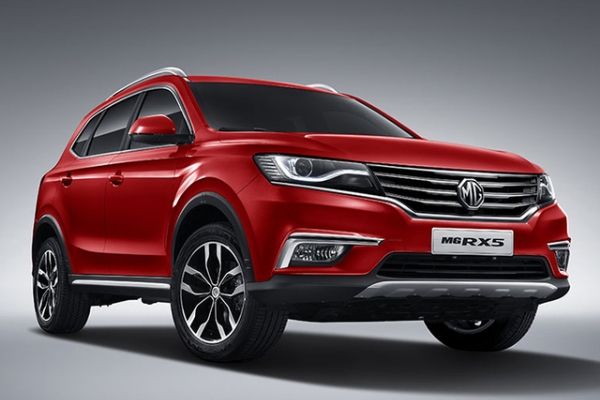 It's a combination of a lot of other SUV designs. Despite that, the RX5 just looks great
The RX5, MG's compact crossover SUV is a sight to behold in person.
Unlike the smallish MG ZS, the MG RX5 has more in terms of style and sophistication. While that may be the case, it's still as practical as the other MG models so its not just some pretty face.
Up top, the MG RX5 has a pair of beefy roof rails, LED daytime running light at the front, LED taillights, and a set of cool but subtle looking 18-inch wheels.
When talking about its styling, many have said that the MG made crossover is good looking while some others say that the company could have done something with it to make it stand out more. For us, we like the conservative overall design of the vehicle.
MG RX5 Alpha 2019 1.5 AT Philippines
>>> Also check out other popular SUV brands: 
It does not stand out that much, while the proportions and the shapes of the vehicle's different regions are playing it safe. While playing it safe might be too boring for some people, especially now that Pinoys have gotten used to the wacky styling of the Japanese, the MG lineup, especially the RX5 is actually a breath of fresh air.
Inside, the MG RX5 offers its riders an equally conservative but really premium looking and feeling interior. Backing that statement up is the fact that most of it was made with high-grade materials and there is a LOT of soft-touch surfaces inside. Great head and legroom too.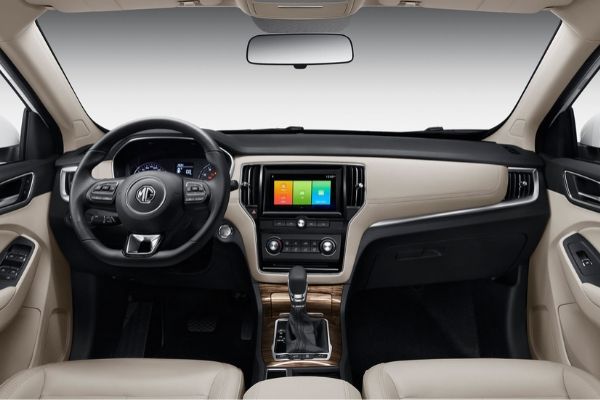 The interior of the RX5 has a lot of beige and a dash of faux wood on the center console
Dominating the dashboard aboard both variants of the MG RX5 is a brilliant 8-inch touch screen display. It has Apple CarPlay, Bluetooth, and it's linked up to a six-piece speaker set.
Other amenities inside the RX5 include a multi-functional steering-wheel, a 12V socket and a USB port, rear air-con vents, and a telescope and tilt-adjustable steering column. All variants have manual AC but they're made so good to the point that they feel like automatic climate controls.
Under the hood of the RX5 is a turbocharged 1.5-liter gasoline engine. It can make up to 167 horsepower and 250 Nm of torque. Power is sent to the front with a dual-clutch seven-speed automatic transmission.
The steering feels tight but the transmission will sometimes feel like it is looking for the right gear especially when crawling in traffic. As for the engine though, it runs as smooth as butter.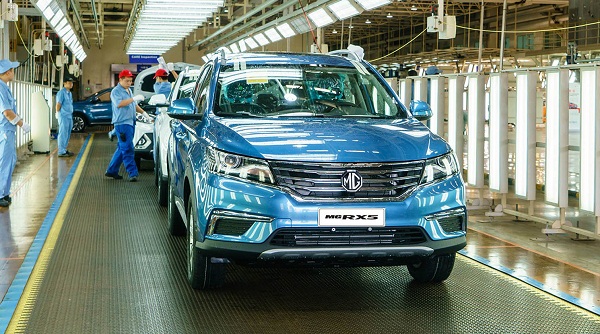 MG vehicles undergo stringent quality and safety standards
On the highway, the turbocharged gasoline engine can net you a very decent 14-15 km/L. In really heavy traffic, it gets you around 6 km/l.
For safety, the RX5's standard equipment includes ISOFIX, auto door locks, rear parking sensors, a parking camera, a car alarm, an engine immobilizer, ABS with EBD, and dual front airbags.
For the top of the line variant, you'll get more safety equipment like a cornering brake control, stability control, hill hold control, hill descent control, a tire pressure monitoring system, and an anti-roll protection system.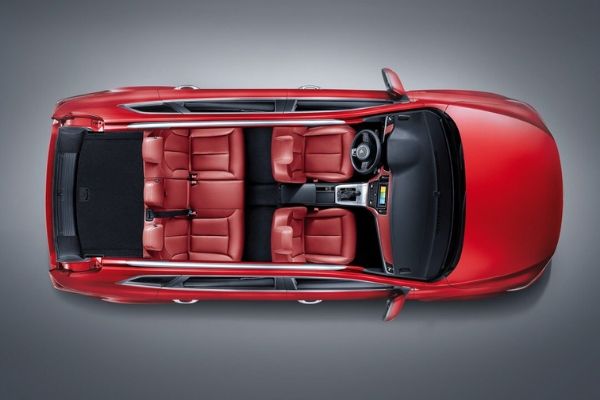 Those rear seats can be folded down to expand the RX5's cargo space
All in all, the MG RX5 is pretty impressive for its price range. It can do well as a family vehicle due to its generous space, and the engine runs pretty smooth. If MG can address the slight issues with the transmission and add more passive safety equipment, then the RX5 can definitely become a winner.
For more articles like this one, keep reading here on Philkotse.com.


Cesar G.B. Miguel
Author