Toyota has a growing roster of SUVs and crossovers these days. Philkotse list down the list of Toyota SUVs in the Philippines, including the pricelist, specs & brief review.
Toyota is known for its reliable and well-built vehicles. From the likes of mass-market models such as the Corolla, Vios and Avanza to sports-oriented vehicles like the new Supra and the GT-86 Toyota have the market covered in almost every segment.
In the advent, however, of SUVs and trucks overtaking more traditional sedans and compacts, Toyota SUV models have experienced unprecedented success in terms of sales performance.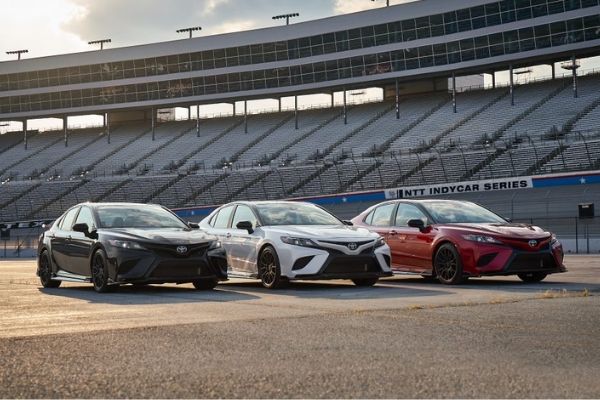 Toyota is more well known for their sensible and efficient passenger sedans
Toyota SUV list is comprised of popular bestsellers such as the Fortuner and Rush, the ground-breaking Rav4 and the iconic Land Cruiser series. Toyota Motor Philippines' lineup of cars is as comprehensive and wide-reaching as it can possibly be, and why not?
Being larger vehicles car companies can pack in more space and features as well as charge a higher premium leading to more revenue. It just makes sense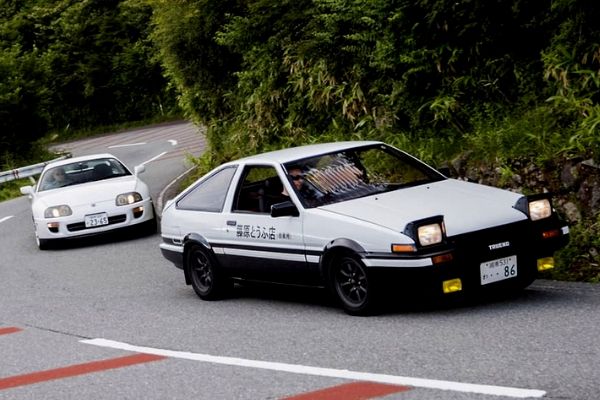 Toyota is also popular for their sporty cars
Today we'll be discussing the list of Toyota SUVs available in the Philippine market as well as their specs and prices.
1. Rush: The newest Toyota SUV Philippines
Toyota Rush 2018/2019 Philippines Review & Road Test || Price, Specs, Buying advice & More
The Rush is the newest 7 seat Toyota SUV. Don't call this an Avanza on stilts, although it shares the same engine, they ride on totally different platforms. Toyota Rush is a shared development project between Toyota and Daihatsu the former owns a significant share of the latter.
Introduced to much fanfare in the local market in 2018, the Toyota Rush Philippines has since been a sales winner for Toyota because of its looks, driving demeanor, and fuel efficiency. Some people even call it a Toyota Fortuner mini SUV. It can also seat 7 passengers in relative comfort and is a great entry-level introduction to what Toyota can offer in the SUV space.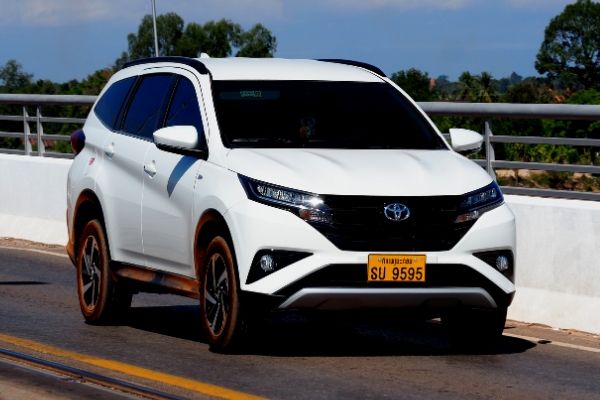 Some people even call the Rush a Toyota Fortuner SUV mini
>>> Related:
2. Fortuner: A fuel-efficient mid-size Toyota SUV Philippines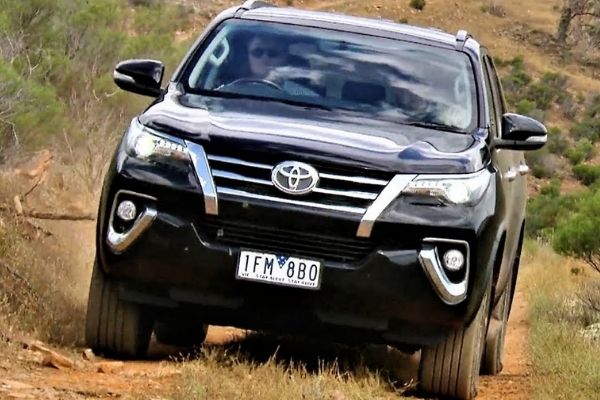 The Fortuner has the perfect blend of power, fuel-efficiency, space and price
Ah yes, the almighty Fortuner. The 7-seat Toyota SUV that pretty much redefined the mid-sized SUV segment and ushered in a new generation of truck loving car enthusiasts. Before the Toyota Fortuner was released in 2005, pickings were slim and were mostly large, gas-guzzling American SUVs or slow unrefined AUVs.
Once the Toyota Fortuner landed on our shores however it swept the entire landscape and fueled our need for a fuel-efficient Diesel SUV available in the Philippines.
It had the perfect blend of power, fuel-efficiency, space and most importantly was priced just right to wean away Filipino car owners away from their AUVs and into a proper truck-based vehicle. The current generation Toyota Fortuner Philippines is even better with improved performance and refinement and brawn. The Fortuner is here to stay.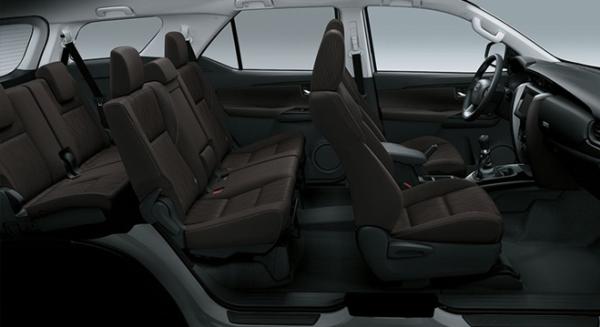 This "Fortune" can carry up to seven passengers
>>> List of all Toyota Fortuner for sale at cheap prices
3. RAV4: A small Toyota SUV Philippines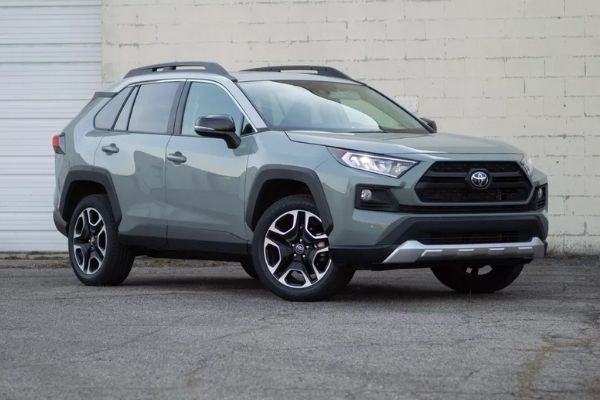 The Rav4 looks liked an SUV but drive like a car
Compact crossovers are also the rage these days. These cars are classified loosely along with SUVs due to their ride height and look but underneath are very different. Instead of running on a body on frame chassis, it has a unibody construction similar to that of a traditional car.
Every car manufacturer and their dog has a crossover offering, Ford USA even went as far as discontinuing all their sedans in their roster and put crossovers in place, and what model do you have to thank for this trend? And a Toyota small SUV was introduced: Toyota RAV4
Launched in the mid-90s people can't make heads or tails of it as it looked like an SUV but drove like a car. These days, it seems like Toyota has a crystal ball with Toyota Rav4 as they are having the last laugh.
>>> Related: 2021 Toyota RAV4: Expectations and what we know so far
4. Land Cruiser Prado: A well-balanced off-road Toyota SUV Philippines
The Land Cruiser Prado is a well balanced off-road tool
The Land Cruiser isn't your typical Toyota 7 passenger SUV. People might questions its reason for existence especially since the Toyota Fortuner is as, if not more capable already to topple it down the Toyota Food Chain.
Toyota Land Cruiser Prado has less power and torque and costs almost twice as much. If you have these questions and start to dismiss the Prado just because it is weaker than the Fortuner, then you just don't get it.
The Land Cruiser Prado is a well balanced off-road tool that is better suited to the unforgiving mountain roads than your well-to-do villages in Ayala Alabang. It just so happens that only the affluent can buy one. Would I suggest buying the Toyota Land Cruiser Prado over the Fortuner? Of course not, but would I say it is better? You bet your sweet behind I do.
5. Land Cruiser: A flagship 8 seater Toyota SUV Philippines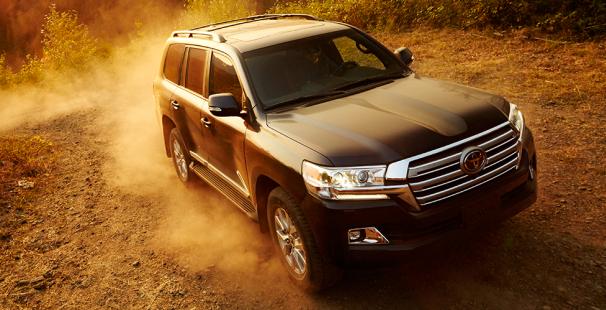 Travel in the lap luxury but still carry a big stick
Finally, here we are, at the top of the mountain. The Land Cruiser is the flagship Toyota 8 seater SUV and doesn't get any better than this in Toyota's lineup. There are no expenses held, no holds barred and it carries itself with an air of power and sophistication beyond your average SUV.
There is just no denying how big it is. This full-sized SUV is reserved only for those who want to travel in the lap luxury but still carry an imposing presence to distance yourself from mere mortals.
>>> Read more: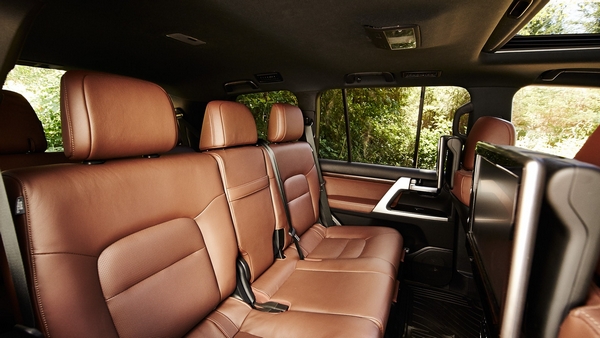 Luxury look inside Land Cruiser cabin
Sure, German Luxury brands might be more expensive or luxurious but this is the type of car that will give you fear if you see on your rearview mirror, not just because of the size, but also for the respect it commands.
The Toyota Land Cruiser is what you ride when you know you've made it, or you're a member of Congress.
>>> Related: 8 significant Toyota engines you should know about
6. FJ Cruiser: The funky and quirky Toyota SUV Philippines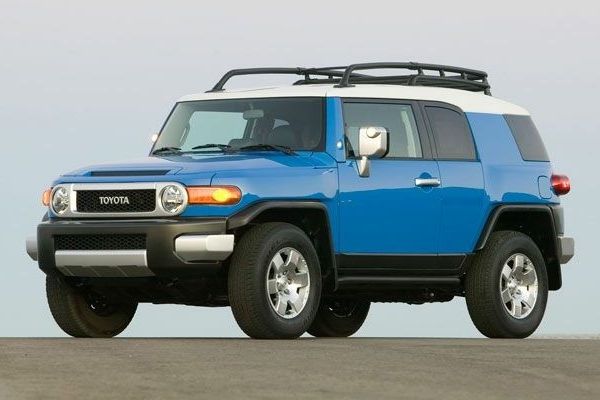 The FJ Cruiser is a purpose-built vehicle not unlike a GT86
Hold on, stop the presses! Don't think that we've dared forgotten about the funky and quirky FJ Cruiser. This Toyota SUV price is fairly reasonable despite for what it is because globally, the car has already been discontinued.
The Toyota FJ Cruiser gulps on gas like there's no tomorrow, has barely any space inside is heavy, sluggish and rides like a boat but it is probably the most epic model in Toyota's line up this side south of the Supra. The only thing to keep in mind that the FJ Cruiser is a purpose-built vehicle not unlike a GT86 or the aforementioned Supra.
You can drive this on the daily but why would you? Go and buy a Toyota FJ Cruiser if you were to traverse the most broken roads leading up to Caramoan or anywhere out of town. If the word "fun" was ever attached to a car, this is that car.

Which SUV fits your choice?
Whether you like it or not, SUVs are here to stay, the benefits of being inside a huge hulking case of metal create a better sense of safety and assurance than in a sub-compact mini it is an emotional as well as psychological decision for car buyers to opt for a larger vehicle than the norm.
SUVs are also more profitable for carmakers as they get the same sales volume but at a more premium price, it isn't rocket science. Well, folks what do you think of Toyota's lineup of SUVs? Jump down into the comments section below so we can start a discussion and keep following Philkotse.com for all the news, reviews and tips on your favorite cars!
>>> Learn more about other SUV from popular brands in the Philippines:

Know more about Toyota

For the local market, Toyota Philippines offers 22 car models. The most affordable of these is the Toyota Wigo hatchback. Toyota also has three sedan models namely the Vios, the Corolla Altis, and the Camry. It then has one entry to the pickup truck segment, the Hilux. For coupes, Toyota Philippines offers two models: the GT 86 and the Supra. The Toyota local SUV segment has four models. These include the Fortuner, Land Cruiser, and Land Cruiser Prado. The Toyota MPV segment for the Philippines has three models: the Avanza, Rush, and the Innova. Then there are two Toyota vans in the Philippine market: the Hiace and the Hiace Super Grandia. For hatchbacks, there's the Wigo, the GR Yaris, Prius, and the Yaris, while the minivan segment then has the Alphard. And lastly, the crossovers sold by Toyota include the Corolla Cross, and the RAV4.
Here at Philkotse.com, we provide the complete Toyota Philippines Price list for 2023, which we update on a monthly basis. Besides that, we also list the latest and hottest car promos ranging from low monthly amortizations, cash discounts, and low downpayments.
For more information about the Toyota Philippines price list for 2023, as well other details regarding the brand, continue below.

Roy Robles
Author