Among Toyota cars for sale in the Philippines, Toyota has really made more effort in raising the bar in terms of providing high-quality fit and finish of the Fortuners' interior. The materials are made of plush dark brown leather giving you an upscale feel of the vehicle.
The gauges or the instrument cluster is quite interesting because you get to have a mix of classic gauges with an added LCD screen in between which provides a lot of useful information.
The second row offers a lot of legroom for back passengers and what's good about the Fortuner is that the seats can be adjusted according to your comfort level.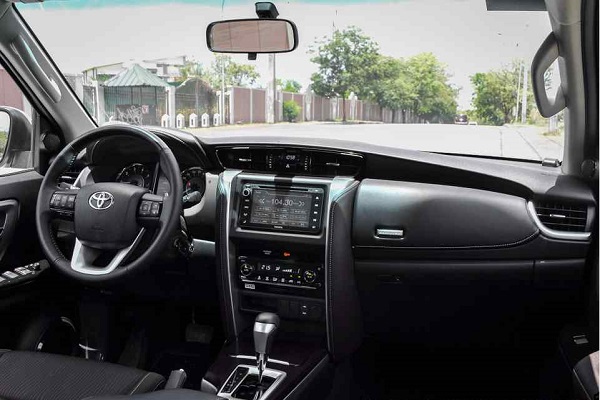 The center stack is equipped with a 6.5 inch LCD touchscreen infotainment system
One of the seats can easily be folded and adjusted making an entrance to the third row would be pretty easy. Though space is not as big as compared to the second row you can still accommodate at least 1 or 2 passengers.
The center stack is equipped with a 6.5 inch LCD touch screen infotainment with Navi -system in which Toyota is known for. It allows both the driver and passenger to have easy access on Spotify or any playlist in just a few seconds. It also has a DVD and CD player installed for added entertainment options to be enjoyed during long drives or when you are stuck in traffic.