As you've read from the Land Cruiser's description above, it has a monstrous amount of torque which is great for a good amount of things like towing, off-roading, etc.
That very same V8 that gives the vehicle its impressive amount of twisting force comes at a price; the Toyota Land Cruiser has a very poor fuel economy at a measly 6.3 km/L.
If gas money is no hassle though, the Toyota Land Cruiser, either a brand new or second hand unit, is excellent not only for off-roading but also for a myriad of things like as a family vehicle, as a VIP transport car, or for more extreme tasks like as an exploration vehicle or as a security detail transport vehicle.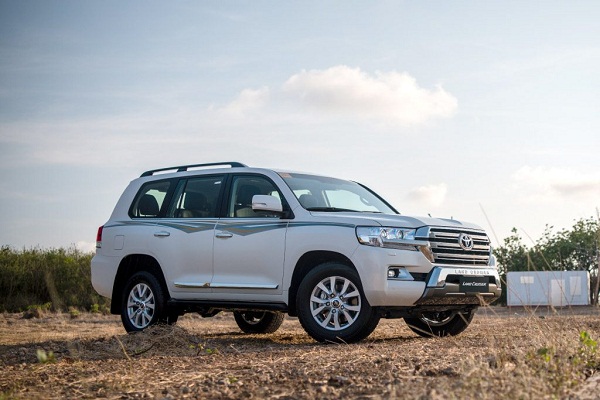 Also worth mentioning is the Land Cruiser's awesome road presence
And due to its notable power and legendary reliability, the Toyota Land Cruiser can still get up to speed even if upgraded with armor and bulletproof glass which will undoubtedly add a lot of weight. No wonder why used Land Cruiser Philippines is still sought-after items.
In terms of onboard gadgets, the Toyota Land Cruiser as we've said earlier comes with a lackluster touchscreen unit which does not support Android or Apple. The interior overall though is very spacious and comfortable.
It's also worth mentioning that the leather and most of the interior panels inside the Toyota made SUV is actually very durable and without a doubt can take a beating for a long amount of time. For that reason, many must agree with us that going for a pre-owned Toyota Land Cruiser is not a bad idea at all.
And lastly, the Toyota Land Cruiser currently has a HUGE following when off-roading is concerned. This also means that there are a TON of aftermarket parts out there that will further increase the capabilities and functionality of the Land Cruiser.
New & second hand Toyota Land Cruiser: Pros and Cons
Pros

- An impressive amount of torque

- Spacious and comfortable

- Very off-road capable

- Very good aftermarket parts availability

Cons

- Poor Fuel Economy

- Outdated touchscreen unit