Car Search
Toyota Land Cruiser

for sale
Latest price list
Best advice for car buyers
Latest
Toyota

news
Featured links
Want to get updated car listings in the mail?

Subscribe
Toyota Land Cruiser for sale
24

results found
Sort by
Sort by Default

Price: lowest first

Price: highest first

Oldest first

Recent first
1. Toyota Land Cruiser for sale Philippines: Model overview
The Toyota Land Cruiser was initially launched by Toyota in 1951 as their own take on the tried and true Jeep formula; four-wheel-drive, body-on-frame, and off-road capable.
By having proven itself by performing rather well in multitudes of off-road and on-road conditions for the better part of six decades, the Land Cruiser has become a best seller for the Japanese company and during the said SUV's existence.
It spawned 4 generations for both the Comfort oriented models and the off-road-oriented models. That's a total of eight vastly differing versions in 68 years. Impressive.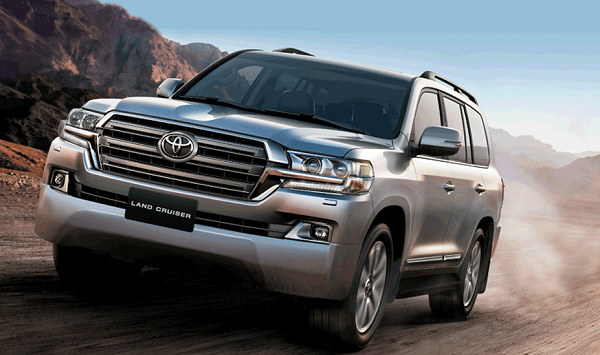 The exterior look of the Land Cruiser isn't that radical or hyper but rather its the perfect callback to its roots
Currently, the latest generation of the Land Cruiser is available in a lot of countries including the Philippines. In other countries though, the Toyota Land Cruiser is sold as the Lexus LX.
2. Toyota Land Cruiser for sale Philippines: Exterior
The design of the current Land Cruiser is without a doubt timeless and is probably one of the most recognizable designs wherever you are in the world.
This is owed to the fact that Toyota had decided to keep the overall "silhouette" of the full-size SUV while changing a lot of its exterior features like the front fascia which has a larger, revised grille, LED projector headlamps, daytime running lights, and the repositioning of the fog lamps to a higher position.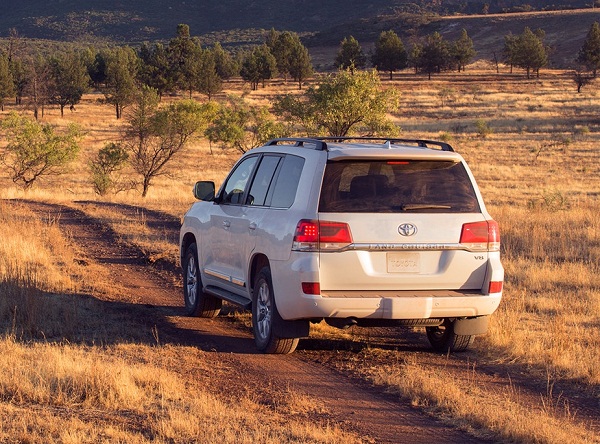 While it looks neo-retro it does have modern stuff like the rear roof spoiler
From the side, there are some decals that run across the length in some versions of the said vehicle that we think is totally unnecessary but otherwise, the macho proportions of the vehicles make up for it.
At the rear, one will appreciate a tow-hook and the huge tail-lights.
Up top, the Land Cruiser comes with a roof rail and is very viable for fitting on aftermarket cargo implements and other accessories equipped for off-road vehicles.
>>> Read in-depth Toyota Land Cruiser Philippines reviews by Philkotse experts
3. Toyota Land Cruiser for sale: Interior & Infotainment
Once inside, you will immediately note that Toyota gave the 2020 Land Cruiser a lot of modern amenities. There are however some retained elements from the old design but those do not clash at all with the modern stuff nor can these be called outdated.
Now the seats and some of the interior panels are covered in leather and the front seats are power-adjustable.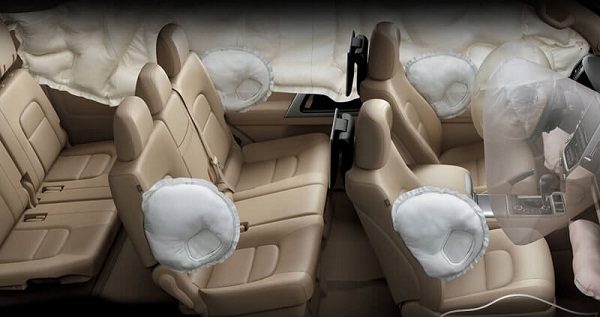 Toyota Land Cruiser is equipped with 10 airbags
As for the full-option trim, the aforementioned seats also get a memory function and heater, the latter of which is redundant here in the typically warm Philippine weather. As for the rear passenger compartments, the seats are also clad in leather and there's the presence of door courtesy lamps, personal lamps for the front and rear.
The door courtesy lamps and the climbing handles on the doors are necessary for the Land Cruiser as it actually rides quite high and some folk might have a hard time climbing aboard.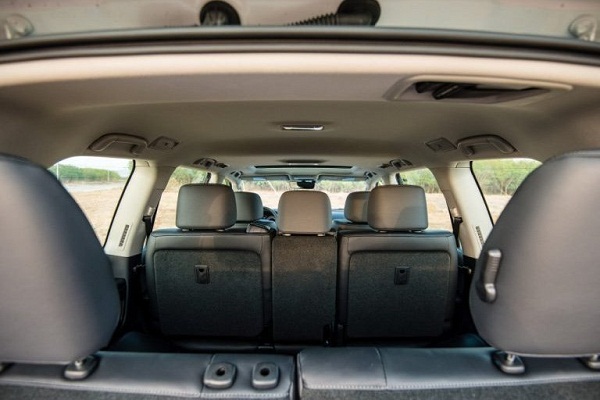 While supremely comfortable, the Land Cruiser also has tons of space which excellent for long trips
While the Toyota Land Cruiser can amazingly fit eight passengers, the one drawback that we found on the vehicle is its outdated infotainment system which does not have Apple CarPlay or Android Audio but it does thankfully support navigation and Bluetooth Connectivity.
Other amenities for entertainment include a 2DIN audio connected to a decent set of speakers.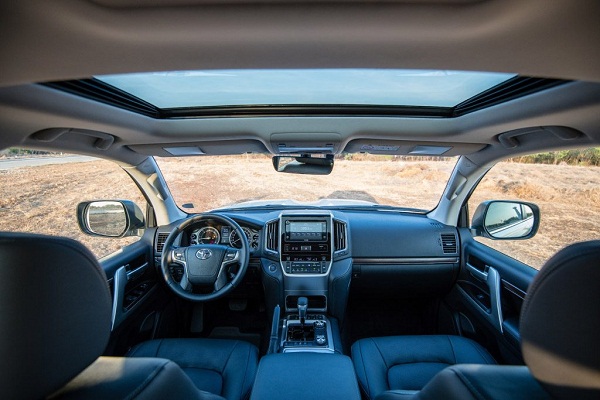 While Toyota retains a lot of old design ques, the Land Cruiser's interior still looks great
4. Toyota Land Cruiser for sale Philippines: Engine
As for the engine of the current Philippine-spec Toyota Land Cruiser, it is a V8 twin turbo-intercooler and it is one of the very few with that engine configuration available in the country right now. It drinks diesel through direct injection, common rail system.
At around 3,200 rpm, the aforementioned engine can make around 232 horsepower which is decent enough for an SUV of its size.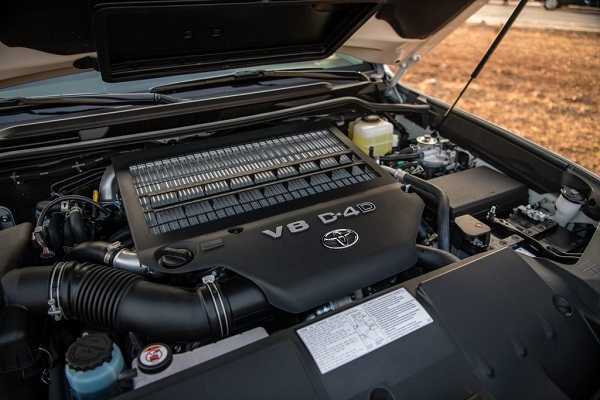 Here's the beast itself in all its eight-cylinder glory
What will surprise you though it the massive 615 Nm of torque the V8 engine can make at a mere 1,800 to 2,200 rpm which really drives home the point that the Toyota Land Cruiser is indeed a torque monster meant for running around in the boonies.
What further adds to that fact is that the Land Cruiser comes with a locking differential, a Kinetic Dynamic Suspension System for added stability off-road and a 4x4 that can be controlled by a simple push of a button.
5. New & used Toyota Land Cruiser for sale: Pros & Cons
As you've read from the Land Cruiser's description above, it has a monstrous amount of torque which is great for a good amount of things like towing, off-roading, etc.
That very same V8 that gives the vehicle its impressive amount of twisting force comes at a price; the Toyota Land Cruiser has a very poor fuel economy at a measly 6.3 km/L.
If gas money is no hassle though, the Toyota Land Cruiser, either a brand new or second hand unit, is excellent not only for off-roading but also for a myriad of things like as a family vehicle, as a VIP transport car, or for more extreme tasks like as an exploration vehicle or as a security detail transport vehicle.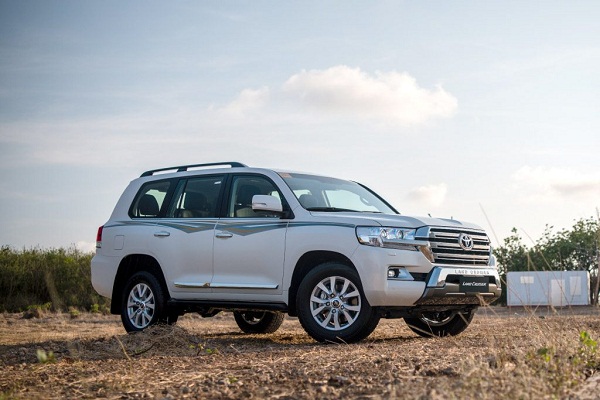 Also worth mentioning is the Land Cruiser's awesome road presence
And due to its notable power and legendary reliability, the Toyota Land Cruiser can still get up to speed even if upgraded with armor and bulletproof glass which will undoubtedly add a lot of weight.
In terms of onboard gadgets, the Toyota Land Cruiser as we've said earlier comes with a lackluster touchscreen unit which does not support Android or Apple. The interior overall though is very spacious and comfortable.
It's also worth mentioning that the leather and most of the interior panels inside the Toyota made SUV is actually very durable and without a doubt can take a beating for a long amount of time. For that reason, many must agree with us that going for a pre-owned Toyota Land Cruiser is not a bad idea at all.
And lastly, the Toyota Land Cruiser currently has a HUGE following when off-roading is concerned. This also means that there are a TON of aftermarket parts out there that will further increase the capabilities and functionality of the Land Cruiser.
New & second hand Toyota Land Cruiser: Pros and Cons
Pros

- An impressive amount of torque

- Spacious and comfortable

- Very off-road capable

- Very good aftermarket parts availability

Cons

- Poor Fuel Economy

- Outdated touchscreen unit
6. Visit Philkotse.com to get the cheapest Toyota Land Cruiser for sale
In the Philippine market, the Land Cruiser, in fact, it is currently the longest-running car on the production of Toyota Philippines. So it í sàe to say time has already tested the reputation of the Toyota Land Cruiser. It came from a total off-road car and evolved into one of the market's most luxurious SUVs.
In addition to a complete list of affordable options for new & used Toyota Cruiser for sale in the Philippines, Philkotse.com also serves as an all-in-one auto portal where you can find helpful information and buying advice for your car hunt.
You can always broaden your search to more brands besides Toyota by visiting our Cars for sale section or simply utilizing the advanced search tool on the left sidebar. There is also a calculator tool below each listing to help you estimate bank loan installment for your car purchase.
Happy shopping with Philkotse.com!