If you are looking for a family SUV, lets refer to our list of 5 best 7-seater SUV cars today.
A 7-seater SUV will be the perfect choice for a large family. Yet if you are still wondering and hesitate to make your decision, let's refer to the 7-seat SUVs worth buying now.
The best model depends on the taste of each customer, but we would like to recommend the five most prominent 7-seat SUVs for sale in the market today with advanced features. In addition, when you consider your choices, the budget must also be taken into account - whether it is worth the money and may it bring comfort and satisfaction to all the passengers in the car.
Here are the top 5 best 7-seater SUVs today according to Philkotse.com:
1. Audi Q7 - The Best 7 Seater SUV of Audi
According to auto experts, the Audi Q7 has been compared with a 5-star hotel - where people just want to hang the "Do not disturb" plate outside the door and stay in it forever. The Q7 is almost perfect in every aspect, so this famous German brand is definitely worthy of being on the list.
By 2015, the Audi Q7 for sale has become more compact than the previous version. However, the cabin interior is still spacious with headspace and excellent footrest area in the second row. Space in the third row is just fine, although it's still limited as other 7-seat SUVs.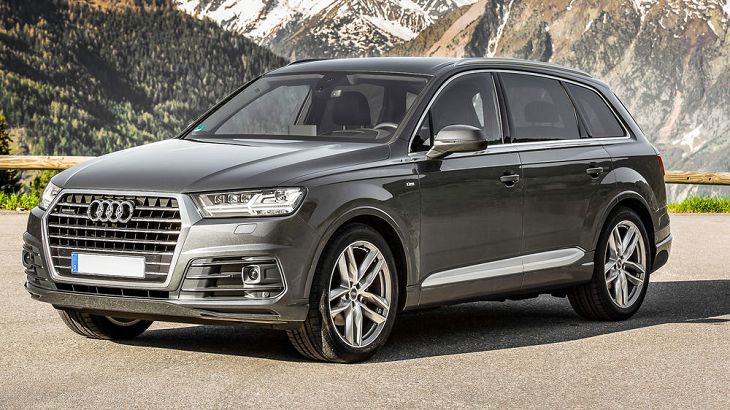 The Q7 is almost perfect in every aspect
Folding the backseat row, the car trunk will have a space volume of 770 liters, which makes the interior space relatively large. Each row offers two cup holders and there are places for the water bottle in all 4 doors as well.
The Audi Q7 owns a 3.0L turbocharged diesel engine. It can accelerate from 0-100km/h in 6 seconds and offer capacity up to 3,500 kg. In addition, the German automaker is also equipped with the optional Q7 pneumatic suspension with a heat pipe and standardized damper to ensure its smooth performance.
Notably, the seven-seater Audi Q7 achieved 5/5 stars from the ANCAP organization with safety systems including AEB emergency brake, lane warning, blind spot and side traffic warning also.
Audi Q7 2019 price in the Philippines

| | |
| --- | --- |
| Model | Price |
| Audi Q7 3.0 TDI | P6,690,000 |
| Audi Q7 3.0 TDI S | P7,790,000 |
>>> Click to find full Audi Philippines price list
2. Mitsubishi Xpander - One of the most affordable 7-seater SUVs
The introduction of the Xpander coincides with the utilization of the 1.5 L powertrain for lesser fuel cost and a more expedient, versatile vehicle.
MPVs or multi-purpose vehicles are a segment that is an alternative over more expensive mid-sized minivans, like the Odyssey or grand Carnival. Development of this particular type of car is about giving access to cheaper and more cost-effective car for family or multiple uses.
Options like these are a step up over smaller and cramped sub-compacts that don't feature multi-use and roominess as options, and these options will amp up the safety of said sub-compacts. It could be called an in-betweener class that is almost into the mid-size but not, yet incorporating the more advanced safety features.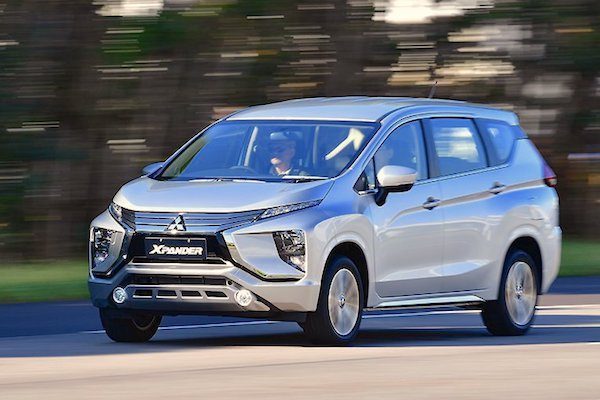 Mitsubishi took its knowledge of designing striking SUVs and applied that philosophy to the Xpander
Simply put, this is the next vehicle of choice that will offer more options. Having added safety for most motorists; wanting an affordable car that can seat five to seven people with ease.
The Mitsubishi Xpander is all about an MPV that is SUV like and is more affordable, with access to more modern features and safeties that are omitted by some car makers. Cars like it; are the jack of all trades that can be used to load stuff and move more people than smaller sub-compacts. Theoretically, the 1.5 L powertrain will be more efficient and use less gas than 2.0 L or more option.
There are several variants available with an option of manual or automatic transmission to choose from. Each of these types will be the base unit which is the cheapest with the least features or the premium model. Between them, the premium model has the most going for it. However, the basic unit will have the basic safety suite as part of its equipment.
The cost of the unit is worth it and is less costly than smaller premium cars.
Mitsubishi Xpander 2019 price in the Philippines

| | |
| --- | --- |
| Model | Price |
| Mitsubishi Xpander GLS AT | ₱1,110,000 |
| Mitsubishi Xpander GLS Sport AT | ₱1,175,000 |
| Mitsubishi Xpander GLX MT | ₱999,000 |
| Mitsubishi Xpander GLX Plus AT | ₱1,075,000 |
Another option from Mitsubishi that you can take a look at is the Mitsubishi Montero Sport. one of the best SUV Philippines. 
3. Kia Sorento - A 7-seater SUV that offers smooth & accurate driving experience
Why is Kia Sorento on the list? Although not a luxury car brand, but the features, applicability and price make Sorento stand out in the 7-seat SUV list with reasonable prices.
The car has a cabin space volume of 605 liters, although it's not too large, but there is enough space under the floor for wet towels or dirty shoes. In each row, there are also two cups holders, like the side door. Second-row seats have great space, while third-row seats are also comfortable for children or young people.
In addition, Sorento also has some features that are highly applicable. Three seats can be folded with zipper. The control panel makes allows passengers to customize the music volume or weather information display.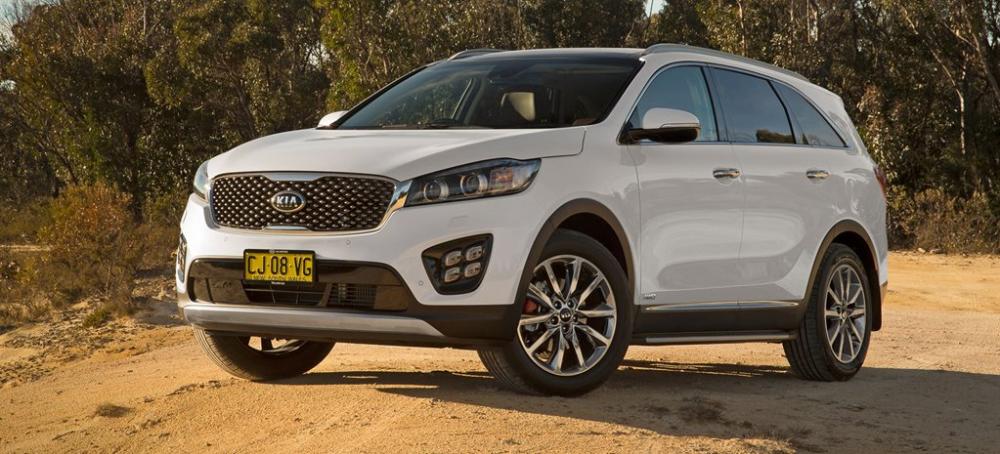 The features, applicability and price make Sorento stand out in the 7-seat SUV list with reasonable prices
The car also has two USB ports and an automatic rear door. Customers can choose either a 4-cylinder diesel engine or a V6 gasoline engine. According to the auto experts, the car has acceptable handling ability and the pretty good driving feeling.
The Kia Sorento achieves a maximum of 5 stars according to the ANCAP safety rating, with two of the most advanced models equipped with Automatic Brake Technology (AEB), Lane Departure Warning (LDA), Blind Spot Warning (BLIS) and rear shock warning (RCTA).
Kia Sorento 2019 price in the Philippines

| | |
| --- | --- |
| Model | Price |
| Kia Sorento 2.2L 4x2 DX AT | ₱1,895,000 |
| Kia Sorento 2.2L EX 4x4 AT | ₱2,195,000 |
>>> Get full Kia Sorento price list with monthly payment
4. Volvo XC90 - The 7-seater SUV that owns "Thor hammer" headlight
Volvo is still the pioneer in applying the modern safety technologies to its vehicles, and the Volvo XC90 is no exception.
The Volvo XC90 was launched in 2015 with an impressive and stylish interior. According to car experts, the car owns "Thor hammer" headlight, grille prominent, wide design, strong body.
The XC90's cockpit offers the feeling of a minimalist artwork with almost no button controls, with just a 9-inch entertainment display and a 12.3-inch dashboard screen. The interior is luxurious but also spacious and comfortable with two comfortable seats, as well as an extra seat for children. Third-row seats are equally comfortable.
The third-row seats have a storage capacity of 775 liters. The standard feature in the XC90 cabin consists of a mesh bag, trays, and removable tool holders. There is also a cupboard in the third row, two in the second row and two in the first row, plus one box in the front tabloid.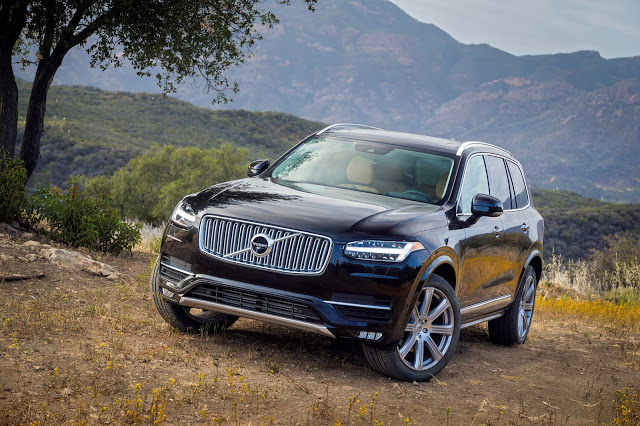 Volvo is still the pioneer in applying the modern safety technologies to its vehicles, and the Volvo XC90 is no exception
2018 Volvo XC90 Excellence - WORLD'S MOST LUXURIOUS SUV??
The optional pneumatic suspension next to the standard multi-point double-wishbone suspension system does not affect the steering wheel quality and impressive handling capability.
According to experienced car dealers, customers can choose diesel, gasoline or hybrid engine. All versions are compact, extremely fuel-efficient but still able to deliver super-high power.
Last but not least, safety. The five-star rating of the ANCAP is just the begin, the Volvo XC90 also comes with an emergency brake technology (AEB), speed limit signage and adaptive cruise control and equipment. assuring other modern safety.
According to the latest Volvo Philippines car price list on Philkotse.com, a brand new XC90 is priced from P5,495,000.
Volvo XC90 2019 price in the Philippines

| | |
| --- | --- |
| Model | Price |
| Volvo XC90 D5 | ₱7,895,000 |
| Volvo XC90 T6 | By Order |
| Volvo XC90 2.0 D4 AT | ₱5,495,000 |
5. Mazda CX-9 - A bulky 7 seater SUV but easy to drive
The Mazda CX-9 features a large grille, coupe styling and sharp lines. It has excellent space in the second row and also very comfortable in the third row - tall people can also sit comfortably without complaint when traveling on a short trip. Rear seats can be folded, with boot's volume of 810 liters. Comfortable interior space with cup holders in each row, spacious tabloid tables, a bottle holder in the door.
It would be missing not to mention the 7-inch touchscreen, 12-speakers Bose set, leather seats, HUD display and remote car-unlocking function.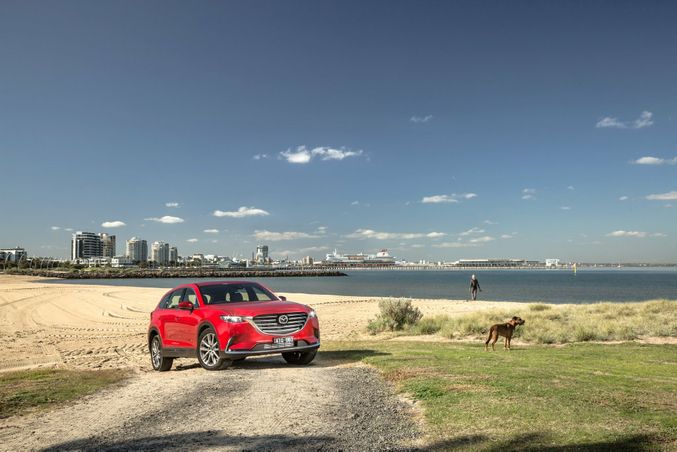 The Mazda CX-9 is bulky but it's easy to drive comfortably
The 2.5-liter four-cylinder engine, front-wheel-drive system and full-time four-wheel drive system are all very well-function, almost equal in terms of fuel emissions.
The Mazda CX-9 is bulky but it's easy to drive comfortably. Steering quality is stable, with good handling ability.
The CX-9 meets ANCAP five-star standards with all lines being equipped with automatic emergency brake technology (AEB) with retractable luggage and adaptive cruise control.
Mazda CX-9 2019 price in the Philippines

| | |
| --- | --- |
| Model | Price |
| Mazda CX-9 2.5 Signature AWD | ₱2,950,000 |
| Mazda CX-9 2.5 Sport Touring FWD | ₱2,380,000 |
>>> View full Mazda CX-9 price list and estimated monthly payment

Know more about Mitsubishi Xpander 2023

The 2023 Mitsubishi Xpander is a seven-seater MPV for the Philippine market. As of the 2023 model year, there are three available variants for this model. There's the Xpander GLX 1.5 MT, the Xpander GLX 1.5 AT, and the Xpander GLS 1.5 AT. These range in price from Php 1,050,000 to Php 1,180,000.
Size-wise, the Xpander has a length of 4,595mm, a width of 1,750mm, and a height of 1,750mm. It also has a wheelbase that spans 2,775mm, and a ground clearance of 225mm.
Under the hood, this Mitsubishi MPV uses a 1.5-liter inline-4 gasoline engine that's capable of producing up to 103 horsepower and 141 Nm of torque. It then uses a front-wheel-drive layout. Depending on the trim, it either gets a four-speed automatic gearbox, or a five-speed manual transmission.