2020 is predicted to be a more "affordable year" which is a perfect time to bring home a new "horse". The Toyota Rush is highly recommended for the 7 following reasons.
With an enormous range of new vehicles launched in the market, consider buying a new car and "making your dream come true" with a best ride and technology is not a piece of cake.
Don't worry! Philkotse.com is here with helpful tips & advice in order to help our readers find the best car for your 2020 and later on. Not a sedan, not a pickup truck nor a fashionable convertible, we choose an SUV - the hot-selling Toyota Rush!
Read on to know why it is highly recommended to buy the Toyota Rush in 2020.
Which 2020 Toyota Rush should you buy? – Variant Comparison
1. Its design is stylish
It is not difficult to spot out styling cues borrowed from the brother Fortuner on the Toyota Rush. The new Rush is evaluated to be more appealing and sportier than the first-gen model thanks to a slew of revolutionary modifications made on the exterior, from the overall size to styling changes.
The Toyota Rush design is inspired by its brother Toyota Fortuner
2. Its compact size allows better handle on tight corners
Coming with a small size, the Toyota Rush Philippines promises to satisfy motorists especially those who are scared to drive on cramped roads in our country. It can cross tight alleys without being stuck or catch any difficulty and collision (well, of course, provided your driving ability is not too bad).
Toyota Rush 2018/2019 Philippines Review & Road Test || Price, Specs, Buying advice & More
3. Tall drivers love its optional driving position
It is such a pleasant surprise for tall motorists as Toyota decided to add an option for adjusting the driver's position. This will surely receive a plus point from towering drivers.
Toyota decided to add an option for adjusting the driver's position
4. Its air-conditioning is good
Despite being a low bar, the air-conditioning system of the Rush is evaluated to be much better than the Vios' which has received a lot of positive comments from users. Like other Toyota Philippines' new models, the Rush is designed with a chief of bringing comfort for users. Occupants at the 2nd and 3rd seating rows also enjoy cool air thanks to the A/C particularly set for the rear.
5. It has a smart infotainment system
The Toyota Rush is equipped with a 7'' touchscreen which is combined with a set of 8 speakers and is able to connect to users' smartphone. In general, the infotainment of the Rush is simple yet smart and reliable.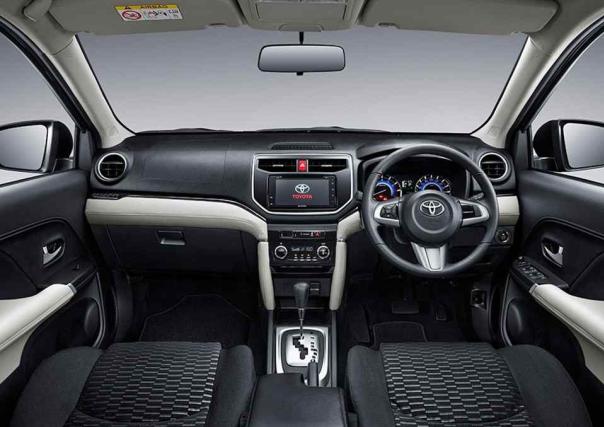 The infotainment of the Rush is simple yet smart and reliable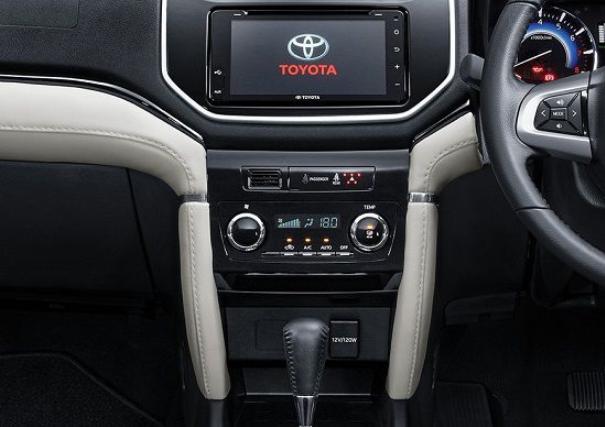 The Toyota Rush is equipped with a 7'' touchscreen
>>> You might like to read: Best Toyota Rush Accessories in the Philippines to modify your vehicles
6. You may be surprised by its impressive amount of "premium" kit
Although the Toyota Rush 2020 is not rated as a premium model, it boasts a lengthy list of advanced features normally seen in higher segments. Some outstanding features include:
Power folding mirrors
Auto-on headlights
Auto climate control
Remote key fob.
7. High ground clearance is really useful
Living in the Philippines means you have to get used to heavy rains, and flooded roads. That is why you might notice that Filipinos seem to have a particular interest in high ground clearance vehicles which is one of the plus points of the Rush.
The 7-seater measures a good ground clearance of 220 mm which makes it a perfect vehicle to maneuver through Philippine roads. In comparison with its rival Xpander, the Rush is even 15 mm higher and 5 mm taller.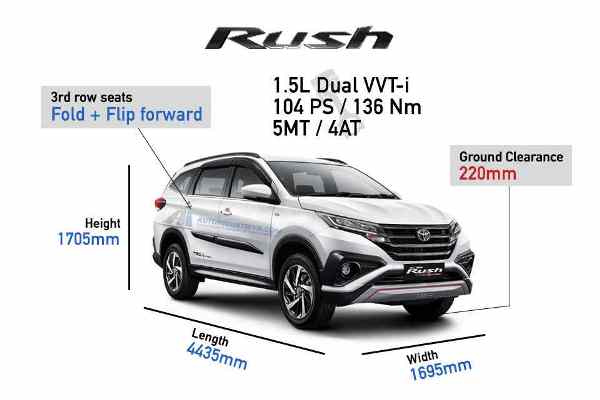 High ground clearance of the Rush is really useful on rainy days
>>> Recommended car comparison reviews:
Verdict: The Toyota Rush 2020 is definitely a good buy
2018 is such an expensive year for all car enthusiasts. High-rate excise tax and galloping inflation get a lot of car buyers severe headaches as car prices are more exorbitant than ever. However, things are predicted to get better in the next years.
According to Bangko Sentral ng Pilipinas (BSP) Department of Economic Research, inflation likely slowed significantly in November 2018 from a nine-year peak. It is believed that the inflation's deceleration for the month could lead to the considerable decline in petroleum prices, and the stability of supply conditions in rice and other agricultural products and also the appreciation of peso.
Doesn't that mean next year promises to be a 'more affordable year', meaning a great time to shop a new "horse" for your family?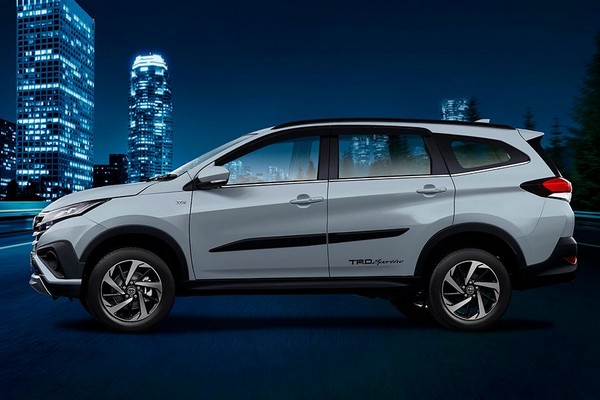 A price tag of just a little over a million is so affordable for a greatly-praised SUV
All is said and done, make sure to include the Toyota Rush 2020 in your budget plan for next year because we believe it is really worth every single one of your hard-earned pesos!
Let's forget the hard plastics or the pretty mismatched trim, considering all of the outstanding features listed above, a price tag of around a million is so affordable for a greatly-praised SUV.
Toyota Rush price in the Philippine

| Model | Price |
| --- | --- |
| Toyota Rush 1.5 E MT (5 seats) | P948,000 |
| Toyota Rush 1.5 E AT (5 seats) | P988,000 |
| Toyota Rush 1.5 G AT (7seats) | P1,070,000 |
At present, there hasn't any revelation about a revised Toyota Rush 2020, so we assume that the 2020 model year will likely keep all features of the current offering. What for what? "Rush" to the nearest Toyota Philippines dealerships and don't miss out any Toyota promos to take home your favorite car with the lowest possible price!

Know more about Toyota Rush 2023

The Rush 2023 is Toyota Motor Philippines (TMP)'s entry to the local competitive multi-purpose vehicle (MPV) segment. Considering its relatively large size and affordable pricing, the MPV is regarded by some as an entry-level SUV to the Japanese car brand. Toyota Rush Price in the Philippines ranges from PHP 983,000 to PHP 1,176,000 with 3 different variants. Under the hood, it is powered by a 1.5-liter 2NR-VE inline-4 DOHC gasoline engine that makes 102 hp and 134 Nm of torque. This engine can be connected to either a 5-speed manual or 4-speed automatic transmission. Dimensions-wise, the Rush spans 4,435 mm in length, 1,695 mm in width, and 1,705 mm in height. In the local market, this vehicle from Toyota Philippines competes against the likes of the Mitsubishi Xpander and Honda BR-V.
There are many SUV-like features that the Toyota Rush offers such as a relatively high ground clearance rated at 220 mm and its new seating configuration that makes seven as standard across all variants. It is considered as one of the best value for money especially for those who wish for a relatively affordable family car. In other markets, the Toyota Rush is called the Daihatsu Terios due to the Japanese automaker's partnership with Daihatsu Motor.