Bitten by the modification bug? Luckily there are a ton of aftermarket Toyota Rush accessories in the Philippines for Rush's owners.
The Toyota Rush was a surprise hit when it was released in 2018. It was seen as a direct answer to Mitsubishi Xpander but in a more rugged package.
It was heralded as the sub-compact crossover to rule them all and it helps that it kind of looks like a mini Toyota Fortuner especially that front end. It may not be the unanimous darling of car reviewers when it was first released but in time their numbers on the road grew exponentially.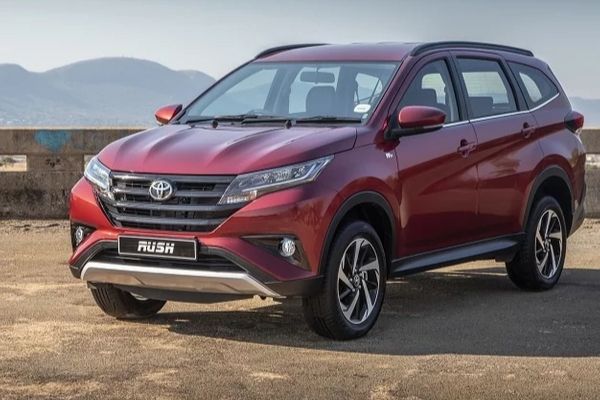 Toyota Rush is one of Toyota's best selling units
This may be due to the fact that the public had sky-high expectations for it at first but was disappointed with the reality. Once the hype died down and accepted the Rush for what it is; an economical, compact crossover that wasn't really meant to be... rushed, it suddenly filled in a very important niche in Toyota Philippines' new car line-up.
Which 2020 Toyota Rush should you buy? – Variant Comparison
Heading back to my earlier observation, the Rush looking like a mini-Fortuner is certainly a plus point for the model. Personally I prefer cars to be compact and keep the personal aspect of it.
Larger cars also take too much space for me and my single slot parking lot apartment thus a smaller car is more practical. So to take that characteristic and take the awesome bits from the much macho looking Fortuner gives you an interesting value proposition and potential for modding and personalization.
>>> Related: Best project cars for beginners in the Philippines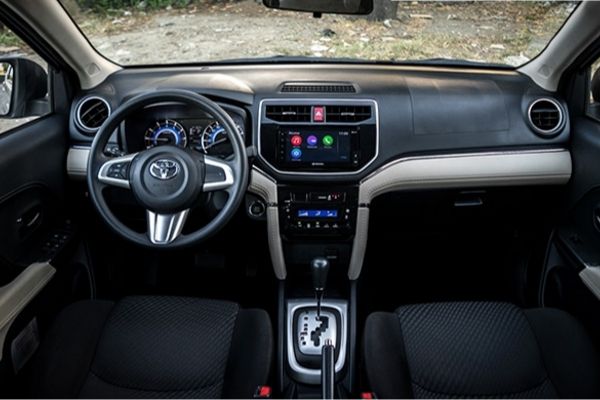 The no-nonsense Toyota Rush exterior may have turned some people off
You have tons of options out there to make your Toyota Rush more distinct and unique. From Chrome (shudder) bits to go fast parts the market is certainly growing that, more often than not, you can go overboard.
So here at Philkotse.com, we gotcha covered, Fam! Here is a list of the available performance and aesthetic mods or accessories you can find for your Toyota Rush!
1. Toyota Rush accessories Philippines: Headlamps
The top TRD or Toyota Racing Development models for the Toyota Rush have LED headlamps and tail lights installed and they look gorgeous, but let's say you have the lower-tiered models or you want to upgrade them to stage 2 projectors or replace them?
The aftermarket definitely can give you options out there. Only your imagination is the limit with what you want your headlamps to look like, you can find KAT – Kustom And Tuning on Facebook to hook you up on some sick brights.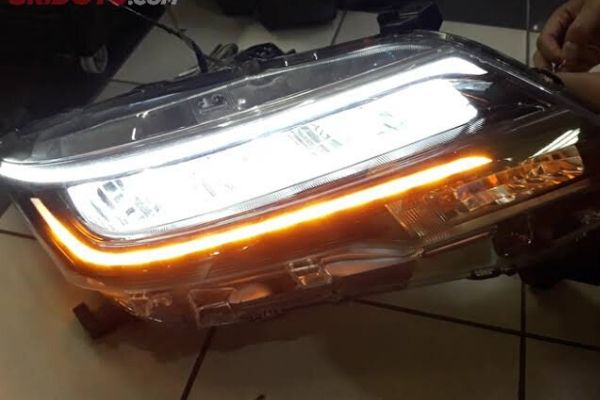 The stock lights on the Toyota Rush look great, but these are better
>>> Related: A short guide to LED car headlights: Basic parts, types, price & more
2. Lowering springs: Toyota Rush accessories to improve handling capabilities
One of the Toyota Rush model's biggest selling point is its ride height. There are many, though, who want to give their Toyota Rush a sleek makeover by sneezing up its stance by lowering it by a few inches. By lowering your car it lowers the vehicle's center of gravity vastly improving its handling capabilities.
Autospecs Motor Sales on Facebook can sure hook you up on that part. That might just sound like an excuse but it really does improve handling and makes your ride look amazing with flush stance and some decent wheels. Speaking of wheels...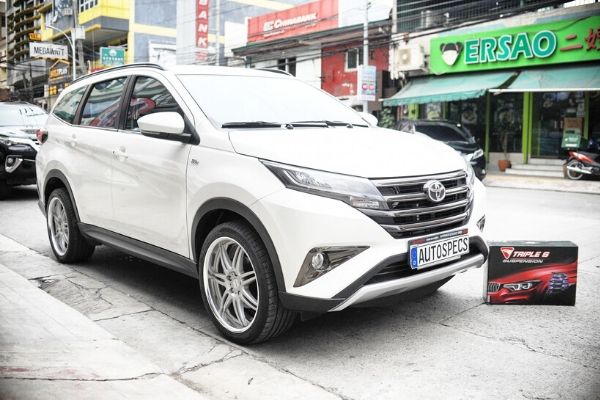 Lowering springs improve the stance of any car
Toyota Rush 2018/2019 Philippines Review & Road Test || Price, Specs, Buying advice & More
>>> Related:
3. Alloy wheels and tires: TRD Toyota Rush accessories Philippines
The 17-inch TRD alloy wheels look OK on the Toyota Rush, but both guys and gals will tell you, new shoes will always make your day even better. The same goes for the Toyota Rush.
Since the Toyota Rush Philippines runs on leaf springs like a truck, why don't you put a set of offroad mags and tires and stick some decent spacers in there while you're at it? Or these sweet mags that complement the car even better than the stock ones.
Upgrading your mags and tires have their benefits as well. Lightweight wheels and tires are considered unsprung weight, meaning reducing them would significantly improve the way your car drives and handles. You will find it will affect acceleration, turn-in rate, and even fuel economy.
These aren't just reasons to convince your significant other to buy you new wheels but are legitimate! Yes, they are! Ask Ryan of RF Wheels on Facebook for the best set and the best prices.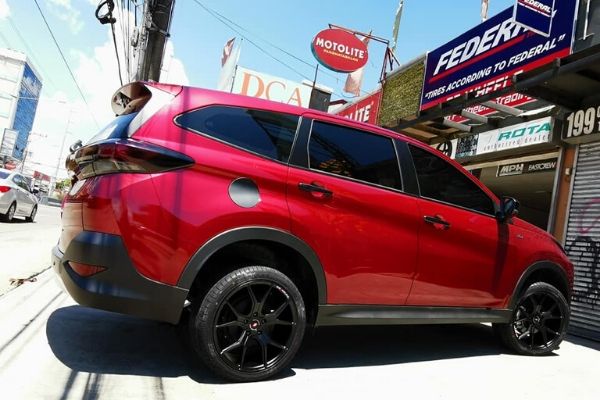 Admit it, after looking at this pic, you suddenly want the Toyota Rush
4. Toyota Rush accessories: Performance packages
There is no replacement for displacement, or so they say. The Toyota Rush seems to have this saying ring true as it most definitely is not a speed demon, not by a long shot. Thank your lucky stars there are shops out there that can help you wring out every ounce of performance out of your Toyota Avanza.
Speedlab, one of the more premier tuning garages in Manila has a power package that can drastically increase power and torque by installing a special piggy-back computer to the ECU to set the engine free from the constraints set by the manufacturer for one reason or another.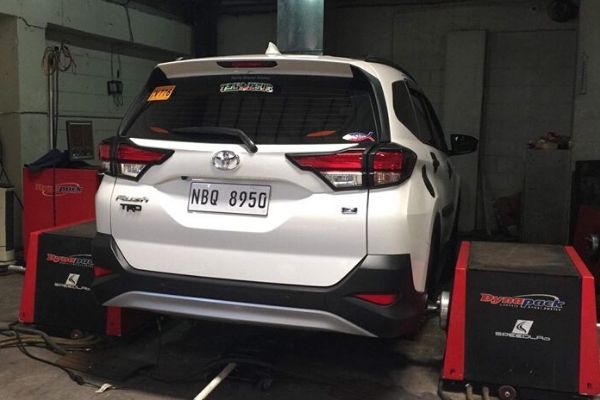 For a reasonable price, you can upgrade your car's ECU with a piggyback computer
>>> Tips to buy car accessories in the Philippines:
Another mod is for the exhaust system. DRIFT Xaust located in Taytay, Rizal can help you out on that. Modifying your car's Air intake and exhaust system frees up the car to combust fuel more efficiently and exhaust all the spent gasses and give your exhaust note an inspiring upgrade.
Luckily all these modifications and Toyota Rush accessories Philippines are all simple bolt-ons that can easily be removed by the garage when the time comes you want to upgrade even further or remove them to sell the car. With all these modifications, though, why would you want to do that?
2019 Toyota Rush Catback exhaust system
5. Ceramic coating: The amazing accessories for your Toyota Rush
Ceramic Coating is an amazing procedure where you coat your car in a compound formula increasing the clear coat's surface hardness making it less susceptible to light scratches or swirl marks. You wouldn't want to mess up your Toyota Rush's perfect look, would you?
There are a ton of Garages that can do ceramic coating in the Philippines but I've found Derudz Auto Care on Facebook with experience in coating a Toyota Rush. It may be more expensive than regular waxing but the benefits justify the price.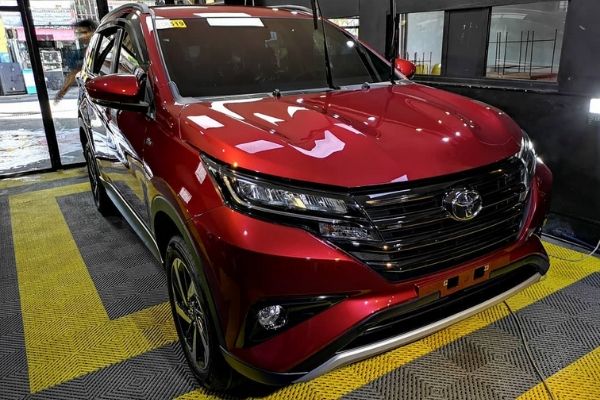 Ceramic Coating gives your Toyota Rush a durable long-lasting shine
There are many other Toyota Rush accessories in the Philippines you can use to modify your vehicles, but again, you wouldn't want to go overboard, would you? Just remember to keep those mods tasty and tactful.

Know more about Toyota Rush 2023

The Rush 2023 is Toyota Motor Philippines (TMP)'s entry to the local competitive multi-purpose vehicle (MPV) segment. Considering its relatively large size and affordable pricing, the MPV is regarded by some as an entry-level SUV to the Japanese car brand. Toyota Rush Price in the Philippines ranges from PHP 983,000 to PHP 1,176,000 with 3 different variants. Under the hood, it is powered by a 1.5-liter 2NR-VE inline-4 DOHC gasoline engine that makes 102 hp and 134 Nm of torque. This engine can be connected to either a 5-speed manual or 4-speed automatic transmission. Dimensions-wise, the Rush spans 4,435 mm in length, 1,695 mm in width, and 1,705 mm in height. In the local market, this vehicle from Toyota Philippines competes against the likes of the Mitsubishi Xpander and Honda BR-V.
There are many SUV-like features that the Toyota Rush offers such as a relatively high ground clearance rated at 220 mm and its new seating configuration that makes seven as standard across all variants. It is considered as one of the best value for money especially for those who wish for a relatively affordable family car. In other markets, the Toyota Rush is called the Daihatsu Terios due to the Japanese automaker's partnership with Daihatsu Motor.

Roy Robles
Author