A short guide on the LED headlight for a car: The advantages, how it compares to other types of headlamps, and how to install them
LED headlamps for cars: Introduction
Headlamps are part of a car's essential features, especially when driving at night and in low light conditions. Throughout the history of the automobile, it has taken many forms.
In the early days, horseless carriages utilized carriage lamps, which used a burning wick steeped in oil to generate light, with mirrors to direct the illumination toward the road ahead. However, the construction of these lamps made them unsuitable for traveling at the sort of high speeds that became inevitable as automotive technology became more advanced.
Eventually, manufacturers used acetylene lamps, moving on to an electricity-based lighting system with the introduction of the 1912 Cadillac Model 30.
The early 90s saw the arrival of high-intensity discharge systems or HIDs, introduced on the BMW 7-Series, while the the first car to use light emitting diode or LED headlamps is the Audi R8, released in 2006.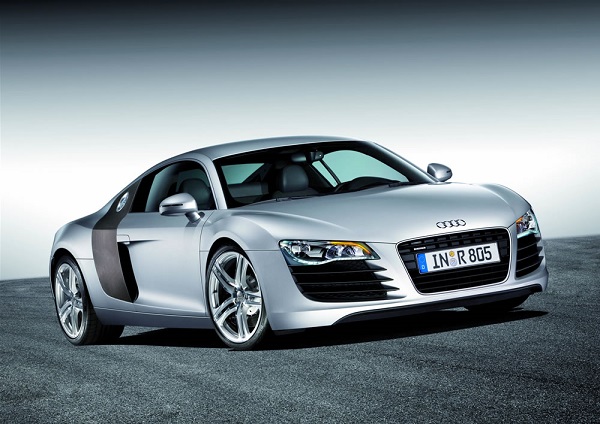 The 2006 Audi R8 was the first car to use LED headlamps
LED headlights are increasingly becoming standard kit on current models sold both in the Philippines and in overseas markets. There's also a considerable market for aftermarket LED bulbs.
Now why is that?
For those of you who are new to cars and car modifications, here's a useful guide on car LED headlamp bulbs and why they're the superior choice. Let's check out with Philkotse.com
1. Basics of a car headlight bulb
Before we begin to talk about LED bulbs and headlights for car, let us first show you the basic parts of a car headlight bulb.
The parts of a modern automotive headlamp
Halogen headlamps are currently the most basic kind that's still available today, yet LED types use more or less the same layout. The LED bulb itself is positioned in the center of an elliptical reflector, that bounces off the light that the bulb emits onto a single point on a lens. The lens then intensifies the light and distributes it as a beam towards the front of the vehicle.
All cars are equipped with selectable low and high beams as standard. This is made possible through the cutoff shield, which is positioned on the center where the light converges due to the reflector.
As many car guys know, there's a wide selection of car headlight accessories currently available in the market. Ranging from the aesthetic (colored headlamp covers, "car lashes" that give the impression of eyelashes on the headlamps, car "eyelids") to the technical (brighter LED bulbs, entire headlamp assemblies), you can find these items both online and at the many physical automotive stores such as those in Banawe, Quezon City.
>>> Also check out: Car lights and the importance of checking them regularly
Now…let's move on to types of LED bulbs for cars.
2. Car headlight LED bulbs: Types, Sizes, & Comparison with HID and Halogen
Car LED bulb types: Dual Beam vs Single Beam
As we've said earlier, most cars today come with high and low headlight settings. To accomplish these beam directional settings, some headlamp assemblies use a single bulb that has a built-in high and low beam function. This is called a dual beam bulb.
Examples of dual-beams include the H4, H13, 9004 and the 9007. Some models, however, will require you to purchase two individual bulbs, one for the low beam and another for the high beam. These include the H1 (high beam) and the H7 (low beam). These are the single beam bulbs.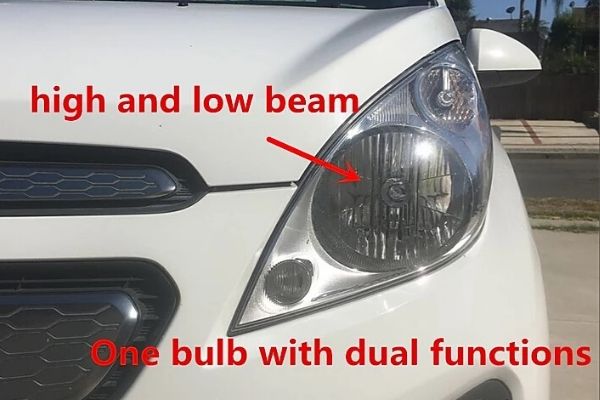 An example of dual beam headlights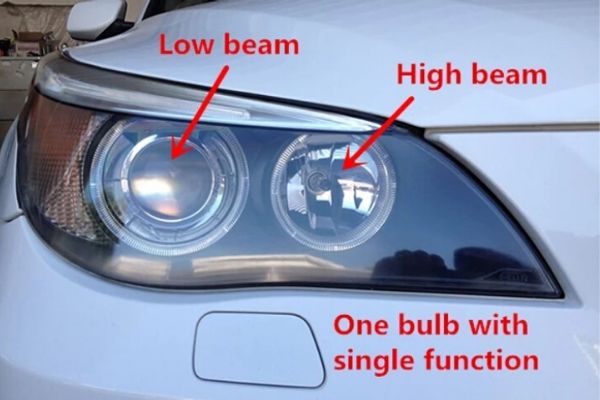 Single beam setup, with separate bulbs for low and high beam settings
Single beam headlights are equipped with two bulbs per headlamp assembly, whereas dual beam headlights have just one bulb per headlamp.
>>> Related: When to use high beam headlights?
Car LED bulbs vs halogen vs HID
Each of these types comes with its own strengths and weaknesses. To start off, halogens are noted for their affordability, but they tend to be fragile and have a short lifespan.
Meanwhile, HIDs have a high output in terms of lumens, but this makes them energy-intensive, apart from the high output potentially dazzling drivers of oncoming cars. Furthermore, the high levels of heat generated by HIDs make them a fire hazard, especially if incorrectly installed.
LEDs are bright, last longer compared to halogens and HIDs, and also generate less heat. The one disadvantage that LED bulbs have is their higher production cost, which explains why they tend to be pricey in the market.
Apart from these types we've mentioned, there are also other headlamp types that have been relegated to the annals of automotive history. One example is Xenon headlights which are reasonably bright and have a broad coverage, although they give out a strong glare. Xenon bulbs also need to heat up in order to attain full brightness, which can be a pain.
There are also laser headlights that work like typical bulbs, but use lasers instead of beams. Laser headlights are said to be 30% more efficient than LEDs while also having longer reach. The biggest drawback to laser headlamps however is the price, being much more expensive than LEDs and costing up to three times as much as Xenon lights.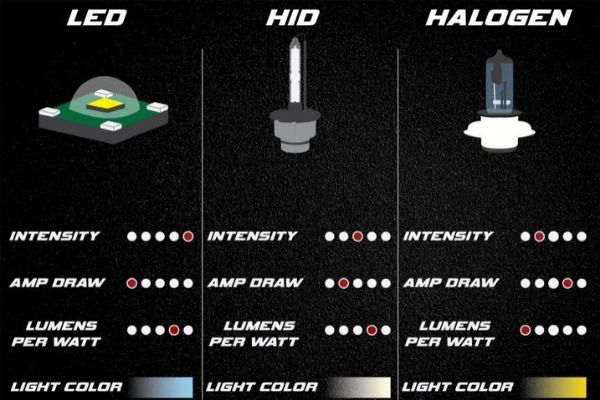 A side-by-side comparison of LED, HID, and halogen bulbs
>>> For further reference:
3. How to install LED headlights in the car
Step #1
If your car's stock LED bulbs are showing signs of faltering, check your vehicle owner's manual to determine the exact kind of bulb it is using. Better yet, remove the bulb and bring it to an automotive store so that it;s easier to ask for a replacement. When in doubt, we recommend contacting your vehicle's authorized dealer.
If you're converting from stock halogens to aftermarket LED headlamps, the easiest way is by purchasing an LED conversion kit. Scroll down to view a list of our recommended  best car LED headlight brands. A typical LED headlight conversion kit comes with two LED bulbs, a pair of ballasts, and wiring. Be careful with these.
Step #2
Next, we recommend taking pictures of your halogen headlamps in order for you to compare them with the LEDs you'll be installing. If the halogens prove to be more effective, give the inside and exterior of the headlight cover a good cleaning and re-install the halogens.
Step #3
Locate a wall where you can initially measure the height and intensity of your stock headlight beam. Park your car about 20 feet away facing the wall, and turn on your headlights.  Mark the spots where your light hits the wall.
Step #4
To start the installation process, make sure your car is secured: turn the engine off, remove your keys from the ignition, engage the parking brake, and disengage the battery. It's a good idea to place chocks against your car's wheels as well, to prevent it from moving.
How to install LED headlights in your car
Step #5
Pop the hood to access the headlamp assembly through the engine bay, and carefully pull out the currently installed headlights, using the user manual as a guide. In case you don't have a copy of the manual, locate the rear of the headlamp bulb and remove the connecting wire using a flathead screwdriver.
Step #6
Next, turn the bulb connector slowly and gently to release it. You'll then find a metal base fastened by a tension wire. Press down on the wire to unlock it, sliding the headlamp out of the housing.
>>> You might like to read: Why You Need To Replace Headlight Bulbs In Pairs
Step #7
Take the connector end of the ballast and attach it to the end of the bulb and the wiring in your car. Check if you've placed the ballasts correctly by lightly tapping on them.
Step #8
Secure the ballast by using double-sided tape. For a more secure fit, you can also drill holes for screws.
Step #9
Test your LED headlights, checking their aim using those marks on the wall you made earlier. If the lights do not correspond to the markers, reorient the bulbs.
Step #10
If you're still unsure of doing it by yourself, seek out reputable shops along Banawe St. that can both sell and install your aftermarket LED conversion kit.
4. Considerations when buying headlights
LED light bars are prohibited, especially in city driving.

It's illegal to install LED lighting on other parts of your car's exterior.

You can install two additional LED fog lamps, provided that the assemblies do not contain more than 6 bulbs each.

LED conversions should not be overly powerful as to dazzle oncoming traffic.

LED headlights must be yellow in color, and incapable of blinker mode.
5. Where to buy LED headlights for your car in the Philippines
Novsight LED Philippines
These plug and play bulbs are available both on their Facebook page and Lazada. They have a wide selection of products at a range of prices, ensuring that you'll find the ideal LED conversion kit for your needs and budget. Prices for Novsight LED kits range from Php 905 to Php 3,290.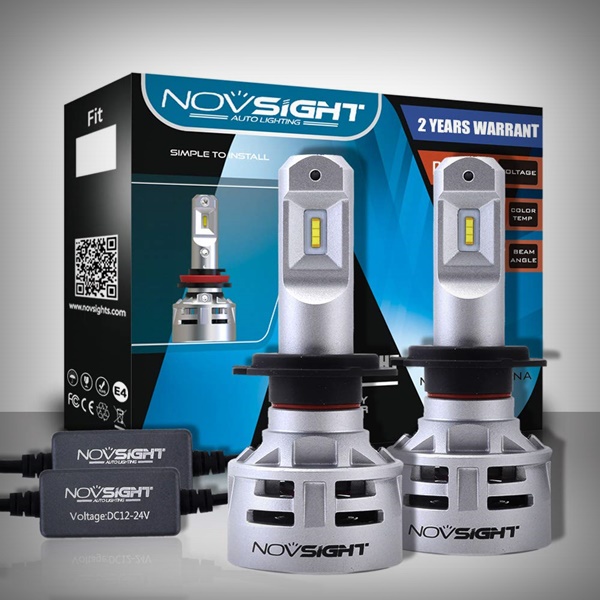 An example of a Novsight LED conversion kit
Retrofit Shop
Located on Ortigas Ave. in Pasig City, Retrofit Shop not only stocks LED conversions kits and anything else you can imagine in relation to headlamps and automotive lighting, but their staff can also perform installations as well as repairs. For Retrofit's pricing details, you can contact them at (02) 664-8283 or at 09088183545.
Redline Auto Works
Redline Auto Works also sells car parts, including LED lights, and install them on your ride. For Redline Auto Work's pricing details, you can contact them at +971 54 535 5686.
There are other automotive shops that you can find just by spend time shopping for car accessories around Banawe, Quezon City. All it takes is to ask around, and we're sure we'll find what you're looking for.
Banawe features an entire street of car shops that can both sell and install the accessories you need


Cesar G.B. Miguel
Author