Here is a list of different car modifications that can get you in trouble with the law. The following car modifications are deemed illegal in Philippine's national roads and highways
Many people have the ultimate dream of owning a luxurious or expensive car, with superb engine, large wheels and excellent brakes. Rare is a car owner who is completely satisfied with a car the way it rolled off the showroom floor, which is why car modification and customization is big business.
Apart from maintain the car's components and improving its performance, modifications are done to improve the car's appearance (or make it more appealing to the owner's tastes at the very least). To upgrade your car involves modifying parts of the vehicle, and there are numerous shops in the country offering customization services to gearheads.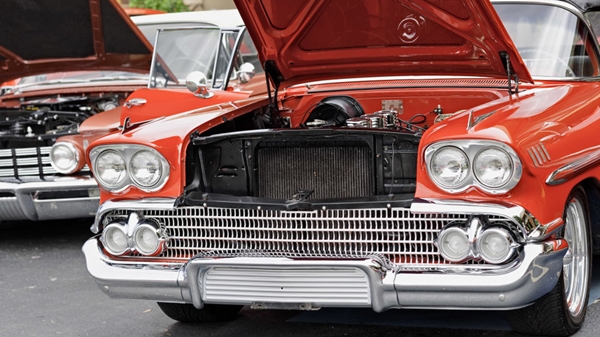 Car modifications are in-demand among car enthusiasts
However, before you modify your ride, keep in mind that not every aftermarket modification is allowed on the road, especially those that can potentially endanger other road users and impair your ability to drive safely. Philkotse.com does a rundown of which car mods should be avoided.
1. Car modifications that are prohibited by the law
Licensed Plate Frames
Some car enthusiasts and drivers want to customize their license plate frame, not just for aesthetics, but to also keep the plates secure and intact; after all, drivers are responsible for maintaining their plates as part of their registration renewal requirements. Most customized licensed frames also display a logo of the car owner's favorite sports team, or one that endorses the dealership where the car was bought.
However, some custom license plate frames obscure the plate number and render it difficult to read at a distance, which is against the law. In addition, tinted plate frames aren't allowed as well.
>>> Check out: How to Replace a Failing License Plate Light.
LED lights and other headlights
One of the most popular car mods is undercarriage lighting, designed to add more attitude and style to a car.
Bear in mind that certain types of light mods such as blinkers and LED lights are against the law, because this type of vehicle modification are reserved for authorized law enforcement and emergency vehicles only. Additionally, neon colors are also prohibited, as well as excessively bright accessories such as LED light bars that can dazzle and blind other motoriists, leading to accidents.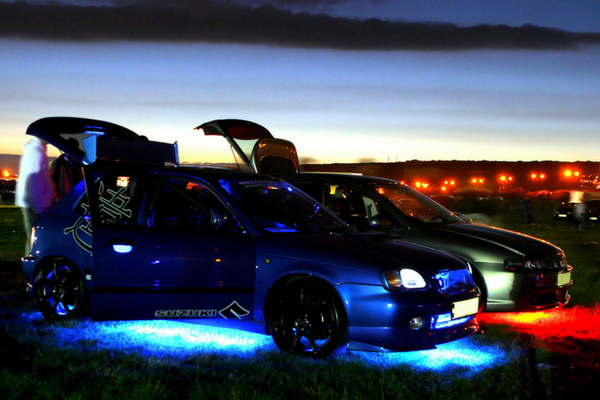 One of the most popular car modifications is undercarriage lighting
Whistles and sirens
Just like blinkers and LED lights, adding bells, whistles, sirens or any other form of early warning devices used by emergency vehicles are also not allowed on private cars. The Land Transportation Office released Joint Administrative Order No. 2014-01, which states that unathorized vehicles with these accessories present a hazard to road safety.
>>> Good to know: Customizing the car audio system: 7 tips for Filipino drivers.
Lifting the car's body frame
Another car modification that arguably enhances the car's performance and appearance is the addition of lift to increase ground clearance. For most car enthusiasts, lifting enhances the vehicle's ability to traverse rough roads. But in certain countries such as the Philippines, limits are imposed on the amount of lift that a vehicle should have, as excessive height can increase the vehicle's center of gravity, make it prone to rolling over during high-speed turns, apart from compromising the driver's view of the road.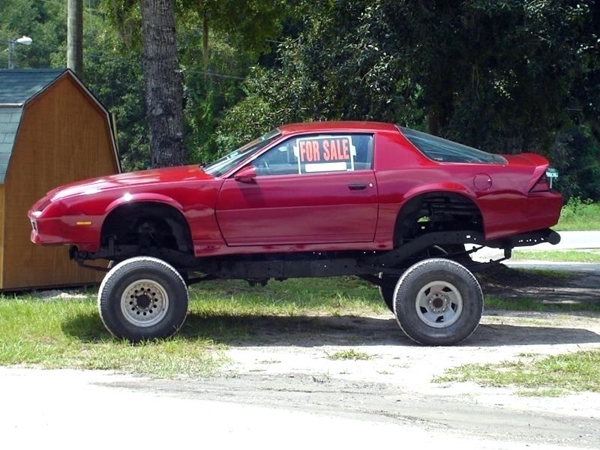 For most car enthusiasts, lifting enhances a vehicle's roadgoing abilities
Studded tires
Installing and customizing studs on your car's tires can improve performance and traction on rough terrain and slippery roads. However, these types of tires can damage pavement, which is why this kind of car modification is prohibited if you're driving on national roads and highways.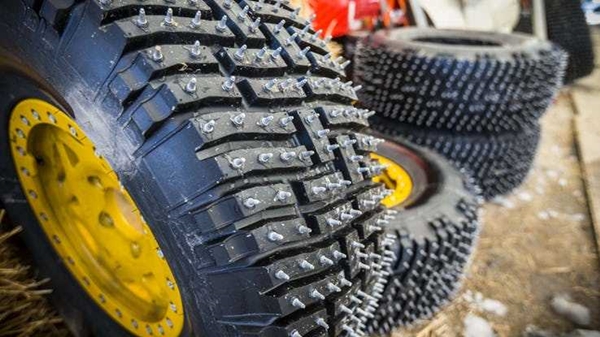 Placing studded tires on your car can increase grip, but at the expense of pavement
According to the LTO's Department Order No. 2010-32, alterations to the steering wheel assembly, brake system, suspension, air-conditioning system, exterior, and interior trimmings do not necessarily require a change in the vehicle's classification, but the following car modifications are considered illegal.
Chassis modification
Axle modification
Extended body or chassis
Extended overhang
Extra sidings of dump trucks
Change of rim size
Alterations of muffler and hand bar
Reconfiguration of body designs and dimensions.
>>> Useful article: Car modifications in the Philippines: What do you make of this?
Here is the released statement of the Land Transportation Office and Department of Transportation regarding car modification for everyone's guidance:
"Modification of a motor vehicle was defined by Department Order No. 2010-32 dated 08 September 2010 with subject: Harmonization of Motor Vehicle (MV) Classifications of LTO and LTFRB.

"The DO is aligned with the United Nations Economic Commission for Europe (UN-ECE), the standard followed by other ASEAN countries.

"Section 5, Number 5.2 of the Order states: "The modifications involving safety and environment shall not be allowed, such as the following: Axle modification; Chassis modification; Extended chassis/body; Additional siding of dump trucks; Extended overhang; Change of rim size; Modification of handle bar and muffler; and Reconfiguration of body dimension and design."

"Modification, or physical change in the existing motor vehicle design, is allowed provided a Certificate of Road Safety from the manufacturer can be presented by the owner, to prove that the modification will not compromise, in any way, safety. The same is also subject to inspection by the LTO for possible reclassification.

"Please note that tampering with the engine performance, drivetrain, suspension, wheels, and brakes of a vehicle, which are outside the approved parameters or its basic components, may affect its performance, and may compromise safety.

"On the other hand, enhancements to features and performance such as interior and exterior trimmings are allowed, for as long as the existing design of the vehicle is not compromised."
LTO Director for Law Enforcement Services, Francis Almora, recommends car owners and car enthusiasts secure a permit for their car modifications, stating the intended purpose of the said alterations.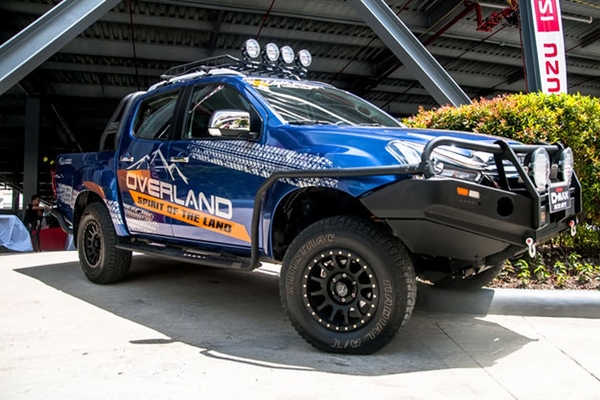 The LTO recommends car owners to secure a permit for their car modifications
He added,
"Modifying it as an off-road vehicle is OK, provided you ask for a permit and use it for the purpose you have modified it for. Do it off-road, not on a daily basis."
Many car owners enjoy the prospect of having a vehicle that is unique to their own preferences. The choice to modify your vehicle, however, comes with a responsibility to ensure that the alterations you make enhance the vehicle's capability without compromising the safety of other road users, be it fellow motorists or pedestrians.


Hanna Sanchez
Author