While most vehicles are getting an update, there's no word yet on a Philippine-spec Toyota Rush. As such, here's our wishlist for the brilliant Toyota made compact SUV.
In this review...
Introduction

Exterior

Interior

Engine & Performance

Ride and Handling

Safety Review

Price list

Specsheet

FAQs

10. Toyota Rush 2022 Philippines Review: Conclusion
1. Toyota Rush Philippines Review: Introduction
Known as the Daihatsu Terios (among other monikers), the Toyota Rush compact SUV might seem like a new arrival to the Philippine market, but it actually traces its roots back to 1997, a time when Nu-Metal bands reigned supreme and the ladies swooned over George Clooney being the sexiest man alive.
In those days, the Terios was something more akin to the Toyota Rav4; a compact crossover short-wheelbase SUV that could fit only five people. Despite the car-like character, the old Terios had a rather high center of gravity.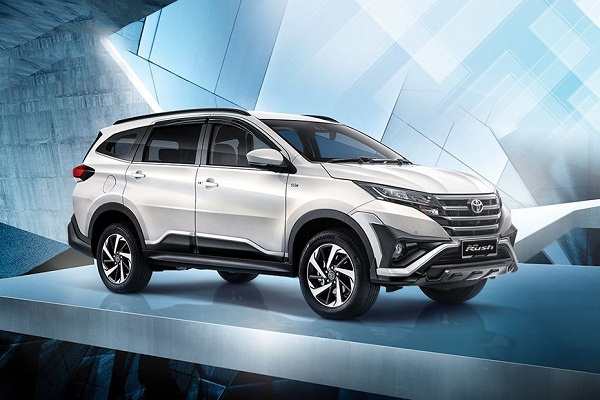 The Toyota Rush, otherwise known as the "baby Fortuner"
Fast forward to 2017. Created to replace the Revo, the Toyota Innova's price point was a bit prohibitive for buyers who were looking for MPV levels of space and capabilities without having to spend for too much, although it does have its own massive following. The third-generation Terios was unveiled and eventually branded as the Toyota Rush, released to the Philippine market a year after.
With 2020 just around the corner, what does Toyota Philippines have in store for the Toyota Rush? Consider this our wishlist of things that we hope would be present on the upcoming Toyota Rush Philippines.
2. Toyota Rush 2022 Review Philippines: Exterior
Facelifts can be tricky to execute; they can either make or break a car that's in the middle of its product cycle. The fourth-generation Honda City's refresh lent a degree of sportiness to its otherwise conservative-looking exterior. At the other end of the spectrum, the Hyundai Tiburon RD's facelift didn't do it any favors, with resulting four headlamps on the fascia resembling the eyes one might find on a spider.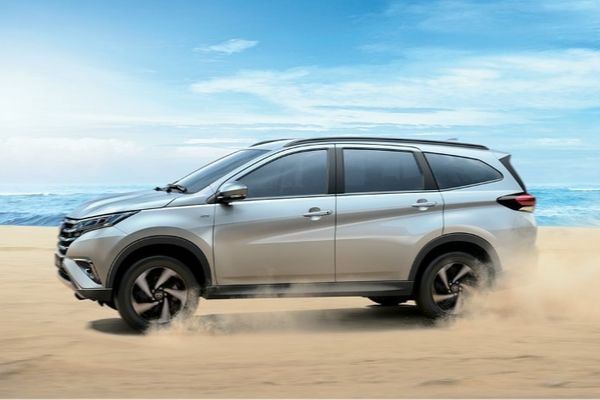 The gently sloping roofline balances the exterior proportions on the Rush
Currently, the Toyota Rush is one of the better-looking compact SUVs in the market right now, conveying both elegance and capability with the Fortuner-like aesthetics which really make it look tough and capable. Since the Rush already has an attractive exterior, we'd like to see more functional additions instead, like an automatic tailgate with an obstacle sensor. But other than that, we actually wouldn't want Toyota to change the exterior all that much.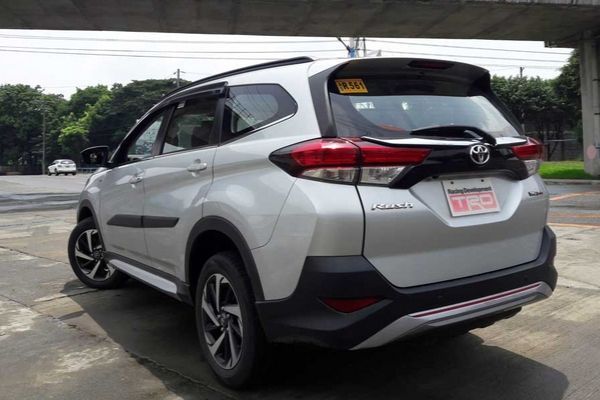 The Toyota Rush TRD edition with blacked-out accents
YOU MAY WANT TO READ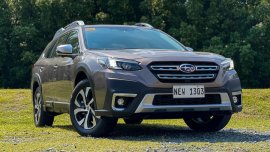 Model Price Philippines
₱ 2,380,000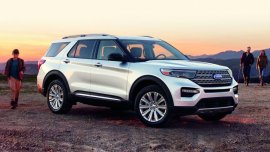 Model Price Philippines
₱ 2,998,000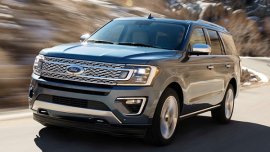 Model Price Philippines
₱ 4,479,000 - ₱ 4,612,000
3. Toyota Rush Review Philippines: Interior
For a vehicle of its size, the Toyota Rush currently on sale has a middle row that feels spacious. We also appreciate the current build quality and the materials used, with the fabric seat material looking as durable as the ones found on the 2019 Vios. The straightforward layout is a boon for functionality. There may be some cheap plastic bits inside, but those will likely outlast the fancy soft-touch interior parts found in more luxurious models.
When it comes to onboard tech, we'd like to see the infotainment system's touchscreen grow a bit in terms of size and connectivity options. The current setup uses a seven-inch display that works sufficiently, but it doesn't come with either Apple CarPlay or Android Auto. The Weblink OS works well enough, although not without its share of niggles. The eight-speaker audio system can stay since it provides good aural feedback.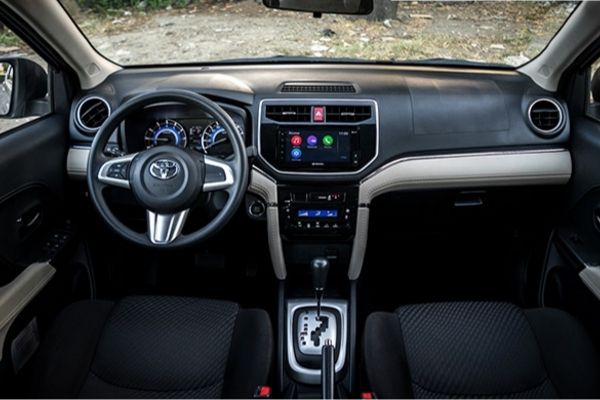 The cabin is simple and neat while providing ample levels of comfort
Another thing that we'd wish on the Toyota Rush 2022 interior is for Toyota to make the reverse camera standard across all variants. This feature is especially useful when parking in large cities like Metro Manila that tend to have crowded parking lots, with motorists elbowing each other out to maximize every available inch of space.
As far as seating on the Rush goes, we don't see Toyota changing up the current seating arrangements on both the five-seater and seven-seater variants; they're already flexible enough and can be configured into different positions, and cargo capacity is also pretty decent. As for the driver's seat, maybe the updated Rush can provide it with a greater degree of adjustability, as well as a telescopic steering wheel.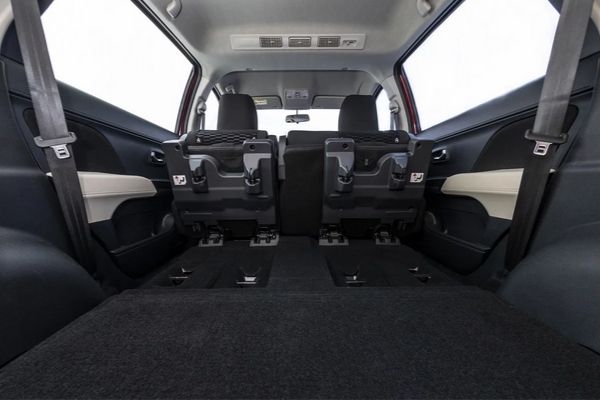 The foldable third-row seats aboard the 2019 Rush make for a cavernous cargo area
>>> Worth to read the comparison of Toyota Rush against strong rivals in the market: 
4. Toyota Rush Philippines: Engine & Performance
We don't want Toyota to touch it for now. The current 1.5-liter gasoline mill already presents a decent compromise between power and fuel economy. The engine enables the Rush to do 14 km/l on the highway and around 7 to 8 km/l in city traffic with passengers. The rear-wheel-drive layout also helps with the relatively athletic disposition of the Rush.
Based on the Avanza and earlier examples of the Rush, we already know that this simple engine is tough. Really tough
The Toyota Rush currently shares the same 2NR-VE Dual VVTi powerplant with the Avanza, but we're still holding out hope for a diesel variant. It might be too far of a stretch, given that there's no diesel engine that is compact enough for the Rush that can meet emissions standards.
Toyota Rush E vs G
As you can see, the current Toyota Rush has only two main variants; the G which comes with the same engine and only with an automatic transmission, and the E which also uses the same 1.5 mills but can come with either a 4-speed automatic or a 5-speed manual.
Inside, both the E and the G variants are equipped with 7" touchscreens with largely the same connectivity options. On the lower E variant, it only comes with six speakers in contrast to the G's 8. On the multifunction steering wheel, the G also has the handsfree calling and a Smart Entry feature. The E variant only has the less advanced Keyless Entry.
The biggest difference between these two variants: Toyota Rush E vs G, is that the G can actually fit in seven people. As for the E, it can comfortably seat only five but it does have a significantly larger trunk capacity at 514 L. The G only has 213 L as its default.
The E and the G also come with identical safety equipment. On the outside, the G has a better suite of features specifically the wheels. The Toyota Rush G has a set of better looking and larger 17-inch alloys. The G's 16-inch set still looks great though but we think that Toyota Rush is better looking with the former.
Up top, the G also has a roof rail, which of course increases the vehicle's versatility.  And lastly, the Toyota Rush G's outer mirrors can also be retracted aside from being adjusted.
>>> Related: Which Toyota Rush should you buy? [Philkotse Guide]
5. Toyota Rush Review: Ride and Handling
As it's based on the Toyota Avanza, Rush has similar handling characteristics with the older compact MPV, which isn't a bad thing; the Avanza might be more conservative, but it's fairly nimble for a budget MPV. The Rush even sports a 220mm ground clearance, the better to handle unexpected ruts and bumps on the road, and even lets you indulge in a bit of light offroading.
Toyota Rush 2019 Philippines Review & Road Test || Price, Specs, Buying advice & More
If you want to buy a Toyota Rush or other hot-selling models from other brands, please do check out our cars for sale section. It has a number of brand new and pre-owned units listed. Who knows, the best deal you'll get is just waiting for you.
6. Toyota Rush Philippines: Safety Review
We'd want to see the Rush with equipped with Toyota's Safety Sense, which is a definite plus factor in terms of occupant protection. On the flip side, this will undoubtedly add a level of complexity to the vehicle that will drive the prices up. At the very least, they can start by offering Safety Sense on the top-spec variant of the Rush.
As it stands, the Rush already flaunts 5-star in the ASEAN NCAP for crash safety. It comes with an impressive complement of safety features such as six airbags, ABS with EBD, stability control, hill-start assist, ISOFIX, traction control, and a seatbelt reminder for every seat.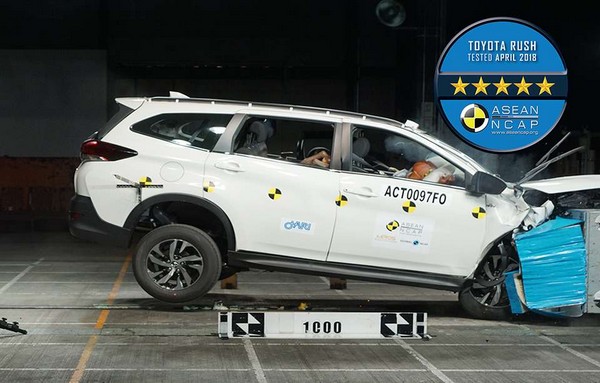 The Rush is rated at 5 stars for its safety, based on the 2017 – 2020 rating system
7. Toyota Rush Philippines: Price list
Here are the current prices of the new Toyota Rush in the Philippines.
Variant

Price

Color options

Toyota Rush 1.5 E MT price (5 seats)

P968,000

1. White
2. Black Metallic
3. Bronze Mica Metallic
4. Silver Mica Metallic
5. Dark Red Mica Metallic
6. Bordeaux Mica

Toyota Rush 1.5 E AT price (5 seats)

P1,008,000

Toyota Rush 1.5 G AT price (7seats)

P1,100,000
>>> Get the latest Toyota Rush Philippines price with the estimated monthly payments
For the newest model year, maybe Toyota Philippines might consider an enhanced version of Rush TRD? I mean, apart from the capabilities of the Rush already mentioned, the TRD variant looks very eye-catching, and it can serve as a potential platform to introduce Toyota Safety Sense and other fancy new technologies.
8. Toyota Rush Philipines: Specs
Here's the specifications of the current model Toyota Rush for your reference
Overall

Name

Toyota Rush

Body Type

SUV

Dimensions

Length

4,435 mm

Width

1,695 mm

Height

1,705 mm

Wheelbase

2,685 mm

Ground Clearance

220 mm

Curb Weight

1,670 kg

Number of Seats

7

Engine & Performance

Machine Type

2NR-VE, Dual VVT-I Gasoline

Engine Size

1.5 L

Number of Cylinders

4

Number of Valves

16

Transmission Category

 - 5 Speed Manual

 - 4 Speed Automatic

Max Output

102 Horsepower @ 6,000 rpm

Max Torque

136 Nm @ 4,200 rpm

Fuel System

Electronic Fuel Injection

Safety Features

6 SRS Airbags

Anti-Lock Braking System (ABS)

EBD

Emergency Brake Signal (EBS)

Stability Control

Traction Control

Parking Camera

Other features

Steering System

MacPherson Strut with Coil Spring and Stabilizer

Front Suspension

McPherson Strut with Coil Spring

Rear Suspension

5 Link Lateral Rod with Coil Spring and Stabilizer

Front Brake

Disc

Rear Brakes

Drum

Tire Size

215/65 R16 (Type G)

215/60 R17 (Type TRD
>>> Visit the nearest Toyota Philippines dealerships for further details regarding latest promos, financing options, etc
9. Toyota Rush Review: Frequently Asked Questions
Q: Is the Toyota Rush an SUV or MPV?
Toyota classifies the Rush as an entry-level SUV. Toyota Philippines said though that the Toyota Rush combines the ruggedness and functionality of a high-end SUV with the spaciousness and versatility of an MPV.
Q: What is the average fuel consumption of the Toyota Rush?
The Rush can do 14 km/l on the highway and around 7 to 8 km/l in city traffic with passengers.
Q: How is the Toyota Rush's cargo space?
The E variants with 5 seat configuration have a significantly larger trunk capacity at 514 L, while the G variant coming eqipped 7 seats only has 213 L as its default.
Q: What are the engine & transmission options of the Toyota Rush?
All Rush variants share the same engine. The Toyota Rush is powered by a 1.5L 4 cylinder inline engine with Dual VVT-I that is capable of generating 102 hp at 6,000 rpm and 134 Nm of torque at 4,200 rpm. Both the 1.5 G and 1.5 E A/T variants have a 4-speed automatic transmission while the 1.5 E M/T has a 5-speed manual transmission.
10. Toyota Rush 2022 Philippines Review: Conclusion
Some of you might be wondering why we didn't go all-out with our expectations, and here are our reasons.
First, the price. There's a reason why Rush is already priced the way it is. Relative to other models out in the market, the Rush has competitive pricing, being a vehicle designed to provide the same reliability that Toyota has been known for, with plenty of practicality and utility mixed in.
It may not have much in the way of fancy tech, but that makes it easy to maintain. Some people like that in their cars, believing that the less complicated it is, the less chances of things breaking in the future.
All in all, a future update on the Rush would mostly center on its appearance and minor details, like a better driver's seat, tilt AND telescopic adjustment on the steering wheel, an automatic tailgate, and a reverse camera across the range.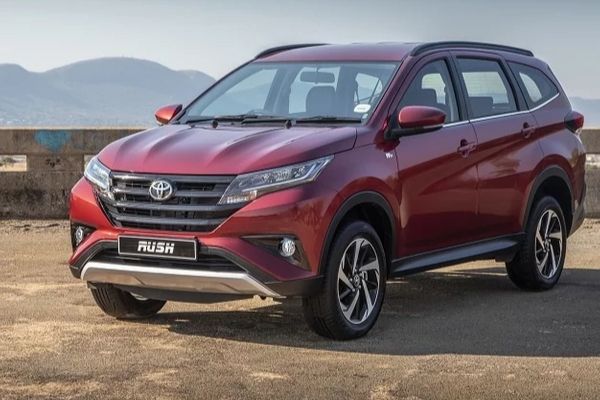 What else would you want to see on the 2020 Toyota Rush for the Philippines?
Also, keep your eyes on Philkotse.com as we offer your news, reviews, and insights about everything you need about cars, the automotive market and anything else!

Cesar G.B. Miguel
Author