Ceramic coating is a very effective way to protect your car's paint. Learn more about how it works, how it costs here in the Philippines, and what to do if it goes wrong.
What is ceramic coating for cars?
While the process has been done for years now in other countries, ceramic coating in the Philippines has only just reached some popularity in recent times.
Make no mistake though, it has not reached mass-market popularity as of yet but it is undoubtedly on the rise as more and more Filipinos are getting access to technology and the know-how on how on it works, and more importantly, the ceramic coating process itself.
While some of you car dudes out there are already aware of what ceramic coating is, let us take the time to define it first.
Specifically known as 9H ceramic technology, it was initially made for space and oil industry and now just recently made its way to cars. To get a simple grasp on the idea, imagine an onion which has numerous layers of skin.
The next layer is more protected than the previous one and of course, the onion itself is pristine and shiny. Now the inner skin of the onion is your car's many layers of paint and the outer skin, the one we actually see first, is the ceramic coating.
Now ceramic coating is pretty high tech as it actually involves nanotechnology. Tiny microscopic particles are used to construct that additional layer just like the onion skin which will adhere to the paint of the car.
But get this, unlike the onion, ceramic coating is actually invisible and it will not in any way diminish the color of your car's paint.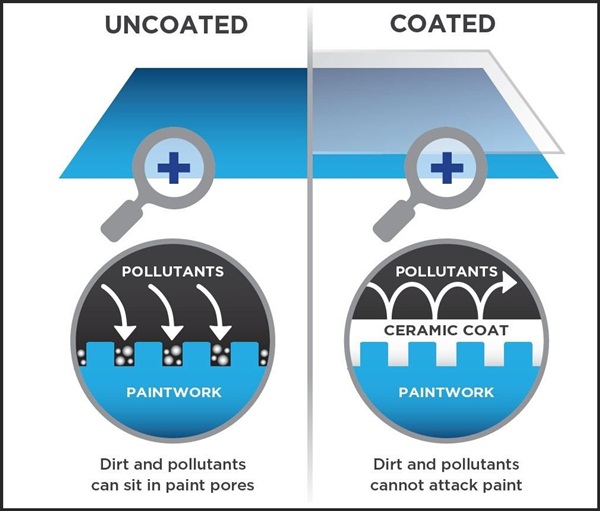 Here's how ceramic coating works on a molecular level.
The way it sticks to the paint is semi-permanent which means it will not just wash away when it rains or when you wash your car, unlike wax.
>>> You might like to read: Car wrap Philippines: A Practical Solution for Changing Car Color
What does ceramic coating do for cars?
In comparison to other car protection methods like automotive wax, the ceramic coating is a newer paint protection solution that relies on its really strong microscopic bond to your car's paint as such it will last longer.
It provides a lot of purported advantages like added paint protection against UV rays, bugs, bird crap, as well as those annoying but minuscule droplets of tar, especially on hot summer days.
To get more technical, it actually blocks pollutants and is hydrophobic meaning it will actually repel water. In comparison, a plain clear coat alone actually has pores and dirt and other nasty stuff will actually get into those said pores and will inevitably destroy your paint.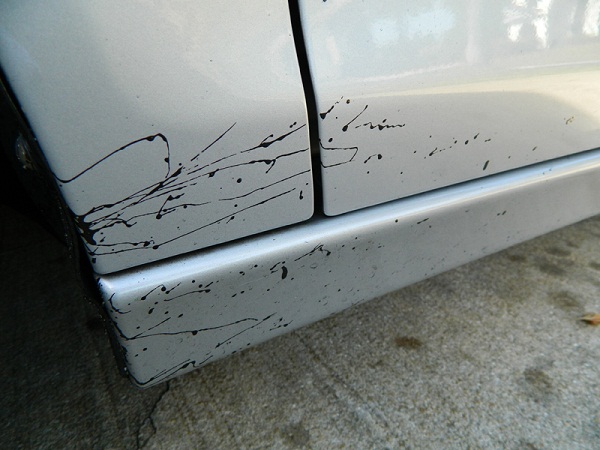 Tar on your car is a pain to remove but with ceramic coating, it can be made easier.
In addition, the ceramic coating is actually really hard and will to some degree protect your paint job against the sand that causes micro-scratches. Take note however that ceramic coating will not make your car invincible to scratches. It just makes it a little more resistant.
And lastly, it will protect your car from oxidation which you commonly see with cars whose paint are fading or dull looking. Also to some degree, it will protect against rust.
So is ceramic coating worth it? Of course, it is! It is relatively accessible and that added protection is much more than what a mere layer of wax can do to protect your car's looks. Protect your car's looks and you will also protect some of its re-sale value. Additionally, it's easier to make your car look good.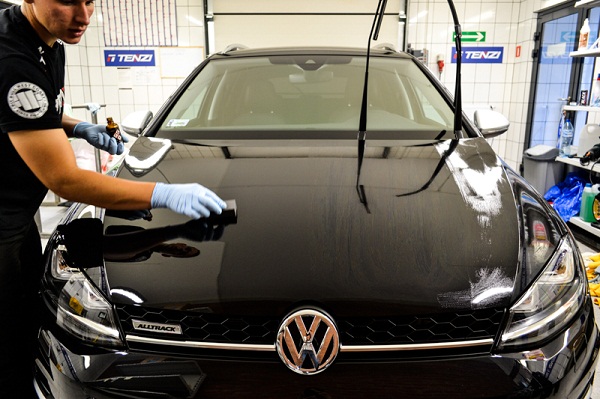 Your car will have this brilliant shine when applied with ceramic coating
How long does ceramic coating last?
Due to the strong bond to the car's paint, ceramic coating will actually last for a couple of years. But to be more specific, it will last up to two to three years.
As you know by now, our road conditions here in the Philippines even on inner-city roads and some highways are not perfect. As we've mentioned earlier, it is common to see the lower parts of some vehicles smeared with bits of tar that melted away due to the hot sun.
Some of us especially here in Metro Manila will inevitably have to drive through flooded roads, park our vehicles for hours on end under the hot sun, and drive through muddy wet roads so a ceramic coating will indeed do wonders for your car's paint in the long run.
How much is ceramic coating for cars in the Philippines?
Now in talking about ceramic car coating cost here in the Philippines, one must first consider the size of your vehicle. Take note however that is this only a rough estimate and is based on some of the ceramic coating companies we've contacted.
Ceramic coating price in the Philippines
| | |
| --- | --- |
| Car body type | Cost |
| Hatchback | Php 15,000 |
| Sedan | Php 19,361 |
| Premium Sedan (Larger Sedan) | Php 20,850 |
| MPV and SUV | Php 23,800 |
| Premium SUVs (Larger SUVs) | Php 26,000 |
Also, take note that most of these car detailing companies offer numerous other tiers of ceramic coating services that include a warranty with varying lengths of coverage time and other services related to ceramic coating so these estimated prices might go up.
They also usually offer multiple layers of 9H ceramic coats so that will also contribute to higher prices.
If you want further details yourself, here are some places you might want to give a ring.
Ceramic Coating Store

Contact

Ceramic Pro Philippines

23 Manga road, New Manila

Quezon City, Philippines 1112

Telephone: (02) 650 8145

Bigberts

Block 136 Lot 27 Casa Milan, Phase 5,

Mindanao Ave. Extension, Greater Lagro,

Quezon City, Philippines

Tel: +632-512-9343; +63917-8916731

Ziebart Carsavers

2226 Chino Roces Ave. Makati City

Tel: (02) 818 7777

Shimmer Car Coating

#81 Palico St. Palico Dos, Imus Cavite

Tel: (02) 245 1182

Choose Nano Auto Detailing

115 Tandang Sora Ave, Tandang Sora, Quezon City

Tel: 0906285 7032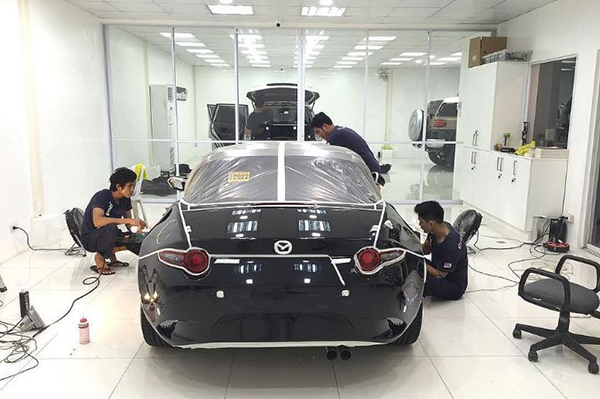 The guys at Ceramic Pro Philippines are doing their coating 
How to differentiate between ceramic coating, diamond coating, & glass coating a car?
When talking about performance, ceramic coating and diamond coating for cars will do just about the same and will last just around the same time.
Among the three, the only one that really stands out is the glass coating which lasts for a shorter time (about a year). Also, there are some structural differences between the two in terms of microscopic scale.
While they have their atoms have the same proportions, silica crystals found in ceramic coating have an ordered pattern in comparison to the dynamic pattern found in glass and by extension in the glass coating.
So which one should you choose?
If you want it to be quick, easy, and longer-lasting, you'd want to go for ceramic coating. Now glass coating for cars in comparison takes longer to apply and costs more. As such, it's all up to you.
>>> Related post: Car Waxing, Detailing & Polishing: What's the Difference?
How to ceramic coat a car?
There are several steps a typical detailing shop will have to do to coat your car. In order for you to understand it better, here are the steps involved;
Step #1: First, they make sure to eliminate all minor scratches, stains, and imperfections from the surface of your car.
Step #2: Second, they remove all possible contaminants like grease, the wax coating you previously applied to your car, and other dirt.
Step #3: Third, The actual application of the ceramic coating itself.
Step #4: Ceramic coating actually needs to set and cure for at least three days. This ensures the best results.
If you'd want your car coated in ceramic, you'd have to do without your car for about three to five days. If you have opted for more layers of coating, your waiting time will definitely increase.
Can I DIY it?
Of course, you can as there are actually ceramic coating kits for sale online. There are also guides that can help you out. Be warned though, WE DO NOT recommend this at all and it is overall safer to do it through a professional detailer.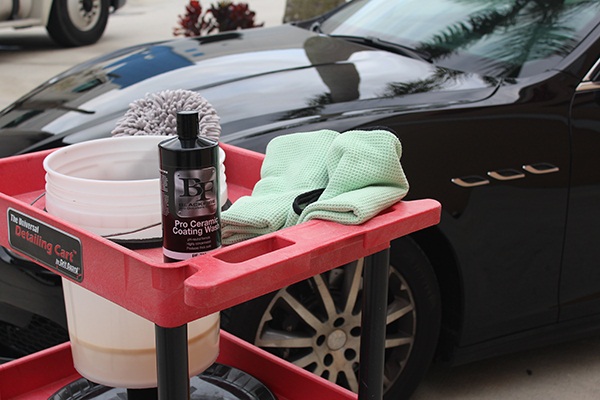 Prepare all the needed thing in hand for a DIY ceramic car coating
Ceramic coating Philippines: Aftercare
There's isn't actually special stuff that you need to do to a car with a ceramic coating. If the car gets dirty, just wash it like you usually do with actual car shampoo and not just with any rag. Use a microfilament cloth instead.
If your car has been crapped on by birds, smeared by tree sap or coated by dead insects, immediately remove them as these things are acidic and will damage your coating if left alone.
>>> Worth to note: Fix a peeling coat on your car: 9 essential steps for all drivers
Ceramic coating gone wrong: What to do?
In some rare cases which is more common when doing it by yourself, some very visible mistakes will happen. Here's what a ceramic coating gone wrong looks like:
As you have seen, some spots on the hood and the trunk were blotchy and does not look good at all. This happens especially if someone had wiped a cloth on a ceramic coat which didn't have enough time to cure.
If you hired a professional service to apply your wax coating, many of these establishments have a warranty and will perform the necessary steps to correct the mistake.
BAD Ceramic Coating Application! (HORRIBLE STREAKS)
If you did it by yourself though this is what we recommend:
Wash your Car. We already shared tips on how to wash your car properly in our previous article from Philkotse.com.
Apply car cleaners like CarPro Iron X or any other brand of iron remover.
Apply an automotive clay bar which is a resin mix used to remove contaminants from your car.
Dry the car
Use CarPro Essence Plus on the bad spots of the ceramic coating. There are other similar brands of non-abrasive gloss agents out there but Essence Plus is the most common.
If you want to do over your entire DIY ceramic coating, you can also machine polish the car entirely. This takes a lot of time, patience and specialized tools but it is effective in the total removal of ceramic coats.
Also, you might want to consider using commercially available chemical removers but these are quite strong and will have a bad effect on your car paint. Also, these are dangerous to handle so get a professional to apply it.
Ceramic coating for cars in the Philippines: Verdict
Overall for the ceramic car coating reviews, it is fair to say that will definitely protect the paint of your car. Take note however that this coating will not make your car's paint indestructible and will still require you to regularly wash your car. And of course, the only downside to this is the cost.
For more tips on car maintenance, please keep reading here on Philkotse.com.


Cesar G.B. Miguel
Author