Does your car need a new coat of paint without a long wait? With car wrapping, everything is much simpler with less invasive bodywork and painting involved.
Car wrapping is becoming one of the popular auto trends these days, which is easier, more convenient and cost-effective than a paint job. This alternative is considered as a fast modification for your vehicles, with many color options as well. Car wrapping is an easier process that involves wrapping vinyl all over and getting a fresh new look, unlike the usually painful process. 
Getting the best car wrap is more versatile with all the design options that are available. Why settle for expensive paint jobs that cost a lot, and sometimes a botch paint job will cause unsightly bubbles too. Another thing about car wrapping is that it can be used for any vehicle imaginable as well. Another term for car wrap is Vinyl wrap as an alternative term to use, for no confusion.
Another important thing to know is how to take off plastic dip, for easy replacement. But, professional application of car wrap or vinyl wrap is better than DIY, any given day! This articles. Philkotse.com will cover essential tips to have a perfect pro car wrapping so as to optimize the effort in creating and jazzing up any car color palette too. 
Craziest car wrap I've done yet!
>>> Also check out: Car wrap Philippines: A Practical Solution for Changing Car Color
1. Choose types of wrap 
To choose the suitable kinds of wrap can be used for your car is a daunting task since there are more and more personalized options for most car owners! Here are the wraps that can be opted for, when getting a job done. They offer several options on how the car will look like; unlike using car paint! Here they are and how these vinyl wraps will differ. Giving wide options and color palette for that customized car wrap job.
Classic Gloss
Looks mostly like regular paint jobs, that has a glossy and smooth finished coat. Made in most colors, and has one with metal flakes as an accent too!
Satin
When compared to a matte finish; it's more gloss but not that much. The surface does not reflect as much, but more light is reflected with a matte wrap. Choose this as options for car vinyl to jazz it up.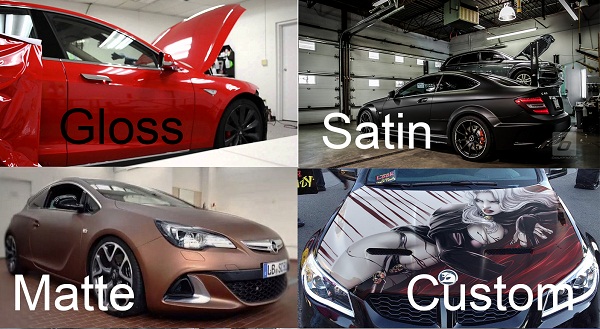 A wide range of different wrap types are available in the market
Matte
It has a finish that shows a few reflections and isn't that common, so people would go for that finish.
Brushed
Comes in either printed brushed texture or with a simulated brushed finish to choose from. The simulated brush texture will have a less reflective surface and more real looking!
Carbon
It either one with a carbon texture or another one with a printed finish to choose from. Both can be glossy or matte, according to preference.
The brushed texture makes car surface look shining and more real 
Custom print
Any image that can be printed; can be done in either matte or finish textures.
Cut out shape
Similar to car sticker printing but on a larger scale, for any custom graphic.
2. Remember to get the right size
Measure all relevant measures like the side of the vehicle, back, roof, bumpers, and hood to get a fairly exact size of the vinyl wrap needed. Take direct pictures for proper reference with all the exterior parts too.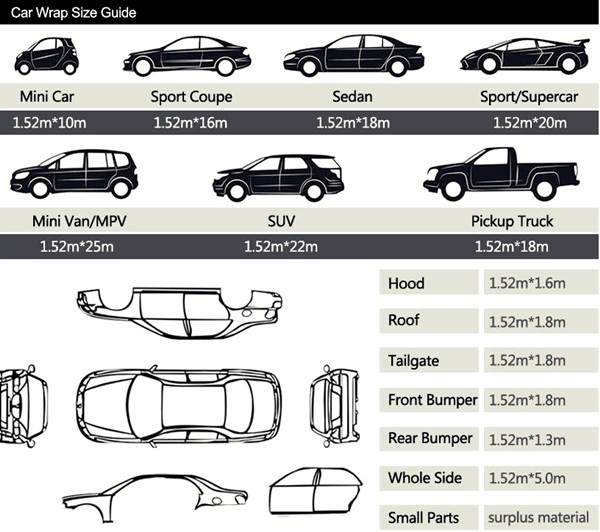 Car wrap size guide
3. Select a suitable brand and design
Choose the color of the wrap to be used for the vehicle. If using a design; decide and inspect how the design will turn out. Select the best and most durable car wrap or vinyl for the job; so the car vinyl can last longer. Getting cheap wrap should be an option but pick a fairly expensive one for a longer lasting job. The vinyl will give a finer finish as well.
Should the vehicle wrap be for commercial purposes; it should transit the right message. If for private cars; the design should be more personalized too!
4. Decide the store to have your car wrapping done
Before anything else; do some research, what is the best shop for installing the car wrap or vinyl. Getting the best contractor will be easy and there's no worry over any screw up when on the job! Check more than one; and see who offers the best recommendation for services when installing wrap.
Car owners who want a new and improved car look; may go for and full, partial wrap as possible choices for them. Another option is cutting and added more decals for that individualized look. Combining partial and full designs can be opted for; top make these look unique which depends on the design.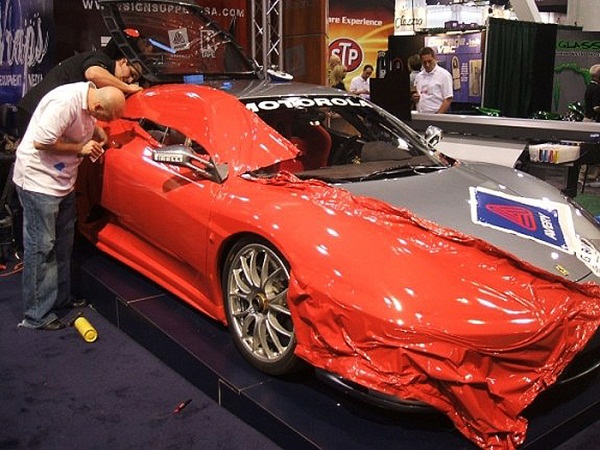 Have your car wrapped by the professional store to ensure no scratch to happen
5. Cleaning and maintenance after wrapping the car
Once the car wrapping and vinyl are done. There is a need to maintain it well; so that it can last a fairly long time with proper cleaning. Scratching the paint job is less of a problem that should be less worrisome too.
Last, and finally this sums up the total quality of everything to the job done. Going DIY is an option, but having it done by professionals is far better. Choose the wrong shop for installation; then expect to have problems that can be fixed.


Norjan Ismail Abbas
Author
Recent posts