Here is everything you need to know about car wrapping: Car wrapping pros and cons!
A lot of times a car owner would sit back and take a closer look at his car and think. Is it looking presentable just like it used to? Is it still shiny and looks like brand new? Or is the color starting to fade out and the car starts to lack in terms of vivid colors?
Most of the time, when a car starts to age at about 3 years and above, the original paint start to fade, scratches and dents appear. When this happens, a car owner would likely explore the options of painting the car or wrapping it.
1. Car wrap Philippines: What is it about?
Car wrapping is a process wherein a sticker of different materials (such as decal or vinyl) that is wrapped unto the original paint of the car to change the look of it. This solution is for car owners that don't necessarily see the need for a new tint or it can either be a custom choice for owners that are not looking for a long-term change.
Wrapping can either be done partially or in full. Before it was popularized as a practical solution for cars, it was primarily used for businesses and their advertising materials. These days, finding a car shop that offers car decals, car stickers or car wraps in the Philippines isn't hard anymore. In terms of application, car wrapping is considered to be one of the easiest methods of changing the over-all look of the car.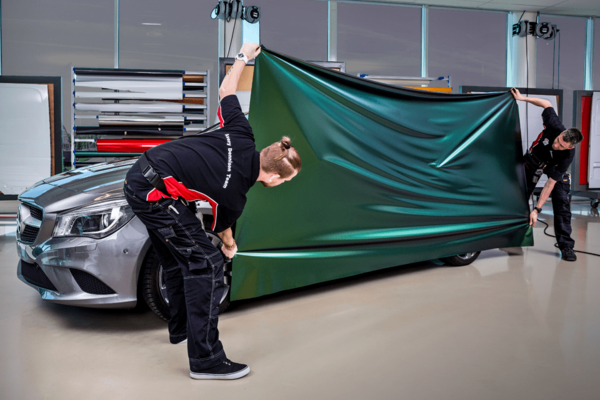 Car wrapping uses wrapping material that is often a decal or vinyl material
The car just needs to go under a thorough wash and clean-up, then, the chosen wrap is placed over the car and then exposed to heat in order to activate the adhesive part of the wrap. In totality, the whole process of car wrapping will take a maximum of 3-5 days. This also depends on whether you chose to obtain a full or partial wrap.
As this article progresses, it shall now cover the disadvantages and advantages of car wrap Philippines to change your car's overall look and color.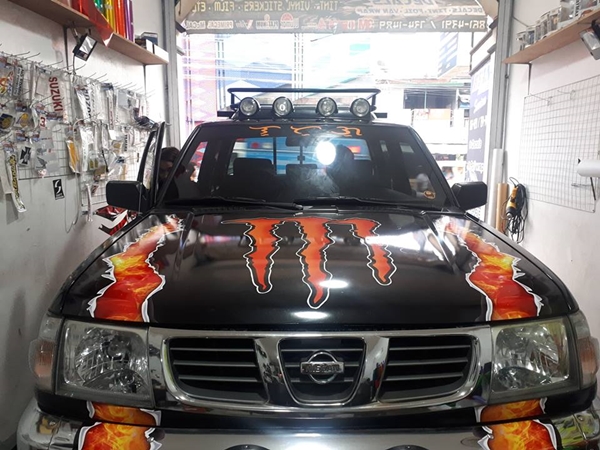 Service providers of car decals and car stickers Philippines are quite popular
>>> Also check out: Ceramic Coating in the Philippines: Overview of costs, advantages, process & more
2. Removal, application, and customization
Since car wrapping is just placing an adhesive sticker of various design and color of choice to the original paint of the car, removing it or changing it later is not a problem. Not to mention the fact that it takes up to only 5 days to change it or customize it upon request.
If you need a quick fix, car wrapping is the way to go. Car wrap Philippines comes in a variety of choices or designs that one could choose. There is a matte wrap, metallic wrap, and the trendy textured wrap for hardcore car owners. This provides a wide variety of options for a car owner to completely utilize.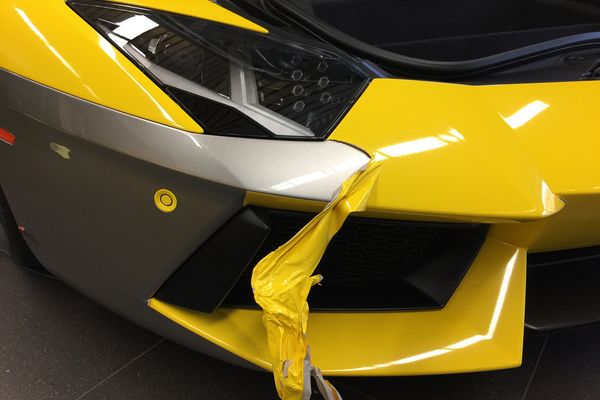 Removing or changing car wrapping is easy and it will not affect your car's original paint 
3. Effect on the resale value of the car
Undoubtedly, there will be cases when a car owner may opt to resell the car for financial reasons. Wrapping the car won't affect the cost or the selling value of the car since it won't damage the original paint that the car has. Wrapping only focuses on changing the color or appearance of the car without tampering the initial look or even its value.
>>> Read more: How to Increase Your Car's Resale Value?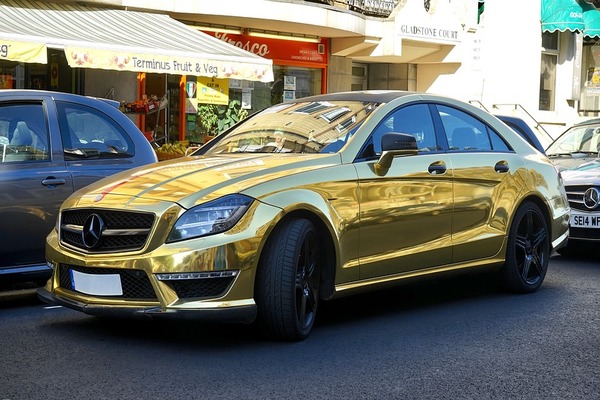 Car wrapping doesn't affect a car's resale value
4. Cost of car wrap Philippines
When a car owner canvasses for a car wrapping price, he will notice that there's not much of a significant difference to the cost of other recolor options such as painting and etc. to the cost of car wrapping. Painting takes into account the quality of materials to be used, the coverage area of the paint and the expense of the laborer. Similarly, car wrap costs will depend on the coverage area and the wrapping material to be utilized.
Car wrapping and car painting do not have much difference when it comes to total cost.
>>> Related: Which car colors are easiest to clean and maintain?
5. Maintenance & Durability
Car wraps are durable in a sense that it can last up to a maximum of 10 years if a car owner decides not to change it immediately. Yes, it can be scratched or may fade in terms of color. However, the expiration of the wrapping material will happen after 10 years or may depend upon the material used.
Generally, though, wraps are known to last for 5 years to 10 years which makes it a practical choice for those who want to change the color of their car. In terms of maintaining it, a simple wet or damp cloth can be used to clean the surface area - no need for the demanding and tedious task of washing the car.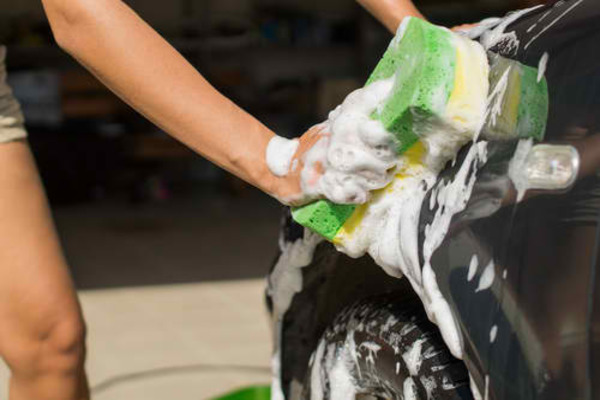 In terms of maintenance, a simple wet or damp cloth will be enough to clean your car's wrap
6. Car wraps Vs. Car Paints
One popular choice of changing the look and color of a car is repainting it. In comparison to car wrapping, car painting is the process wherein the original paint of the car is removed and then replaced with a permanent color. This process is recommended for those who seek to make the color change permanent and investing a high amount for a quality car paint is necessary.
If an owner decides to put the car on sale, it will be sold at a lower cost since repainting it reduces its value. Also, car paints require consistent maintenance. From the car shampoos to car washes, these are all done to maintain the gloss or the "brand-new" look of the car.
There is a lot to consider if repainting is chosen. Prolonged exposure to the harmful UV rays tend to fade the color and once scratched or dented; it will be permanently embedded into the paint.
Car wrap Philippines: Yes or No?
A car owner who reads this article from Philkotse.com, at lean on the decision of obtaining a car wrap which is definitely more practical, more durable and more convenient. However, this decision should be backed by research, physical canvasses and even referrals from car owners as well.
This article highly recommends car wrapping as a solution for changing the color of a car. But, know that when a car's paint job is in bad shape (can either be initially dented or scratched), wrapping is not a viable option. Regardless of how magnificent the car wrap is, it'll only emphasize and show the paint's flaws. In this case, a paint job is highly recommended.


Hanna Sanchez
Author