Go beyond clean to bring back your car to its original factory-fresh glory. This is all you need to know regarding car detailing.
Are you familiar with car detailing? Do you know what it means and how your beloved vehicle can benefit from that? Is it a DIY job or does it have to be done by mechanics?
If you truly care for your 4-wheeler partner, then this post is for you. Read it thoroughly to find the answers to the 7 most frequently asked questions related to car detailing in the Philippines on Philkotse.com.
Car detailing Philippines FAQ #1: Is it important?
For better or worse, Filipinos are known for being meticulous (some might say vain) about their looks. We take our time in preparing ourselves, from long baths to continuously changing our minds over our wardrobe, hairstyle and make-up, all to make sure that we don't just look presentable, but fabulous through and through.
Car Detailing Tips and Tricks (Bringing an Old Car Back To Life)
It isn't any wonder then, that a lot of Pinoy motorists exhibit this same obsession towards their rides. Of course, buying a good-looking car is just the beginning. But getting to stay stunning, even after years of ownership? That's the real challenge.
Sure, there's the routine car wash, vacuuming and rubdown that you pamper your car with every now and then. But to really bring out your car's dazzle the way it was originally intended, you'd have to turn to car detailing.
>>> Related post: 10 tip checklist on how to maintain your new car
Car detailing Philippines FAQ #2: What car detailing means?
Simply put, car detailing means the method of thoroughly cleaning and restoring your car's finish from top to bottom and inside out, using specialized products and techniques. The goal is to bring it back to a show-quality level of cleanliness and polish, basically involving reconditioning the aesthetics of the car, like the bodywork and the cabin elements such as the upholstery and the dashboard.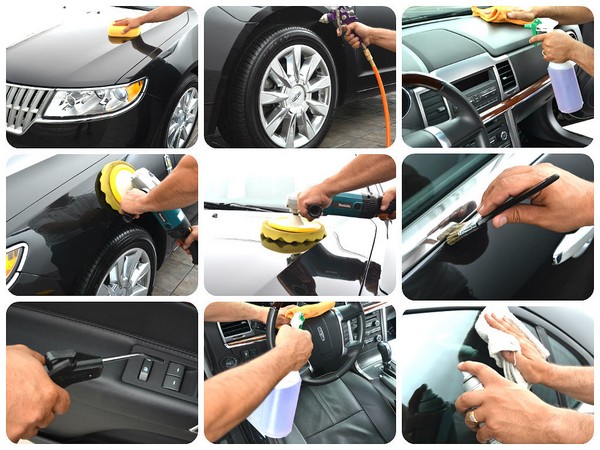 Car detailing means the method of thoroughly cleaning and restoring your car's finish
Simply soaping and hosing down your car might get rid of the dirt and grime that have accumulated over regular use, and vacuuming the inside might catch most of the dust that you bring in every time you board the cabin. But since a car wash only does a fraction of the clean your car requires, then it only achieves a fraction of the result.
Oftentimes, though, these seemingly routine chores tend to leave more damage to the car's looks over time: repeated wash and rinse cycles cause the paint finish to fade, careless wiping can leave streaks and scratches, and the seat fabrics might get frazzled eventually.
Car detailing takes cleaning to a whole new level. It's more restorative in nature, with surface imperfections buffed out and polished painstakingly, leaving your car fit to be displayed on any showroom floor.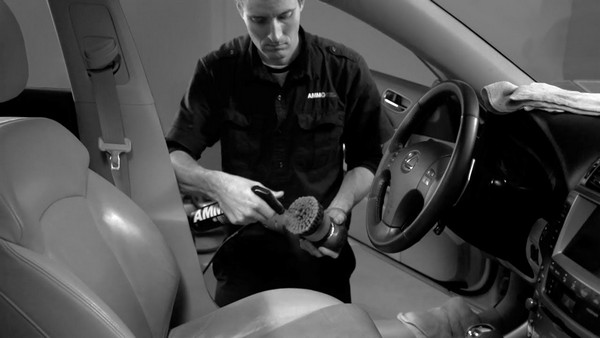 Car detailing takes cleaning to a whole new level
What detailing doesn't include though are corrective body repairs, such as dents, dings and other physical damage to the sheet metal. Often, car detailing is limited to some degree of paint restoration or light cosmetic work, such as paint chip touch ups, swirl mark removal or clear coat wet sanding, depending on the cars's condition and the competence of the detailer.
Car detailing Philippines FAQ #3: Can it be used on all types of vehicles?
Well, it's safe to say that detailing can be used on practically any wheeled vehicle (or any vehicle for that matter). From the smallest kei car to a monster truck, they can all benefit from specialized levels of cleaning, especially vehicles that are used a lot, and therefore undergo repeated car wash cycles that are particularly punishing to their bodywork.
Buffing Car DIY Buff Cars Detailing How To Auto Detail Before & After Video
Of course, as with conventional cleaning methods, the size of the vehicle determines the amount of effort it requires to meticulously clean, condition and return it to its previous luster. It takes more time, or it might entail a considerable quantity of cleaning products for a successful detailing task.
Car detailing Philippines FAQ #4: What are the kinds of detailing?
Detailing on a particular car is usually divided into three parts:
Detailing car exterior
Detailing a car interior
And detailing a car engine.
Detailing a car exterior is to clean, and afterwards restoring (or even exceeding) the car's original surface finish, which is glossy by default. This covers the visible components of a vehicle's exterior, such as windows, tires, wheels and chrome trims.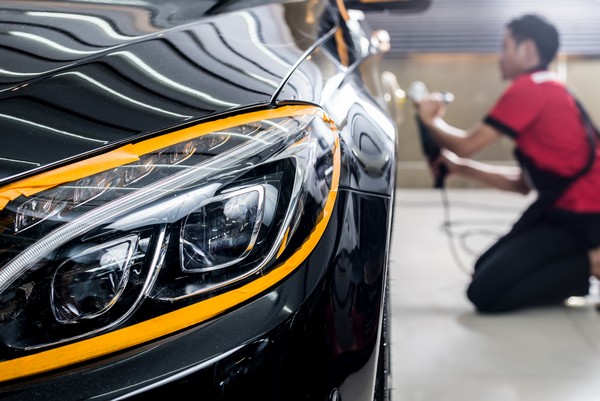 Exterior detailing is to restore the car's original glossy surface finish
Most of the cleaning products available on the market are focused on exterior detailing, such as degreasers to break down dirt and soil, detailing clay for removing embedded contaminates, an array of waxes and polishes. Tools such as buffers, applicators and special drying towels are also used.
Detailing a car interior involves a deep cleaning of the car's cabin. Various materials have been used on vehicle interiors, such as synthetic fabrics, leather, plastics and other materials, making it necessary to use a wide array of cleaning products and techniques.
Engine detailing is often skipped by many motorists who think that the engine bay was meant to be dirty anyway. But in reality, engine bay detailing is a very important step in the overall condition of your car. Apart from being nice to look at, a clean engine bay makes it easier to identify engine problems faster and easier.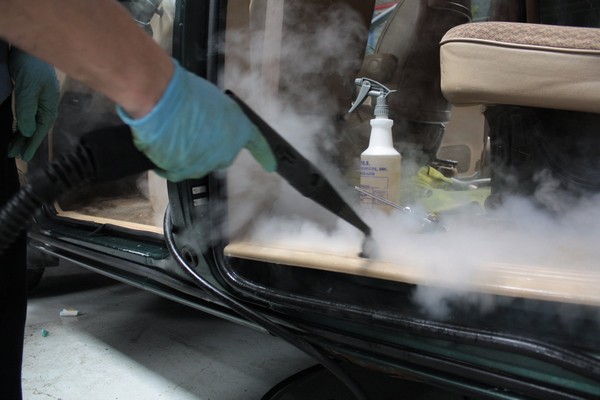 Interior car detailing Philippines involves a deep cleaning of the car's cabin
>>> Read more: Helpful checklist for car interior cleaning
Car detailing Philippines FAQ #5: How does it work?
Exterior dealing car
Exterior auto detailing services starts with the washing process as follows:
Thoroughly washed and cleaned to remove as much dirt and contaminants as possible. The vehicle will be fully wrapped in a foam solution and soaked, which will soften the dirt prior to rinsing.
Areas like the window gaskets, trim details and places around the badges might be cleaned with a soft detailing brush. With the dirt and grime now loosened, the foam will be rinsed off.
Wheel wells and arches, being the dirtiest parts of the vehicle, will be cleaned using specialist brushes to remove grime and brake dust from areas such as the brake calipers, suspension components and around the lug nuts.
The paintwork can now be washed, using plush wash mitts and soft microfiber towels (instead of sponges and chamois leathers that can pick up dirt and scratch the paint surface), using a two-bucket technique to avoid transferring dirt back onto the car.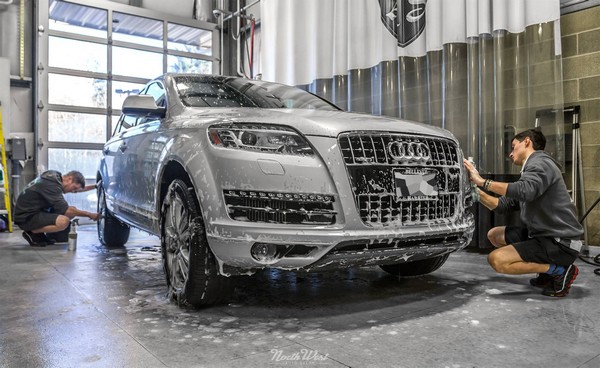 Auto detailing services: The washing process itself can take up to two hours
The washing process itself can take up to two hours, depending on the size of the vehicle.
With the car thoroughly washed, an automotive clay bar and lubricant will be used to gently remove surface dirt that were not removed during rinsing. This is an important step in car exterior detailing, since embedded dirt gets in the way of the polishing process.
The paintwork is then polished to remove swirl marks, scratches, hazing, oxidation and other imperfections, whether by hand or using a dual-action rotary machine. With different abrasive grades of polish used to continually correct and refine the finish, this is the most laboe-intensive and time-consuming part of the process, taking hours or even days to complete.
When the paintwork has been polished and free from imperfections, it's time to protect the new shine. Multiple layers of wax and sealant are applied to ensure the new finish lasts as long as possible.
Other exterior parts are also taken care of: window glass and chrome parts are polished, rubber components are revived and dressed for protection from the elements, and the wheels are waxed for enhanced shine and an exceptional level of detail.
>>> You might like to read:
Car interior detailing
For car interior detailing, the upholstery is vacuumed and shampooed thoroughly to freshen it up by removing embedded dirt and stains. Headliners are cleaned, while leather is thoroughly scrubbed, conditioned and protected. Plastics and vinyl trim are cleaned and treated for protection against UV exposure.
Best Interior Detailing Tricks: Leather and Plastics
Even small areas such as around the control switches and between the airconditioning vents are also brushed and swabbed to remove the smallest dust particles which have accumulated due to regular use. The process is just as time-consuming as exterior detailing, since every nook and cranny of the cabin has to be cleaned.
Engine bay detailing
For engine bay detailing, the engine bay is likewise thoroughly cleaned, polished and protected. Special care has to be taken in cleaning however, since the engine and its electronic components are vulnerable to water and anything else that might interfere with the combustion process. A light spray is often used, followed by a rubdown using a degreaser then rinsing. After drying, the silicone, plastic and rubber components are treated and dressed to avoid cracking and prolong their life against wear and tear.
Engine bay detailing is a very important step in the overall condition of your car
Car detailing Philippines FAQ #6: Are there benefits to detailing?
The main benefit of detailing is in vastly improving your car's looks, as it restores the vehicle's finish to showroom-ready levels, much like the day you first laid eyes on your dream car.
A good detailing job preserves the car's original glory against the elements, such as contamination, rust, UV damage and acid rain. This is especially true for cars often used near the sea, as they are prone to salt corrosion.
It's not only gratifying to see your car looking so fresh under your care, but it also increases your car's resale value, especially if it's an older or classic car that you intend to sell sometime in the future. A regular interior and exterior detail can bring your car's value up between 10-15%.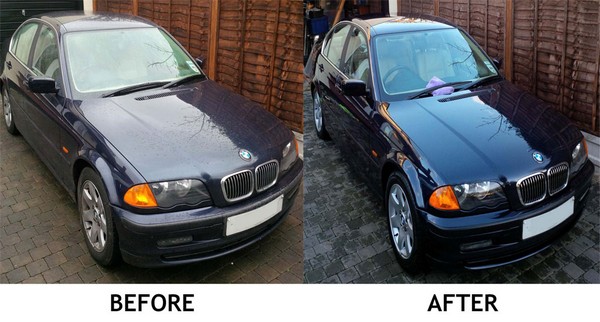 Car detailing: Before and After
Lastly, a properly-detailed car also benefits your health and well-being, especially with an interior that's free of germs, allergens and other irritants that can threaten your living space while you're out on the road.
Car detailing Philippines FAQ #7: Buffing Car Price?
Vehicle size is often a prime factor in determining how much a detailing job costs. Bigger cars have a greater surface area that requires more time, more effort and more products for an effective detailing session.
Car detailing prices in the Philippines
Item
Price 

Basic exterior detailing for small to extra-large cars

(Additional jobs such as claying, paint protection and ceramic coating cost extra)

From P2,300 to P3700
Complete car interior detailing price in the Philippines
From P2,500 to P4,000
Engine detailing
P1,000
Detailing packages bundling exterior, interior and engine jobs
From P5,700 to P8,500
That is all you need to know regarding car detailing. How you maintain your possessions is often a reflection of who you are, and this is especially true when it comes to cars. Looking after your car's appearance is a major investment which will definitely reap you rewards that are more than just eye candy. 


Joseph Paolo Estabillo
Author
Recent posts