Car cleaning work will become effortless with the following instructions.
How long does car interior cleaning usually take? Not too long, and even, the process would take less time than you imagine if you follow this basic checklist of 6 things to do to clean your car interior without going to any car maintenance center. With a vacuum cleaner, towels and cleaning products, you are already equipped with most of the necessary things to start. 
Now, check these out!
>>> Read more: 10 easy steps guide to wash your car at home
1. Car interior cleaning: Carpet and seats
To clean the details where most dust settles like carpet or floor mats, a vacuum is a perfect choice. However, before beginning, remember to remove all coins, paper or junk food wrappers. You may want to slide seats forward and backward so as not to miss anything. Also, floor mats should be shaken well for dirt to get out.
Sometimes, dirt could be caked between the grooves on the floor mat due to coming into contact with water for long time. In this case, a stiff brush could help to try loosening the grime. Then we can go to the carpet and seat parts with the vacuum cleaner. Try to reach places like the floor beneath the seats, around the pedals and front seats.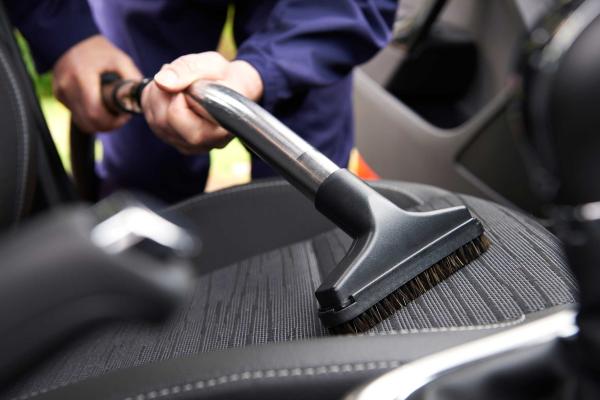 A vacuum is a perfect choice to clean carpet and floor mats
2. Car interior cleaning: Stains
There might be chances something dirty will spill over your car seats, especially if you have kid(s) in your car. For minor stains, you can easily remove them with a mixture of regular laundry detergent and warm water. Dip a clean cloth in that mixture, squeeze it out well then rub dirty areas forcefully. Do again with another dry cloth and the stains should go away. For bigger smears, spray cleaners should be used. After spraying, all you need is one more dry cloth, wipe it carefully till the seats dry.
3. Car interior cleaning: Leather surface
In principle, leather cleaner should be sprayed onto the surface of the items then you could rub on the leather surface with a towel. For such that costly leather items, premium leather care products are advisable. And also, if you are using a new product, don't apply it to all leather items but just a small amount first. If you find your leather not to be sticky or slippery, you can go ahead with the rest.
After applying the compounds, wipe the leather with a clean soft cloth, not with paper towels, otherwise they would create scratches. For leather steering wheel and shifter knob, simply, you can use a clean and moist cotton towel to rub on leather surface.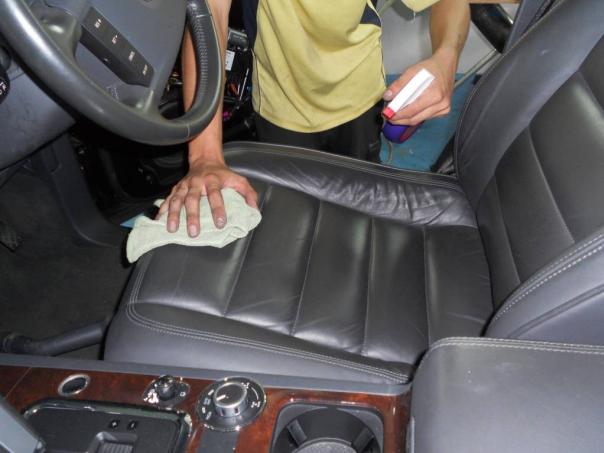 Premium leather care products are advisable for cleaning leather items
4. Car interior cleaning: Wood and plastic dashboard
How to Polish & Clean a Car Dashboard
The front panel, which we frequently see, seems to be the hardest part for cleaning job with all the knobs, switches, vents, and dusty nooks. However, with the right tools, nothing is impossible.
For the dashboard, start with a soft brush attachment. But the cleaning tool would be replaced by a barely moist soft clean cloth if you intend to clean the leather-covered upholstery since this kind of material is vulnerable to scratches. For woodgrain-finished dash, you can use a little bit spray polish. But remember to get the spray away from any stereo and electrical parts.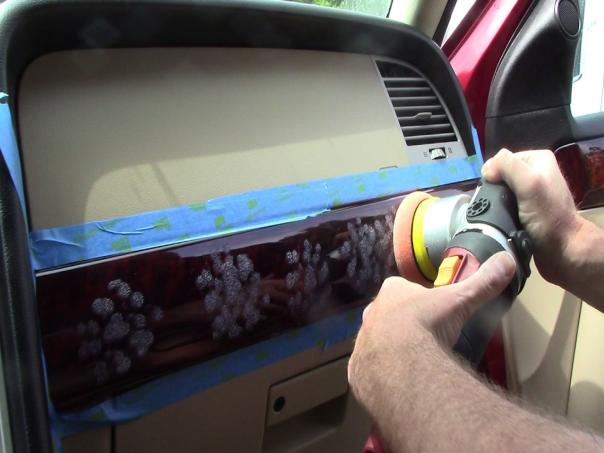 For the dashboard, start with a soft brush attachment
5. Car interior cleaning: Windows
This is the simplest part inside to clean, but yes, it deserves to be in your checklist for car interior cleaning. And you have already known what to do with the windows, a cleaning spray and a towel. Now, just pay much attention to the rear window. Make sure not to let the cleaning spray liquid run down on the inside of the rear window. There might be a chance that the liquid could affect the defogger heating lines.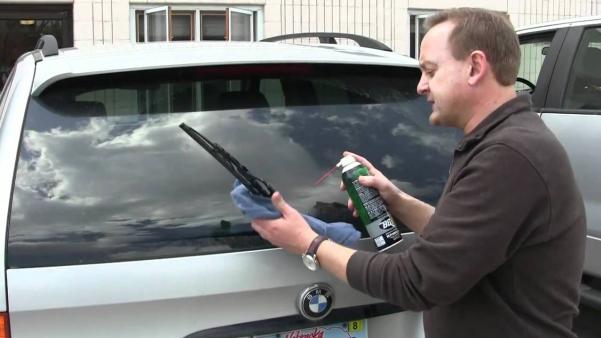 Pay much attention to the rear window
6. Car interior cleaning: Bad smell
Firstly, make sure there is nothing causing the unpleasant smell stuck in a hidden or hard-to-reach place. You might want to check if there are clogs in the drain tube, or mildew under the cowl. If you still didn't find the bad smell after all searching and cleaning efforts, you might need to have a look at your air conditioner.
Once you find out the sinner, a car freshener or other odor treatment products might usually be good enough for bad smell handling. It's also a good try if you spray those onto the outside air intake vents. One thing to notice, if you are a smoker or regularly travel with pets, odors will come back in car. Make sure you are aware of how smoking in cars does harm to your health and also decrease the resale value of your car.