Here's our short guide on car aircon cleaning services around Metro Manila and Cebu. It includes several details like contact details, rates, etc.
1. Car Aircon Service: Introduction
Regular car aircon maintenance is the biggest thing you can do to your car's AC if you do not want it breaking down sooner than expected. Why? Because it's probably the one car interior feature that uses the most parts and the drawing the most energy from the car.
And of course, we know that things that utilize power on the regular…those things will eventually break without maintenance.
So, in order to help you save your car's aircon system from its eventual demise and find the nearest aircon cleaning service center in your area, here's our guide on car aircon cleaner services located in Metro Manila and in Metro Cebu.
2. Car Aircon Cleaning Services in Manila
Maxicon Car Aircon Specialist
Address: 45 President's Avenue, BF Homes, Parañaque, Metro Manila
Contact No.: (02) 820 5426, 09175010872
Located in 45 President's Avenue, BF Homes, Parañaque, Maxicon Car Aircon Specialist, as the name implies, provides multiple services all focused on car air-conditioning systems.
Their services range from simply detecting freon leakage using dyes to actual very complicated job of car aircon compressor replacement. Maxicon Car Aircon Specialist also uses very modern car aircon cleaner tools so be assured that these guys won't be poking around aimlessly inside your car.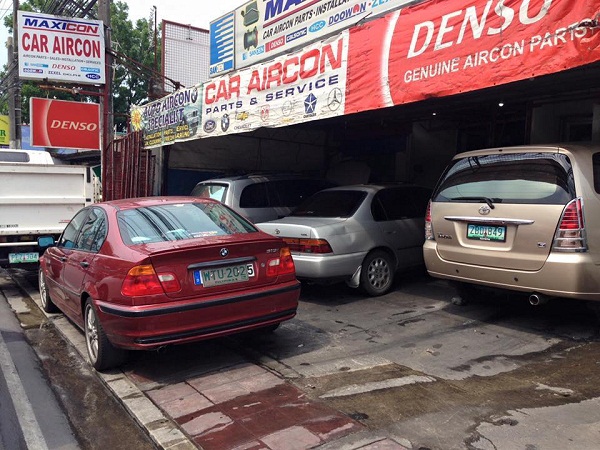 Maxicon Car Aircon Specialist can cater to luxury brands, classic cars, and foreign brands
According to their website, they can also supply a prospective buyer a number of car's aircon system parts for different car brands and even for foreign and classic cars. Foreign brands that they can cater to include Ford, Mercedes-Benz, Opel, Audi, Volvo, BMW, Chrysler, Lexus, GM, and Chevrolet.
Here's a table of their specific services and their car aircon cleaning price:
| | |
| --- | --- |
| Service | Starting Price |
| UV Dye Leak detection and freon recharge | P1,500 |
| Freon Charging | P500 |
| Car Aircon Diagnostics/Leak testing | Free |
| Car aircon cleaning service / Leak detection | P3,500 |
| Car Aircon Compressor replacement | For quotation |
>>> Check out these tips in case you want to have a proper DIY car aircon cleaning.
Meg Car Aircon Service
Address: 600-B, Shaw Boulevard, Barangay Kapitolyo, Pasig, 1600
Contact No.: (02) 632 9637
Meg Car Aircon Services has been around since 2007 so they're veritable veterans in the industry of car aircon repair, maintenance, and car aircon cleaner. Due to their good reputation as evident from their high ratings on their social media pages they're quite popular. So, if you want to visit them to avail of their services, you'd do well to contact them ahead.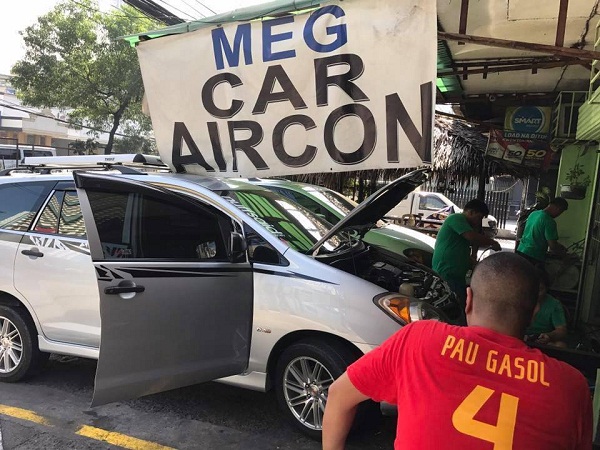 Meg Car Aircon mechanics are doing their work
Also, note that Meg Car Aircon Services is working in a partnership with Grab Philippines. As such, they see different types of car aircon problems every day. That's a really good indication that their staff are experienced and will fix up your car's AC in a timely manner. Grab drivers are sensitive about their time after all.
Here's a list of their services
| | |
| --- | --- |
| Service | Description |
| Free Check-up | A thorough inspection of all car AC components. Takes 30 Minutes. |
| MOTOLITE Batteries | Another factor of a faulty AC can be your car's batteries. As such, Meg Car Aircon Services also sells original Motolite car batteries. |
| Cleaning of Individual car AC parts plus Freon | For price quote |
| Repair Malfunctioning car A/C | Takes four hours and up. Involves checking and repair of all major car A/C parts. |
| Charging of Freon | Takes 45 minutes and up. |
*** Note: For a price quotation, you'd have to call them directly.
Maxiair Car Aircon
Address: #53 Kitanlad Street, Barangay Doña Josefa, Quezon City, Metro Manila, 1113
Contact No.: (02) 757 0879
Just like the other car aircon shops on this list, Maxair Car Aircon can also fulfill all your car air-conditioning repair needs. They also sell original OEM parts for a variety of popular car brands here in the Philippines.
One of their more unique services is BactaKleen treatment. This is done through a fumigation device that atomizes an anti-bacterial solution into your car's interior. This is particularly useful if you've just gotten your hands on a nice but old 2nd-hand car or if you're engaged in the TNVS business and you want a spic and span interior on the start of your workweek.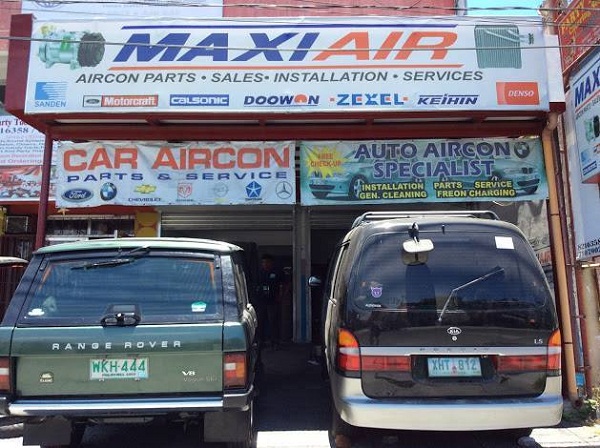 Maxair Car Aircon's shop
Here is a list of their offered services
| | |
| --- | --- |
| Service | Description |
| Backtakleen | Typically takes an hour. They'll also change out your cabin filter and will apply Backtakleen treatment. |
| Car Aircon Repair | 3 hour-service. Prices vary |
| Car Aircon cleaning | 3 hour-service. Prices vary |
Note: For a more accurate price, you can contact them with these numbers.
3. Car Aircon Cleaning Services in Cebu
Nas Air Auto Shop
Address: 3872 RR Rallos St., N. Bacalso Ave. Sambag 1, Cebu City 6000
Contact No.: 0923 891 3837
Based on RR Rallos Street, near the Cebu Medical Center, Nas Air Auto Shop has a really well-equipped shop that can deal with anything to do with your car's AC. They're also pretty established as they've been in the business since 1997. The kind of vehicles they service on the daily are quite varied.
While they can offer car aircon cleaning and repair, Nas Air Auto Shop also has employees who can perform car repaints and restoration.
Here's a list of their services:
| | |
| --- | --- |
| Service | Starting Price |
| Car AC Parts Replacement | For Quotation |
| Car AC Cleaning | For Quotation |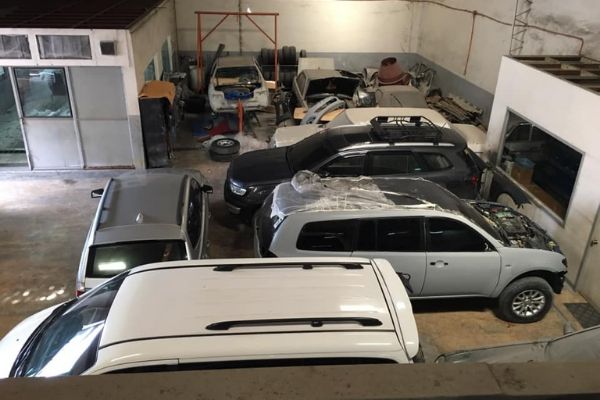 Nas Air Auto Shop is quite a busy place. So call ahead of time to schedule your visit
>>> Worth to note: List of popular car aircon repair shops in the Philippines
Sendai Motors
Address: M.L. Quezon Street, Cabancalan, Mandaue City Cebu
Contact No.: (032) 420 7078
While their primary business is distributing remanufactured motor vehicles and selling parts, Sendai Motors also offers a car aircon cleaning package. A voucher for the aforementioned service is available online, is valid within six months from the date of purchase, and is only applicable for vehicle sedans, MPVs, and SUVs.
| | |
| --- | --- |
| Service | Price |
| Car Aircon Cleaning Package | Php 4,499 |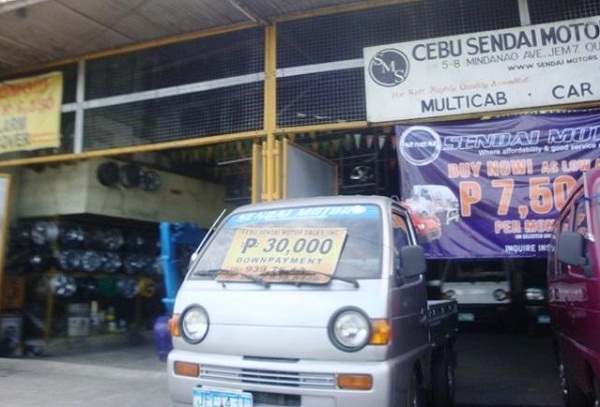 Sendai Motors in Cebu
Jojo's Car Aircon Repair Center
Address: Tres de Abril, Cebu City, Cebu 6000
Contact No.: (032) 516 9148
Jojo's Car Aircon Repair Center's forte is car AC repair. That includes car aircon parts replacement and Freon charging. Nevertheless, this shop also offers car aircon cleaning for a myriad of car brands and vehicle classes.
Also, while they can order OEM air compressors, Jojo's Car Aircon Repair Center's mechanics can actually repair any kind of compressor. For parts that they repaired, they also offer a six-month warranty and a free check-up.
This place though is quite popular so call them ahead if you need their services.
| | |
| --- | --- |
| Service | Starting Price |
| Freon Charging | Php 800 |
| Car Aircon Cleaning | Php 2,800 |


Cesar G.B. Miguel
Author