Here's our list of recommended car aircon repair shops located in Cebu, Quezon City, Makati, Pasig & other cities in Metro Manila.
1. Car aircon repair shops in the Philippines: Introduction
Regular car aircon maintenance will keep your car's AC system healthy and its components up and running, sure. There comes a time however that there are some issues that will arise. In some cases, that may be an easy fix, say replacing a torn cabin filter or simply refilling on Freon.
There are some cases that most non-mechanically inclined people will surely struggle with like replacing car AC compressor parts. Even finding a refrigerant leak or looking for the evaporator can be a tricky job that will sometimes need you to take apart a portion of your dashboard. A lot of people simply do not have the time, the resources and the knowhow to do that.
As such, if we think the part that needs work done to it is complicated, we approach specialists, guys who have experience in fixing certain parts of our vehicles. Half of the battle though is knowing where to go.
So as a part of our continued efforts to arm you with knowledge, here's a guide on different car aircon specialists located in Quezon City, Makati, Pasig, Banawe, Mandaluyong, Cavite province and from the Cebu province.
Note though that there are a lot of car aircon repair shops in the Philippines you can choose from, we might not be covering all of them and we will be choosing a few highly recommended ones. Let's get started with
2. Car aircon repair services in Cebu
Nas Air Auto Shop
Address: 3972 RR Rallos St., N. Bacalso Ave., Sambag 1, (Cebu City Medical Center / City Hospital), Cebu City 6000
Contact Numbers: 0923 891 3837
Located near the Cebu Medical Center, Nas Air Auto Shop is a pretty up and coming established who specializes in dealing with your car AC problems. They are well equipped and their staff are experienced in handling tasks involving a wide array of vehicles from an equally wide selection of brands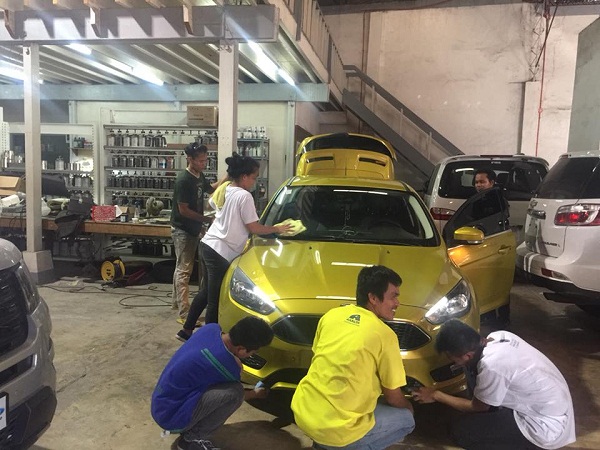 The shop itself is inside a building so you won't have to worry about your beloved car being exposed
Jojo Car Aircon Repair Shop
Address: Sto. Nino St, Cebu City, Cebu
Contact Numbers: (032) 261 2921
Highly rated and highly recommended, Jojo Car Aircon Repair shop can deal with anything wrong with your car's AC. Their car aircon specialists are also known to be able to repair individual components of the AC Compressor instead of just replacing a part outright. This keeps the costs low for the customer.
According to a lot of reviews, Jojo Car Aircon Repair's staff will explain the repairs to you thoroughly which is, of course, a plus. Note though that this business is very popular so call them ahead of time.
Cars 101
Address: 518 Quijano Compound V. Rama, Cebu City 6000
Contact Numbers: 0922 691 3228
Cars 101 is another highly recommended shop whenever you have car air conditioning troubles. Aside from that though, they are really well known for making scratches and dents, no matter how large, disappear. They also do car repaints.
According to their Facebook page, walk-ins will be entertained but those customers who have called ahead of time and have an appointment already set-up will be given priority.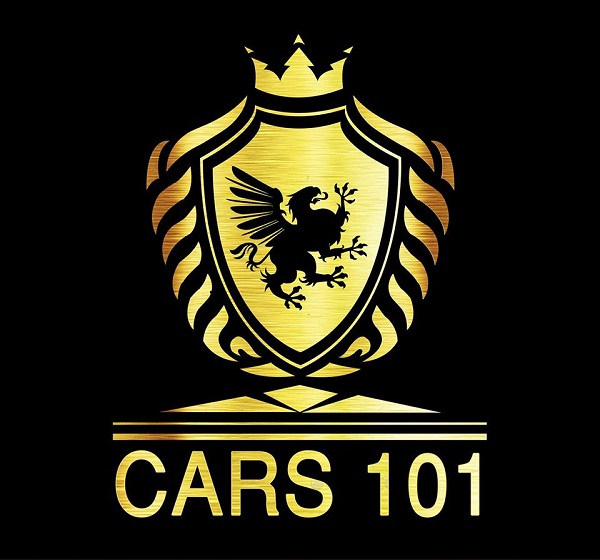 The company logo of Cars 101 Cebu
3. Car Aircon Repair services in Quezon City
MaxiAir car Aircon
Address: #53 Kitanlad Street, Barangay Doña Josefa, Quezon City, Metro Manila, 1113
Contact Numbers: (02) 757 0879
Maxair Car Aircon's mechanics can fix up your car's AC systems. Adding to your convenience though is that their establishment is also a parts dealer that sells OEM parts including car aircon parts. Another service that Maxair Car Aircon can provide is BactaKleen which is basically disinfecting your car's interior using a fumigation device.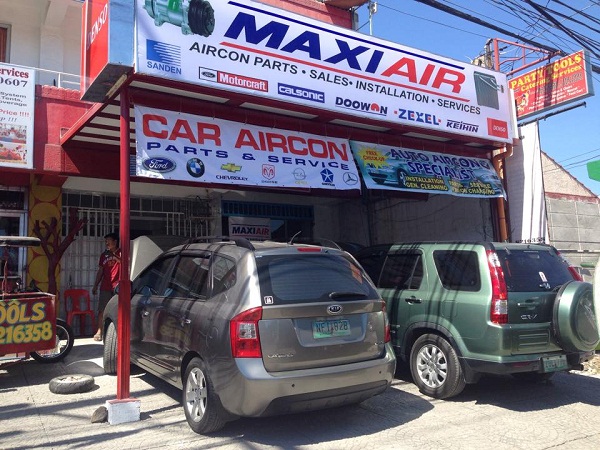 The Maxi Air Car Aircon shop working on some BMWs
Frigid Zone Auto Aircon Specialist
Frigid Zone Auto Aircon Specialist is a very established business. They've been around since 1993 and they already have 10 branches spread around Quezon City, one in Marikina and one in Caloocan. Apart from being able to fix your car aircon issues, they also sell auto aircon parts.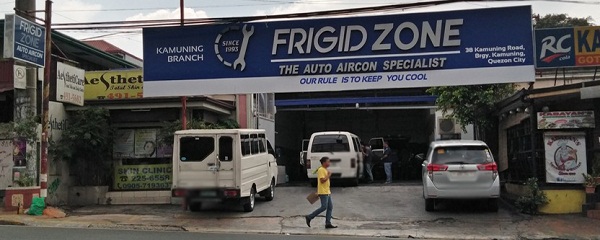 A Frigid Zone Auto Aircon Specialist in Quezon
| | | |
| --- | --- | --- |
| Branch Name | Address | Contact Numbers |
| Caloocan Branch | 643 Quirino Highway, Bankers Village II, North Caloocan City | 370-72-95 |
| Congressional Branch | Congressional Ave., cor. Mindanao Ave., Quezon City | 455-35-06 |
| Don Antonio Main Branch | #52 Holy Spirit Dr., Don Antonio Heights, Quezon City | 430-15-36 |
| Kalayaan Branch | #106 B Kalayaan Avenue, Diliman, Quezon City | 434-85-02 |
| Kamias Branch | #162 Kamias Extension cor. Langka St., Kamias, Quezon City | 433-15-16 |
| Kamuning Branch | #38 Kamuning Road, Quezon City | 412-11-58 |
| Marikina Branch | 902 J.P. Rizal St., Nangka, Marikina City | 625-25-98 |
| Quirino Branch | Lot 7C Quirino Highway, Pasong Putik 2, Quezon City | 782-11-60 |
| Regalado Branch | Blk. 83 Lot 34 Regalado Ave., Fairview, Quezon City | 419-49-80 |
| Visayas Branch | #19 Congressional Extension cor. Visayas Ave. Pasong Tamo, Quezon City | 287-29-30 |
>>> Read more: 5 bad habits to discard when using car aircon system
Sprint Car Aircon and Repairs
Address: 35 A Kaliraya St., Quezon City, 1100 Metro Manila
Contact Numbers: (02) 852 10087
Sprint Car Aircon and Repairs is a one-stop-shop for anything related to car AC and car AC parts. They sell OEM parts as well as being able to provide car AC check-up, cleaning, and repair.

The front of Sprintcar Aircon Parts and Repair
4. Car Aircon Repair services in Banawe
While we already covered the recommended car aircon repair centers in Quezon City, Banawe deserves a special mention in this article.
Why?
Well as you might already know, this small street located in the western side of Quezon City is a host to numerous car repair shops including car aircon specialists. While some of these might not be as established and as fancy as the others in this list, there are a few that stand out like 215 Luxury Car Aircon Services.
If you just want parts though and want to have your car be serviced at other locations, Banawe also has a number reputable car parts shops like Richcar Auto Parts, HBK Motor Parts, Ginza, VGT Korean Auto Parts, New Banaue Auto Supply, Team Car Banawe, Christone Auto Parts Trading, Goldrich Car Accessories Inc. and the Banawe Car Accessories Center.
Be warned though because, in Banawe, you can also find a lot of counterfeit and definitely sub-standard parts. So be vigilant and do your research beforehand. Also, bringing along a knowledgable person with you, like your trusted mechanic, will definitely help.
Second, try not to look like a million pesos. We mean dress simply. This will aid in bargaining and will also deter the petty thieves and shady dudes that prey on unsuspecting car parts buyers/car owners.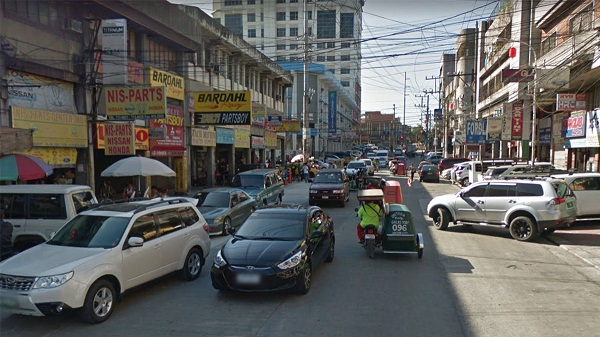 Also, looking for parking spaces around this area can be a nightmare
>>> Worth to note: Car maintenance & repair: How to have it done in Banawe Street
5. Car Aircon Repair services in Makati
Maroon Auto Electrical and Aircon Shop
Address: 4414 Dallas Street, Bangkal, Makati City, Metro Manila
Contact Numbers: (02) 508-7119, 09202473433, 09237402120
Maroon Auto Electric and Aircon Shop's services include auto air-con repair, cleaning, and electrical troubleshooting and repair. They also have a home service if you need it and they also sell car AC and electrical parts like alternators and starters.
Maroon also provides a free check-up, free installation with three months warranty.  You can also call their numbers to ask their technicians for guidance on any car electric or AC problems, that is if you're able to fix it up yourself.
Note that Maroon Auto Electric and Aircon Shop is quite established and they see a lot of customers daily. So calling them ahead of time before your visit is a must.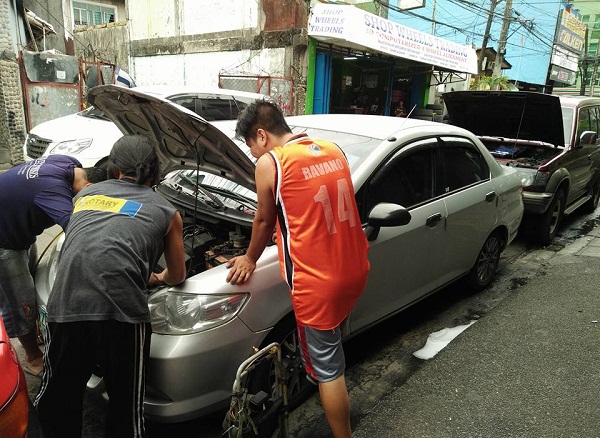 The mechanics of Maroon Autoelectric and Aircon Shop doing their work
Kristal Aire Car Aircon Services
Address: 2042 Edison St., San Isidro, Makati, Metro Manila 1234
Contact Numbers: (02) 729 8386
Kristal Aire Car Aircon Services sells OEM car AC parts and can provide repairs for a wide selection of brands and models. Their check-up and diagnosis is also free and the technicians can explain your car AC's problems to you plainly. Their services are also known to be very affordable and based on their reviews, very reliable.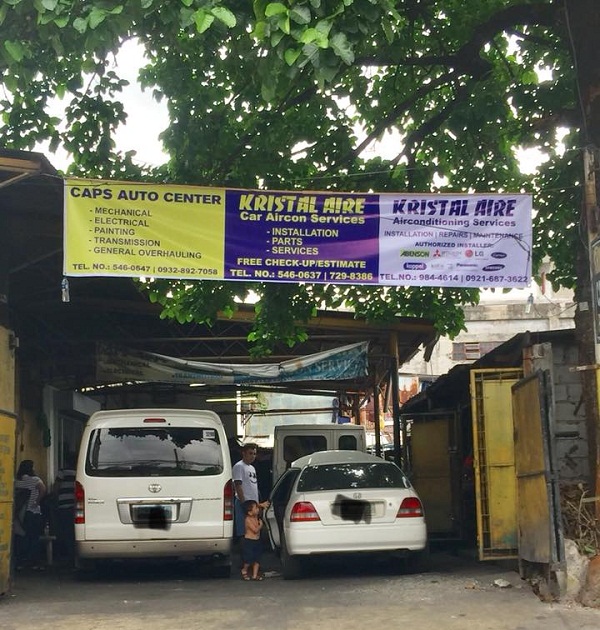 Kristal Aire Car Aircon Services 
>>> Also check out: Must-know tips for every Filipino driver to do a proper car aircon cleaning
6. Car Aircon Repair services in Pasig
Meg Car Aircon Services
Address: Pioneer Street, 600 Shaw Boulevard, Pasig City
Contact Numbers: (02) 8632 9637
Since 2007, Meg Car Aircon has been providing their customers' car AC repair services. So they're veritable veterans in the industry. They're also highly rated on their social media pages so expect this place to be busy. Call them ahead of time if you want to avail of their services.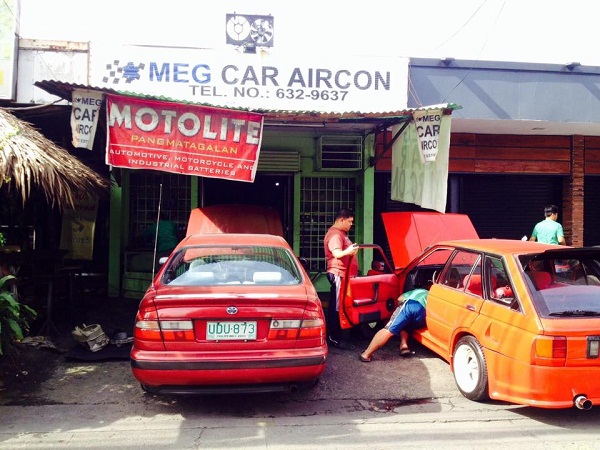 Meg Car Aircon Repair Shop
Alberto's Car Aircon Specialist
Address: 25 W Capitol Dr, Kapitolyo, Pasig City, Metro Manila
Contact Numbers: (02) 8631 6391
Just like the establishment listed above, Alberto's Car Aircon Specialist is also highly rated and is given high praise for their quality of service and reasonable rates.  They also sell car AC parts and their staff will provide a thorough explanation of what they're doing.
DanKnee Car Aircon Services
Address: 32 Pasig Blvd, Pasig, 1600 Metro Manila (Near the Seaoil branch across the BPI Pasig Blvd. Branch)
Contact Numbers: 0912 964 6034
Owned by the talented and very professional Mr. Danny (who also works on car AC repairs and parts replacement himself), this particular shop has gained the attention of many car owners for his really excellent quality of service and very reasonable prices. He's also pretty up-front about costs and what needs to be done with a particular car AC issue and that's always a plus.
Now Mr. Danny has become legendary among car enthusiasts here in Metro Manila, so do give him a ring as he sees a lot of car owners on the daily.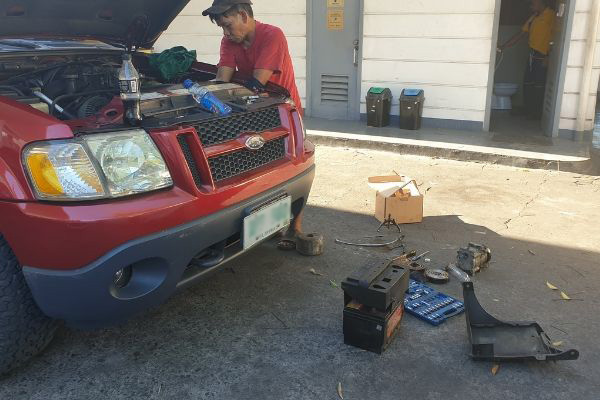 Mang Danny, working on a Ford Explorer Sport Trac
>>> Related: Simple guide on what to do when AC compressor clutch isn't engaging
7. Car Aircon Repair services in Cavite
JPAT Car Aircon Repair Shop
Address: Blk 11, Lot 17, Manga Ville, Salitran IV, DAmariñas City, Cavite
Contact Numbers: 09081083780
JPAT Car Aircon Repair shop is a full-service auto repair center that can cater to any ailing part of your car including its AC system. They can also work on electrical problems and AC system cleaning.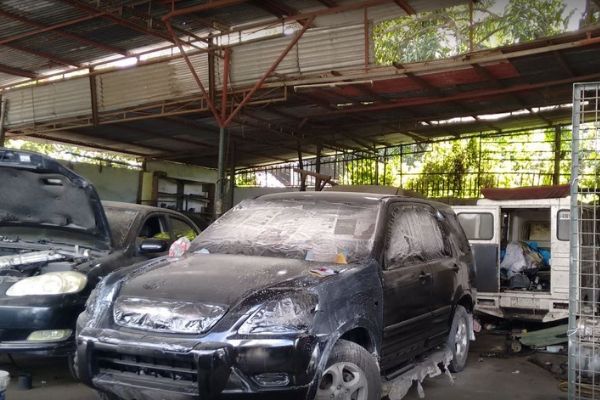 Aside from air AC repair, JPAT can also do car bodywork
3MT Buenafe Car Aircon Service
Address: E. Aguinaldo Highway Tanzang Luma IV Imus, City, Cavite 4103
Contact Numbers: 0942 873 0722
Located in front of South Supermarket near Patindig Araw, this automotive repair shop specializes in dealing with all sorts of car AC problems especially the very complicated ones like issues with car AC compressors. They also have Freon charging, car AC cleaning, etc.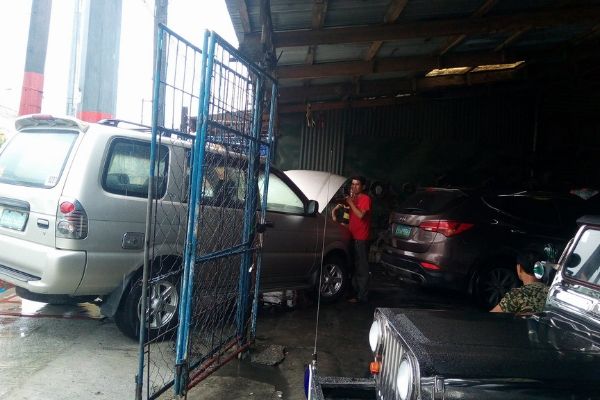 3MT Buenafe's shop on a rainy day
8. Car Aircon Repair services in Mandaluyong
Danny's Car Aircon Specialist
Address: 14 Domingo M. Guevarra Street, Mandaluyong, 1550 Metro Manila
Contact Numbers: (02) 8532 6686
Danny's Car Aircon Specialist is a car air conditioning service center located in Mandaluyong City. They can handle check-ups, car AC cleaning, and they can provide car AC repairs in a timely manner.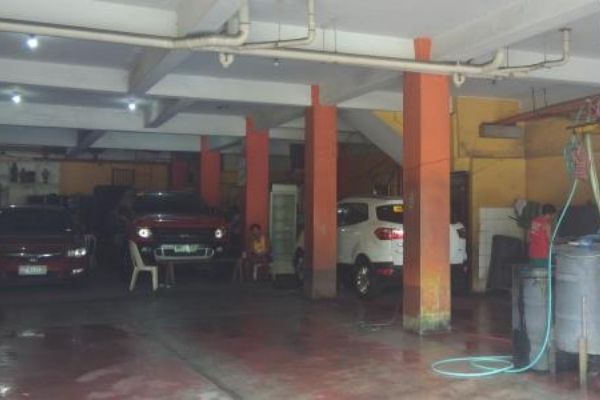 Danny's Car Aircon Specialists' shop is an actual garage
>>> Click for more useful tips & advice for car owners


Cesar G.B. Miguel
Author