A careless car wash can't get your car clean but rather damage its outer paint layer.
Car washing is not only a familiar thing with car drivers but also an important thing in maintenance and anti-rust. Regular cleaning will keep your car in the fresh look. In contrast, if you neglect this routine, your car's paint layer will soon peel and be badly affected by weather.
Millions of car owners have million ways to clean their vehicles. Unfortunately, as many try to make use of anything they find for a car wash, their automobiles easily end up with ugly scratches or stains.
To avoid that scenario, 10 tips below suggested by Philkotse.com are what you should bear in mind when washing your car.
1. Stay away from auto car washing machine
Many drivers do not have sufficient time or interest in polishing their cars. So, car wash shops might be an ideal choice. Though these places often look clean with bright lights and white walls, people will be surprised how much hair stuck in their cleaning cloths, which would make them feel gross by its smell.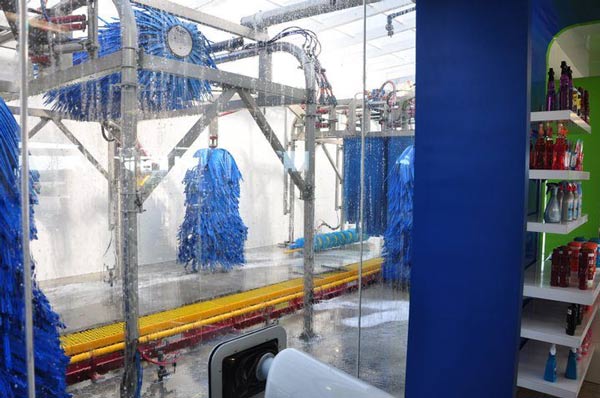 Many car wash services aren't as clean as how they look
2. Never use rough objects to clean your car
Dust and sand may cling in every corner of the car, which annoys and tempts us to use hard tools to clean the vehicles. Among those, steel pads and brillo pads are most notorious for cleaning cars with scratches left. According to car caring and maintenance experts, be sure you stay away from these items if you want to keep your car a shiny look. Instead, you should use a degreasing engine oil, polishing compounds and brushes that are specially designed for car washing.
3. Avoid direct sunlight
Sunlight is proved extremely harmful when washing and polishing cars. Therefore, you should avoid direct sunlight contact with your vehicle as much as possible. Always keep the car in shade while washing, to brush the stain and avoid paint layer fading over time.
4. Limit the use of dishwashing liquid
Although it has been scientifically affirmed that soap has numerous negative impacts on cars, many people still use it frequently. In fact, detergents in the dishwashing liquid will corrode the vehicle body frame, causing paint loss and damage easily. That's why you should use alternative ways to clean your car instead of dishwashing substances.
5. Always use a clean towel
One of the biggest mistakes when washing cars relates to the use of towels to wipe off water. Most people just dry cloths under sunlight and put aside for later use. However, this is not recommended by car experts at all, because the towels may look dried and clean but still contain grits that will leave scratches on the paint next time you use them. So, always wash the towel before using it to wash your car.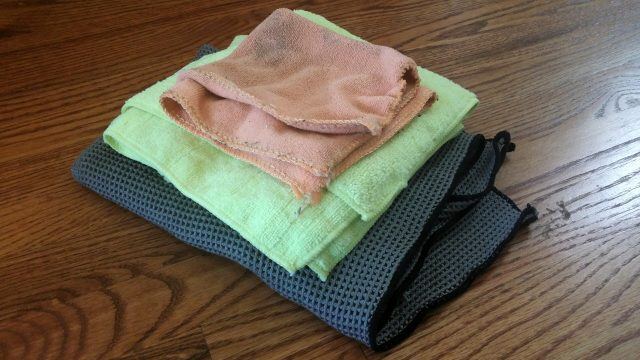 Towels may look clean but still contain grits if dried in sunlight only.
6. Do not use car wash pressure machine
According to experts in the automotive industry, this type of machine usually holds dust from previous washed vehicles, asphalt particles and accumulated carbon. Besides, most car manufacturers have installed automated systems to remove rainwater and dirt, thus using pressure dampers is unnecessary.
>>> Check out tips on choosing necessary car wash equipment: 
7. Use more than a single bucket
Having a bucket filled with soap and water is an indispensable part of car wash. However, when the sponge is dipped into the bucket, the dirt will accumulate and inside water isn't clean anymore. Thus, by using more than one bucket, you can be sure your car is always washed with clean water.
How To Properly Wash AND Dry Your Car WITHOUT Touching it! (No Swirl Marks)
8. Use specialized cleaning chemicals
In fact, household glass cleaner can polish the windshield, but they are also subject to stain on the panel due to the ammonia contained in the liquid. That is why there are many cleaning products designed specifically for car wash. In addition, some window film coatings may be peeled, scratched, and fade when owners use unspecified cleaning chemicals. Therefore, a safety-certified glass cleaner is highly recommended for you car protection.
9. Do not use chamois to clean the car
Sheepskin fur is qualified water absorbers, but it might do harm to exterior paint layer. Unlike microfiber towels which are specially designed to clean the residue on the surface, chiffon drains impurities on the vehicle, but will leave the dirty stain there actually.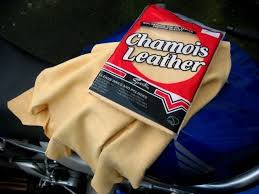 Using chamois may leave stain on your car surface.
10. Keep soft towels in hand
Never use rough or worn-out towels to clean your car. The rugged edges on most woven towels often let the sand particles stuck deep inside, which scratches the car surface for sure. As a result, microfiber towels are considered the perfect tool for cleaning cars.
>>> Review more tips to wash your car with Philkotse.com:

Recent posts