Fast cars don't have to be expensive. Here are five of the cheapest sports car in Philippines this 2021.
If you wish to own a car that provides a spirited driving experience without having to break the bank, we are here to present you with five of the cheapest sports car in Philippines this 2021.
When we say sports cars, the first thing that instantly comes to mind is that they come from expensive car brands. There are many reasons that we can point out as to why this type of vehicle is not budget-friendly. Some of which include its larger engine displacements, premium interior materials, and more.
However, there are also car brands that manufacture cheap sports cars that can be marketed for those who are on a budget. These brands address the need of those who dream to bring home a sports car without comprising too much of performance.
1. Mazda MX-5 (Php 1,980,000 – Php 2,250,000)
The Mazda MX-5, or also known as Miata, is one of the cheapest sports cars in the Philippines. But despite its affordable pricing, this Japanese roadster can seamlessly deliver a complete performance car experience backed by its milestone of becoming the best-selling two-seater convertible sports car in the world.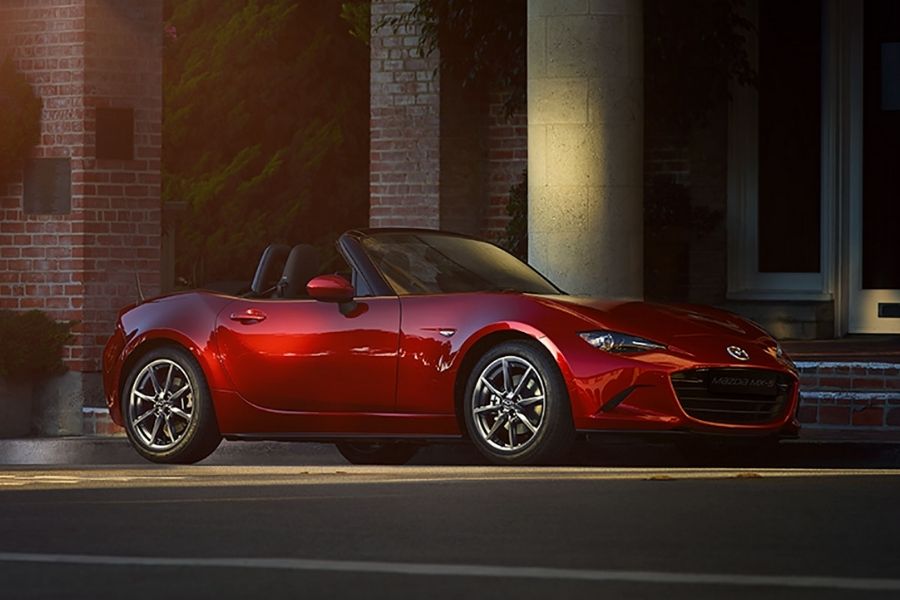 Quality is assured with a Mazda
When the roadster was first introduced in 1989, it had pop-up headlights which are the vehicle's most notable features up until this day. However, the pop-up headlight feature was discontinued by the second-generation model as it is considered unsafe by road safety regulators.
Now on its fourth-generation model, the Mazda MX-5 comes with a more contemporary and premium look which seems to be the brand's design philosophy for its production vehicles. It is offered in the country with a starting price of Php 1,980,000 that goes up to Php 2,250,000 which comes with a red top. Additionally, Mazda Philippines is offering it a free 5-year preventive maintenance service (PMS) to keep it in performance-level condition.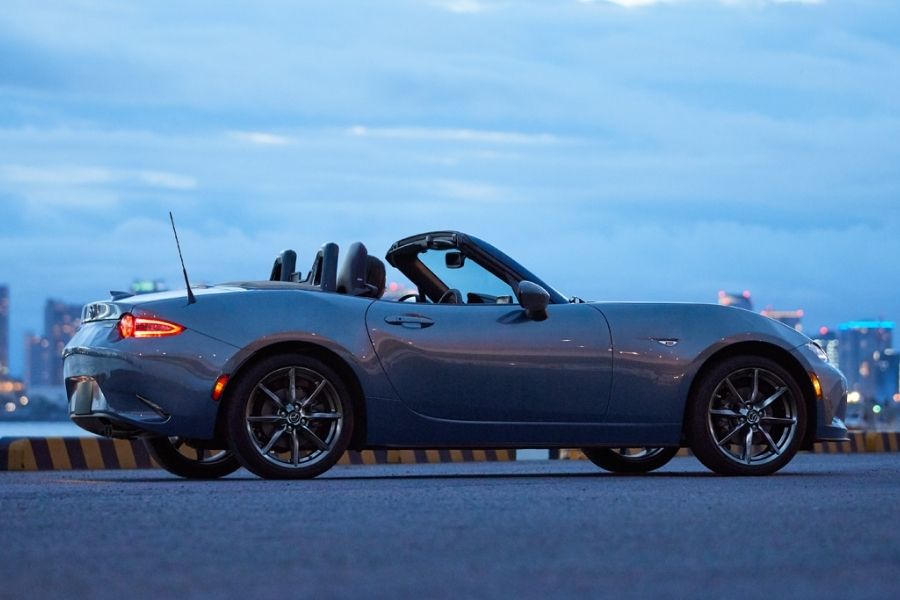 A sports car with a renowned history in the industry
This vehicle sends power to the rear wheels using a 2.0-liter 4-cylinder naturally-aspirated gasoline engine that makes 184 hp and 205 Nm of torque. Those who will avail of the model's lower-end variants get to drive it using a 6-speed manual transmission, while the more premium variants come with a 6-speed automatic transmission.
2. Toyota 86 (Php 2,086,000 – Php 2,186,000)
Next up on the list is the Toyota 86. This 2-door sports car joined Toyota Motor Philippines (TMP)'s a wide array of vehicles last 2012 to cater to those in the market for an affordable performance vehicle. And in 2019, the Japanese car brand added the GR Supra which is the more premium sports car option to the 86.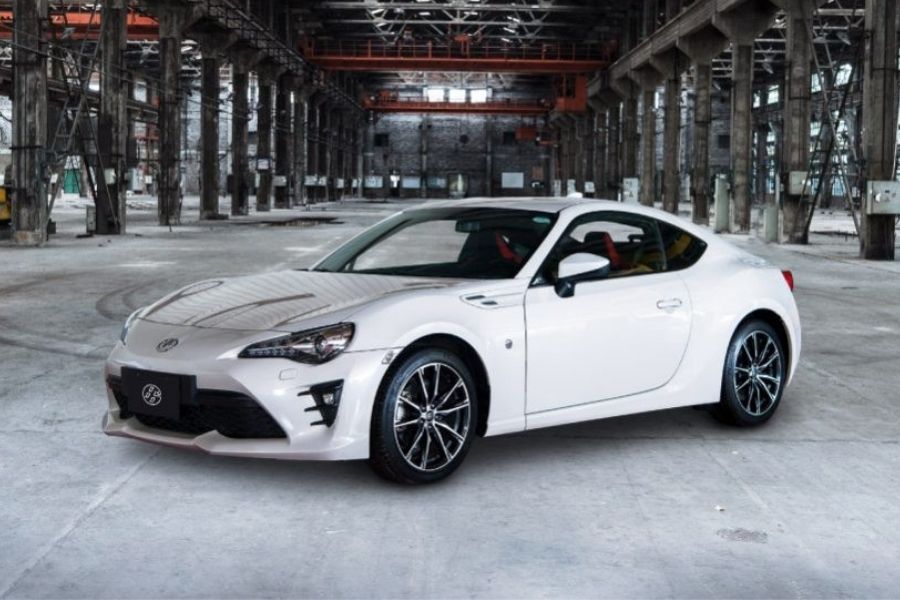 Never go out of style with an 86
The sports car price Philippines starts at Php 2,086,000. And you can drive home a sports car that comes with a 2.0-liter boxer-four engine paired to a 6-speed manual transmission. If you opt for the variant with the 6-speed automatic transmission (with paddle shifters), then you must prepare Php 2,186,000. The engine is capable of generating 197 hp and 205 Nm of torque.
The black-themed interior is upholstered with leather with red accents and red stitching. This color combination creates a performance look that enhances the overall driving experience. Meanwhile, rear passengers get to benefit from bucket-type seats.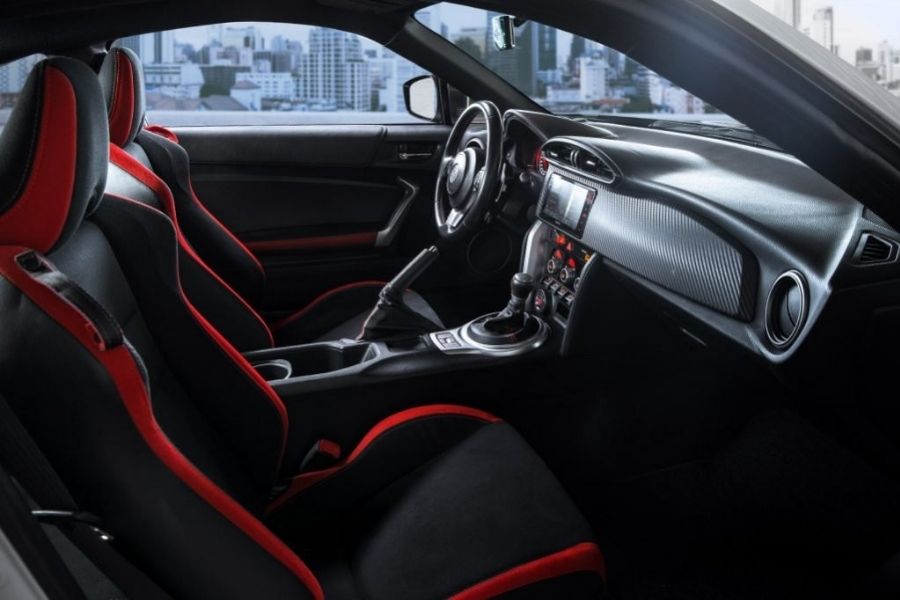 A sporty-looking interior
In addition, the Toyota 86's Subaru twin, the BRZ, is also one of the cheapest sports car in the market with a price of Php 2,158,000. However, the production of the first and current generation of the BRZ is now ceased to make room for the second-generation model which was unveiled last November 2020.
3. Nissan 370Z (Php 2,779,000 – Php 3,888,000)
The Nissan 370Z coupe is a relatively affordable sports car that comes with a strong history of providing a spirited driving experience. It is the more affordable sports car in Nissan Philippines' lineup before the Nissan GT-R. The sports car price in Philippines ranges from Php 8,900.000 to Php 13,200,000.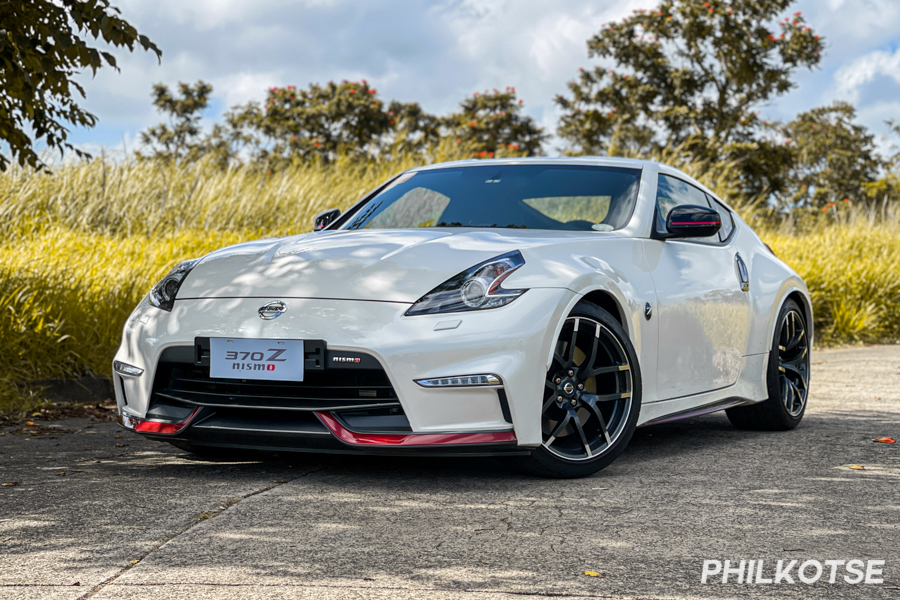 A Japanese icon
Meanwhile, the 370Z is offered with a starting price of Php 2,779,000 for the base Premium MT and tops at Php 3,888,000 for the flagship NISMO variant. The NISMO variant is designed with performance enhancements and cosmetic upgrades such as red trims inside and out.
Inside, many car buyers are pointing out the model's relatively outdated interior layout, more specifically the center console. However, some see it as a layout that won't distract you from all the technologies newer production vehicles offer, hence providing a true sports car feel.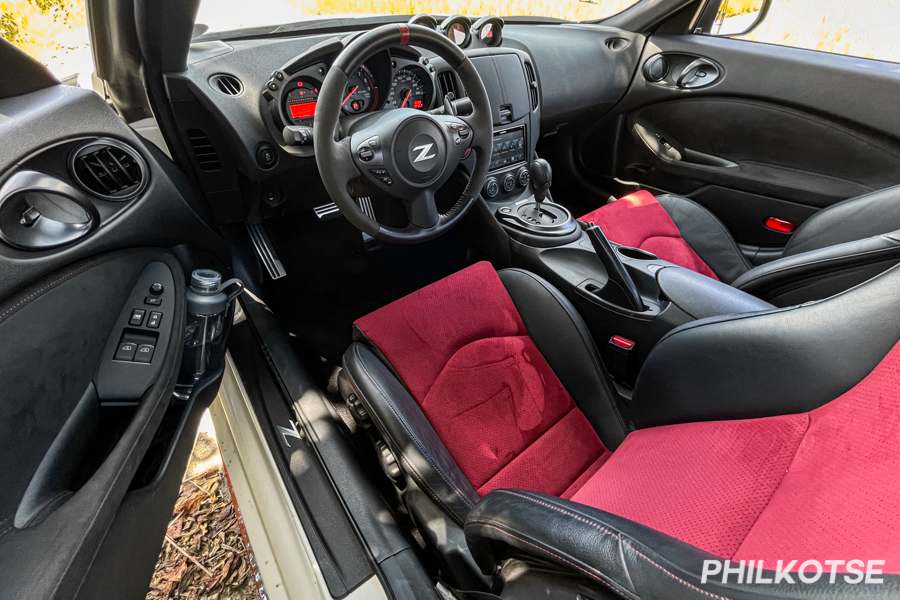 NISMO interior
Powering this coupe is a 3.7-liter V6 engine capable of generating 332 hp and 363 Nm of the non-NISMO variants, and 344 hp and 371 Nm of torque for the NISMO variant. The MT variant uses a 6-speed manual transmission, while the AT variants come with a 7-speed automatic transmission with a manual mode and paddle shifters.
>>> Worth to note:
4. Subaru WRX STI (Php 2,848,000)
Another Subaru vehicle on this list is the WRX STI sports compact car. It gained its popularity way back in the 90s when it won several races in the rally world. STI, or Subaru Tecnica International, is the Japanese car brand's motorsports division which was founded in 1988.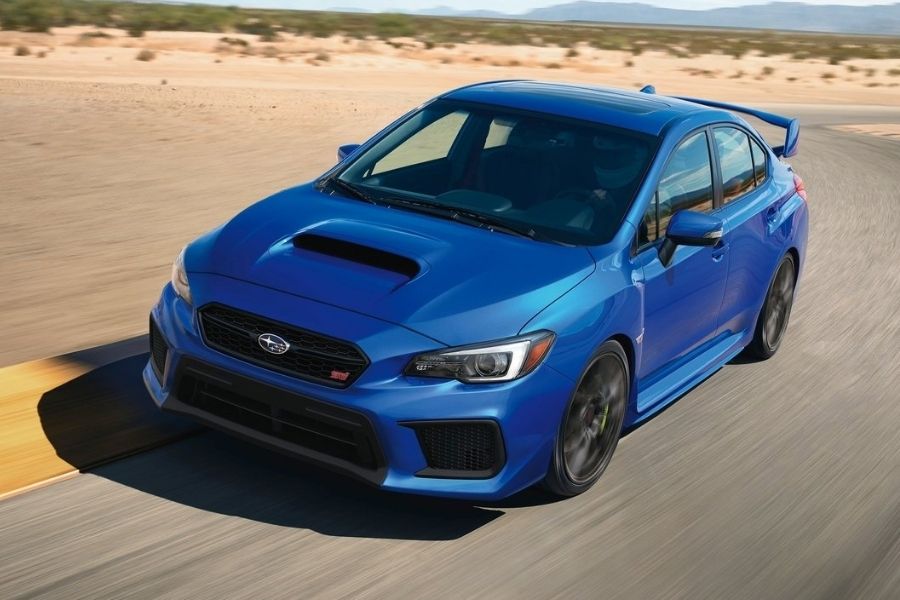 One of the best performance sedans in the market
Now on its first-generation model, the Subaru WRX STI is offering a more performance-oriented driving experience than the standard WRX model. The STI version comes with both performance and cosmetic upgrades which translate to a higher price point at Php 2,848,000.
Under the hood, the Subaru WRX STI is powered by a 2.5-liter turbocharged gasoline engine that can make 300 hp and 407 Nm of torque. It is only available with a 6-speed manual transmission which helps send power to all of the wheels thanks to its symmetrical all-wheel-drive system.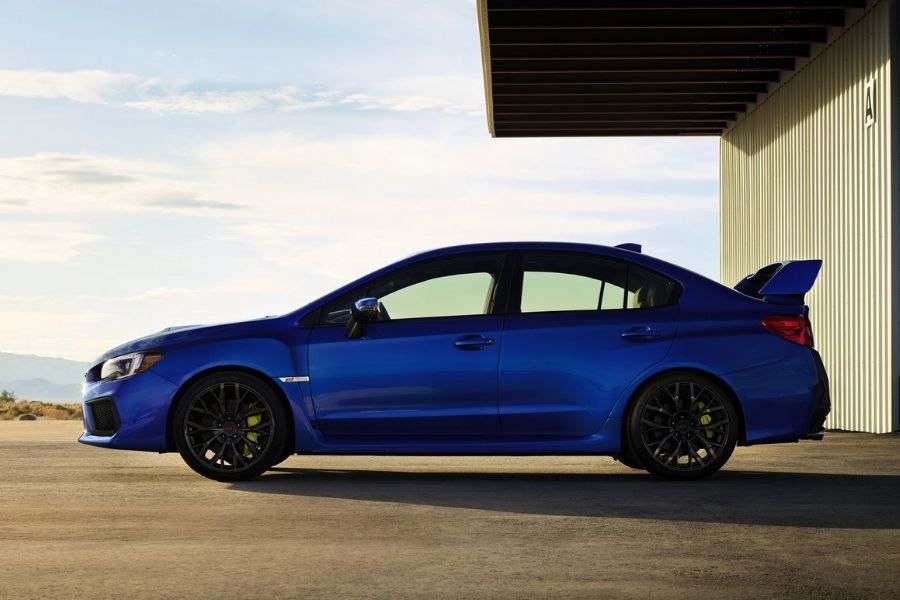 Comes with excellent power and style
The second-generation Subaru WRX STI is reported to debut either this 2021 or next year. According to some reports, the new version will be able to make 400 hp and 490 Nm of torque. Now, it is your call if you want to get a Subaru WRX STI now or wait for further announcements regarding the next-gen model.
5. Ford Mustang (Php 2,858,000 – Php 3,718,000)
The only American sports car to make it on this list is the Ford Mustang. It has been roaming around the streets since 1964 and has gone through various generations and special editions. What you can expect from this vehicle is its long good history of providing a high-performance driving experience.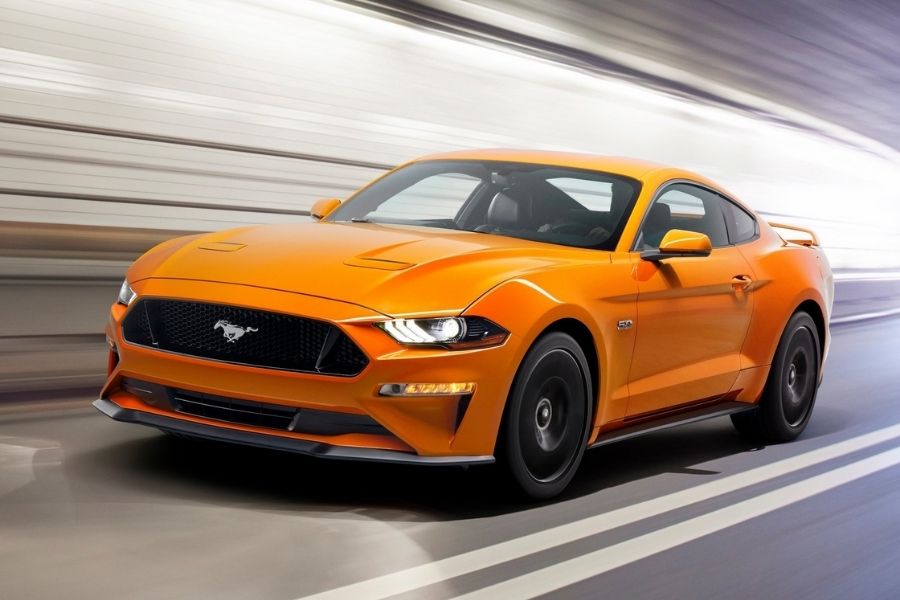 It comes with a reputable history as an American muscle
Ford Philippines offers the Mustang with two engine options, namely a 2.3-liter EcoBoost inline-4 gasoline engine and a 5.0-liter V8 engine. The smaller engine is available only to its base Premium variant which comes with a base price of Php 2,858,000, making it eligible to join this list of the cheapest sports cars in the Philippines.
In terms of performance numbers, the 2.3-liter gasoline engine can make 310 hp and 475 Nm of torque. Meanwhile, the V8 engine is capable of generating 460 hp and 569 Nm of torque. The base price for the Mustang with the larger engine is Php 3,538,000 and goes up to Php 3,718,000 which comes with a convertible roof.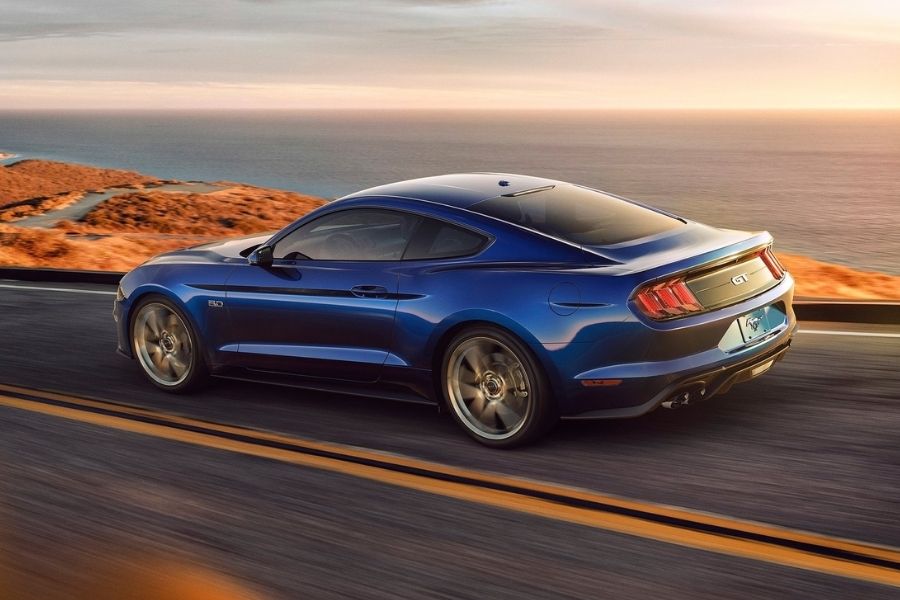 Feel the roar of the V8 on the GT variants
Despite its relatively affordable price tag, the Ford Mustang is still at the top of the dream list of most Filipinos. This American coupe is designed with unmistakable and aggressive exterior details that come with a commanding presence on the road.
Visit Philkotse.com for more of the latest in the automotive industry.
Know more about Nissan 370Z 2021

The new 370Z is a gorgeous coupe that comes from the stable of renowned racing machines. Aside from its modern and striking exterior, this legendary rear-wheel-drive sports car from multinational carmaker Nissan offers one of the most comfortable cabins packed with innovative features. Its core is equipped with the celebrated VQ37 engine, assuring fans and new followers a stable performance every single time. Locally, it comes in three variants: the Nissan 370Z Premium MT, the Nissan 370Z Premium AT, and the Nissan 370Z Nismo. It is available in Gun Metallic, Brilliant Silver, Pearl White, Magnetite Black, Passion Red, and Deep Blue Pearl.

Rex Sanchez
Author