The new 370Z is a gorgeous coupe that comes from the stable of renowned racing machines. Aside from its modern and striking exterior, this legendary rear-wheel-drive sports car from multinational carmaker Nissan offers one of the most comfortable cabins packed with innovative features. Its core is equipped with the celebrated VQ37 engine, assuring fans and new followers a stable performance every single time. Locally, it comes in three variants: the Nissan 370Z Premium MT, the Nissan 370Z Premium AT, and the Nissan 370Z Nismo. It is available in Gun Metallic, Brilliant Silver, Pearl White, Magnetite Black, Passion Red, and Deep Blue Pearl.
Launch
Nissan Motor Co. Ltd. first presented the Nissan 370Z at the 2008 Greater LA Auto Show. It belongs to the Nissan Z-car lineage. The Japanese automobile company made it available to the market a year later. It was well-received worldwide and got several awards such as Consumer Digest's "Automotive Best Buy Award" and Kelley Blue Book's "Best Resale Value Award" in 2010.
In 2015, the Nissan 370Z Nismo received generous updates. It was built with a navigation system, an automatic seven-speed transmission, a refreshed front, rear, and body trim. 
Though a grand launch complete with driving events did not push through because of the pandemic, the all-new Nissan 370Z 2020 was made available in the Philippines in April 2020.
The 370Z has been around since 2009, but it remains to be an awesome high-performance 2-seater
Exterior
At the front, this sporty coupe flaunts a set of nicely-shaped boomerang headlights with LED daytime running light. Its body is smooth with a low roofline that aids its proven aerodynamic capabilities. Its side has sleek curves and lines with an upswept rear car window.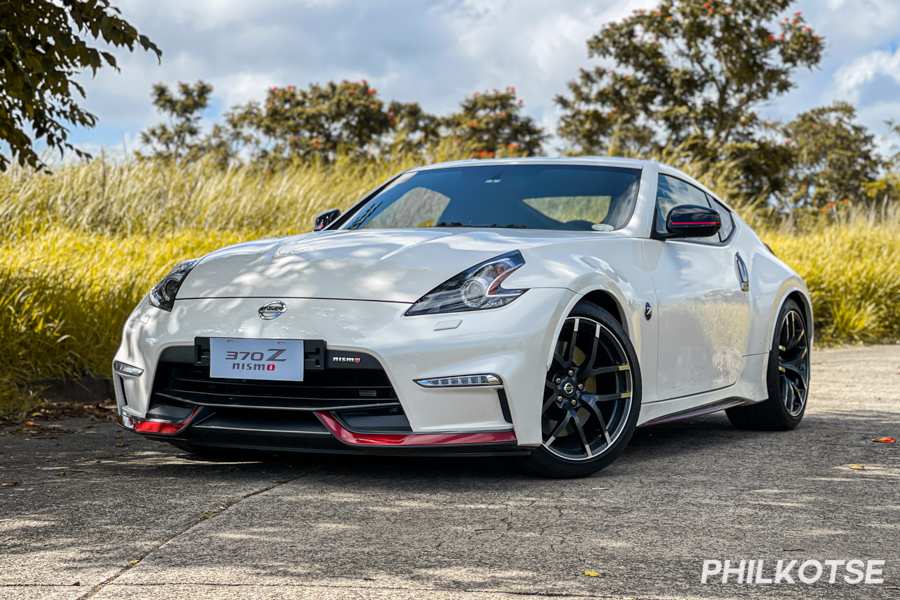 At the back, its distinct bumper is designed with an efficient rear spoiler, a pair of boomerang taillights, and dual exhaust tips. 
Supporting this iconic automobile is a set of 19-inch alloy wheels manufactured by Rays Wheels.
Interior
Its cabin is spacious and can comfortably accommodate two fully grown passengers. Standard variants feature power-adjustable leather seats with lumbar and manual height adjustments,  three-spoke leather-covered steering wheel with hands-free telephone, audio and cruise control, and aluminum sports pedals.
The top variant is equipped with Nismo Recaro bucket seats in leather with Alcantara highlights, a leather-wrapped Nismo three-spoke steering wheel, a Nismo interior badge, and design meter. All variants have a luggage volume of 235-liters.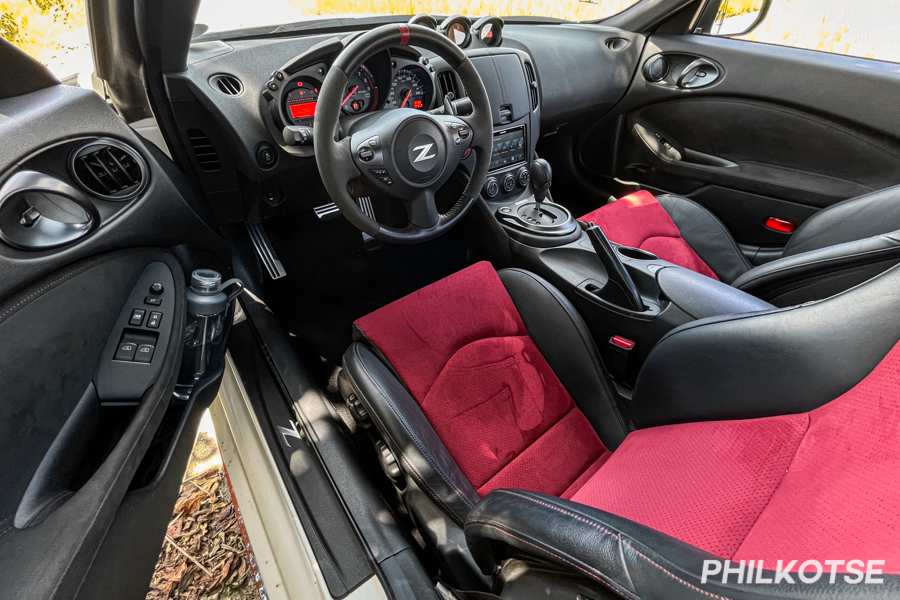 Technology & Safety Features
Entertainment comes from a 6.8-inch touchscreen display audio system that comes with Apple CarPlay, Android Auto and can be connected through USB and BlueTooth. Eight Bose speakers including subwoofers are generously distributed for the sound system. 
The 2020 Nissan 370Z is built with a keyless entry system, engine push start, stop system, and power windows.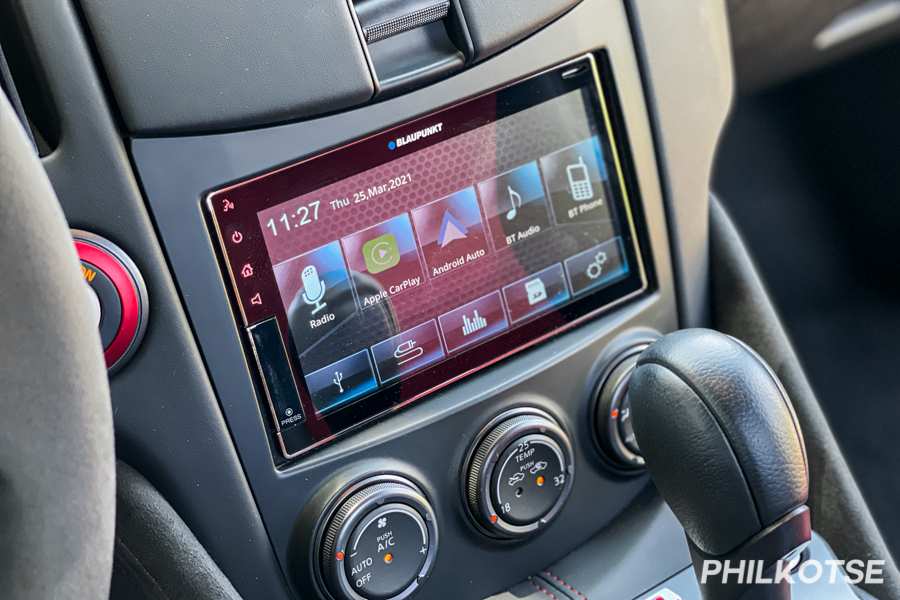 Platform & Chassis
The basic variant is fitted with Double Wishbone aluminum alloy with an aluminum subframe suspension at the front. Its rear utilized a multi-link aluminum alloy with stabilizers. The top variant is suited with a Nismo-tuned suspension with increased spring and damping rates. Added on the front is a Double Wishbone, aluminum alloy with aluminum subframe suspension and a multi-link aluminum alloy with stabilizer bars at the back.
For braking, all variants are mounted with a four-piston, 14-inch ventilated disc at the front and a two-piston, 13.8-inch ventilated disc at the rear.
Engine & Drivetrain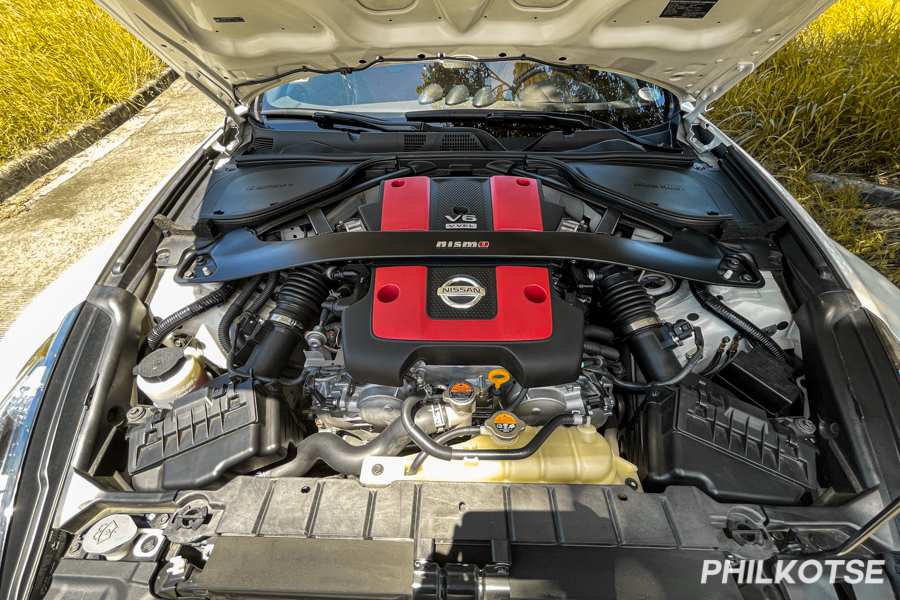 All variants are powered by the legendary 3.7-liter, DOHC, 24-valve VQ37 engine. The all-new Nissan 370Z Nismo is paired with a seven-speed automatic with manual mode transmission. Its well-known engine can produce 344 hp with a torque of 371Nm.
The Nissan 370Z MT is mated with a six-speed manual transmission while the Nissan 370Z AT is suited with a seven-speed automatic with manual mode and paddle shifters. Both can generate 332 hp with a torque of  363Nm.