It's an honest, decade-old platform that continues to stay alive.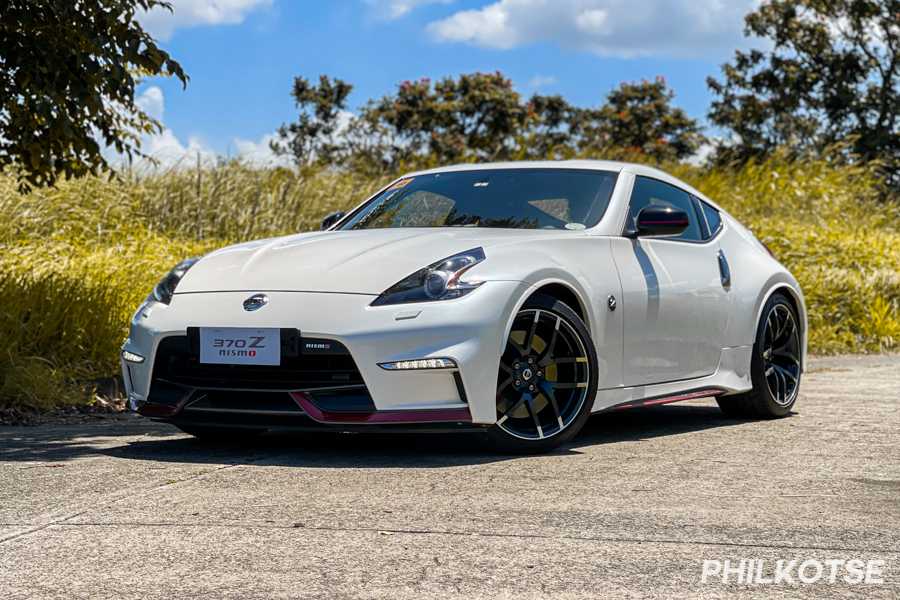 In this review...
Introduction

Exterior

Interior

Tech & Safety

Engine & Performance

Fuel Efficiency

Verdict

Variants & Price

Color Options

Specs
2020 Nissan 370Z Nismo Philippines: Introduction
The year was 1969. Nissan introduced its very first Z car: the Nissan Fairlady Z, also known as the Datsun 240Z when it was imported into the United States. The Bee Gees was a thing then and the goal was simple – to introduce an affordable sports car that's both efficient and fun-to-drive.
Little did Nissan know, that was the birth of an iconic nameplate, one that was bound to stay alive in several generations, leading to our most recent tester, the Nissan 370Z Nismo.
Within a few days of being lodged in my garage and some sprints within the NCR Plus bubble, I've grown quite fond of this two-seater V6 coupe in more ways than one. Not because it's high-tech nor because it's the most comfortable car I've ever driven (it's far from those), but it's all because of its appreciated candor. Read along to know what I mean.

Overall exterior & Interior design, build quality, form vs function

Number of safety & tech features, consistency during usage

Power delivery, acceleration, transmission, suspension, handling

Overall Ride Comfort, Space, Storage Areas

Sticker price vs overall package
2020 Nissan 370Z Nismo Exterior Review: Heritage flowing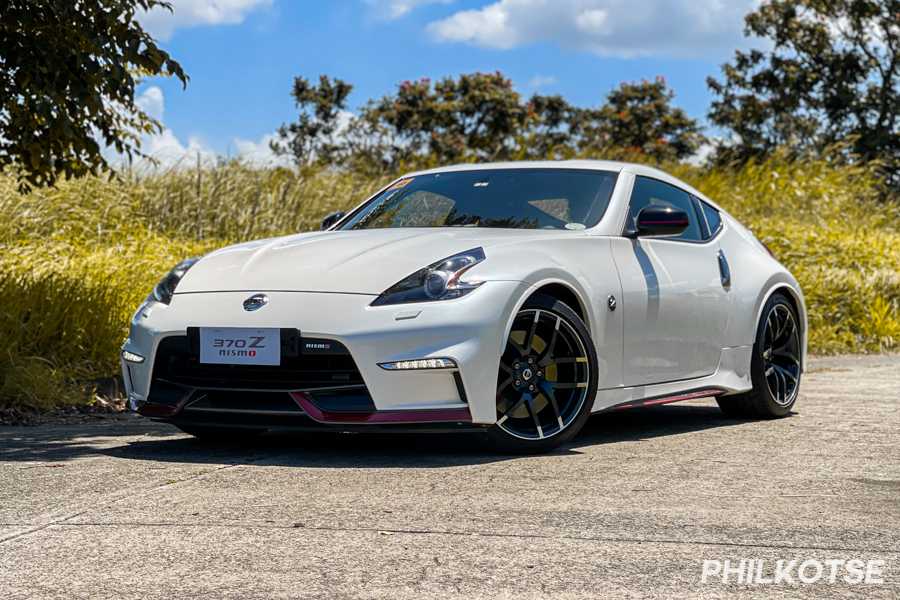 The 2020 Nissan 370Z Nismo in Brilliant White Pearl
For the Z fans, Nissan can't hide the fact that this generation's 370Z is sitting on a decade-old platform. Initially born in 2008 for the 2009 model year, then gets a needed update in 2014, the current model that the Philippines got last year wasn't exactly worthy of being called new in 2021, to be quite honest.
It's an old platform, but it's still a looker
Despite these, the 370Z looks timeless. Beyond the dotted taillights that are five years past due, the whole vehicle styling can still keep up with younger sports cars. Maybe because we're not used to seeing one on local roads, or the overall design is just that good.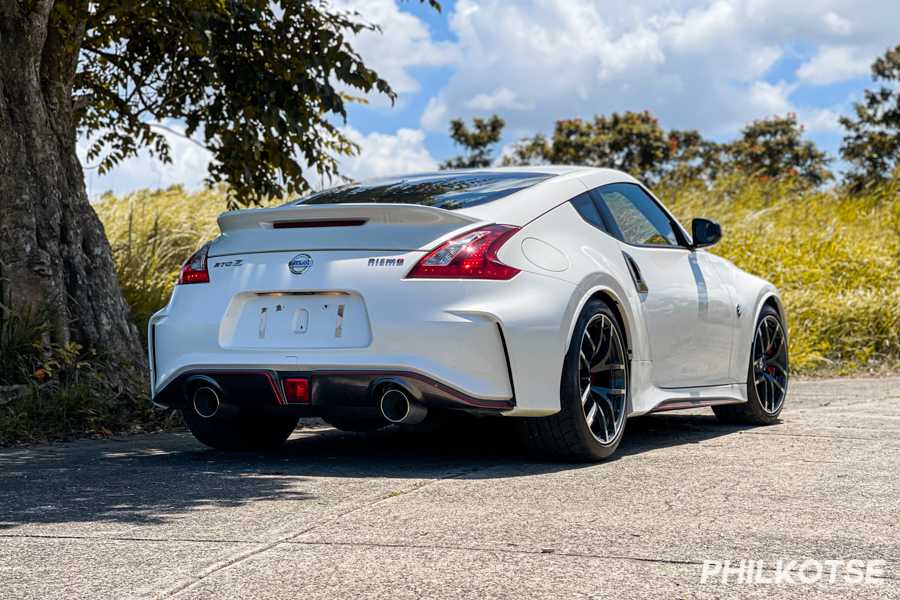 It looks great from every angle
Whatever the case is, I like the 370Z's looks and its bevy of Nismo visual accents found all over the vehicle (clue: they're in red). But my most favorite would be the ducktail spoiler that somehow evokes a Porsche 911 vibe, along with the massive exhaust tips and the 19-inch Rays forged alloy wheels. Nice.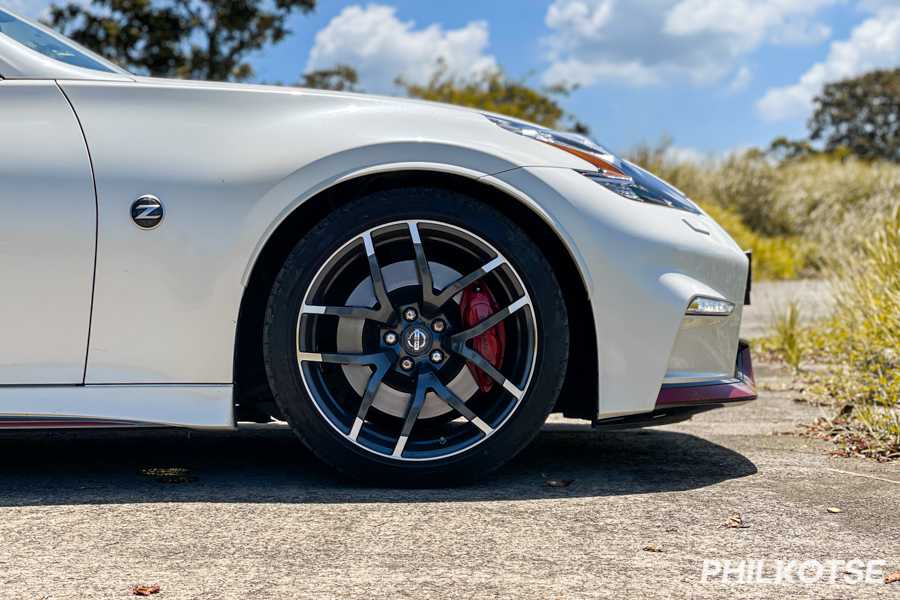 A closer look at the 370Z Nismo's 19-inch Rays forged alloy wheels
Viewed from the front, the 370Z veers away from the V-Motion grille execution in other Nissan's of late – and that's a good thing. It stays true to its heritage this way, though I can't say the same for the boomerang-shaped HID headlights and taillights that started with the previous 350Z.
Fun fact: do you remember the Juke? That small crossover is actually designed after the 370Z, which you can see on the shape of the lights and some cabin appointments. Maybe that's why I've grown fond of that quirky yet polarizing crossover, but I digress.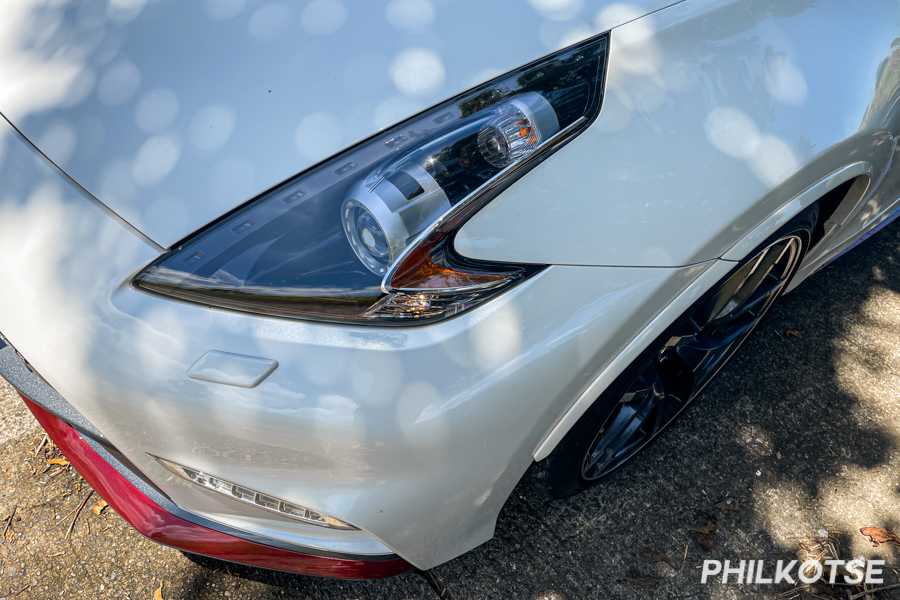 The 370Z NIsmo's headlamp. Take note of the shape
YOU MAY WANT TO READ
Model Price Philippines
₱ 2,328,000 - ₱ 2,499,000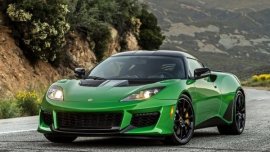 Model Price Philippines
Price available upon request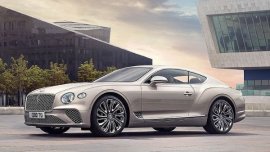 Model Price Philippines
Price available upon request
2020 Nissan 370Z Nismo Interior Review: The age shows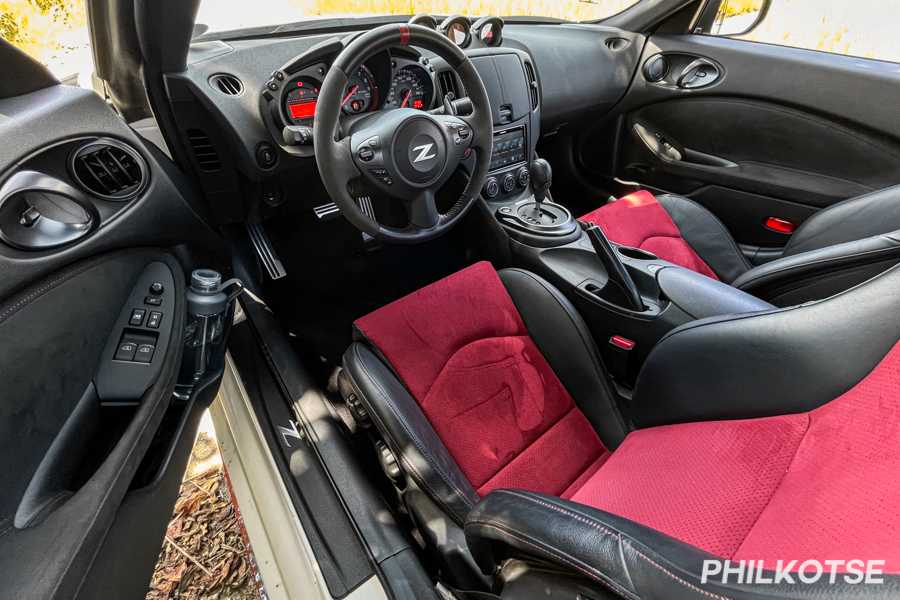 Inside the 2020 Nissan 370Z Nismo
Speaking of the cabin, this is where the 370Z's age shows despite the Nismo appointments, but that's not exactly a bad thing. You get analog gauges plus semi-digital, orange backlit displays – not saying that they matter but they're quite surprising in 2021.
You can tell that the 370Z's cabin layout was designed without touchscreen infotainment in mind – the crown of the dashboard is a covered compartment that can hardly accommodate today's smartphones, which also tells us that this was made with smaller phones in mind.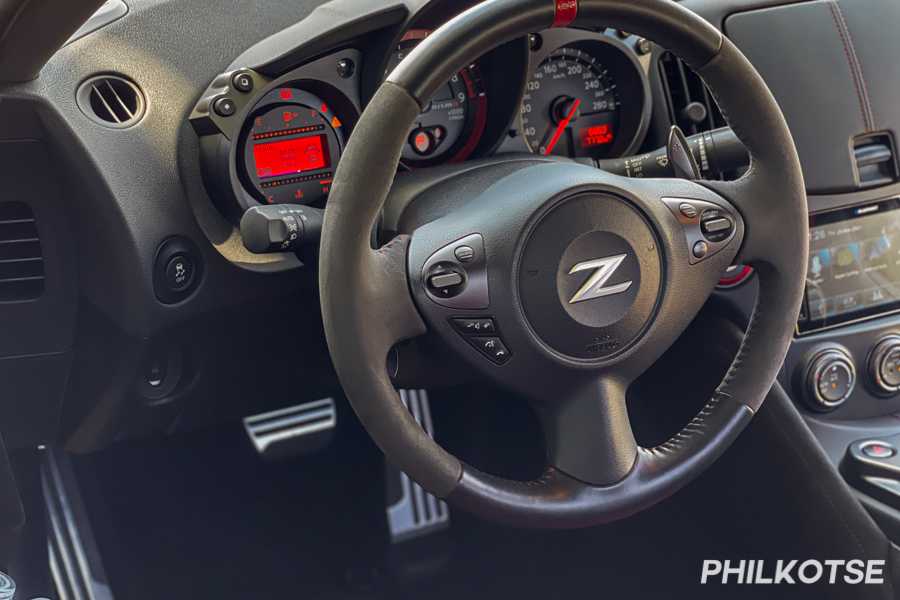 The steering wheel is quite comfortable
Case in point: my iPhone 12 Pro Max barely fits the space, so you might want to retire to using the extra storage of your wallet and/or your RFID cards.

Beyond that quirk, we can't deny that Nissan is pretty generous in adding Alcantara on usual cabin touchpoints, most importantly on the steering wheel that's so nice to fiddle with. The red accents obviously give out a sporty vibe, but the sportiest of the bunch are the Recaro bucket seats with Nismo badging and Alcantara inserts. Granted, they're not the most comfortable seats on the planet (with unfortunate manual knob adjusters) but the whole setup serves an important purpose – to keep your butts in place when driven at the track or when taking winding roads at speeds. I just wish that Nissan also added a telescopic steering adjustment for more flexibility in seating.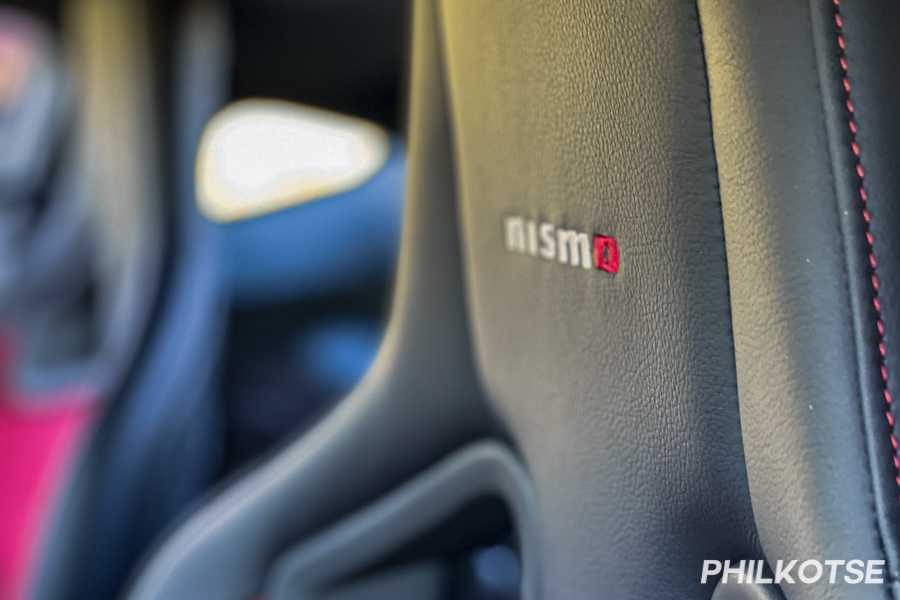 Aesthetically, the seats look great too
There are storage spaces behind the Recaros, but that's limited for your and/or your passenger's bags, maybe even for face shields and other pandemic essentials.
As expected, there's not much room at the trunk, which is a hatch, btw. Okay, you may be able to fit a week's worth of grocery items, maybe even a piece of small luggage if you retract the tonneau, but anything taller would be an adjustment. That's your trade-off for a full-size spare and a Bose subwoofer lodged in the cargo area.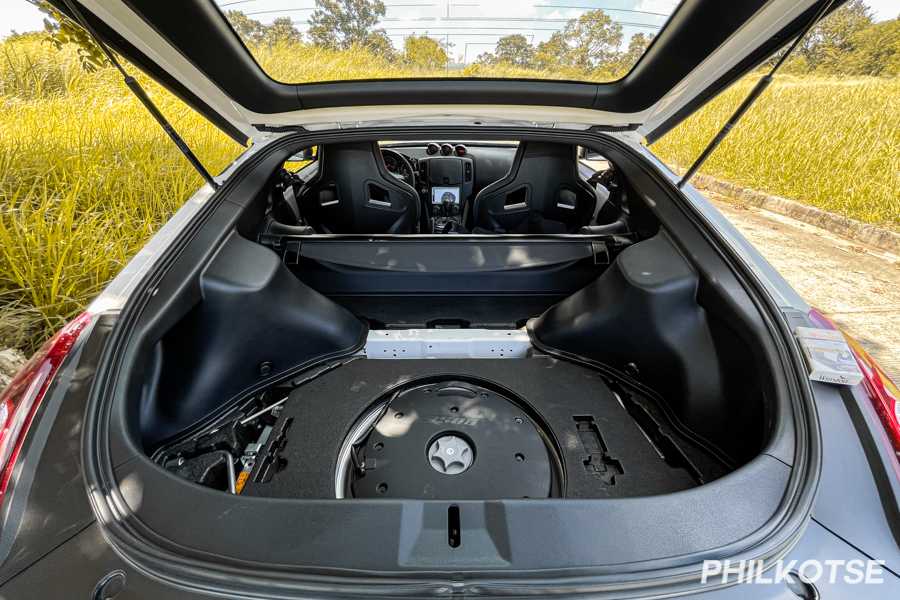 It's not a very practical trunk, but that's not the reason why you want a 370Z
2020 Nissan 370Z Nismo: Tech & Safety Review
We've established that the 370Z's cabin isn't actually designed in the age of touchscreen, but at least Nissan Philippines tried to keep with the times with a dealer option Blaupunkt infotainment with Apple CarPlay and Android Auto. As an aftermarket option, though, don't expect seamless integration with the whole 370Z cabin ecosystem – such as the USB port for smartphone pairing located on the head unit instead of the one inside the center console compartment – but the effort's notable.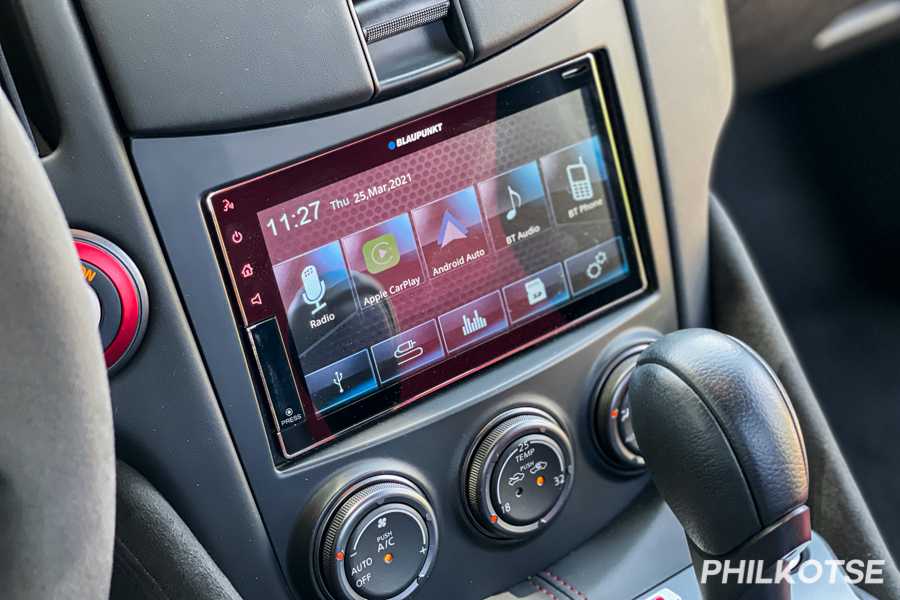 The Nissan 370Z Nismo's optional touchscreen headunit
The 370Z Nismo also doesn't have speed-sensing door locks, as well as rear parking sensors, reverse cameras, and a dedicated display for cruise control (you won't know if cruise control has already been engaged).

Then again, at least you have a great-sounding 8-speaker Bose audio system, partnered with safety features such as four airbags, traction control, vehicle dynamic control, and ABS with brake assist.
2020 Nissan 370Z Nismo: Engine & Performance Review
Ever since its introduction in the tail-end of the '60s, the Nissan Z car has the same formula: engine in the front, power sent to the rear. wheels, and a 6-cylinder engine residing under the hood.

This version, the 370Z is powered by a naturally-aspirated 3.7-liter VQ37 gasoline V6 engine, tuned to churn out 344 metric horses and 371 Nm of pull in the Nismo version that I tested. And yes, if you've noticed, the naming convention of the Z cars depends on the engine displacement – a tradition that started with the Datsun 240Z and might end with the upcoming, next-generation 400Z.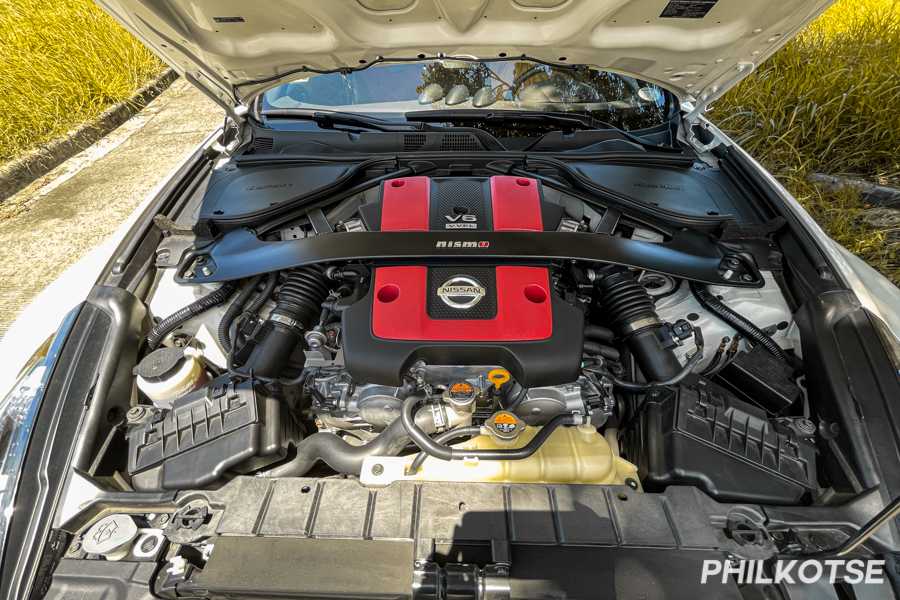 Who needs turbos anyway?
Semantics aside, though, the non-existent forced induction employed a certain level of honesty, felt when driving the Z car both in the city and on the track (or a closed private course). Power delivery was direct, though I wish the 7-speed automatic transmission shifted more promptly when left to shift by itself. Through the paddle shifters, however, it was a different story – one that's full of 95 octane-filled fun and excitement.

Handling was as direct and sharp as I wanted from a sports car, with the dated hydraulic steering system working as non-dampened assistance when taking corners. It inspired stability and confidence, though it wasn't too appreciated when making three-point turns. Forward visibility's good, but rear visibility's hampered by the narrow rear windshield opening, highlighted by the lack of parking sensors and a camera.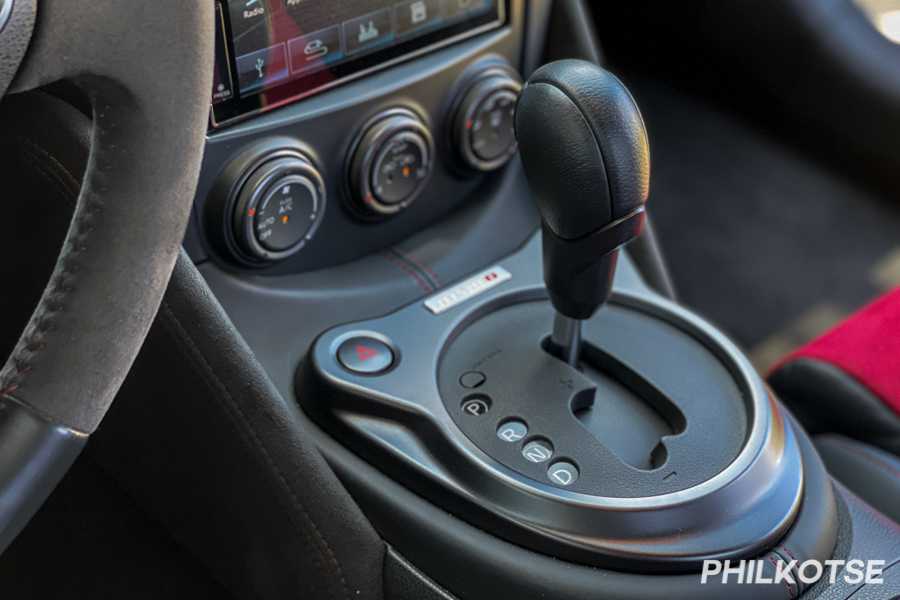 The 370Z NIsmo's gear shifter. The knob is clad in leather too
As a Nismo model, the upgrades on the suspension and body rigidity compromised ride quality – something that I expected from a track-ready coupe. For long drives, the tough suspension setup made me want to rest for a bit along the way, as are the lackluster insulation that let unwanted outside noise and harshness into the cabin even at tamed speeds. I appreciated that at times, though, since it lets you bathe in the glory of V6 exhaust note as you drive. Talk about a blissful auditory experience.

But overall, the 370Z's ride quality makes the Avanza a luxury cruiser by comparison. But then again, that MPV can't sprint from 0-100 km/h in 5.2 seconds, can it?
Fuel Efficiency
It's kind of pointless to review the fuel efficiency of a sports car, but for the benefit of this review and for those who are really curious, the 370Z Nismo is relatively fuel-efficient.
After days of testing, mostly alone in the car while having some fun on closed roads and the highway, as well as getting bored in the city, I've averaged 8.9 km/L. Not bad. Not bad, at all.

2020 Nissan 370Z Nismo Philippines: Verdict
The truth is, with the next-generation so-called Nissan 400Z on the horizon, and the fact that the 370Z Nismo costs an eye-watering P3,888,000, going for the current Z car at this day and age is quite a conundrum.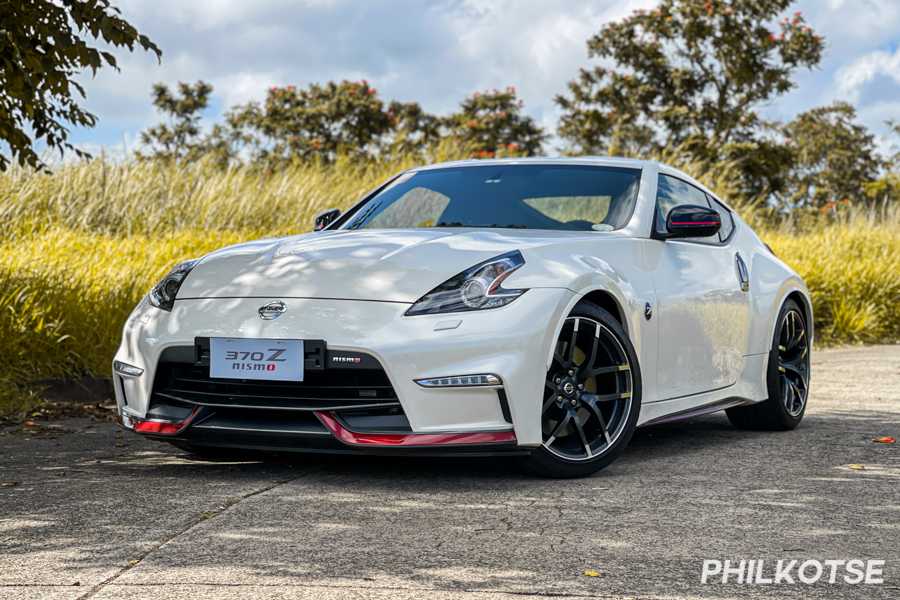 To this day, the Nissan 370Z as a whole is still a very potent track weapon
But with the honesty from the decade-old platform that I've felt during the tests, I wouldn't blame anyone who chooses to buy one today. Besides, the next Z car that's about to hit global daylight soon will take a good five years or so before arriving here.

If you couldn't wait that long to do something about your Z car itch (and if you hate turbos), then the 370Z Nismo, no matter how old its platform is, is still a must-have.
2020 Nissan 370Z: Variants & Price
| | |
| --- | --- |
| Nissan 370Z Variants | Price |
| 2020 Nissan 370Z Premium MT | P2,779,000 |
| 2020 Nissan 370Z Premium AT | P2,879,000 |
| 2020 Nissan 370Z Nismo AT | P3,888,000 |
2020 Nissan 370Z: Color Options
Nissan 370Z Nismo Color Options
Brillant White Pearl, Vibrant Red, Diamond Black, Brillant Silver
2020 Nissan 370Z Nismo: Specs
Overall

Make

Nissan

Name

370Z Nismo

Body Type

2-door fastback coupe

Dimensions and Weight

Length

4,330 mm

Width

1,870 mm

Height

1,315 mm

Wheelbase

2,550 mm

Ground Clearance

125 mm

Curb Weight

1,609 kg

Engine and Transmission

Type

3.7-liter V6 Gasoline

Max Power

344 horsepower @ 7,400 rpm

Max Torque

371 Nm @ 5,200 rpm

Transmission

7-speed automatic w/ Manual Mode

Chassis and Suspension

Brakes (Front/rear)

Disc/Disc

Suspension (Front/rear)

Double Wishbone/Multi-Link

Wheels and Tires

285/35 R19

Exterior

Bi-Xenon HID Projector Headlamps w/ auto leveling, auto on/off w/ washer

LED Daytime Running Lamps

Rear Fog Lamps

LED Headlamps

LED Taillamps

NISMO Front Bumper

NISMO Rear Bumper

NISMO Spoiler

NISMO Side skirts

NISMO Type Dual Exhuast

Interior

NISMO Recaro Seats (manual include and slide)

Height Adjuster (driver only)

Leather with Alcantara insert

Alcantara-wrapped NISMO 3-spoke multi-function steering wheel (manual tilt)

Aluminum sport pedals

NISMO Gauge cluster

Automatic Climate Control

BOSE eight-speaker audio system

Active Noise Cancellation

Active Sound Enhancement

Cruise Control

Safety and Security

Smart entry system

Back monitor with guide and clearance sonar

Cruise control

Driver, Passenger, Side, and Side Curtain airbags

Anti-lock braking with brake assist

Vehicle Dynamic Control

Traction Control system

High mount stop lamp

Car Alarm

Engine Immobilizer


Jacob Oliva
Author