The fourth-generation MX-5 by sports car specialist Mazda is recognized as the best-selling 2-seater sports car in history by the Guinness World Records. It returned to the Philippine Market, acquiring a sleeker yet more aggressive compact body that reflects the brand's KODO - Soul of Motion design philosophy. The roadster's development was stimulated by the motto "innovate to preserve," and now adapts the SKYACTIV technology that enables pure driving that a lightweight sports car provides.
Mazda Philippines offers the sports car with three variants, with loads of options made available to cater to various Filipino buyers. In other markets such as North America, the model is more commonly known as the Miata.
Launch
In August 2015, Mazda Philippines launched the Mazda MX-5 launched soft-top variant. Two years later, the Japanese car brand introduced its RF variant at the Manila International Auto Show (MIAS). It is regarded as one of the best value-for-money sports cars one can get in the Philippines.
As of 2021, Mazda Philippines updated the Mazda MX-5's lineup. It now has three trims. The first is the manual version with a black top. The second is also a manual but it can come with a dark cherry top. The third is an automatic variant with both choices of black or dark cherry top.
The Mazda MX-5 Miata is one of the more affordable cars in its class
Exterior
The Mazda MX-5's exterior is equipped with the brand's KODO design philosophy, where it enables the car to look like it's in constant motion, while the outside profile of the vehicle features sultry curves as well. Slim headlamps are evident on the front end, while several regions on the front, side, and rear have sharp and smooth corners.
The iconic Mazda MX-5, or Miata
Its traditional roadster shape is maintained, and for the motor to be pushed behind the front axle, it has a long hood and a short rear. The different variants are available with distinct colored roofs that range from standard black to cherry-colored top, and a dark cherry top.
Interior
The interior of the Mazda MX-5 can be configured in several different ways. In the Philippines, the brand offers several variations in terms of color, and it considers the standard black-colored leather upholstery as the base. Meanwhile, other variants use Nappa leather which comes with a dark cherry-colored soft-top that also features a lighter tone of leather.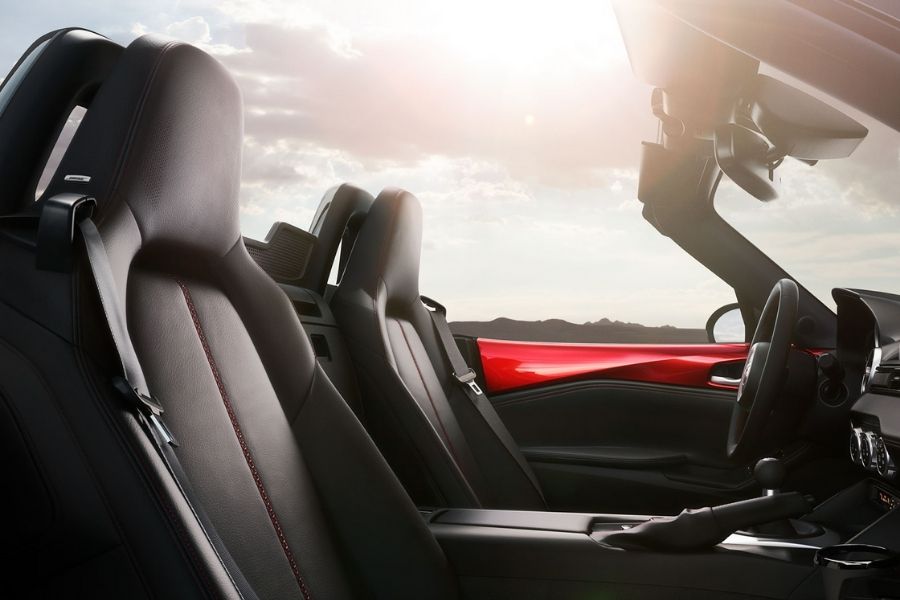 Good for two
Furthermore, it features a 10-speaker Bose sound system, enough space for occupants and cargo, and ample headspace and legroom. And as for the infotainment system, it operates on the updated MZD Connect OS that matches with Android and Apple smartphones.
Colors
As for the body paint, Mazda Philippines offers the model with the following: Snowflake White Pearl, Polymetal Gray, Soul Red, Deep Crystal Blue Mica, Machine Grey, and Jet Black.
Technology & Safety Features
The sports car's infotainment system is its brand's MZD Connect system that features Bluetooth, AUX, or USB capabilities aside from its connectivity options like Apple CarPlay and Android Auto. Additionally, it is also equipped with a backup camera, keyless entry, and a set of rear parking sensors.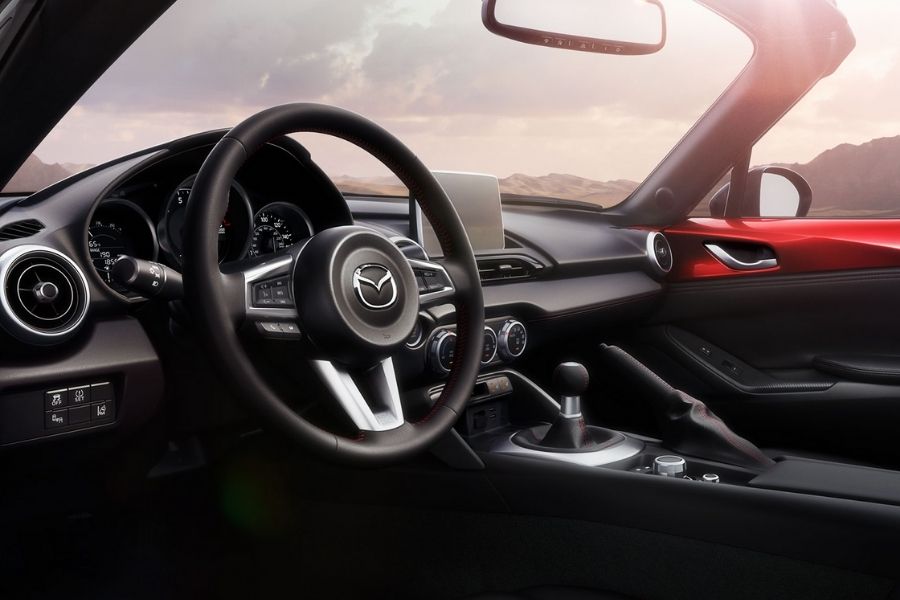 One of the best choices for a sports car priced around the P2-million mark
In terms of safety, the Mazda MX-5 is installed as standard with a set of dual airbags in front, a pair of side airbags, an anti-lock braking system (ABS) with electronic brakeforce distribution (EBD), dynamic stability control (DSC), smart keyless entry system, and rear parking sensor.
Platform & Chassis
The Mazda MX-5 is a 2-seater coupe that has a length that measures 3915 mm, a width of 1735 mm, and a height of 1,230 mm, with a wheelbase that measures 2,310 mm. As for the monocoque unibody chassis, it has near-perfect 50-50 weight distribution. It is engineered and reinforced by Mazda with the use of a backbone frame construction, together with subframes for front and rear suspension, to add more rigidity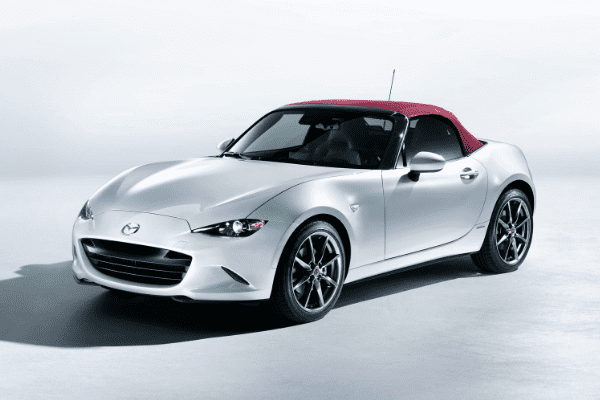 The Mazda MX-5 100th Anniversary Edition
Moreover, the Japanese roadster can only accommodate two occupants yet leaves minimal cargo space and a long hood. It also has 17-inch wheels, a double-wishbone front suspension, and multi-link pair for the rear wheels.
Engine & Drivetrain
The power of the Mazda MX-5 comes from a naturally-aspirated 2.0-liter in-line 4-cylinder engine that supplies 184 hp as well as 205 Nm torque power. A 6-speed manual or  6-speed automatic transmission option is available, being the latter unit can be found on higher-spec variants.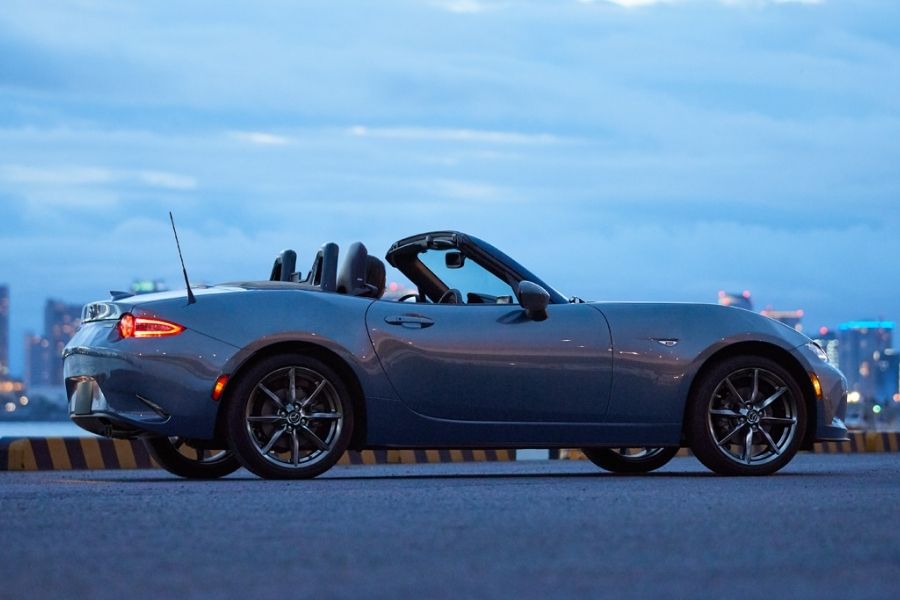 Aesthetically appealing as always
All powers are sent to the front thanks to its front-engine rear-wheel-drive layout. As a standard for manual variants, it is equipped with a limited speed differential, i-ELOOP regenerative braking system, and i-STOP engine idling start-stop function for better fuel economy.