Subaru BRZ offers great handling and is quite popular among the tuner crowd. Check our expert Subaru BRZ 2020 Philippines review to know why it is a great sports car.
In this review...
1. Subaru BRZ 2020 Philippines Review: Introduction

2. Subaru BRZ 2020 Exterior

3. Subaru BRZ 2020: Interior

4. Subaru BRZ 2020 Review Philippines: Engine & Performance

5. Subaru BRZ 2020 Philippines: Ride and Handling

6. Subaru BRZ 2020 Philippines Review: Safety

7. Subaru BRZ 2020 Specs & Price

8. Subaru BRZ 2020 Philippines Review: Conclusion
1. Subaru BRZ 2020 Philippines Review: Introduction
The Subaru BRZ is a sports coupe, specifically a sports fastback coupe developed by Toyota and Subaru, first released in January 2012. There are concept vehicles related to the BRZ however that stretch all the way back to 2009 called the FT-86, and the last one in 2011 called the Subaru BRZ Concept STi.
So what does BRZ mean exactly? The "B" stands for its boxer engine, the "R" stands for rear-wheel-drive layout. Lastly, the "Z" means "zenith," pertaining to the vehicle's qualities - such as having a very low center of gravity and excellent weight distribution, but more on that later.
Even during it the vehicle's concept stages, Subaru actually unveiled the BRZ GT300 in 2011 to compete in the 2012 Super GT 2012 season alongside Toyota's 86 MC.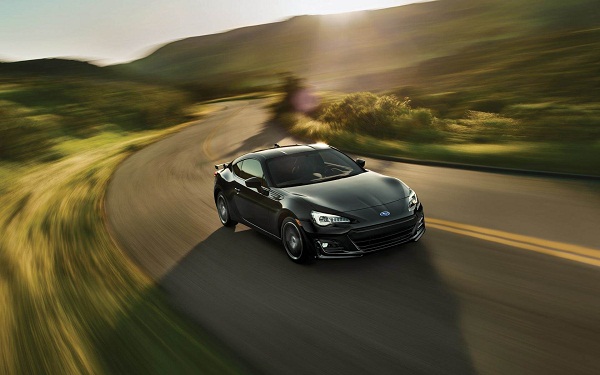 Lots of professional racers prefer the Subaru BRZ as the basic platform to build their custom cars
Aside from that, the 86-BRZ platform also entered the 24 hours of Nürburgring and did well (and still currently does so) in the US Formula Drift championship and at the 2013 Pikes Peak Hill Climb. So why is this important?
It's because these vastly different motorsport events just goes to show how versatile the Subaru BRZ. It has even been touted as a car platform that can be used for just about any racing-related activity.
There's even a rally version, so it's pretty much a car for any racing event. Without further ado, let's take a closer look at this sports car through the in-depth Subaru BRZ 2020 Philippines Review from Philkotse.com
2. Subaru BRZ 2020 Exterior
While the BRZ shares the same profile, stance, and overall shape with the Toyota 86, it does have some differences.
For starters, the front fascia of the BRZ displays a different hexagonal grille in comparison to the 86's trapezoidal one. The vents located on the front bumper are also different, as well as the headlights that feature daytime running LEDs. The headlamps are seamlessly integrated with the bumper.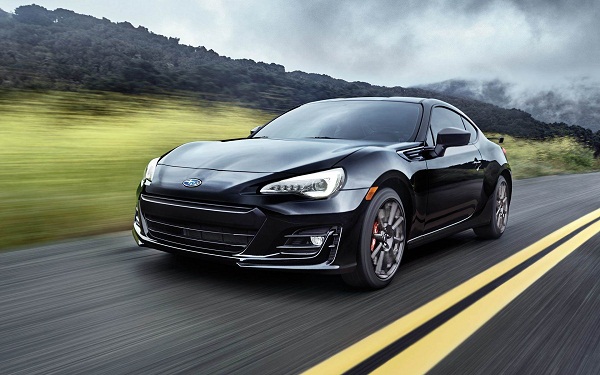 While has a lot in common with the Toyota 86, the front of the BRZ is different and is very Subaru
Towards its sides though, the Subaru BRZ exterior and Toyota 86 look virtually alike. The BRZ has that low slung and unmistakable low coupe profile that hints of the vehicle's agility which gives it that overall athletic stance. Aesthetics aside, the center of gravity of the BRZ and, by extension, the Toyota 86, is actually one of the lowest among production cars today. This allows for incredible handling.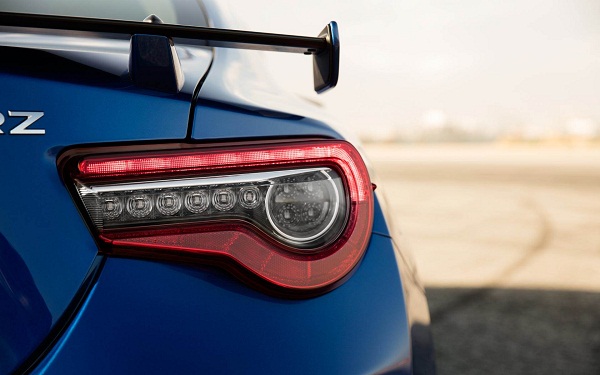 As for the rear, the 86 and the BRZ doesn't have many differences, save for the badging
2020 Subaru BRZ exterior also gets updated with a pair of different fog lamps, new LED taillights, and a set of different wheels.
>>> For further reference, take a look at the battle between Toyota 86 vs Subaru BRZ to see which is the King of the speed.
YOU MAY WANT TO READ
Model Price Philippines
₱ 2,328,000 - ₱ 2,499,000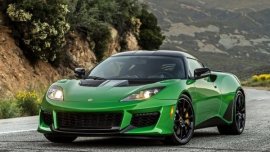 Model Price Philippines
Price available upon request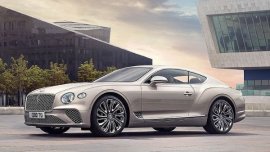 Model Price Philippines
Price available upon request
3. Subaru BRZ 2020: Interior
Like Toyota 86, the Subaru BRZ is actually a 2+2 coupe which means there are actual seats in the back. Realistically speaking, only two adults will have a comfortable experience in the BRZ. Even smaller children might complain about nonexistent legroom.
But one wouldn't exactly buy a BRZ for accommodating more than one passenger, right? Indeed, the front seats look like they were built with care, and are designed to hold you in place whether you're drifting or just driving around the city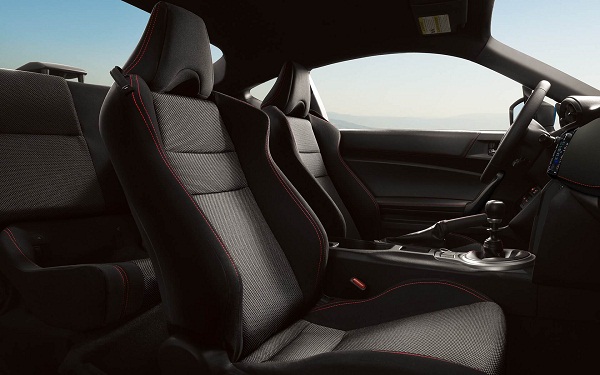 Well-built and made out of excellent materials of the cabin inside Subaru BRZ 2020
For cargo space, the Subaru BRZ actually has a decent 280 liters. If you drop those rear seats, the expanded trunk can fit four full-size wheels - excellent for a track day when you may need to lug around racing tires.
For the cabin, everything seemingly leans towards simple functionality favoring easy to reach, real buttons which are satisfying to use. Of course, 2020 Subaru BRZ interior is equipped with modern amenities like a decent six-inch touchscreen infotainment system with both Apple CarPlay and Android Auto, a 2DIN audio, a decent set of speakers, a CD player, and USB and AUX ports.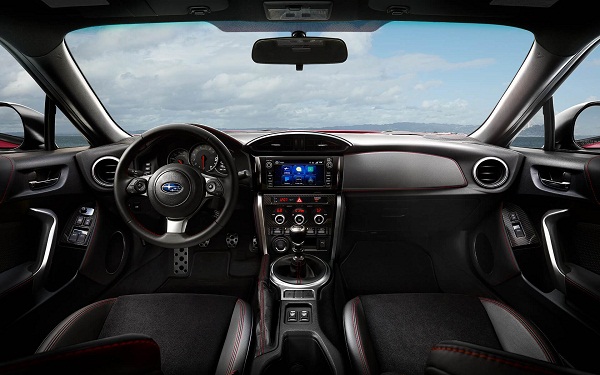 The infotainment system of the BRZ is actually one of the better ones in its market segment
Overall, the Subaru BRZ interior is a comfortable space to be in especially at a heated, competitive atmosphere of the race track. In addition, we can also tell that Subaru really intended the BRZ to be a driver's car because of the huge gauges that feature the usual tach and speedometer. And lastly, the space between the brake pedal and the accelerator are just right for heel-toe shifting
4. Subaru BRZ 2020 Review Philippines: Engine & Performance
Like its Toyota cousin, the 2020 Subaru BRZ uses a boxer engine, which has the advantage of being flatter - helping attain the aforementioned lower center of gravity. Luckily, Philkotse.com has discussed engine layouts in our previous articles. Check it out to learn more details about the boxer engine of this BRZ.
For the BRZ itself, its boxer engine is the Subaru FA20, otherwise known as the D-4S Boxer. This particular engine has currently become quite popular and has a lot of aftermarket performance parts.
The 2.0-liter gasoline flat-four FA20 in the Subaru BRZ 2020 sold in the Philippines has little to no differences to the ones sold everywhere else. It makes 200 horsepower and 211Nm of torque in the six-speed automatic variant, and 205hp and 211Nm of torque for the manual version. Power is then sent to the rear wheels, making the BRZ one of the few Subarus vehicles that don't have an all-wheel-drive.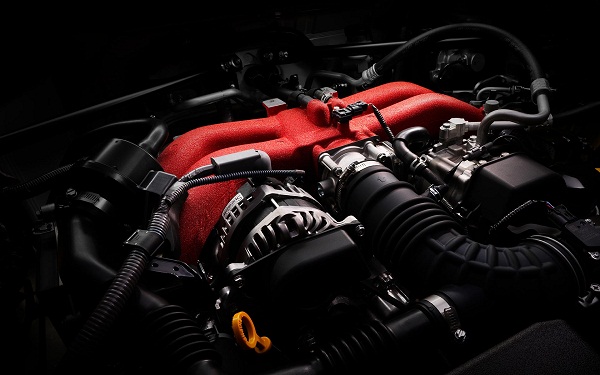 Note the brands carved into the BRZ's Boxer engine
With that, the Subaru BRZ 2020 can reach a top speed of 233kph and an acceleration rate of zero-100kph in six seconds. That's not really that fast but the BRZ's main point, like the 86, isn't about going fast but about amazing handling.
5. Subaru BRZ 2020 Philippines: Ride and Handling
Subaru designs the new BRZ for agility and handling. The boxer engine's low center of gravity, coupled with the very rakish profile, gives the car a very aerodynamic, well-proportioned stance.
Its excellent MacPherson Strut/multi-link combo is just begging to be thrown around twisty roads. It displays minimal body roll and, despite its lack of power (for a sports car), turning off the traction control and doing a downshift with just a small press of the gas pedal will result in a bit of wheel spin which you can then follow up into a drift if you can manage it. It's very controllable.
Subaru BRZ Review - The Right Amount of Power... For Most People
As for the steering of the Subaru BRZ 2020, it is very responsive, and just gives the right amount of feedback to the driver. While the car does encourage you to hoon around, the Subaru coupe does behave quite well in city roads and will give you a decent 14.5 km/l fuel consumption.
We also recommend getting the manual because it has slightly more horsepower and, of course, more control on the driving dynamics. You can't exactly do heel-toe downshifts on an automatic, can you? As for the manual shifter itself, it does its job - and it does it well. It feels smooth and the short-throw will do wonders.
In terms of handling, the BRZ actually has a limited-slip differential which allows for great control, especially during cornering. It also results in less tire wear and less axle shaft wear
>>> Useful information if you are planning to buy a Subaru car in the near future: 
6. Subaru BRZ 2020 Philippines Review: Safety
Aside from being very sporty, the 2020 Subaru BRZ is also competent in terms of safety. It comes standard with traction control, EBD, an anti-lock braking system, child locks, vehicle stability control, a tire-pressure monitor, and dual front airbags and side airbags.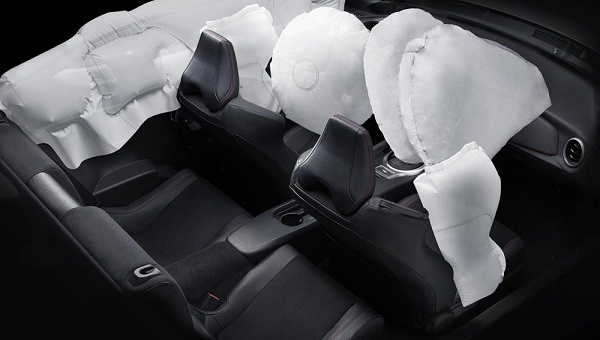 Subaru BRZ 2020 is also competent regarding the safety
>>> Widen your search with our cars for sale section for more car deals
7. Subaru BRZ 2020 Specs & Price
Overall

Name

2020 Subaru BRZ

Body Type

2 door fastback coupe

Dimensions

Length

4240 mm

Width

1775 mm

Height

1320 mm

Wheelbase

2570 mm

Ground Clearance

130 mm

Number of Seats

4

Engine & Performance

Machine Type

2.0 liter FA20 gasoline Boxer engine

Engine Size

 2.0 liters

Number of Cylinders

4

Number of Valves

16

Fuel Capacity

50 liters

Transmission Category

6 speed automatic and 5 speed manual

Max Output

205 HP for MT and 200 HP for AT

Max Torque

211 Nm

Safety Features

Driver and front passenger airbags

Child safety locks

Anti-lock braking system

Crash sensors

EBD

Child safety locks

Traction Control

Sidebags (front)

Stability Control

Tire Pressure Monitors

Other features

Front Suspension

MacPherson Strut

Rear Suspension

Multi-Link with coil spring

Front Brake

Disc

Rear Brakes

Disc

Tire Size

R17

Subaru BRZ price in the Philippines
Subaru BRZ 2.0 6AT
₱ 2,058,000
>>> View full Subaru BRZ price list with estimated installment
8. Subaru BRZ 2020 Philippines Review: Conclusion
The Subaru BRZ 2020 Philippines is a great-handling sports coupe that makes for an excellent track toy and a sporty daily driver. In addition, Subaru and Toyota actually built the BRZ as a production tuner car. As such, you will be pleased to know that modifying and tuning the BRZ is easier than most vehicles.
Also of note is that the engine bay space is spacious and it is known that some crazier mechanics out there have swapped out the 2.0 Boxer for more insane engines. Spare parts and performance aftermarket parts for the Subaru BRZ are actually abundant right now, so if you want a modern sports car you can tinker around with, get a BRZ.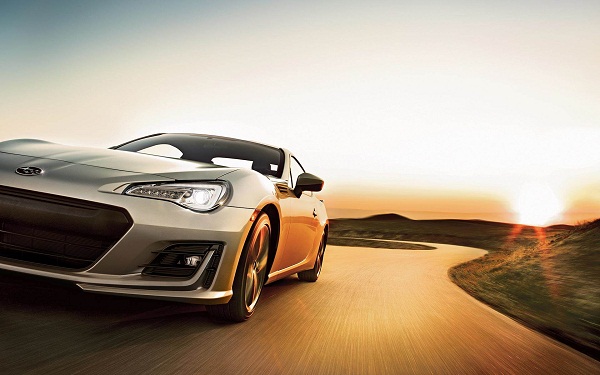 2020 Subaru BRZ is actually a within-budget sports cars for enthusiasts


Cesar G.B. Miguel
Author