The Toyota Supra 2020 makes its return globally. So is it worthy of the Supra name? Let's find out in our Toyota Supra Philippines 2020 Review!
In this review...
Introduction

Exterior

Interior

Engine & Performance

Ride & Handling

Safety Features

Specifications

Price list

Conclusion
1. Toyota Supra 2020 Philippines Review: Introduction
The Supra. It is a marque whose connotations resonate with multitudes of car enthusiasts all over the world and through multiple generations. Even during those times that we assumed that the Supra name was very well dead, it still invoked a sense of nostalgic beauty that has been brought about by the legends that are 90's JDM cars.
As said countless of times by car guys on the internet, on the streets, or even during those colorful discussions during car meets, none of its generations can hold a candle to the one and only Fourth A80 gen Supra, otherwise known as the Mark IV.
It was made famous through countless media like the Need For Speed Series and the Fast and the Furious series but more importantly, it was famous for one of the holy grails of all things JDM; the naturally aspirated Toyota 2JZ-GTE Inline-6 engine.
>>> Latest update: 2021 Toyota Supra: Expectations and what we know so far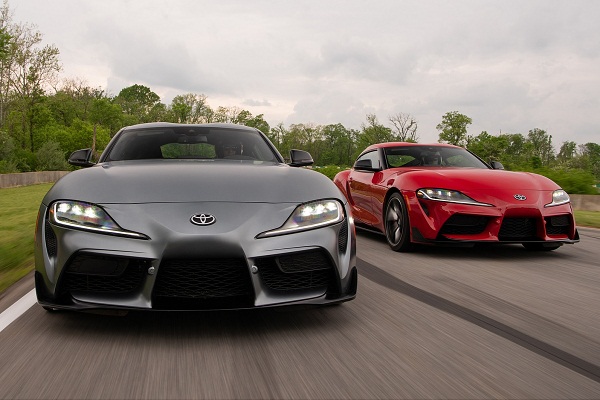 The legendary is back. Is it worth our wait?
Yep, this 1500 horsepower beast is a Mark IV Toyota Supra built and maintained by EKanoo Racing using the stock cast iron block of the 2JZ-GTE combined with tons of boost.
And yes, the engine is quite famous for being able to take a monstrous amount of additional stress brought about by nitrous, turbos, superchargers and whatever you can think of to make additional horsepower. Such is the power of a Mark IV Toyota Supra.
All things, however great they are, alas must someday end. Likewise, the A80 Mark IV Toyota Supra's production run had sadly ceased sometime in 2002. Just like when they announced the end of the equally legendary Mitsubishi Lancer Evolution, many JDM enthusiasts, and car guys have lamented the incredible loss.
Toyota Supra 2020 in-depth review - tested on road, sideways on track and over the 1/4 mile sprint!
Back in 2007 however, it came to light that Toyota was mulling over whether to build a successor or not. And it turned out that the public had developed quite a taste for a sporty, rear-wheel-drive, coupe which was evident from how the Toyota GT86/Subaru FRS was quickly being sold.
So in January 2019 at the North American International Auto Show, after more than a decade, the all-new 2020 Toyota Supra was unveiled. This new one was based on the BMW Z4 and to sum up the Supra fan's reactions; it was mixed.
To shed more light on this, let us take a close look at this for ourselves on how the all-new 2020 Toyota Supra had turned out. Is it worthy of its legendary name? Or is it another masquerading charlatan?
Let's find out in our Toyota Supra 2020 Philippines Review, brought by Philkotse.com
2. Toyota Supra 2020 Exterior
Unlike most revived models out there, the 2020 Toyota Supra exterior design is no throwback and it isn't depending too much on nostalgia goggles to be deigned as good looking. On the contrary, the new 2020 Supra looks very much like a truly modern sports car.
And yes, while it does come with a double-bubble roof and a ducktail spoiler which are reminiscent of the old Mark IV, there are some unique new features that bumps up its aesthetic points.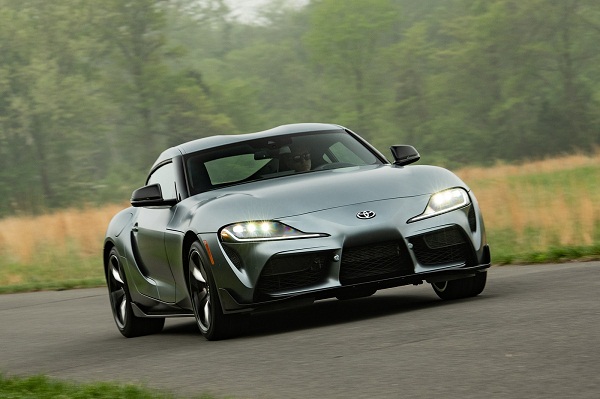 Those vents near the headlights are fake though
As per other regions of the Toyota Supra like the nose and the grille, it's obviously heavily inspired by the FT-1 Concept which Toyota had displayed back in 2014. Towards the sides, one can say that this might be the best angle to stare and gawk at the car.
There's its deliciously designed, roofline and overall shape which allows for less drag, and those sculpted body lines that converge into a sizable air-intake positioned a bit south of the door-handles are just a joy to look at.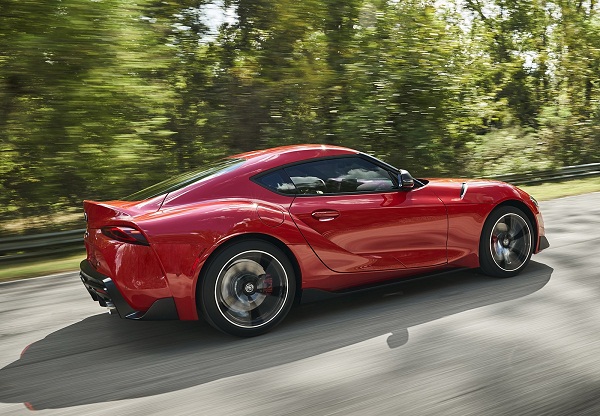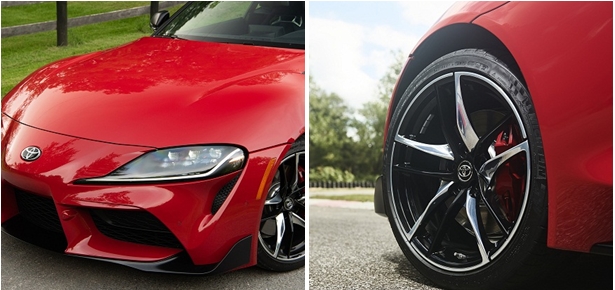 The 2020 Toyota Supra design is just a joy to look at
Towards the rear, the dual exhaust tips that straddle the Supra's backside enhances the low slung and very wide stance. As it turns out, the car is actually as wide as it looks; its 3.1 inches wider than the Toyota 86, and it's even wider than the Mitsubishi Montero Sport.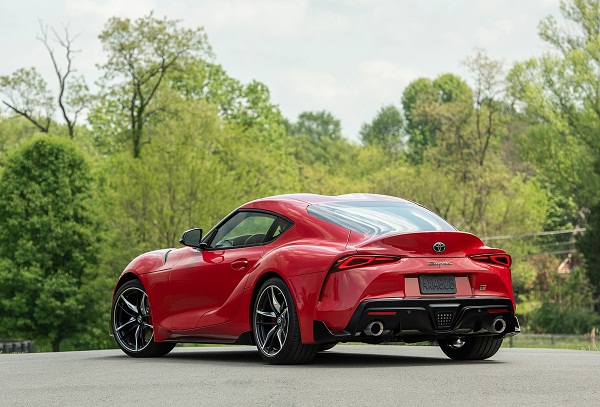 It's wider than some SUVs!
So overall, despite the typical Supra fanboy internet commentator's opinions on the new Supra, the styling isn't actually that bad. In fact, a great many people expressed that they quite liked it and they actually respect the fact that it wasn't trying to ride the coattails of the old Supra in terms of aesthetics.
Some have even said that it reminded them more of the 86 and that the design of the new Supra is actually a far cry from the standard BMW offering.
YOU MAY WANT TO READ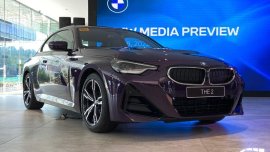 Model Price Philippines
₱ 3,690,000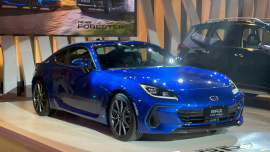 Model Price Philippines
₱ 2,519,000 - ₱ 2,619,000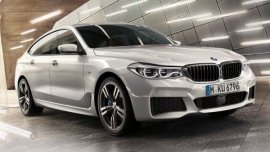 Model Price Philippines
₱ 8,790,000
3. Toyota Supra 2020 Interior
Once inside, things get a bit too familiar so we'll say it outright; the 2020 Toyota Supra interior looks very much like the latest released BMW Z4 Philippines, which it was based on. Features like the iDrive controller, the touchscreen infotainment system, the digital gauge cluster, are practically the same in design and functionality to the ones found on the Supra's German cousin.
With regards to this, our opinions tend to get a bit mixed. While the very BMW interior itself isn't bad and is actually comfortable and easy to use, we just wish that Toyota had exerted some effort into providing a uniquely Toyota sports coupe interior.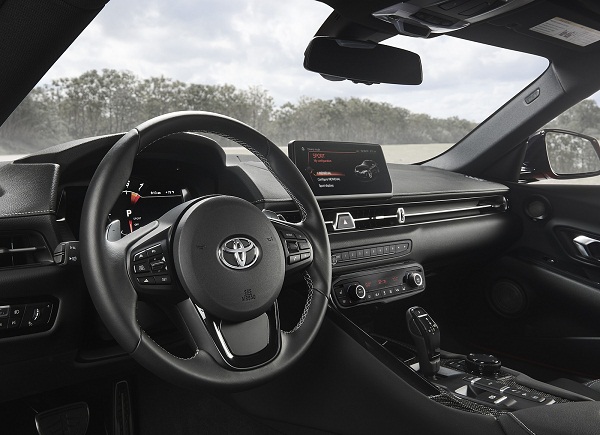 Check out the 2020 Toyota Supra's interior. Reminds you a lot of the Z4's interior right?
Going back to actual features inside though, the iDrive display is crisp looking and it does respond well to your inputs. The digital gauge cluster is also a treat for the eyes and it features a whole slew of data that range from fun to actually use.
The infotainment system is also really good as it comes with true smartphone synchronization in the form of the Supra Connect iPhone as well as Apple CarPlay. It appears however that it doesn't come with Android Auto.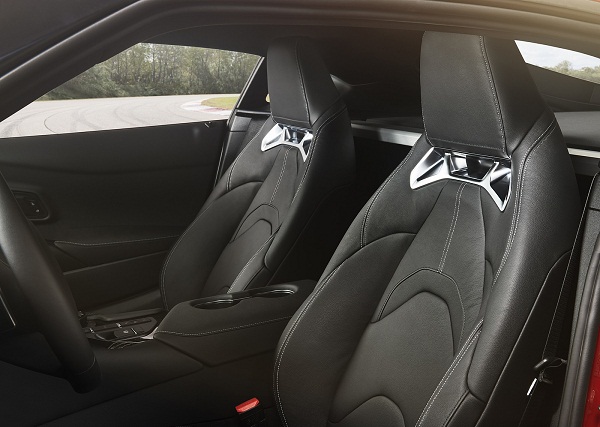 The leather-clad cabin inside the Toyota Supra interior
As for the seats, they are leather-clad and are bolstered to hold you and your sole passenger in-place during spirited driving. Also, those seats can be adjusted in 14 directions just like the BMW Z4's. Other impressive features of the interior include carbon fiber accents spread all throughout the interior and a JBL 12-speaker system which sounds superb.
>>> Contact details of the nearest Toyota dealerships to check out the latest promo and financing options.
4. Toyota Supra 2020 Philippines: Engine & Performance
While the engine was indeed developed and built by BMW, it's still an inline-six just like the old Mark IV Supra's 2JZ. It makes 335 horsepower and 500 nm of torque with power being sent to the rear wheels through an eight-speed automatic.
Now before you get your suspenders in a twist, we've already explained why there won't be a manual version for the 2020 Toyota Supra; Toyota doesn't want to cannibalize the Toyota 86's potential buyers and that it isn't actually economically sound for them to develop and produce a manual version. So there you go.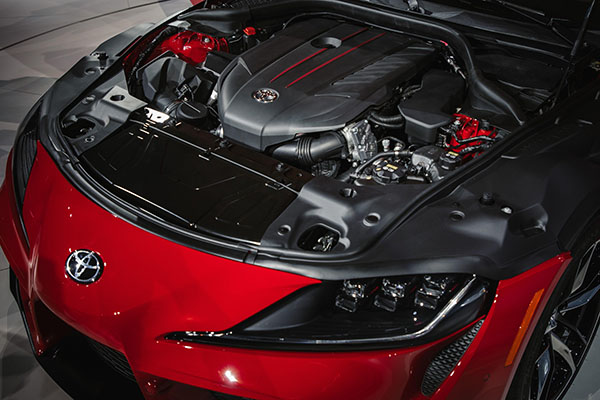 Here's the 3.0 liter inline-6 which the 2020 Supra and the 2020 Z4 shares.
While a great number of Toyota guys have viewed this as outright sacrilege and a smear on the legendary Supra name, the existing ZF 8-speed automatic does its job well.
5. Toyota Supra 2020 Review Philippines: Ride & Handling
As we've said earlier, the 2020 Toyota Supra's transmission works great. It goes through gears smoothly and it might even be faster than a human-controlled manual gearbox. Very notable also is its insane mid-range power delivery which enables the car to hit 100 km/h in just 4.4 seconds. It does deliver all of its 500 nm of torque at a mere 1,600 rpm which is phenomenal. Watch out for whiplash though.
With regards to handling the 2020 Supra is also as good or…depending on who you're talking to…even better as the old Mark IV. This is due to its double-joint McPherson strut front suspension and its multi-link for the rear and the Supra's 3,397-pound curb weight which is nearly perfectly distributed 50/50 across its length.
As a result, the vehicle can handle corners tightly and cleanly in the hands of a competent driver. And oh, we almost forgot about its limited-slip rear differential because it can be succinctly summed up by the undying phrase: "because racecar" which is GREAT on so many levels.
With all these elements combined, the 2020 Toyota Supra is a very lively vehicle if you push it to the limit especially when tackling corners. It keeps oversteer in check and maximizes grip but also, if you want to, you can actually slide the rear which is, of course, one equally important point of this vehicle.
Is The 2020 Toyota Supra A Good Drift Car?
On normal drives, the 2020 Toyota Supra also behaves quite well. It's comfortably and unobtrusively quiet and you'll find that it's a very tame car when passing through tight city roads. Yeah…it's actually a pretty great cruiser.
Activate the "sport mode" and you'll be propelled into a violation ticket courtesy of your local MMDA so be careful. Regardless of that, the Sport mode increases throttle response, dampens and stiffens the suspension as well as increasing steering feel.
>>> You might like to check out: Top 5 best sports cars in the Philippines
Now, when it comes to tracking mode, the 2020 Supra unleashes all its horses and yes, you will find yourself spinning especially if surfaces are wet. In perfect driving conditions, however, the Track mode on the 2020 Supra deactivates traction control allowing you to do ridiculous things like J-turns, drifting, and many more hoon type stuff.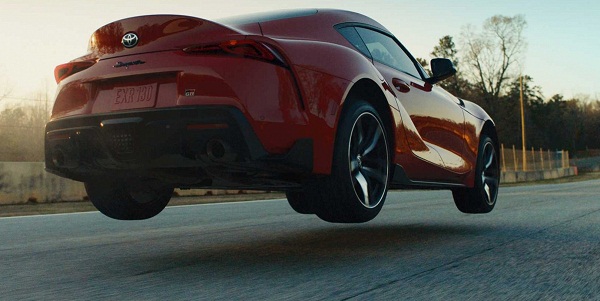 Yeah, the 2020 Toyota Supra will make for a killer track day car. Wheee!
So all in all, the 2020 Toyota Supra might not be the easiest thing to drive for novice drivers especially with the track-mode turned on. It can toss its relatively light curb weight around gleefully especially on the aforementioned mode but otherwise, the electronic differential combined with another active driver tech will save you from a fender bender.
For intermediate drivers who know what they're doing though, the Supra can become a very rewarding racing platform. Be it for mountain-pass racing, time attack, autocross, drifting, and circuit racing, we're confident that it can perform well in any of those events and more.
6. Toyota Supra 2020 Philippines Review: Safety
Being a performance-oriented vehicle, the 2020 Toyota Supra's safety features are also up to snuff. It features ABS with EBD, stability control, and a decent security system with an engine immobilizer.
When it comes to airbags, the Toyota Supra 2020 also gets a ton of those including dual front airbags, side-impact airbags, overhead airbags, and knee airbags. The seatbelt pre-tensioners are also note-worthy and these will surely keep you planted on your seat in the event of an unfortunate crash or loss of vehicle control.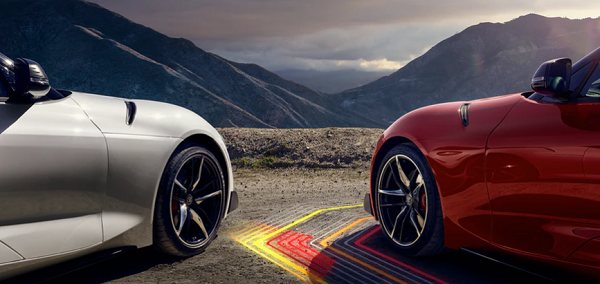 Supra 2020 comes with both rear and front parking sensor
6. Toyota Supra 2020 Specs
Overall

Name

Toyota Supra

2-door liftback coupe

Dimensions

Length

4,380 mm

Width

1,865 mm

Height

1,290 mm

Wheelbase

2,470 mm

Ground Clearance

114.3 mm

Number of Seats

2

Engine & Performance

Machine Type

B58B30 Twin-Scroll Turbo Inline-6 Gasoline

Engine Size

3.0 liters

Number of Cylinders

4

Number of Valves

16

Fuel Capacity

52 liters

Transmission Category

8-speed automatic

Drivetrain

Max Output

335 HP

Max Torque

500 Nm

Safety Features

Driver and front passenger airbags

Side airbags

Curtain Airbags

Child safety locks

Driver's Knee Airbags

The anti-lock braking system with EBD

Overhead Airbags

Knee Airbags

Seatbelt pre-tensioners

Stability control

Electronic limited-slip differential

Brake Assist

Rear parking camera

Tire pressure monitor

Traction Control

Other features

Front Suspension

Independent MacPherson Strut

Rear Suspension

Independent Multi-Link

Front Brake

Ventilated Disc

Rear Brakes

Ventilated Disc

Tire Size

255/35R19 (Front) / 273,35R19 (Rear)
>>> Visit our cars for sale section to extend your options to more affordable car deals
8. Toyota Supra Philippines Price
As of now, the Philippine market is only getting one variant. The 2020 Toyota Supra GR 3.0 Coupe which thankfully, is the one that comes with the inline-6 engine. Currently, it is priced at Php 4,990,000. For more details on the monthly payments, kindly refer to our Toyota Supra Philippines cars for sale.
When compared to other performance models available in the Philippines like the 2019 Nissan GT-R and the 2019 Audi RS5, the GR Supra is a much more affordable choice. In comparison to the likes of the 2019 Lexus RC and the 2019 Chevrolet Camaro, the 2020 Toyota GR Supra's price is more in-line with these models thus making these two its prime competitors.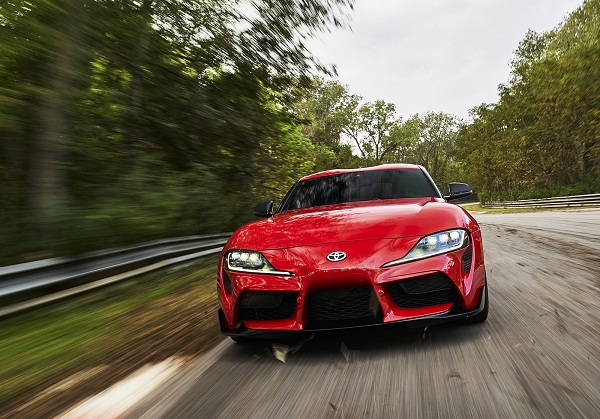 It is a much more affordable choice of the Supra when comparing with other performance models
9. Toyota Supra 2020 Philippines Review: Conclusion
Whether or not the 2020 Toyota Supra is a rightful successor to the Mark IV Supra and the Supra name in general, it's quite obvious that the new sports coupe is a fun, engineering marvel of a vehicle that symbolizes what happens when two gigantic car manufacturers decide to work together.
Also note that this iteration of the 2020 Supra is a sign that Toyota knows its audience well because as it turns out, the Supra coupe, like the Toyota 86, was built with consideration for after-market mods. And despite being very new in the automotive market, there are already a number of enterprising car dudes who have swapped the 2020 Supra's engine for the Mark IV Supra's 2JZ.
There's even a new company dedicated to building manual versions of the new Supra. So despite the initial division of opinions with regards to the new Supra, it appears that the international car scene is actually warming up to it.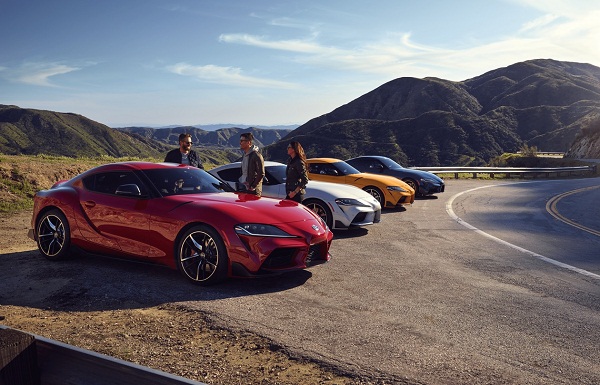 Are you excited to drive your own Toyota Supra?
So yeah, we can concede that the new Toyota Supra 2020 Philippines, despite not having a manual or not a purely Toyota made vehicle, is, in fact, the brilliant new addition of the Japanese manufacture's long line of impressive performance vehicles. But on another note, we also hope that Toyota will infuse more of its identity on the next iteration of the Toyota Supra. Fingers crossed.


Cesar G.B. Miguel
Author